Tired of the same old boring vegan pasta? Then try some of these easy vegan pasta recipes! They're all bursting with flavor and will fill you right up!
20 Hearty Vegan Pasta Recipes
For the full instructions on any of these vegan pasta recipes, please follow the link below each image. Hope you enjoy these yummy vegan pasta recipes!
1. One Pot Creamy Tomato Basil Lentil Pasta
The way the lentils of the pasta and the other ingredients come together forms a dairy-free creamy, super flavorful sauce. This recipe is so easy and the perfect thing to whip together after a long day.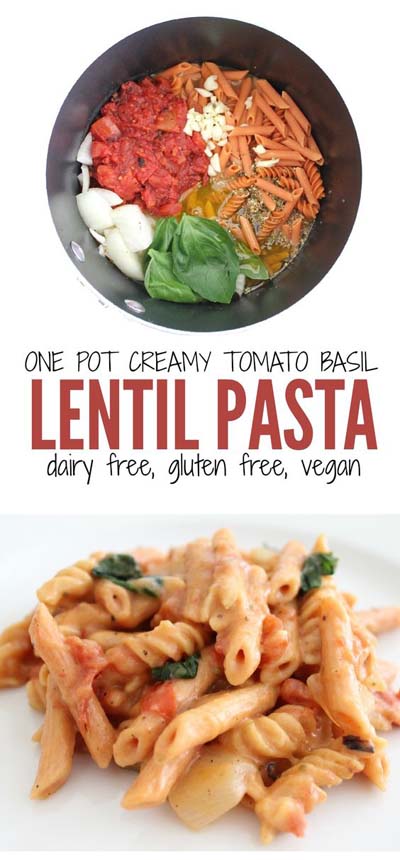 From: tedisarah.com
2. Creamy & Vegan Hummus Pasta
This One Pot Creamy Hummus Pasta is ready in 20 minutes! This vegan pasta dish is kept light by using hummus in place of typical cream sauce.

From: thissavoryvegan.com
3. Vegan One Pot Creamy Mushroom Pasta
All you need is 15 minutes to make this super easy Vegan One Pot Creamy Mushroom Pasta is a handful of simple ingredients!

From: deliciouseveryday.com
4. Broccoli Lemon Chickpea Pasta
Roasted Broccoli and Chickpea Lemon Pasta- broccoli and chickpeas roasted with fresh lemon and tossed with whole grain pasta. Just 30 minutes to make!
From: makingthymeforhealth.com
5. Avocado Sun-Dried Tomato Pesto Pasta
I'm just going to tell you to make this Avocado & Sun-Dried Tomato Pesto Pasta.
It's pretty much a full meal in under 15 minutes, which is always awesome because who has the time to tinker bout in the kitchen when you'd rather be playing with yourself?!

From: crazyvegankitchen.com
6. Lemon One Pot Pasta
This vegan Lemon One Pot Pasta is so easy to make and is ready in about 15 minutes. Leeks, peas, spinach, and chickpeas are added to round out this healthy meal!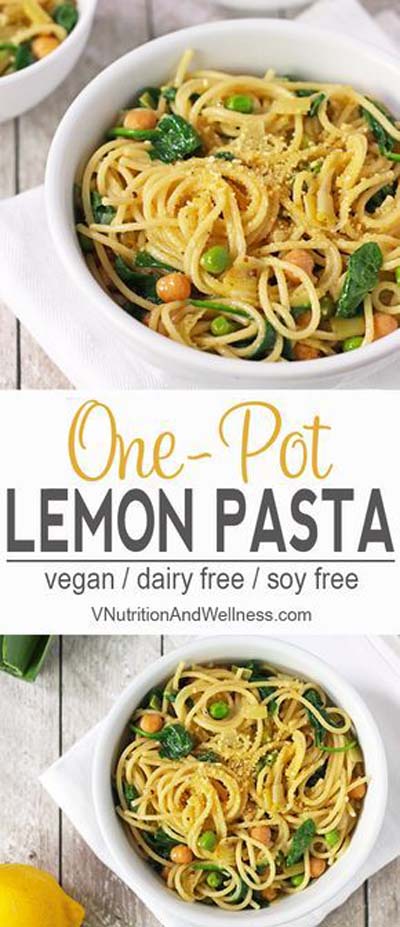 From: vnutritionandwellness.com
7. Epic Vegan Lasagna
You have to make this recipe.
My family and I were all stunned how good it tastes. It's light but satisfying – minus the trillion calories that come with traditional lasagna.
And absolutely perfect for a large family meal, a dinner party or the week's meal-prep. It freezes well and can be divided into 6 neat portions ready to be heated up or guzzled down straight from the fridge.

From: discoverdelicious.org
8. Fully-Loaded Veggie Fajita Pasta
This veggie fajita pasta is fully-loaded with bell peppers, onions, tomatoes, and fresh corn, and tossed with a simple homemade fajita seasoning.
I opted to roast the tomatoes and corn, because it's so darn easy and it brings out their sweet, earthy flavor.
From: godairyfree.org
9. Pasta with Creamy Sun Dried Tomato and Mushroom Sauce
Pasta with creamy sun dried tomato sauce is full of flavor and color! This is a wonderful meal for summer or anytime of year!

From: theprettybee.com
10. Vegan Alfredo With Broccoli
This Vegan Alfredo with Broccoli is made with a healthy cauliflower sauce, roasted broccoli, and whole wheat penne pasta! Cozy, healthy food at it's finest!
From: showmetheyummy.com
11. Easy Lemon Garlic Pasta
Weeknight dinners don't have to be boring. In less than 30 minutes, you can have a delicious pot of easy lemon garlic pasta on the table!
Your whole family will appreciate this tasty lemon pasta dish!

From: mysuburbankitchen.com
12. Vegan Stuffed Shells With Pumpkin And Cashew Ricotta
These Pumpkin and Cashew Ricotta Vegan Stuffed Shells are topped with Sage Béchamel Sauce for a delicious plant-based pasta dish that the whole family will love.
From: mydarlingvegan.com
13. One-pot Ratatouille Spaghetti
This dinner takes under 30 minutes to make and tastes wonderful! Plus it's healthy, vegan and gluten-free.

From: wallflowerkitchen.com
14. Vegan Pumpkin Alfredo With Roasted Hazelnuts
Pumpkin Alfredo – a creamy, delicious vegan pasta sauce made with pumpkin and seasonal spices and served over shell pasta for a warm and comforting fall meal that can be made in under 30 minutes.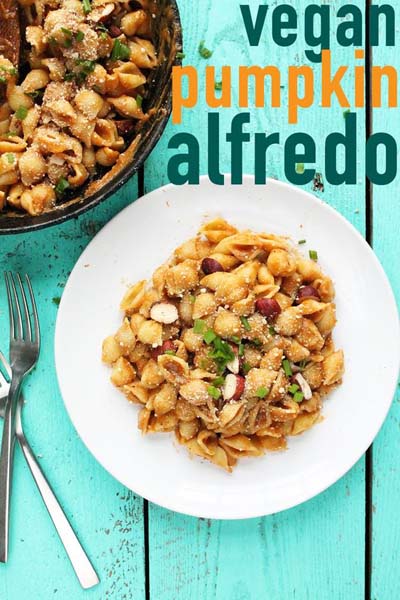 From: mydarlingvegan.com
15. Basil Pesto Pasta with Roasted Vegetables
Its a great simple weeknight meal that you're family will love.
The flavor from the fresh basil and lemon lights up this dish and all the colorful roasted veggies leaves you feeling full and satisfied in the best way possible! Bon Appetite!
From: joyfulhealthyeats.com
16. The Best White Mac & Cheese
Creamy and comforting – this is hands down the Best Vegan White Mac and Cheese! This only takes 20 minutes to put together and is a crowd pleaser!

From: thissavoryvegan.com
17. Vegan Stuffed Shells With Spinach
These vegan stuffed shells with spinach make such a delicious dinner! They're filled with spinach and vegan ricotta made of cauliflower and tofu. Nobody will believe that these stuffed shells are vegan! The perfect Italian comfort food!

From: veganheaven.org
18. Spicy Tomato Penne Pasta
Spicy Tomato Penne Pasta! If you're looking for a healthy, quick, vegan pasta recipe- this is it! Spicy chickpeas tossed with slow-roasted cherry tomatoes and a light cashew sauce. Light, healthy and delicious
From: delishknowledge.com
19. Vegan Pesto Pasta With Arugula & Sun-dried Tomatoes
This vegan Pesto Pasta is made with arugula pesto and tossed with sun-dried tomatoes and arugula for a delicious, filling meal the whole family will love. Made in just 30 minutes for an easy weeknight meal

From: mydarlingvegan.com
20. Ginger Garlic Noodles
These noodles are so so so simple. It's the perfect, "Oh crap, what are we having for dinner tonight?" dinner because it relies on only a few kitchen staples to make the flavors really pop.
From: fooduzzi.com
Loved these Vegan Pasta Recipes? Then pin it for later!
If you enjoyed this roundup of vegan pasta recipes, please take a few seconds of your time to share it to your vegan recipes board on Pinterest!