Eating salad on the ketogenic diet doesn't have to be boring nor does it mean you have to go hungry again quickly. You can stay full for hours by making one of these filling keto salad recipes for lunch or dinner.
They're tasty, easy to make and will keep you full for longer, so they're a great addition to your keto friendly meal ideas.
10 Hearty and Filling Keto Salad Recipes
If you often find yourself feeling hungry again after eating a salad, you're probably not adding enough protein or fat to your salad.
If that's the case, why not try one of these hearty keto salads and see if it keeps you full for longer? They're packed with wholesome foods and healthy proteins and fats that will give your body the fuel it needs to make it to the next meal.
And best of all, they're really tasty so you won't even feel like you're eating "diet" food!
Hope you enjoy!
1. Cauliflower Potato Salad
This easy cauliflower potato salad recipe tastes just like the classic potato salad that you're used to, just with way less carbs and healthier ingredients!
From: wickedspatula.com
2. Iceberg Wedge Salad
An Iceberg Wedge Salad Recipe with homemade low-fat blue cheese dressing and copious toppings is the perfect side that goes with almost any dinner.
From: laurenslatest.com
3. Grilled Chili Lime Chicken Fajita Salad
This Chili Lime Chicken Fajita Salad has so much flavour happening, you don't know where to start. Creamy avocado slices, grilled red and yellow pepper strips (capsicum), or the succulent chicken thighs.
From: cafedelites.com
4. Keto Taco Salad
These low carb taco salads are an easy Keto ground beef recipe.
A homemade Keto taco seasoning with your favorite taco salad toppings make this a perfect low carb meal prep and Keto lunch idea for work.
From: meganseelinger.com
5. Bacon Cheeseburger Salad
This recipe is a great new twist on your usual keto hamburger recipes and makes your keto salad recipes just a tad more interesting.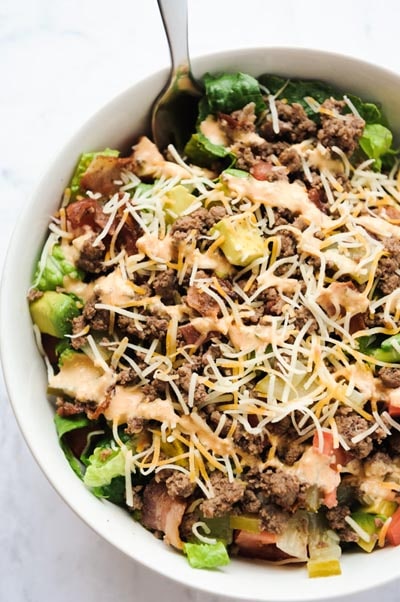 From: mommafitlyndsey.com
6. Thai Peanut Keto Chicken Salad
A yummy low carb chicken salad with lots of fresh veggies and a delicious peanut dressing – with ginger, soy, and sesame flavors.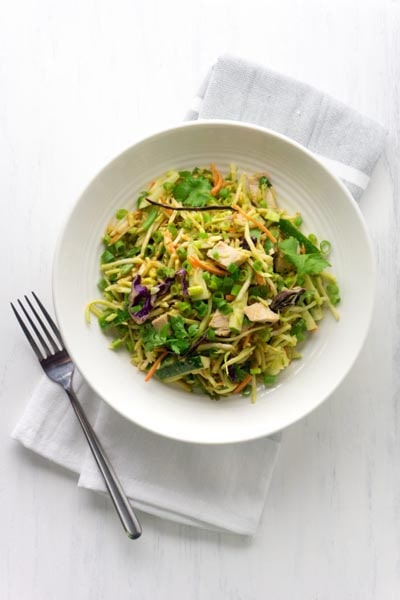 From: greenandketo.com
7. Keto Cabbage Salad
This keto cabbage salad is so good and easily customisable to your taste!
This is also a perfect salad to make ahead of time, as cabbage salads can stay fresh and remain crunchy up to 3-5 days in your fridge! Hello batch cooking!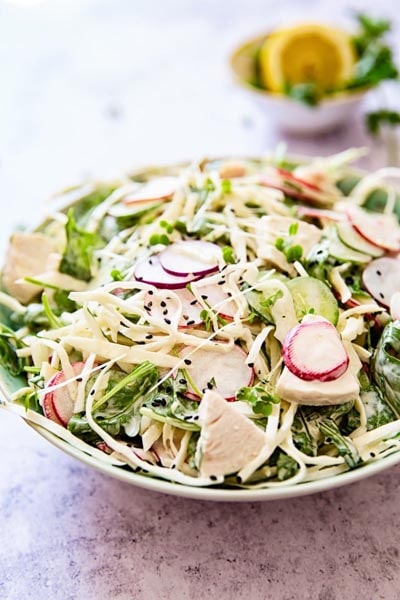 From: vikalinka.com
8. BLT Balsamic Chicken Avocado & Feta Salad
BLT balsamic chicken avocado & feta salad is a delicious twist to a BLT in salad form, with a balsamic dressing that doubles as a marinade! You won't even miss the bread in this mega loaded salad.
From: cafedelites.com
9. Creamy & Crunchy Broccoli Salad
This cool, creamy, crunchy salad is perfect for Summer BBQs.
Broccoli is naturally high in protein; paired with sunflower seeds, bacon, cheese and a sour cream-based dressing, this recipe can also serve as a high protein meal on its own.
From: northernnester.com
10. Deconstructed Wedge Salad With Homemade Blue Cheese Dressing
This Deconstructed Wedge Salad recipe has all the classic, refreshing flavor without the need for a knife! Chopped iceberg lettuce is drizzled with homemade blue cheese dressing and topped with crunchy bacon, green onions, and fresh tomatoes.
From: bowlofdelicious.com
Don't forget to pin these Filling Keto Salad Recipes for later!
If you enjoyed this roundup of filling keto salad recipes, or if you want to make any of these recipes at a later stage, don't forget to pin this post to your keto recipes board on Pinterst so you can easily get back to it later.
Also follow The Daily Spice on Pinterest for more great recipes and ideas!