If you're looking for fun and festive Halloween snack ideas to make this year, you've come to the right place. We've rounded up some of our favorite Halloween recipes for you. Most of them are super easy to make and won't require a lot of your time, and they still look spooktacular and perfect for Halloween.
30 Fun Halloween Snack Ideas
If you want to view the full recipe or instructions for any of these snacks or treats, please click on the link below the image. Hope you enjoy!
Also don't forget to follow us on Pinterest for more great recipes and ideas, and if you would be so kind, please help us share these ideas on Pinterest by pinning it to your Halloween board!
1. Monster Face Oreo Pops
Grab the kiddos and 5 simple ingredients and make these no-so-scary Monster Face Oreo Pops!
These Monster Face Oreo Pops are so easy that other than melting the chocolate, the little hands in your kitchen can help with every step from dipping to decorating!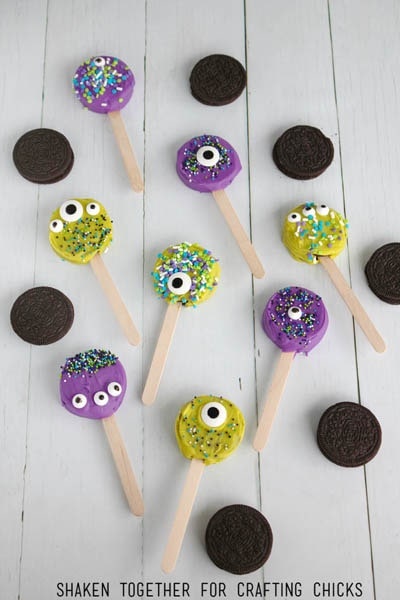 From: thecraftingchicks.com
2. Halloween Mummy Pizza Bites
These Halloween Mummy Pizza Bites are adorable and incredibly easy to make! Your kids will love them for your next Halloween Party!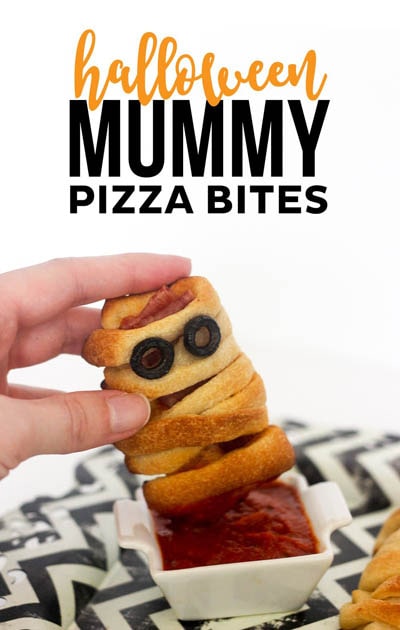 From: printablecrush.com
3. Witch Brooms
Witch brooms are a fun and easy treat that you can make for Halloween. They look really cute and are the perfect blend of sweet and salty. Simply insert a pretzel stick into a Reese's cup and that's it.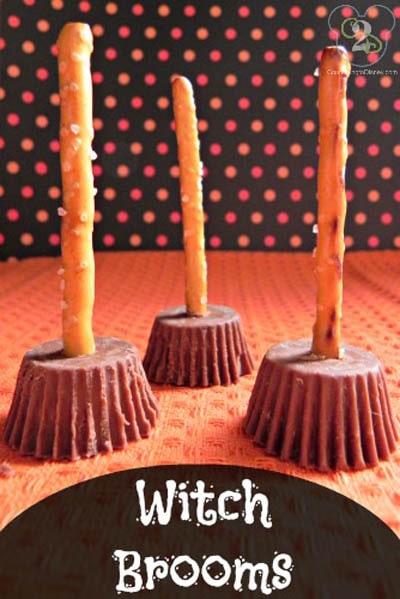 From: couponingtodisney.com
4. Pumpkin Rice Krispie Treats Recipe
These are so quick and easy to whip up and will really put you in the Halloween spirit.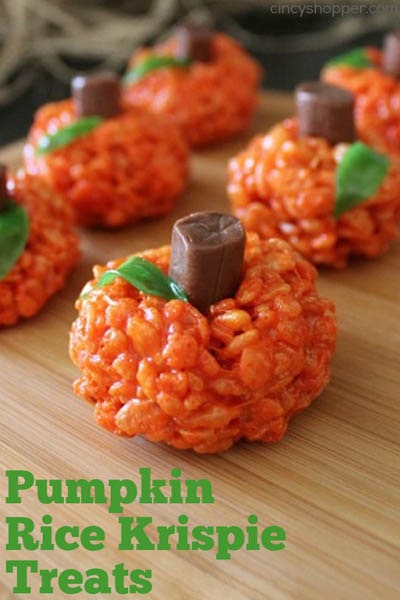 From: cincyshopper.com
5. Chewy Maple Cinnamon Cookies
These cookies are kissed with the warmth of maple and brown sugar and a hint of cinnamon. They are big and chewy and oh so good!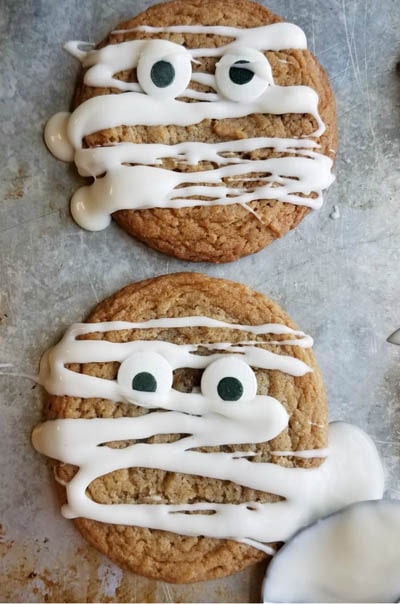 From: cookingwithcarlee.com
6. Nutter Butter Boos
These old school Nutter Butter Boos are cute ghost cookies that make an easy Halloween dessert that is the perfect Halloween party food.
From: homemadeinterest.com
7. Mummy Puff Pastry Pizza Pies
These mummy puff pastry pizza pies are a fun project to make with the kids, and would be perfect for Halloween parties or even to pack in lunch boxes.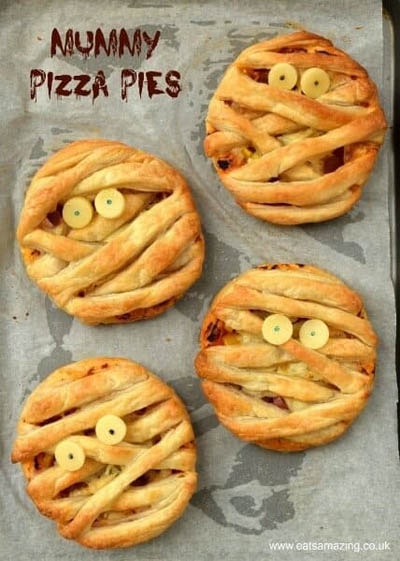 From: eatsamazing.co.uk
8. Oreo Cookie Eyeballs
These easy eyeball cookies are one of our favorite Halloween food crafts.
They are fun to make and the kids will definitely love to eat them!
You can change up the ingredients a little bit to work with items you can find, but you really don't need much for this easy cookie recipe other than OREO cookies and different frostings.
From: 100directions.com
9. Peanut Butter Jelly Spider Sandwiches
These are perfect for a quick snack at a Halloween party or a fun addition to the kids' lunchbox on Halloween.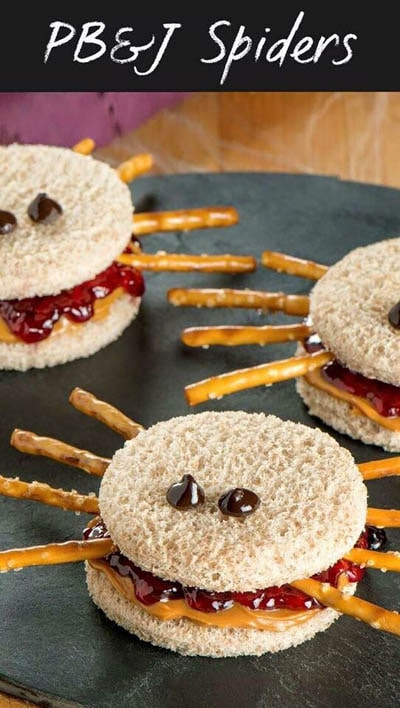 From: wereparents.com
10. Halloween Oreo Brookie Bars
There are three delicious layers in these Halloween Oreo Brookie Bars. A really simple way to add a colorful and very tasty treat to your Halloween festivities!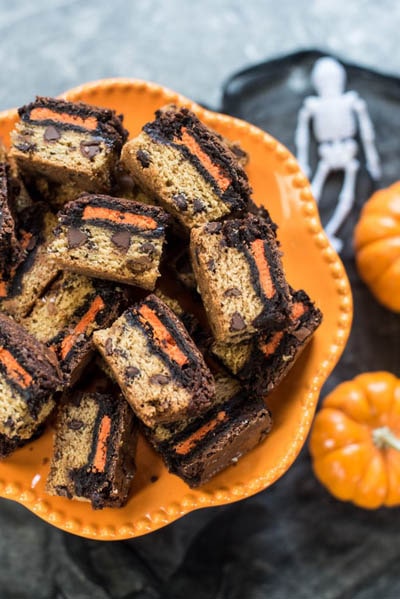 From: fromvalerieskitchen.com
11. Strawberry Ghosts
It doesn't get much better than a chocolate dipped strawberry! These strawberry ghosts are cute, easy to make and perfect for Halloween!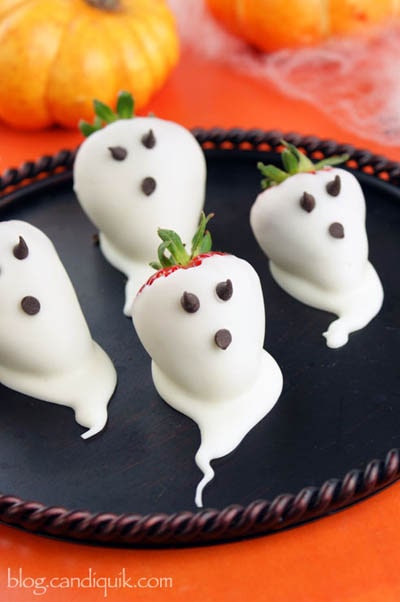 From: blog.candiquik.com
12. Cheesy Pastry Puff Eyeballs
Whip up these cheesy pastry puffs with just four ingredients, then make each pair come alive with slices of cucumber and olive, and squiggles of tasty Sriracha.
From: womansday.com
13. Halloween Hot Dog Mummies
An easy Halloween snack or meal that the kids will love. You can use any kind of dough for these mummies -store bought dough or homemade!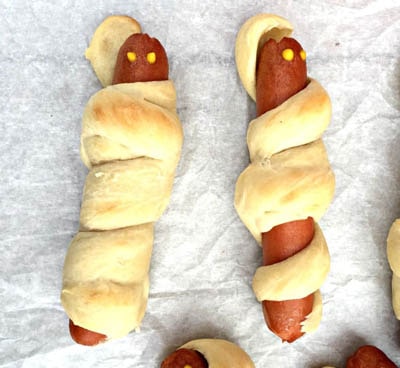 From: beyondthechickencoop.com
14. Mummy Twinkies
If your family loves Twinkies, then they will fall in love with these Mummy Twinkies. They make the perfect, spooky Halloween treat.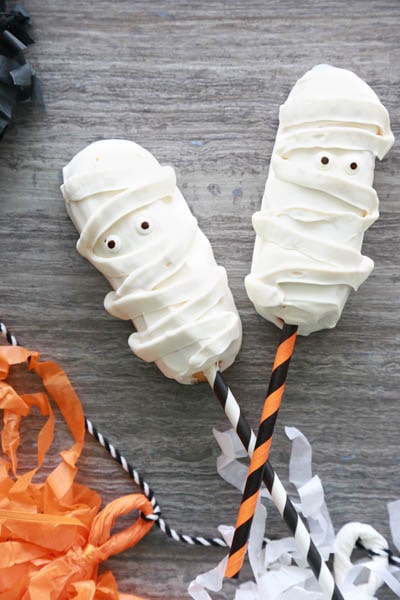 From: simplybeingmommy.com
15. Halloween Deviled Eggs
A Halloween deviled eggs recipe topped with spiders, and my recipe for the BEST deviled eggs you will ever eat. A great spooky treat for a Halloween party!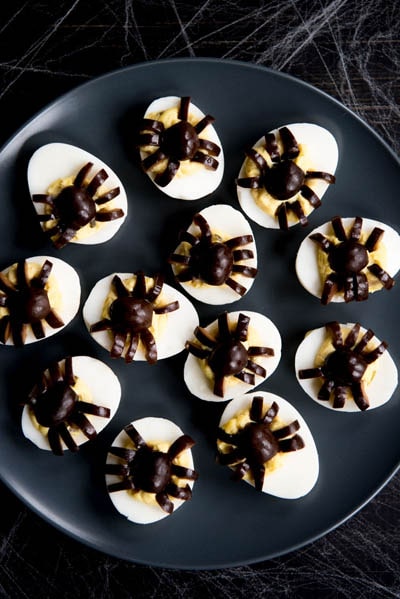 From: asideofsweet.com
16. Bloody Truffles
If you like creepy candies, these Bloody Truffles are for you! They're soft cake truffles with an optional cherry filling, decorated with candy weapons and a bit of edible "blood." Perfect for scaring your friends and family!
From: sugarhero.com
17. Melted Witch Cupcakes
Melted Witch Cupcakes are the perfect spooky treat for any Halloween party. These cupcakes are so cute and easy to make. your guests will be so shocked and think you put so much work into them, when really they only took a few minutes to put together.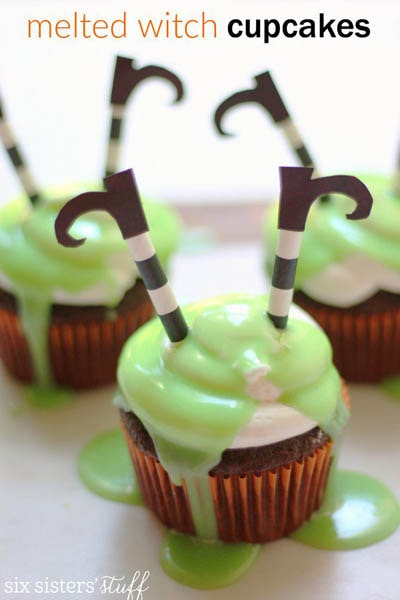 From: sixsistersstuff.com
18. Frankenguac
Play the mad scientist this year and bring a monster to life. He's frightfully fun and delicious!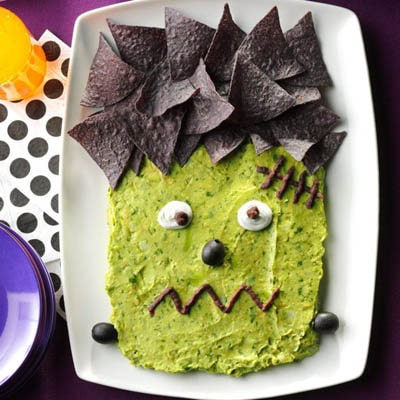 From: tasteofhome.com
19. Monster Rice Krispies
These Monster Halloween Treats have a lot of different options and while they can certainly be more than 3-ingredients, you can definitely go the "minimalist" route and make some cute monster treats with only 3 ingredients.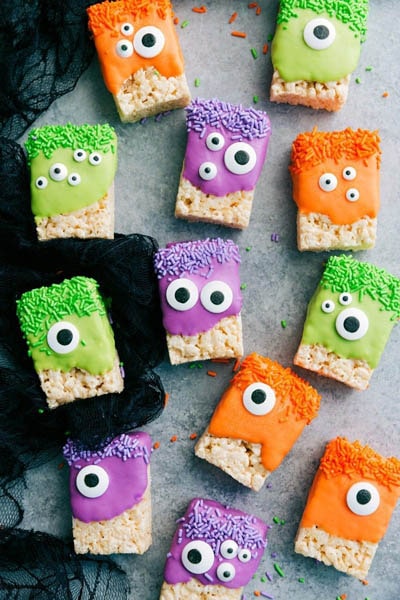 From: chelseasmessyapron.com
20. Halloween Monster Eye Cookies
Halloween is nearly here and it's time to get in the spirit with fun and easy Halloween monster eye cookies! The entire family is sure to love these!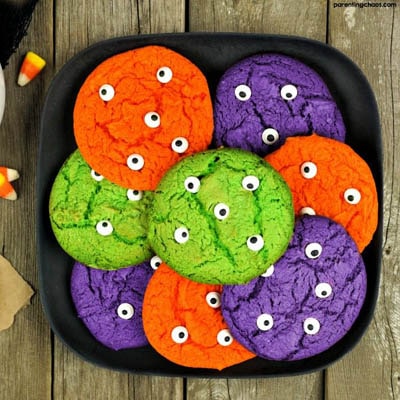 From: parentingchaos.com
21. Monster Cupcakes
These Monster Cupcakes are a quick way to bring a little Halloween cheer to your house! Make them from scratch or use a store bought mix.
From: lifewiththecrustcutoff.com
22. White Chocolate Mummy Pretzels
Pretzel rods are covered in drizzled white chocolate, then candy eyeballs are added to make these adorable halloween treats!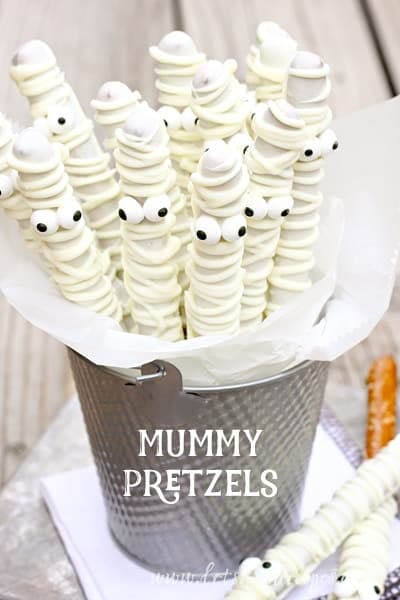 From: letsdishrecipes.com
23. Jack Skellington Candy Apples
These apples are much easier to create than you might think.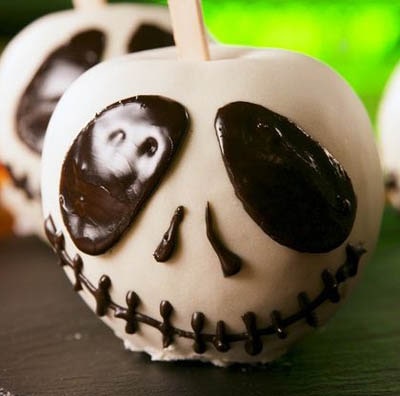 From: delish.com
24. 3 Ingredient Rice Krispie Treat Mummies
There's something about the combination of white chocolate and gooey marshmallow that makes for pure sugar-overload-heaven. Which is what Halloween is all about anyway, right?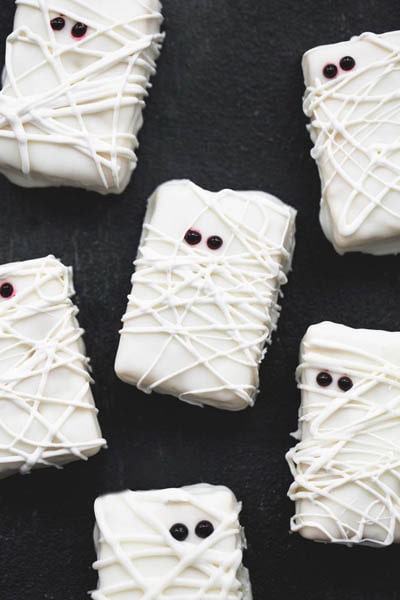 From: lecremedelacrumb.com
25. Dracula Dentures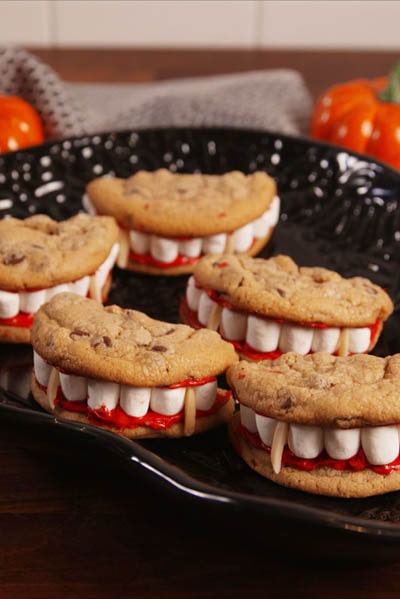 From: delish.com
26. Jack-O-Lantern Quesadillas
The kids just love these super cute Jack-O-Lantern Quesadillas! They make such a great dinner option for Halloween night, and you won't believe how quick and easy they are!
From: florassippigirl.blogspot.com
27. Banana Mummies
These adorably spooky banana mummies will be the hit of any Halloween party treat table.
From: womansday.com
28. Minty Fudge Vampire Brownies
Serving these vampire brownies is perfect for a Halloween party!
These easy Minty Fudge Vampire Brownies are sure to please the kids and adults alike.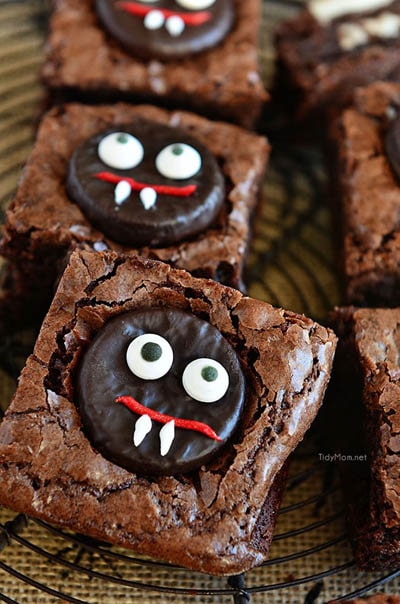 From: tidymom.net
29. Candy Corn Mini Rice Krispie Treats
Candy Corn Mini Rice Krispie Treats are bite-sized Rice Krispie Treats that look just like Candy Corn. Easy to make and boy do they taste great!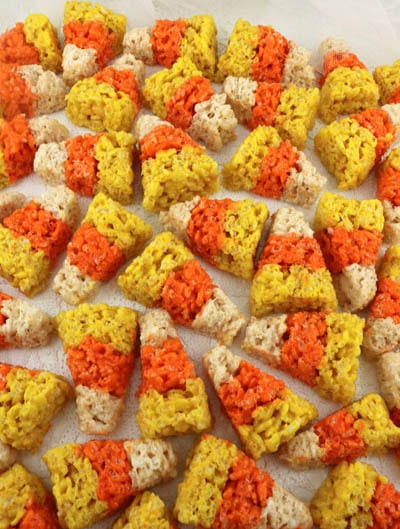 From: twosisterscrafting.com
30. Halloween Peanut Butter Spider Cookies
These Peanut Butter Spider Cookies are adorable and delicious — the perfect combo for a fun Halloween treat!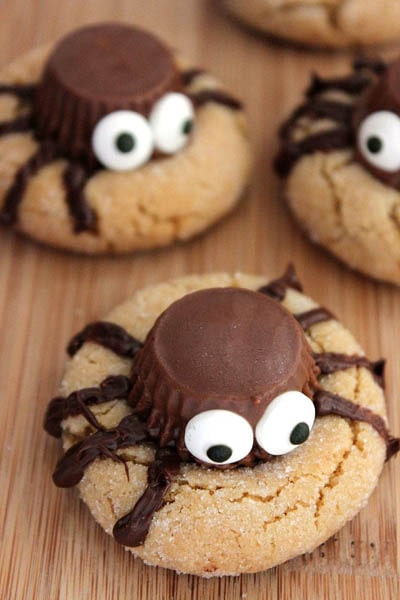 From: mommymusings.com
Looking for some more Halloween or snack ideas? Then check out these:
Pin these Halloween Snack Ideas for later!
If you enjoyed this roundup of Halloween snack ideas and party food, please take a moment to pin it to your Halloween Recipes board on Pinterest!
Also follow us on Pinterest for more great recipes and ideas!