If you're looking for a fun and creative treat to serve at your Halloween party this year, then we've got some great Halloween cake pops ideas you need to try.
Cake pops are really simple and easy to make, and they make the perfect bite sized treat. You definitely cannot go wrong with them!
14 Spooktacular Halloween Cake Pops Ideas
Enjoy these Halloween cake pops ideas. To view the full recipe for any of these cake pops, please click the links below the images.
1. No Bake Cookies & Cream Mummy Pops
These mummy pops are delicious, easy to make and just spooky enough to make the perfect Halloween treat!
From: lifewiththecrustcutoff.com
2. Halloween Jack O Lanterns Cake Pops
Halloween Cake Pops decorated like a Jack O Lanterns make a great treat for your Halloween Party. They also make great homemade treats for those special Trick-or-Treaters.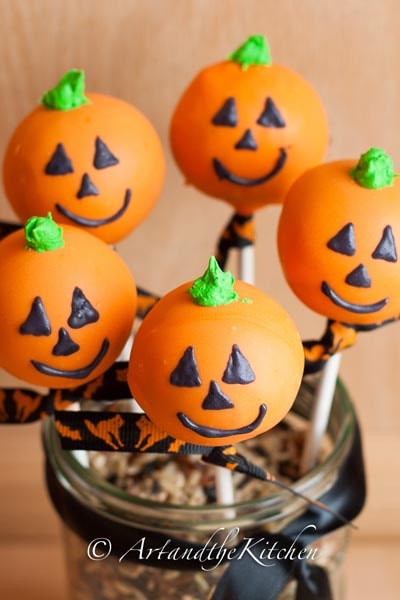 From: artandthekitchen.com
3. Black Cat Pops
These chocolate Halloween treats look so sweet that kids are going to love them, but taste so amazing that you might not be able to keep adults from snatching them up.
From: hungryhappenings.com
4. Pumpkin Cake Pops
Save yourself a trip to the pumpkin patch! These adorable pumpkin cake pops look like they were just plucked from the vine.
Crumbled cake mixed with frosting, dipped, and served on a stick make the cutest and festive fall treats.

From: whatshouldimakefor.com
5. Googly Eyed Cake Pops
Put a fun twist on your normal desserts and make these Googly Eyed Cake Pops!
They're the perfect dessert for your Halloween party and they'll have everyone dying to know how you made these deliciously goofy treats!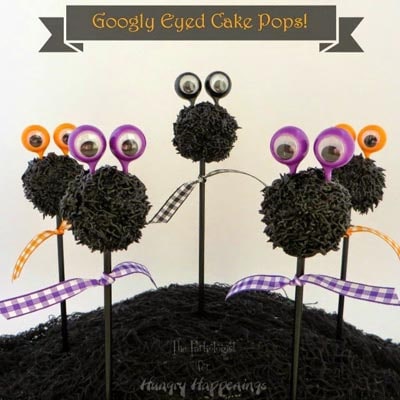 From: hungryhappenings.com
6. Mummy Cake Pops
Learn how to make these fun mummy cake pops as well as pumpkins and ghost cake pops over at the link below!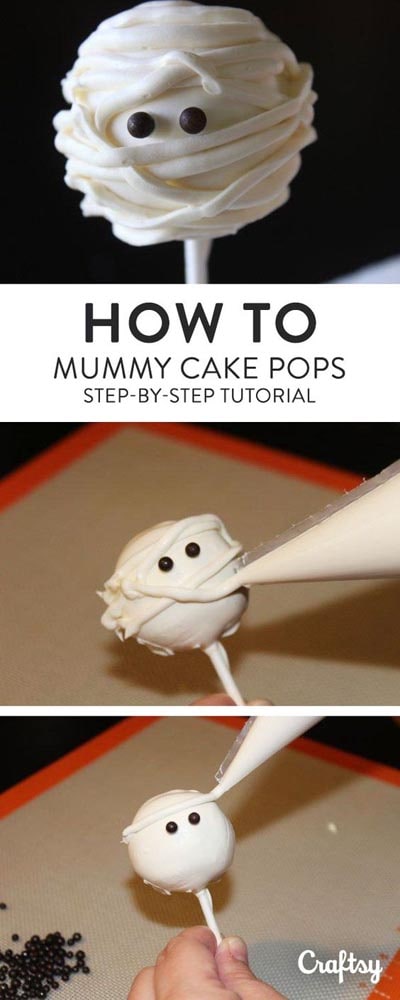 From: mybluprint.com
7. Easy Cake Pop Tutorial
Learn how to make homemade cake pops with this fun and easy cake pop tutorial!
If you're looking for an easy cake pop recipe that still fits with a Halloween theme, you definitely need to try these out!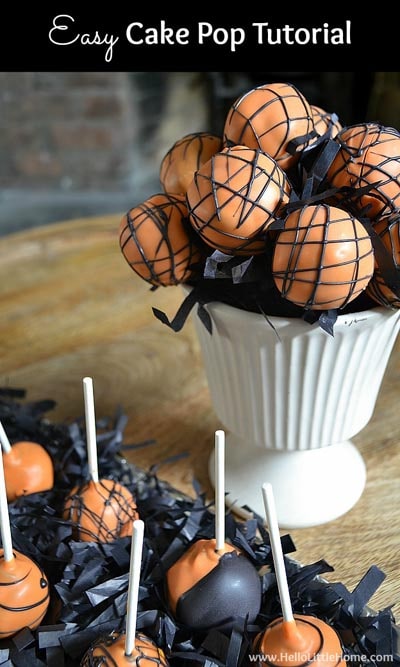 From: hellolittlehome.com
8. Jack Skellington Cake Pops
Your little ghouls and goblins are going to love this Nightmare before Christmas with this easy Jack Skellington Cake Pop Tutorial.
From: pintsizedbaker.com
9. Cauldron Cake Pops
Give those little witches a cauldron they can cackle over! These fun Cauldron Cake Pops will be the hit of your Halloween Party.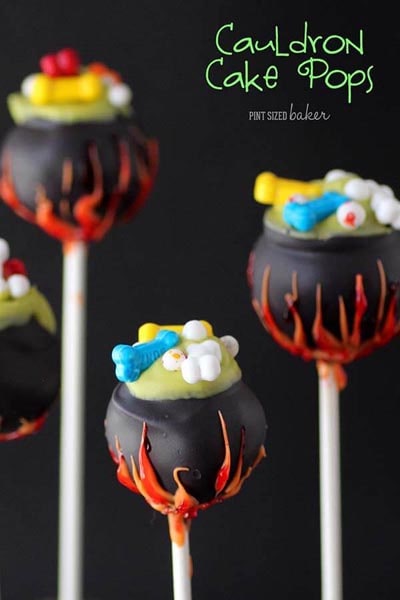 From: pintsizedbaker.com
10. Vampire Cake Pops
These are too cute for words, and so simple to recreate. They are sure to be a hit at your next Halloween party!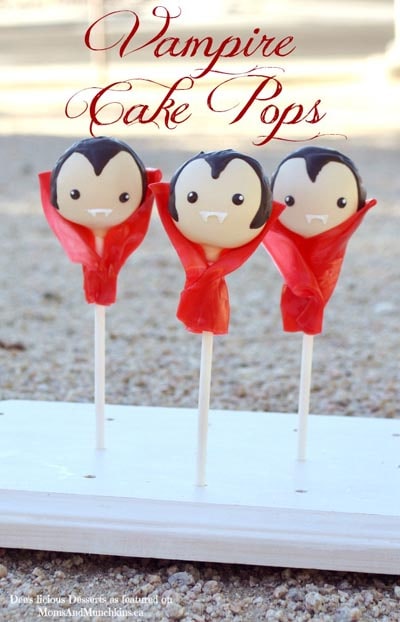 From: momsandmunchkins.ca
11. Monster Halloween Cake Balls
These monster Halloween cake balls are the perfect Halloween sweet treat – easy to make, ridiculously delicious and super fun to decorate.
They are gluten free, with a dairy free option, and are easily transformed into Halloween themed cake pops by simply throwing some cake pop sticks into the mix.

From: theloopywhisk.com
12. Eyeball Cake Pops
These eyeball cake pops are really easy to make and also somewhat creepy, perfect for Halloween!
Does anyone feel like they're being watched?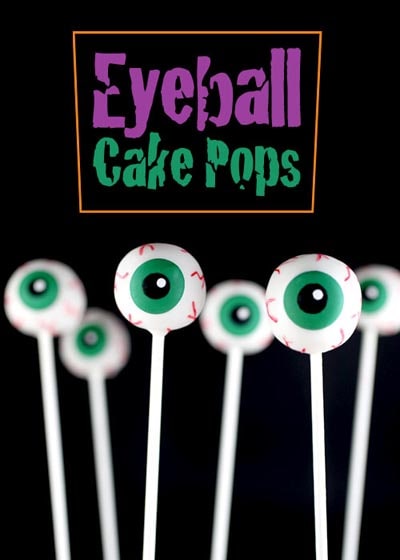 From: bakerella.com
13. Trick-or-treat Ghost Cake Pops
These Trick-Or-Treat Ghost Cake Pops are a deliciously adorable addition to any Halloween spread.
Made from crumbled cake mixed, frosting, and candy coating, these Trick-Or-Treat Ghost Cake Pops are the perfect, easy, make-ahead addition to your Halloween celebration.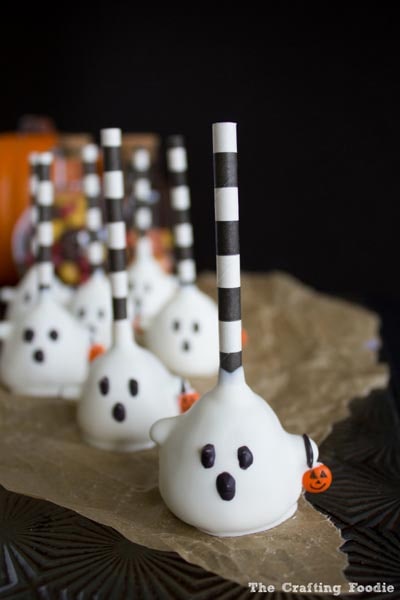 From: thecraftingfoodie.com
14. Flying Bat Cake Pops
These cute little flying bat cake pops are nothing to be afraid of. They are super cute, delicious and easy to make!
From: iscreamforbuttercream.com
Pin these Halloween Cake Pops Ideas for later!
If you enjoyed this roundup of Halloween cake pops ideas, don't forget to pin it to your Halloween desserts board on Pinterest! You can also follow The Daily Spice on Pinterest for more great recipes and ideas!