With Valentine's Day around the corner, you might be looking for some cute treats or desserts to make this year. We have rounded up some of our favorite Valentines Day Treats all in one place. It doesn't get any better!
We're of the firm belief that you don't need to be in a relationship to celebrate Valentine's day. You can celebrate love of any kind, including those you have for family and friends.
We often get so busy in our daily lives that we don't always show appreciation to the ones we love. So why not take Valentines day to show some of the appreciation and love we feel but often don't express.
Spoil your loved ones with some of these yummy Valentines Day Treats this year!
40 Sweet Valentines Day Treats For Your Favorite People
To view the full recipe and instructions for any of these Valentines Day Treats, please click on the link below the image of the recipe you like. Hope you enjoy!
1. Conversation Hearts Pretzel Bites
Take an iconic Valentine's Day candy Conversation Hearts and turn them into a fun Valentine's Day treat that we call Conversation Hearts Pretzel Bites.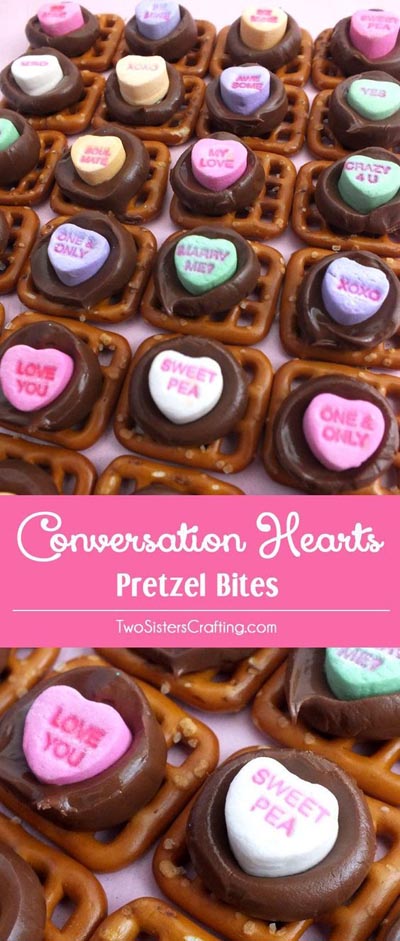 From: twosisterscrafting.com
2. Sweetheart Cinnamon Rolls
Using store bought cinnamon rolls is all you need to create these fun festive Valentine's Day treats.
Have an office meeting coming up? Treat the staff to these cinnamon rolls!
Who says cinnamon rolls are only for breakfast. Not us!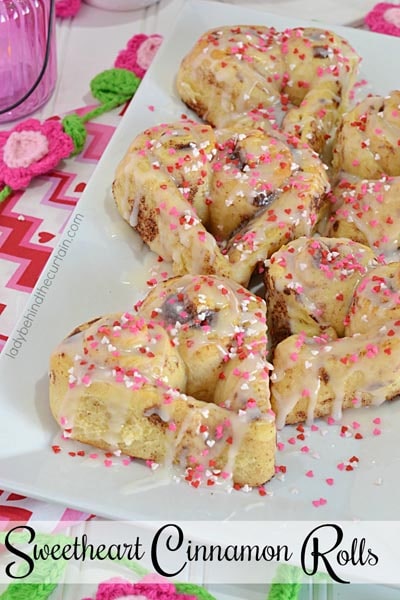 From: ladybehindthecurtain.com
3. Valentine's Marshmallow Pops
Here's a Valentine's treat that is super easy, and perfect to send along with your little sweeties to share with their friends.
From: glorioustreats.com
4. Valentines Bark
Easy and Delicious Valentine's Bark. Ingredients include vanilla candy coating, cherry m&m's, and sprinkles!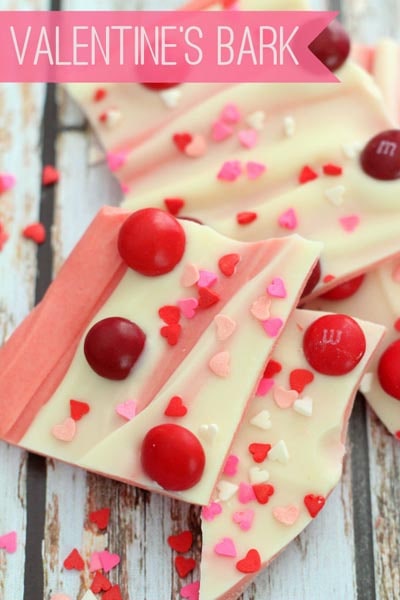 From: lilluna.com
5. Red Velvet Blossoms
The only warning that should come with these cookies is that they can make your mouth red, so the little ones might get a bit messy!
Nonetheless, they are the perfect red treat for at least 2 holidays out of the year!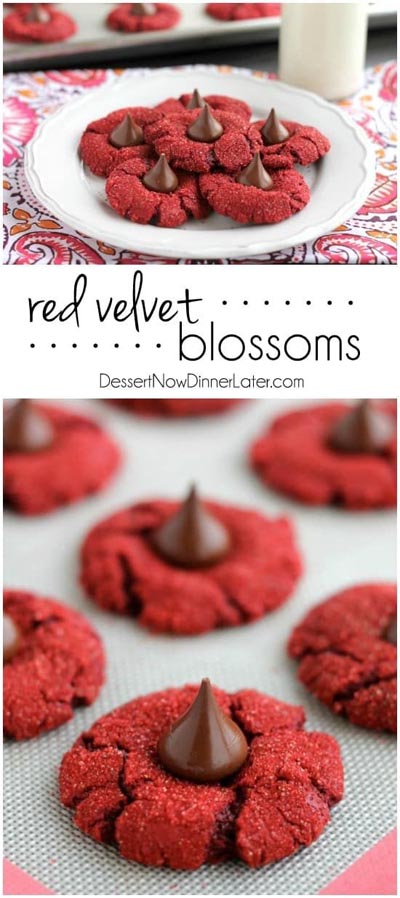 From: dessertnowdinnerlater.com
6. Valentine's Chocolate Chip Cookie Hearts
Valentine's Day Chocolate Chip Cookie Hearts are the perfect easy Valentine's Day dessert!
Easy to make using pre-made cookie dough or your favorite cookie recipe!
These heart shaped cookies will be your new go-to Valentine's Day treat!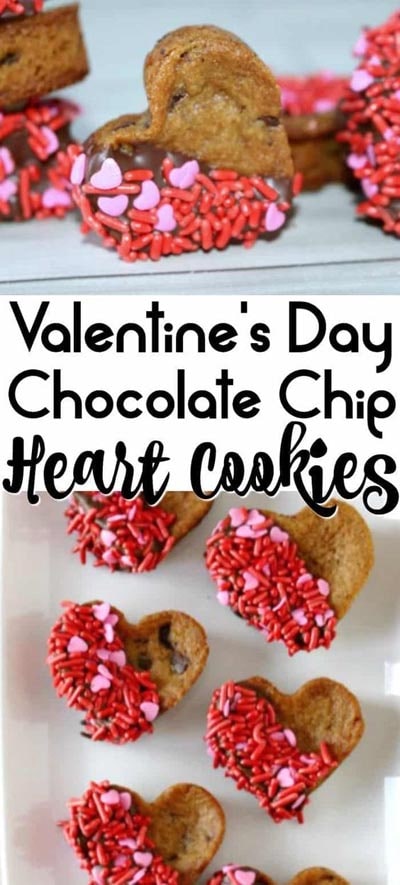 From: princesspinkygirl.com
7. Slice N' Bake Valentine Heart Cookies
We know these seem a little bit on the harder side to make, but we promise they're simpler than they look!
From: laurenslatest.com
8. Hot Chocolate with Marshmallow Hearts
Nothing says "I love you" like a warm mug of chocolate with floating marshmallow hearts.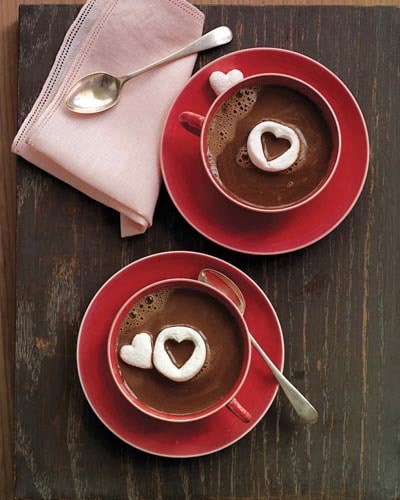 From: marthastewart.com
9. Kid Friendly Dipped and Decorated Valentine's Day Pretzels
The Valentine's Day Pretzel Treats are perfect for some special time in the kitchen with kids and even an affordable treat to make and take to school parties.
From: 5minutesformom.com
10. M&M's Valentine's Day Cookie Bars
We're seriously in love with these M&M'S Cookie Bars!
They are so pretty and easy to make and the very best part is they are perfectly delicious!

From: number-2-pencil.com
11. Chocolate Covered Strawberries
This Valentine's Day Chocolate Covered Strawberries recipe is an easy way to make this romantic and pretty treat at home.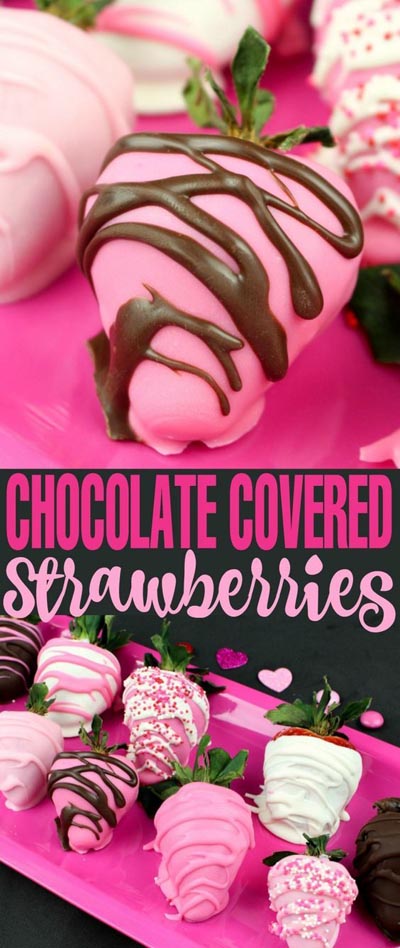 From: lifeloveliz.com
12. Caramel-Drizzled Brownie Hearts
Love brownies? Here's a special way to love every chocolaty crumb
From: bettycrocker.com
13. Fudge Brownies with Chocolate Ganache
Fudge Brownies with Chocolate Ganache – my favorite brownie base, topped with easy ganache and decorated Valentine's Day style!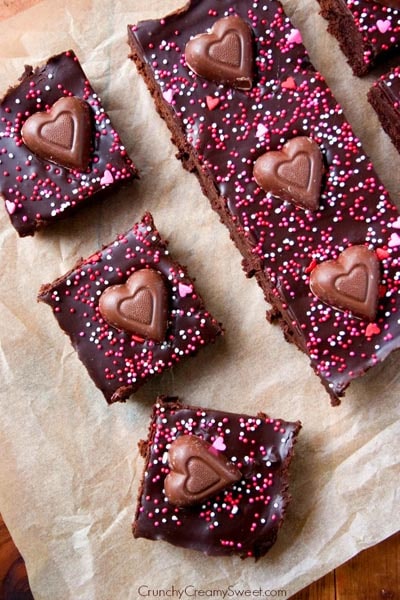 From: crunchycreamysweet.com
14. Cupid's Crunch Recipe
The fun part of this recipe?
Thanks to the candy makers all finding holidays fun for products, you can make this mix for every holiday and for no reason at all!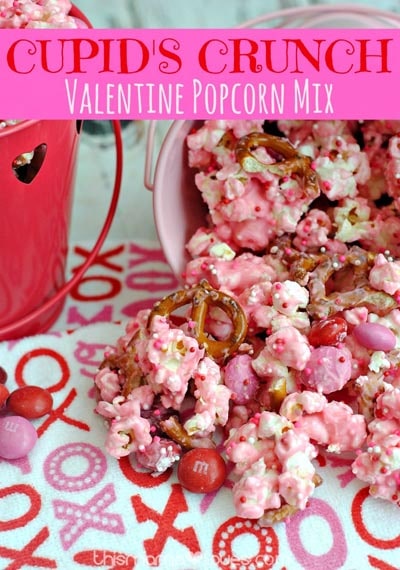 From: thismamaloves.com
15. Red Velvet Sugar Cookies
Small batch sugar cookies: red velvet sugar cookies with hearts for Valentine's Day!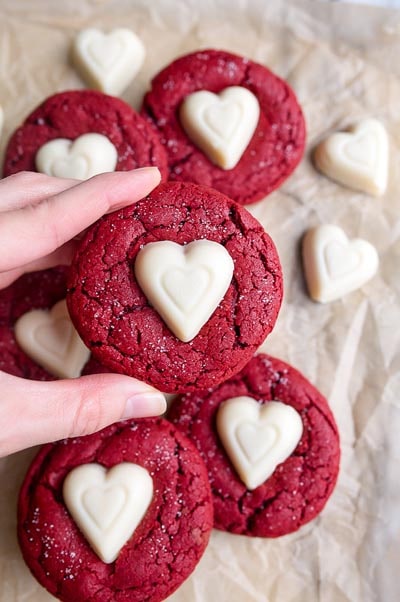 From: dessertfortwo.com
16. Love Is All Around Cake Roll
Heart-patterned cake roll made easier with a CAKE MIX! It is filled with a cloud-like whipped cream cheese frosting, and unveils a cute 'lil heart with every slice.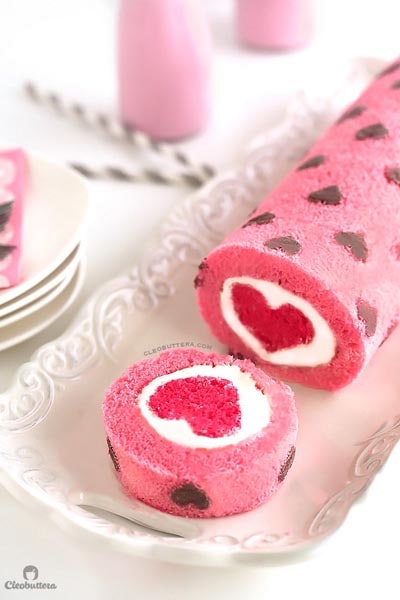 From: cleobuttera.com
17. Heart Meringue Cookies
Make these gorgeous meringue heart cookies for a valentines day treat dessert idea.
Also learn how to pipe hearts with meringue. It makes a fun gift!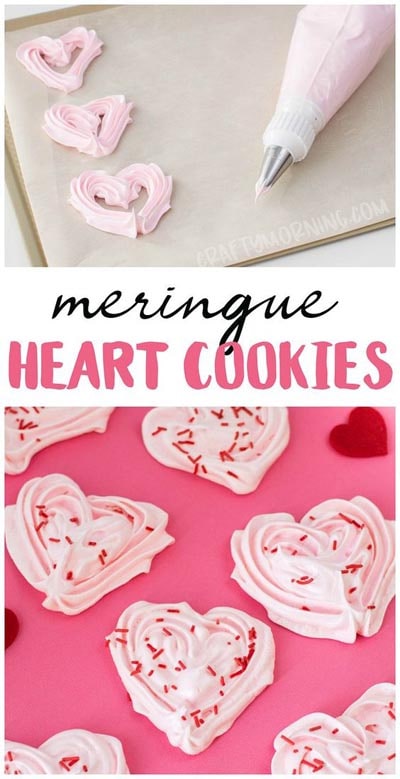 From: craftymorning.com
18. Fudgy Brownie Hearts with Espresso Glaze
If dark chocolate fudgy brownies are your thing, you simply must give these Fudgy Brownie Hearts with Espresso Glaze a try!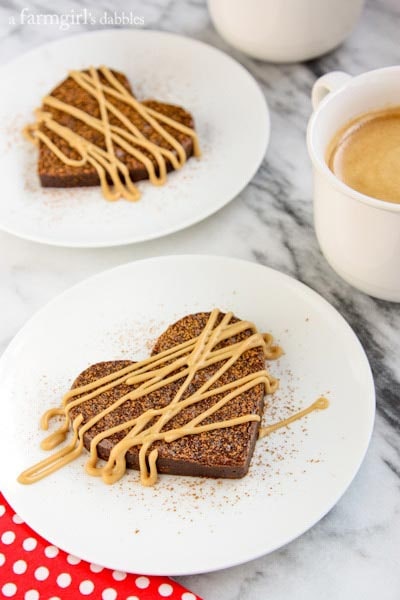 From: afarmgirlsdabbles.com
19. Chocolate Shortbread Heart Cookies
Crisp and buttery Chocolate Shortbread Heart Cookies that get dipped in chocolate!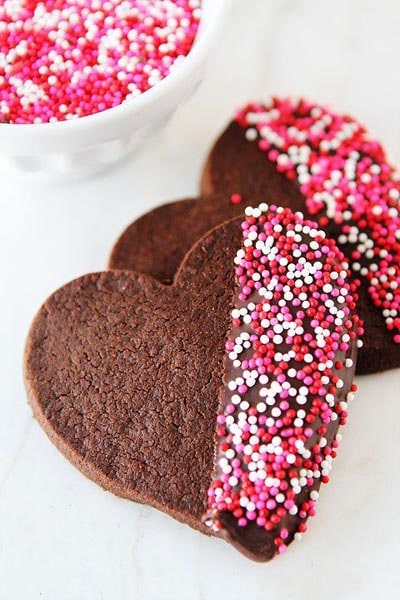 From: twopeasandtheirpod.com
20. Valentines Day Peekaboo Cake Recipe
Give your friends and family a fun and loving surprise in every slice of this Valentine's Day Peek A Boo Heart pound cake!
Everyone will be asking, "How'd you do that?"

From: bellyfull.net
21. Xoxo Rice Krispie Treats
XOXO Rice Krispie Treats are a sweet and delicious Valentine's dessert that will show your family that you love them on Valentine's Day.
From: twosisterscrafting.com
22. Marbled Red Velvet Cheesecake Brownies
These marbled red velvet cheesecake brownies look just adorable. And they're pretty easy to make too!
From: thenovicechefblog.com
23. Red Velvet Chocolate-Swirled Brownie Bars
These easy, no-mixer brownie bars are in between a bar and a brownie.
Not supremely fudgy to give them true brownie status, but much fudgier and richer than your typical bar, and not cakey.
They're smooth, rich, dense, and supremely moist.

From: averiecooks.com
24. Chocolate Dipped Strawberry Spritz Cookies
Strawberry jam gives the classic spritz cookie a kiss of natural strawberry flavor while a quick dip in rich dark chocolate makes these cookies just perfect for Valentine's day.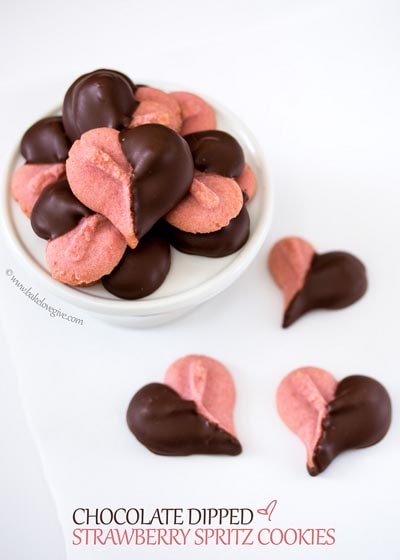 From: bakelovegive.com
25. Valentines Day Popcorn Recipe
This Valentine's Day Popcorn recipe is quite easy to make. It only takes a few minutes, but the results are a fun Valentine Treat both kids and adults will enjoy.

From: momfoodie.com
26. Chocolate Cake Mix Cookies
They are super soft, almost a cross between a fudgy brownie and a chewy cookie.
You may leave them plain or roll them in some festive sprinkles, like these tiny hearts for Valentine's Day.
From: sallysbakingaddiction.com
27. Red Velvet Sandwich Cookies
They are sweet and red and a perfect little treat to give on the 14th.
And even better, they are super-easy!
From: bakerella.com
28. Valentine Fruit Wands
These Valentine Fruit Wands are so cute and perfect for a healthy treat! Great snack for the kids any time of year!
From: afewshortcuts.com
29. Love Bug Oreo Cookies
Delish Hot & Spicy Cinnamon Oreos dressed to impress for Valentine's Day.
From: sarahsbakestudio.com
30. Valentine's Day White Chocolate Bark Bites
These White Chocolate Bark Bites will look adorable packaged up for Valentine's Day gift giving!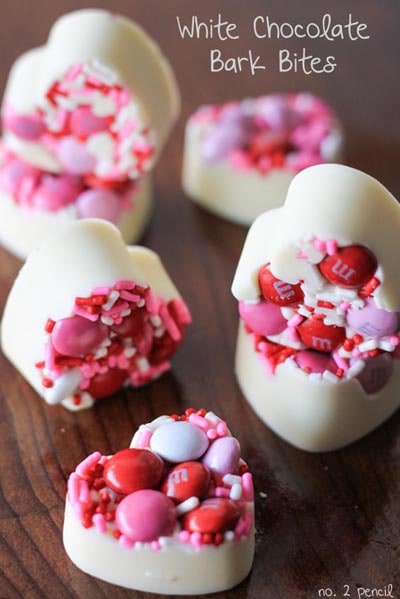 From: number-2-pencil.com
31. Raspberry Cheesecake Stuffed Brownie Hearts
Make your significant other fall in love with you all over again by making them these Raspberry Cheesecake Stuffed Brownie Hearts.
Each heat shaped brownie has a smaller raspberry cheesecake brownie stuffed inside.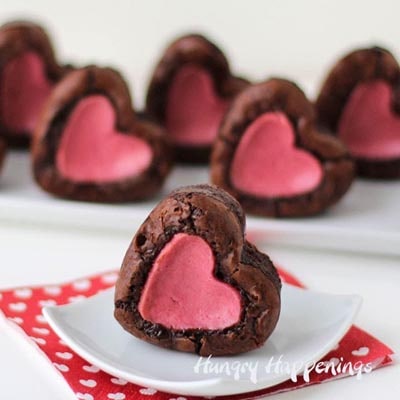 From: hungryhappenings.com
32. Red Velvet Rice Crispy Treats
Rice Crispy (Krispie) treats have always been a huge weakness for me.
Maybe it's because they only take about 3 minutes to make…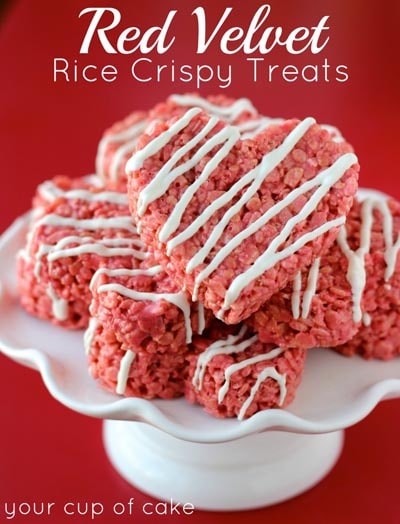 From: yourcupofcake.com
33. Butterfinger Peanut Butter Blossoms
Simple 4-ingredient peanut butter blossoms made with Butterfinger hearts.
This my favorite Valentine's day cookie, and we make them every year!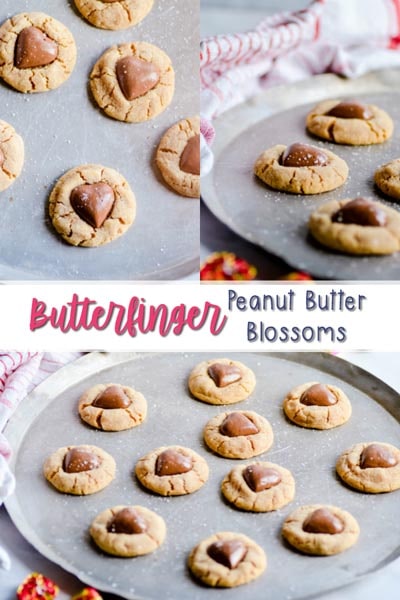 From: somethingswanky.com
34. Valentine's Day Oreo Pops
These cute Valentine's Day Oreo pops take only a few minutes to make, and they make a great classroom treat idea for your friends!
From: happinessishomemade.net
35. Heart Shaped Cinnamon Rolls on Sticks
Have you ever turned a cinnamon roll into a heart? It's super easy.
Then you can stick them on sticks, tint the icing pink, bathe them in sprinkles, and you have a pink puffy heart heart cinnamon roll.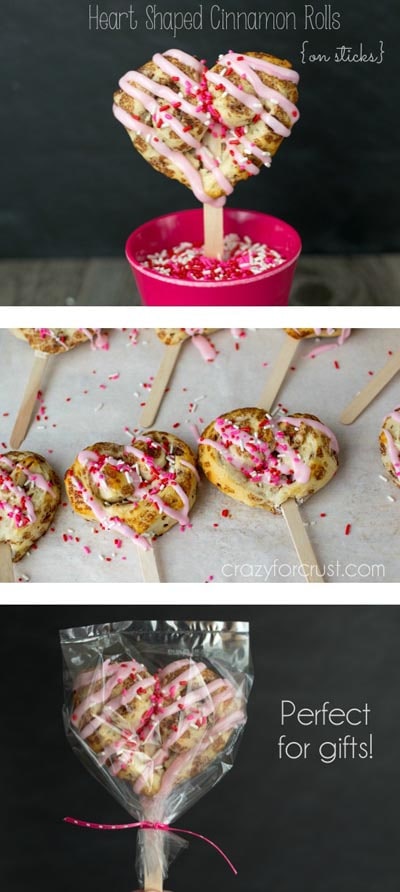 From: crazyforcrust.com
36. Valentines Jello Hearts
A fun jello dessert that kids can help with!
From: thehungryhousewife.com
37. Rose Petal Dark Chocolate Bar
This is the most beautiful homemade aphrodisiac chocolate bar that's topped with natural rose petals!
Perfect for your Valentine!
From: pureella.com
38. Chocolate Covered Pretzels
Chocolate covered pretzels might be my all time favorite treat to make and share.
They are SO darn easy to make, there is no baking, the options for customizing them are endless and with their delicious sweet and salty crunch, everyone always loves them.
From: lovefromtheoven.com
39. Strawberry Glazed Doughnuts
They are a perfect treat and go great with Ice Cream!
This is an easy bake at home recipe and best of all you don't have to feel guilty because these desserts are baked, not fried!
From: frugalcouponliving.com
40. M&M's Red Velvet Cookies
This show-stopping M&M's® Red Velvet Cookie Cake is perfect for Valentine's Day!
This giant cookie is loaded with M&M's® Red Velvet chocolate candies and a from-scratch Red Velvet Buttercream Frosting!
Perfect for sharing with a friend!
From: lovebakesgoodcakes.com
Pin these Valentines Day Treats for later!
If you enjoyed this roundup of Valentines Day Treats, please take a moment to pin it to your Valentines board on Pinterest, it would make our day!