As Christmas is quickly approaching, we've been wondering about which dessert to make for Christmas this year. And what could be better than candy and peppermint? It's festive and a fun holiday flavor, so we've been looking for some easy and tasty peppermint Christmas desserts and found these yummy recipes, which we're now sharing with you!
24 Festive Peppermint Christmas Desserts
Hope you enjoy these tasty and festive peppermint Christmas desserts as much as we do!
To view the full recipe for any of these, please follow the link for the respective number.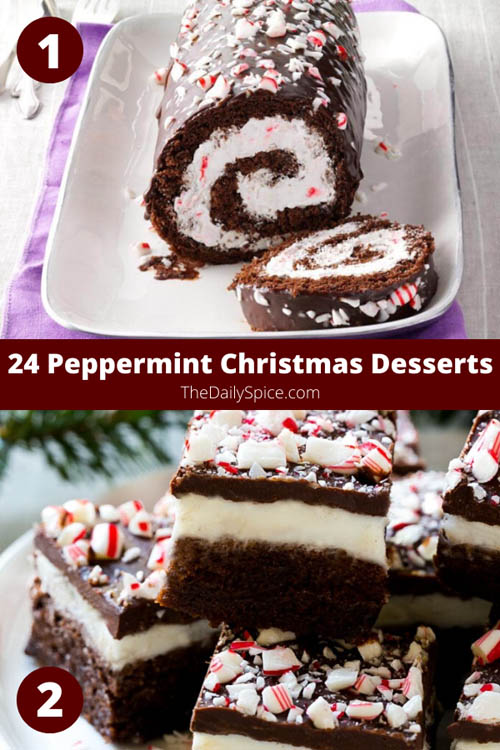 1. Chocolate Peppermint Log
What a great make-ahead treat!
This cake log is perfect for the holidays because you can make it when you have time, store it in the freezer and scratch dessert off of your to-do list.
From: tasteofhome.com
2. Peppermint Brownies
No one will ever be able to guess that these rich and decadent brownies came from a boxed mix.
They're a festive addition to any cookie tray or holiday dessert table!
From: dinneratthezoo.com
3. Holiday Peppermint Cake
Dazzle your friends and family with this simple and delicious holiday peppermint cake!
It just may become a holiday tradition!
From: lovebakesgoodcakes.com
4. Peppermint Mocha Donuts
The flavors of chocolate, coffee, and peppermint shine in these Peppermint Mocha Donuts. These baked donuts are surprisingly quick and easy to make.
Peppermint Mocha Donuts would be a festive addition to any holiday brunch or dessert buffet!
From: kristineskitchenblog.com
5. Chocolate Peppermint Cookie Cups
These Chocolate Peppermint Cookie Cups are the perfect make-ahead treat for the holidays.
Dark chocolate cookies filled with a whipped peppermint cheesecake and topped with crushed candy canes!
From: livforcake.com
6. Peppermint Bark Fudge
An easy no-bake fudge that can be made with condensed milk and without a candy thermometer.
An easy, few-ingredient recipe that makes a great edible Christmas gift.
From: sugarspunrun.com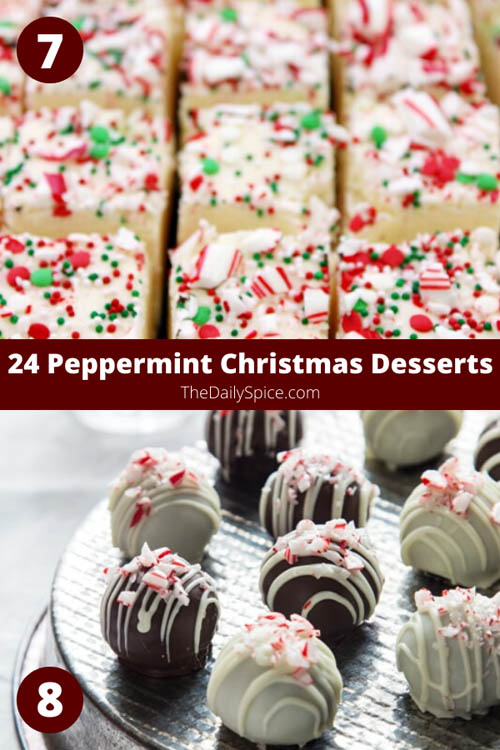 7. White Chocolate Peppermint Fudge
This White Chocolate Peppermint Fudge is a decadent, but easy, fudge recipe perfect for the Winter season.
It also makes a great gift idea!
From: lovebakesgoodcakes.com
8. Peppermint Oreo Cookie Balls
Peppermint Oreos are combined with cream cheese and crushed candy canes and in dipped in candy melts to create Peppermint Oreo Cookie Balls.
They're simple and so delicious.
From: mybakingaddiction.com
9. Peppermint Patties Recipe
This easy homemade peppermint patties recipe is the ultimate holiday treat. A creamy peppermint center is surrounded by dark chocolate and finished off with festive sprinkles.
From: dinneratthezoo.com
10. Peppermint Hot Chocolate Cookies
Peppermint Hot Chocolate Cookies are the perfect festive holiday treat!
Not to mention they're a chocolate lovers dream! Chocolate cookies are layered with a sweet vanilla marshmallow, chocolate icing, and crushed peppermint candies.
Who could resist?
From: cookingclassy.com
11. Chocolate Peppermint Cupcakes
Embrace the holiday season with these festive chocolate peppermint cupcakes.
They're topped with ganache, peppermint buttercream and crushed candy cane.
From: lifemadesimplebakes.com
12. Practically Perfect Peppermint Fudge
Just a handful of ingredients and five minutes are all you need to make this pretty and festive fudge!
From: momontimeout.com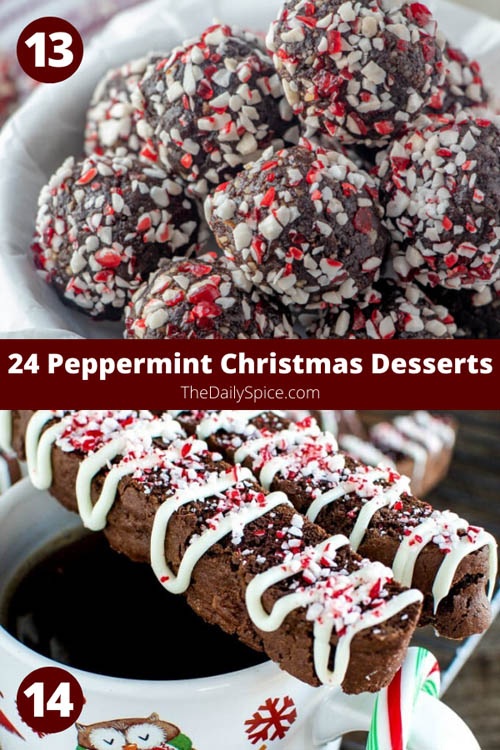 13. No Bake Chocolate Peppermint Balls
Healthier no bake snacks to ease your sugar cravings!
One of the best things about these incredible little chocolate peppermint balls? You can have them made in 15 minutes!
From: happyhealthymama.com
14. Chocolate Peppermint Biscotti
This Chocolate Peppermint Biscotti is the perfect cookie for dunking in coffee or milk.
These crunchy, festive cookies also make beautiful Christmas gifts!
From: backforseconds.com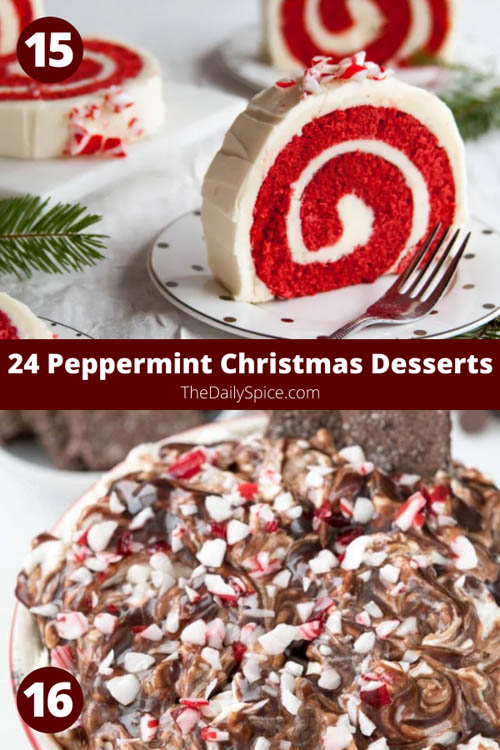 15. Peppermint Red Velvet Cake Roll
With tender red velvet sponge cake and a silky peppermint buttercream, this is a fun spin on a classic, crowd-pleasing dessert.
From: thekitchn.com
16. Peppermint Mocha Cheesecake Dip
Peppermint mocha cheesecake dip is the easiest way to make cheesecake desserts, and the peppermint mocha flavor makes this the perfect holiday dip recipe.
From: crazyforcrust.com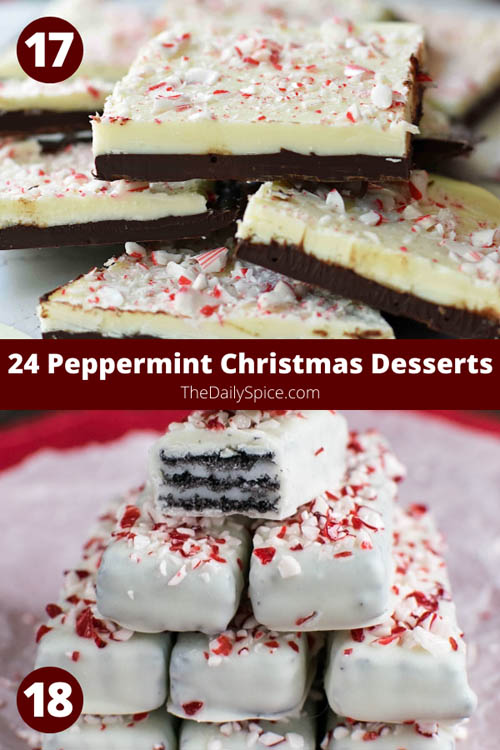 17. Chocolate Peppermint Bark
Chocolate Peppermint Bark made with layers of melted white chocolate with a touch of peppermint, melted chocolate, and topped with crushed peppermint candy canes.
From: modernhoney.com
18. Chocolate Peppermint Wafers
These no bake Chocolate Peppermint Wafers are an easy treat to make and share with friends at all your holiday parties.
From: insidebrucrewlife.com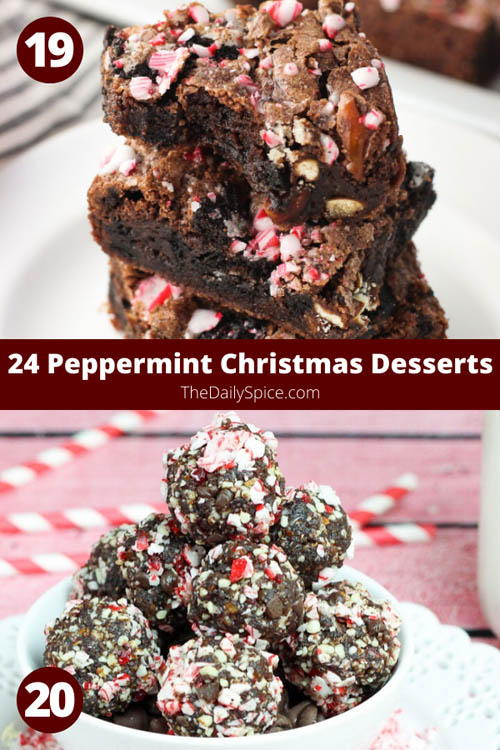 19. Loaded Dark Chocolate Peppermint Brownies
These brownies are rich, fudgy, and loaded up with Oreo pieces, pretzels, and crushed candy canes for a sweet, salty, and minty spin on brownies.
From: mysequinedlife.com
20. Peppermint Fudge No Bake Energy Bites
You'll love this fun holiday spin on healthy no bake energy bites!
These bites taste amazing and are the perfect healthy holiday treat.
From: runninginaskirt.com
21. Chocolate Peppermint Bundt Cake
This super decadent bundt cake is a showstopper for sure.
It's studded with chocolate chips on the inside, and drenched in a dark chocolate peppermint glaze and crushed candy canes.
From: ourbestbites.com
22. Peppermint Mocha Mini Cheesecakes
Peppermint Mocha has never tasted better than in these heavenly peppermint mocha mini cheesecakes!
Mini cheesecakes made with peppermint Oreo crust, smooth peppermint mocha cheesecake and topped with peppermint chocolate drizzle and bark.
From: willcookforsmiles.com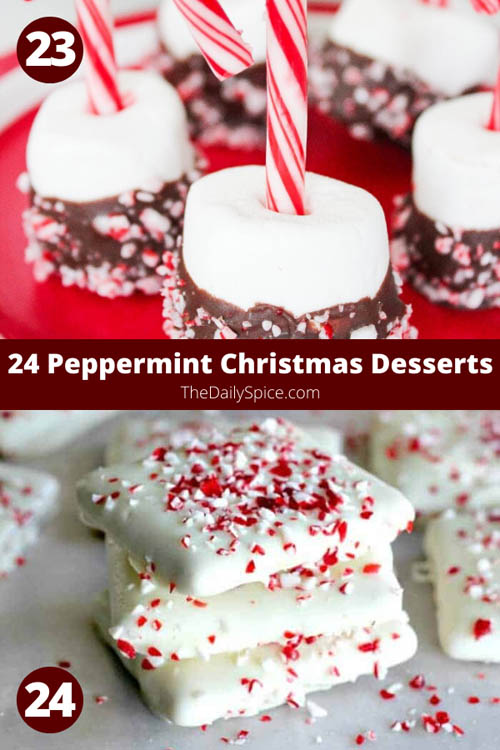 23. Peppermint Chocolate Covered Marshmallows
Looking for something quick and easy? Then try this!
These peppermint and chocolate covered marshmallows taste amazing in hot chocolate or a nice cup of coffee.
They'd also be super cute for holiday hot chocolate bars or buffets.
From: bakingbeauty.net
24. Peppermint Crunch White Chocolate Covered Graham Crackers
For this, you only need 3 ingredients and it's super easy!
Graham crackers, white chocolate and crushed peppermint sprinkles. These are really pretty and they taste out of this world!
From: thebakingchocolatess.com
Also check out these drool worthy Christmas recipes and ideas:
Pin these Peppermint Christmas Desserts for later!
If you love this roundup of peppermint Christmas desserts recipes and ideas, please take a moment to pin it to your Christmas desserts board on Pinterest. You can easily get back to it later that way!
You can also follow us on Pinterest for more yummy recipes and holiday ideas!