What is Christmas without a batch of festive, yummy Christmas cookies? Just not complete in my books!
Every Christmas, I love to bake some fun Christmas cookies. I just love that smell of cookies toasting in the oven. It fills the whole house with that sweet cookie smell.
Today I've rounded up some amazing Christmas cookie recipes that I hope will inspire you to bake some cookies this year!
Christmas Cookies That Are Festive And Fun
Enjoy this roundup of 30 festive and tasty Christmas cookies.
To view the full recipe for any of these cookies, follow the link below each picture.
1. Sweet Christmas Gingerbread Star Cookies
These gingerbread cookies will taste excellent with Fancy or Cooking molasses.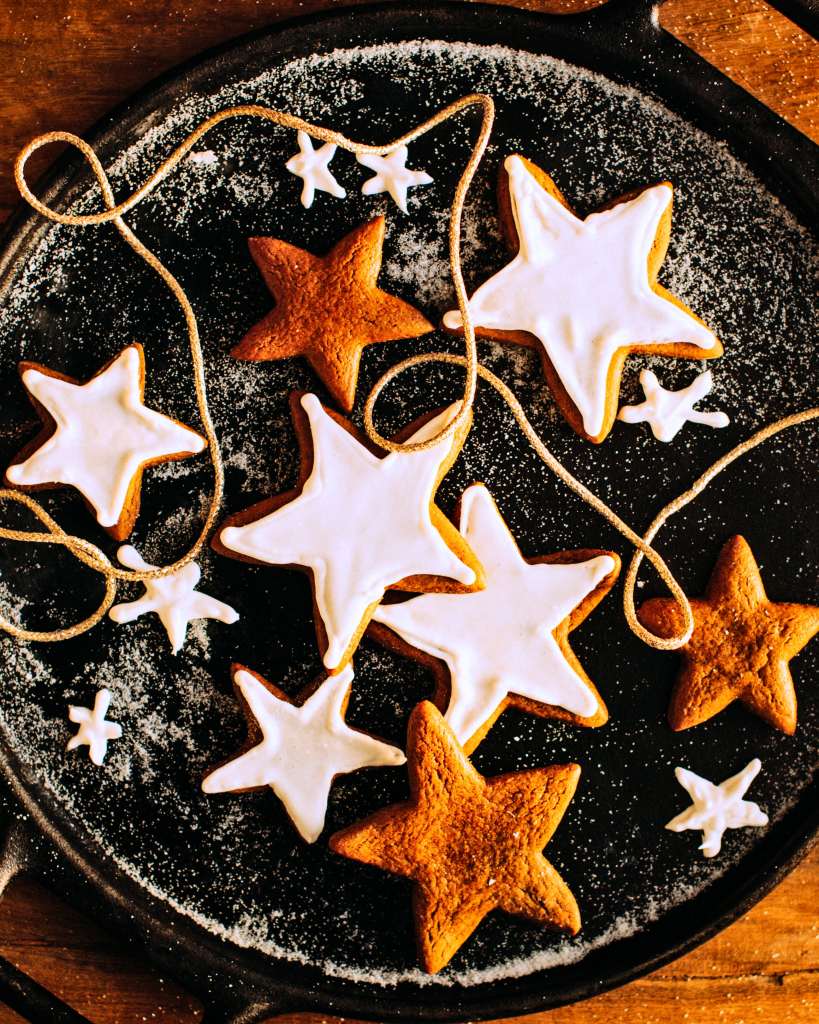 From: foodess.com
2. Christmas Pinwheel Sugar Cookies
An easy and festive pinwheel cookie that is perfect for the Christmas season!
A must make for all sugar cookie fans!
From: bakedbyrachel.com
3. Gingerbread Bars with Cream Cheese Frosting
Chewy, perfectly spiced Gingerbread Bars meet sweet, luscious Cream Cheese Frosting. And it is a match meant to be!
These are one of the best holiday bars! Trust me, once you try them you'll want to make them every Christmas season!
My list of cookies I need to make every year just keeps getting longer and longer!

From: cookingclassy.com
4. Dark Chocolate Candy Cane Cookies
The classic combination of chocolate and peppermint make these dark chocolate candy cane cookies the perfect treat for the holidays!
From: livforcake.com
5. Christmas Lights Cookies
Christmas Lights Cookies with a small batch of royal icing and mini M&Ms as Christmas Lights.

From: dessertfortwo.com
6. Soft Batch Christmas Sprinkle Cookies
Soft Batch Christmas Sprinkle Cookies are a super easy holiday sugar cookie. And there is no rolling the dough required!
Packed with red and green sprinkles, perfect for the holidays! These sprinkle sugar cookies are the best, easiest, Christmas cookies around!

From: thesaltymarshmallow.com
7. Gingerbread Cookie Truffles
These delicious gingerbread truffles are ready in 15 minutes.
They make a perfect festive gift for your loved ones. They're also a great way to use all the leftover gingerbread /gingerbread snap cookies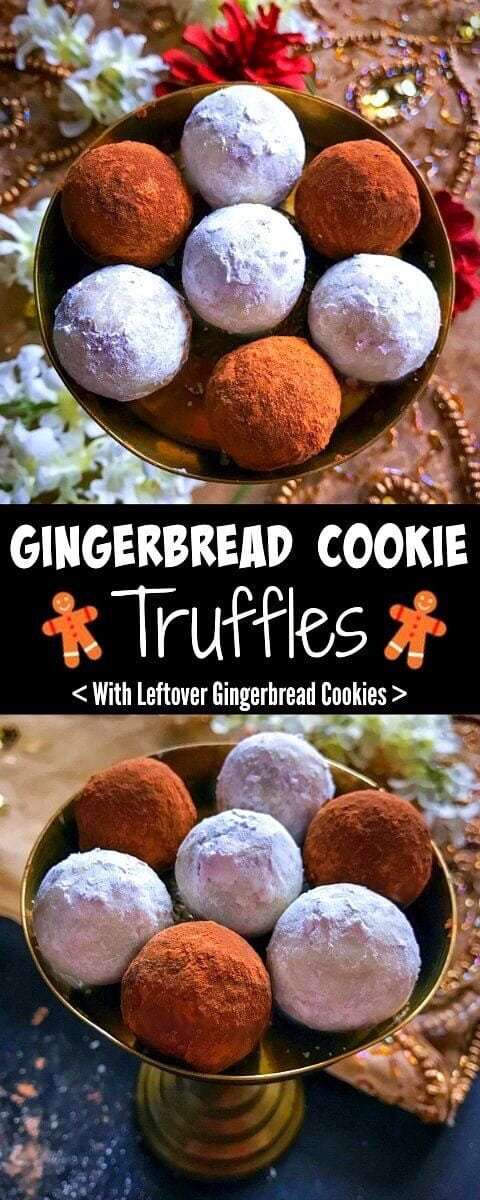 From: easycookingwithmolly.com
8. Caramel Chocolate Pretzel Rods
If you are needing some Christmas food gift inspiration, check these out!
These caramel and chocolate pretzel rods will be perfect for gifting this holiday season.
They're so simple to make, no need to buy gourmet.

From: cincyshopper.com
9. White Chocolate Ting-a Lings
White Chocolate Ting-a Lings are one of our favorite holiday treats!
They are loaded with salty peanuts and crunchy chow-mein noodles. They're then also smothered in white chocolate and decorated with red, green and white Christmas sprinkles.
They're the perfect salty-sweet no-bake treat.

From: lemontreedwelling.com
10. Christmas Tree Oreo Pops
These Christmas tree Oreo pops really are easy to make and fun to decorate with the kids.
Big kids can make them all on their own, and little kids can help with dipping and adding sprinkles.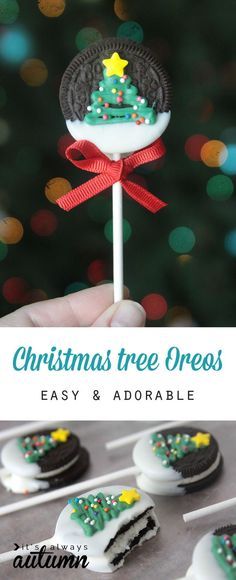 From: itsalwaysautumn.com
11. Christmas Shortbread Cookies
With an easy decorating technique, these fun Christmas Shortbread Cookies look like they came from a fine bake shop!
From: thecafesucrefarine.com
12. Hot Chocolate Cookie Cups
Hot Chocolate Cookie Cups are festive Christmas cookies!
Sugar cookie cups filled with fudge, mini marshmallows and sprinkles. And I love the candy cane handle!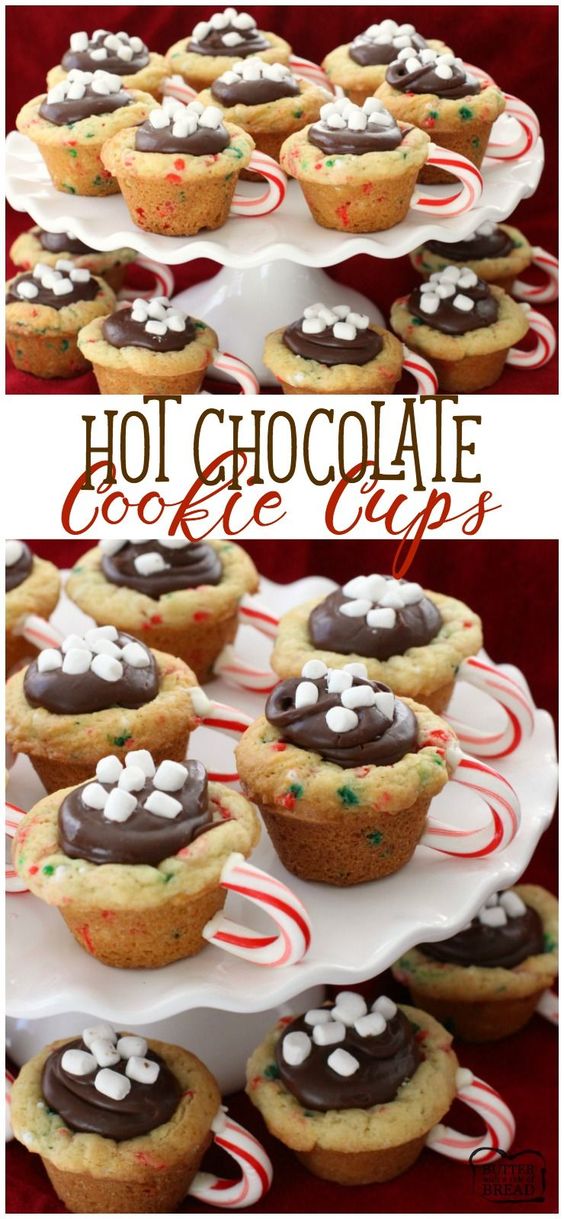 From: butterwithasideofbread.com
13. Peanut Butter Snowballs
Peanut Butter Snowballs are filled with sweet, creamy peanut butter and covered in vanilla candy coating and sprinkles!

From: lilluna.com
14. Easy Christmas Tree Brownies
These brownies make me SO HAPPY!
Is there anything more delicious than the combination of peppermint and chocolate? Particularly when there's icing and sprinkles involved? I didn't think so.
It's pretty much guaranteed to brighten your day.

From: onelittleproject.com
15. Wholesome Gingerbread Cookies
The handful of simple, wholesome ingredients in here make for super tasty cookies.
The gingerbread spice comes through nicely and they have a very deep and full-bodied flavor.
From: savorynothings.com
16. Peppermint Chocolate Thumbprint Cookies
These Peppermint Chocolate Thumbprint Cookies are so easy, delicious and super freezer friendly.
You will need some peppermint kisses though, so start keeping your eyes open for those. They tend to go fast this time of year!

From: smalltownwoman.com
17. Insanely Delicious Turtle Cookies
The classic flavors of turtle candy. Chocolate, pecans, and caramel in soft and insanely delicious turtle cookies.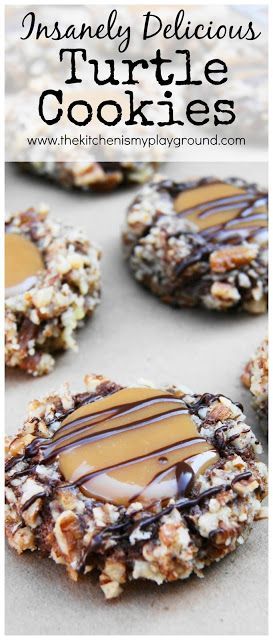 From: thekitchenismyplayground.com
18. Easy Christmas Peppermint Patties
You're going to love this easy Christmas peppermint patties recipe!
They're super easy to make, fantastically festive, and always a hit with kids and adults alike.
These holiday treats are the perfect addition to cookie trays. They also make an excellent gift for teachers and friends!

From: momontimeout.com
19. Pecan Pie Cookies
Pecan Pie Cookies have a thin flaky crust with a layer of the amazing nutty caramel pecan pie filling we love so much!
These are the perfect cookies for any occasion!
From: spendwithpennies.com
20. Soft Glazed Gingerbread Bars
Are you craving gingerbread but don't have time to make those cute, little gingerbread men?
Then try these quick and easy, soft gingerbread bars.
From: chocolatewithgrace.com
21. 3-ingredient Buttery Shortbread Cookies
This really awesome shortbread is made with just 3 simple ingredients.
These buttery shortbread cookies are brimming with delicious melt-in-your-mouth flavors. Dress them up with sprinkles, drizzles, or keep them pure and simple.
Trust me, they're absolutely addictive!

From: chewoutloud.com
22. Red Velvet Christmas Cookies
Red Velvet Christmas Cookies are buttery and rich!
Topped with cream cheese icing and holiday sprinkles, these festive cookies irresistible!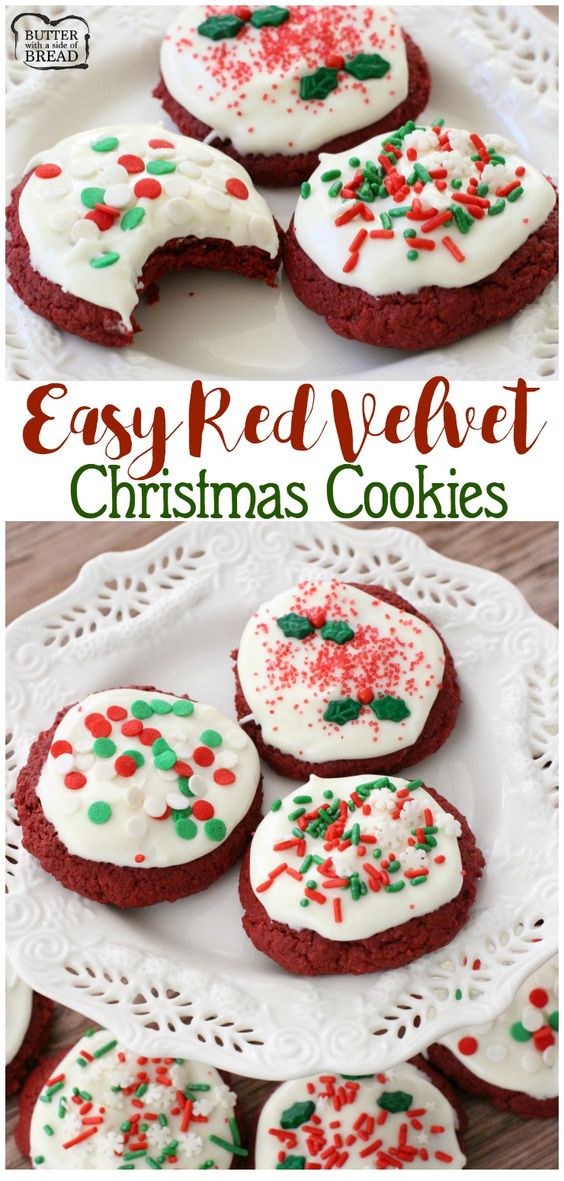 From: butterwithasideofbread.com
23. Mini Gingerbread Cookie Cups
Decorated gingerbread cookie that looks too darn cute!
They are crisp, soft, sweet, spicy, minty and ADORABLE.

From: kitchenathoskins.com
24. Holly Cookies
These super simple Holly Cookies are a great addition to holiday baking!
From: recipegirl.com
25. Chocolate Drizzled Christmas Cookie Sticks
These chocolate drizzled Christmas cookie sticks are perfect for dunking in your hot cocoa or coffee.
An easy Christmas cookie recipe that everyone loves.
From: creationsbykara.com
26. White Chocolate Raspberry Cookies
Take a traditional soft chocolate chip cookies and substitute white chocolate. Then add freeze dried raspberries to make this fun white chocolate raspberry cookie variation.

From: chocolatewithgrace.com
27. Funfetti Shortbread Bites
These fun little shortbread bites are perfect for the holidays.
Made with Christmas sprinkles, they make great gifts or snacks for parties.

From: cookingclassy.com
28. Cut-out Sugar Cookies
These gluten-free cut-out sugar cookies are now a go-to Christmas cookie recipe in our house!
A few simple tricks make the sugar cookie dough super easy to work with.
And the gluten-free sugar cookies don't spread while baking!
From: evolvingtable.com
29. Gingerbread Crinkle Cookies
Yum! Gingerbread crinkle cookies are a must-try during the holidays.
They are chewy, full of ginger flavor and coated in sugar with exposed cookie cracks.
From: ifyougiveablondeakitchen.com
30. Marshmallow Roll Cookies
These yummy cookies are easy, no-bake and freezer friendly!
These cookie confections will be popular with all ages, especially around the Christmas season.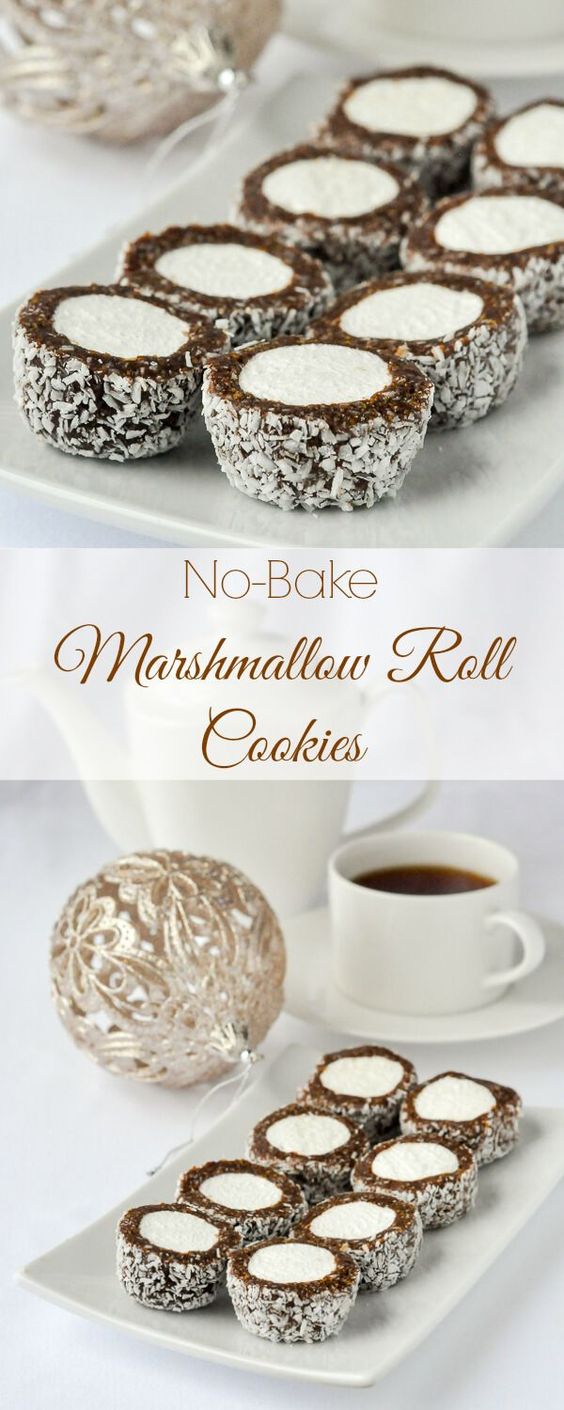 From: rockrecipes.com
Watching your diet this holiday season? Then check out this post with 35+ keto friendly Chistmas cookies! Definitely worth checking out if you're trying to stay on the low carb side of things!
Enjoyed this list of Christmas Cookies? Then pin it for later!
If you enjoyed this roundup of Christmas cookies, don't forget to pin it to your Christmas board. That way you can easily come back to it later!