Pumpkin spice recipes is the best way to bring some Fall and holiday flavor to your life. Enjoy pumpkin spice in cookies, cakes, lattes, cheesecakes, donuts, and all the little treats you can think of!
Pumpkin Spice Recipes
Enjoy these delicious pumpkin spice recipes. For the full recipes instructions please follow the link below each image.
1. Pumpkin Spice Waffles
Made with pure pumpkin puree and coconut oil, these waffles are moist, fluffy and ready for maple syrup.
From: lovelylittlekitchen.com
2. Pumpkin Spice Truffles
Your new favorite fall treat!
I find these truffles get even better– and the pumpkin flavor becomes more prominent– after a day or two in the refrigerator.
From: sallysbakingaddiction.com
3. Pumpkin Spice Cheesecake Recipe
Chewy spice cake crust, with a creamy pumpkin spice filling.
This Pumpkin Spice Cheesecake is the perfect holiday dessert. The pumpkin cheesecake filling with the spice cake crust creates a holiday favorite. Your guests and family will rave about it!
From: sixsistersstuff.com
4. Crock Pot Pumpkin Spiced Latte
Homemade crock pot pumpkin latte. This recipe is EASY to make and is my go-to drink when entertaining in the fall or winter.
Try this delicious version of a coffee shop favorite!
From: thrivinghomeblog.com
5. Pumpkin Spice Latte Krispie Treats
Rice Krispie Treats with a pumpkin spice and coffee twist is a fun fall treat for parties.
From: insidebrucrewlife.com
6. Pumpkin Spice Bark Candy
This pumpkin spice bark candy only takes 4 ingredients and can be made in 15 minutes!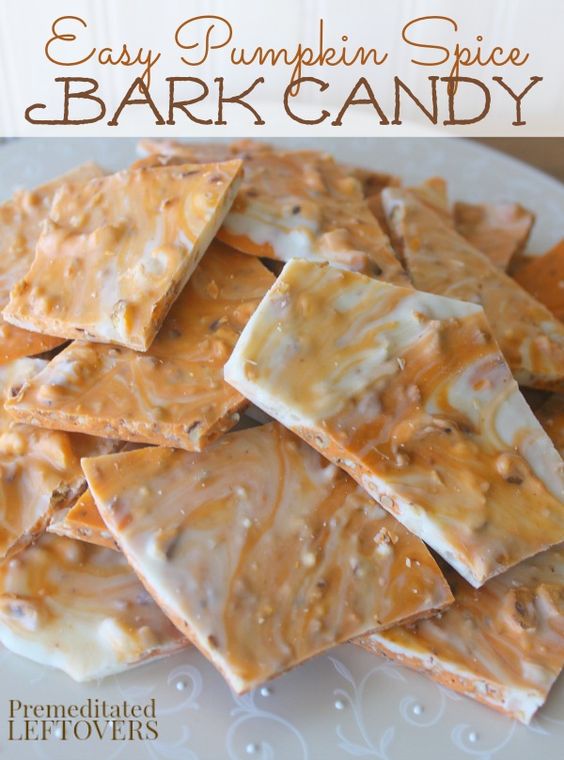 From: premeditatedleftovers.com
7. Pumpkin Spice Cookies With Cinnamon Cream Cheese Frosting
These cookies are very good. Light and fluffy and filled with the taste of the holidays.
They would be a fun cookie to bring to a cookie exchange party or a Christmas party.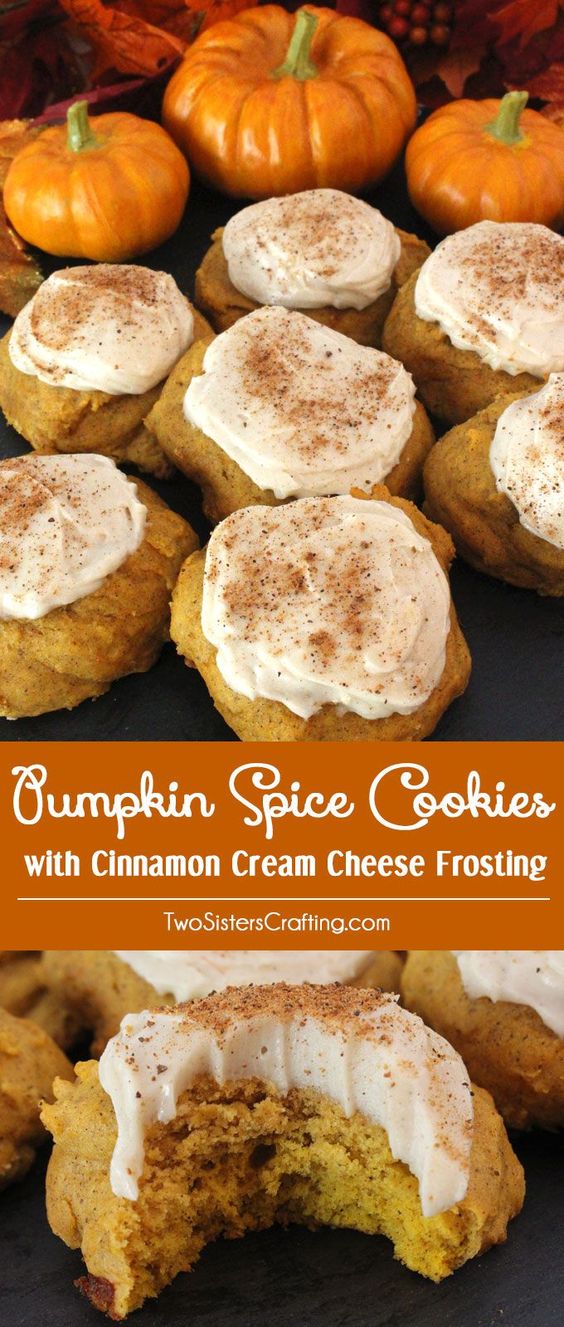 From: twosisterscrafting.com
8. Pumpkin Spice French Macarons
Love macarons and pumpkin spice? Then you need to try this one!
From: foodiemisadventures.com
9. Baked Pumpkin Spice Donuts With Maple Glaze
These easy Baked Pumpkin Spice Donuts with Maple Glaze are perfectly moist and bursting with flavor – the quintessential fall breakfast!
Bake some up today!

From: momontimeout.com
10. Oatmeal To-Go Pumpkin Chocolate Chip Muffins
Love the idea of a nice big bowl of oatmeal but it's just not practical for busy mornings?
I can relate. I've got you covered with these soft, chewy, texture-filled muffins.

From: averiecooks.com
11. Pumpkin Pie Crumb Bars
These bars are a bit more cookie than pumpkin pie filling. These are three layers, oatmeal cookie crumb layer followed by the pumpkin pie layer then it's finished with more crumb.
So if you'd prefer an equal amount, you could probably make half the amount of crumb mixture and simply only do one bottom layer
From: cookingclassy.com
12. Pumpkin Nutella Muffins
Swirls of chocolate make these soft Pumpkin Nutella Muffins a delicious way to start out any day in the fall.
If you are a pumpkin and Nutella lover, these are the muffins for you!

From: insidebrucrewlife.com
13. Copycat Cheesecake Factory Pumpkin Cheesecake
Pretty much everyone who has been to to the well-known restaurant has a Cheesecake Factory menu favorite.
I know I do. Well, of course, pumpkin cheesecake is my favorite because – I absolutely LOVE pumpkin.

From: allshecooks.com
14. Pumpkin Cinnamon Roll Bake
Recently I made a caramel apple cinnamon roll bake that was so easy yet so decadent. I couldn't get it out of my mind. So I pumpkin-ized it.
The soft and gooey factor of a Cinnabon but with pumpkin flavor and flooded with icing. No complaints here.

From: averiecooks.com
15. Pumpkin Churro French Toast Sticks
Light and fluffy pumpkin french toast sticks coated in cinnamon sugar. They're super fun to eat and they taste like a churro!
From: dinneratthezoo.com
16. Pumpkin Spice Chocolate-chip Cookies
The best pumpkin spiced chocolate-chip cookies.
They have a crisp exterior, chewy interior, and are easy to make in one bowl with no mixers needed!

From: chelseasmessyapron.com
17. Pumpkin Scones with Spiced Glaze
These pumpkin scones are a copycat version of Starbucks' pumpkin scone. They are warmly spiced and topped with two sweet glazes – one plain and one spiced.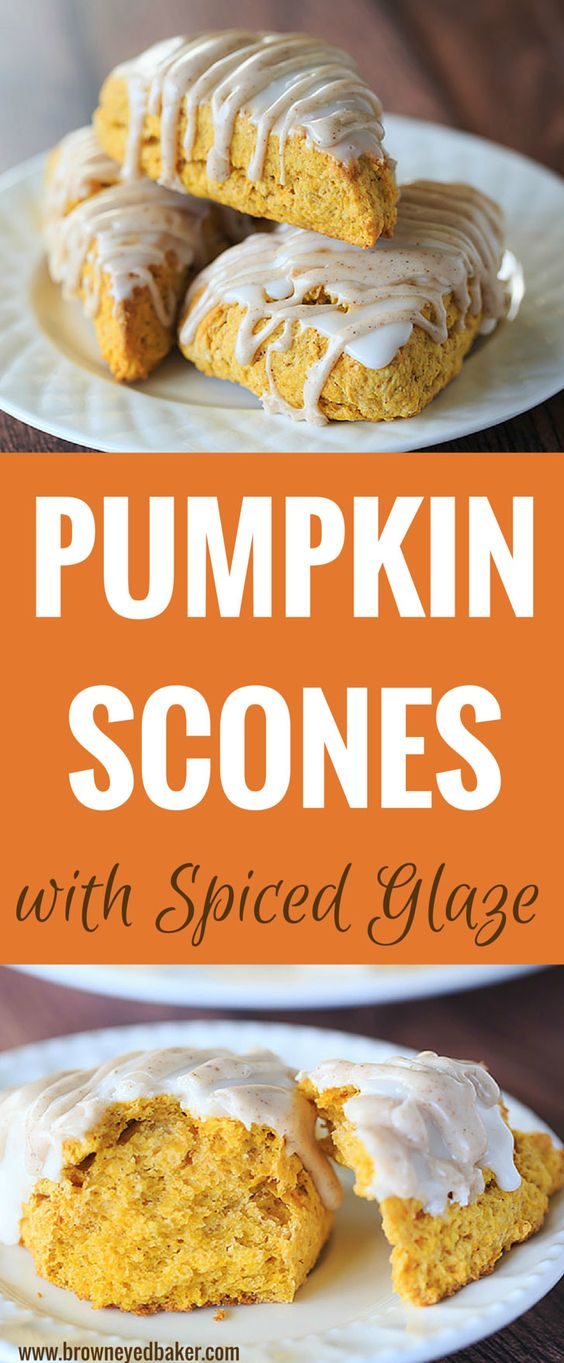 From: browneyedbaker.com
18. Maple-Glazed Pumpkin Pop-tarts
These Maple-Glazed Pumpkin Poptarts are made with pie crust, stuffed with a maple and pumpkin filling, and topped with a delicious maple glaze.

From: highheelsandgrills.com
19. Pumpkin Pie Crescents
A delicious pumpkin pie inspired treat in about 20 minutes!
These pumpkin pie crescents contain a quick and easy pumpkin filling wrapped in a flaky crust with a sweet glaze drizzle.
From: spendwithpennies.com
20. One Bowl Chocolate Pumpkin Bread
Chocolate pumpkin bread made in one bowl, and so tender and flavorful that you'd never guess it's naturally sweetened and made without butter or oil!

From: runningwithspoons.com
21. Chocolate Pumpkin Pound Cake
Chocolate Pumpkin Pound Cake is a rich dark chocolate, moist cake with just a subtle hint of pumpkin flavor.
From: chocolatechocolateandmore.com
22. The Best Pumpkin Cinnamon Rolls
These pumpkin cinnamon rolls are soft, light, fluffy and there's just enough pumpkin flavor to notice, but not so much that it overwhelms the inherent beauty of classic cinnamon rolls.
Topped with cream cheese glaze, they're totally irresistible.

From: averiecooks.com
23. Pumpkin Spice Honey Butter Recipe
I'm thrilled to share this pumpkin spice honey butter recipe with you today!
It's easy-to-make, delicious, and made with one of the most amazing creations on the planet– honey.

From: momendeavors.com
24. Pumpkin Cheesecake Streusel Bars
Two layers of cheesecake on a delicious cinnamon graham cracker crust all topped with an easy streusel and caramel sauce.
From: chelseasmessyapron.com
25. Chocolate Chip Pumpkin Bars
Soft, chewy, and delicious, these pumpkin chocolate chip bars are a delicious fall dessert!
From: momendeavors.com
26. No Bake Pumpkin Cheesecake
I couldn't wait to share this recipe with you. This is the ultimate must make holiday dessert that requires no baking!
Yes folks, cut that oven off and make this no bake pumpkin cheesecake lasagna.

From: creolecontessa.com
27. Cinnamon Spice Pumpkin Mini Muffins
Moist, melt-in-your-mouth pumpkin muffins that are dipped in butter and cinnamon sugar. Plus, they're gluten free and low in refined sugar.

From: momlovesbaking.com
28. Pumpkin Delight
Cool and creamy pumpkin delight is easily one of the best pumpkin desserts! This pumpkin dessert is absolutely irresistible.
From: lilluna.com
29. Easy Pumpkin Pull-Apart Loaf
This easy Pumpkin Pull-Apart Loaf starts with canned biscuits for an easy breakfast recipe.
It's like having pumpkin pie for breakfast!

From: crazyforcrust.com
30. Pumpkin Pancakes
This easy pumpkin pancakes recipe is so light and fluffy, with the perfect pumpkin spice flavor.
A delicious fall breakfast everyone will love!
From: somewhatsimple.com
31. Pumpkin Spice Caramels
Soft, chewy, buttery, and perfectly spiced, these pumpkin spice caramels are impossible to resist.
A fabulous addition to your holiday festivities!

From: momontimeout.com
32. The Best Pumpkin Spice Buttercream Frosting
The Best Pumpkin Spice Buttercream Frosting is sweet, creamy, pumpkin-y, spicy and delicious. And a great Fall cake or cupcake choice!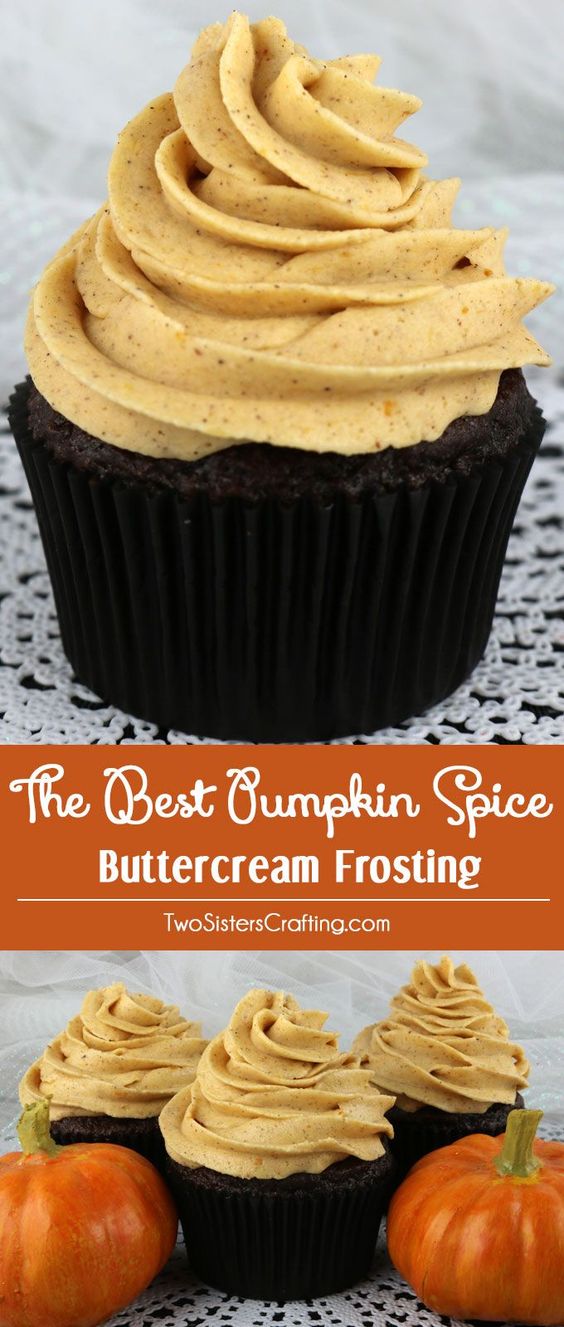 From: twosisterscrafting.com
33. Pumpkin Pie Milkshake
'Tis pumpkins season! What better way to celebrate Fall than a delicious Pumpkin Pie Milkshake?!
I'm seriously drooling just thinking about this yummy treat!

From: craftaholicsanonymous.net
34. Copycat Starbucks Pumpkin Spice Latte
Love pumpkin spice lattes? Here's a Starbucks copycat recipe for you to make at home.
This recipe makes one 16 oz. drink.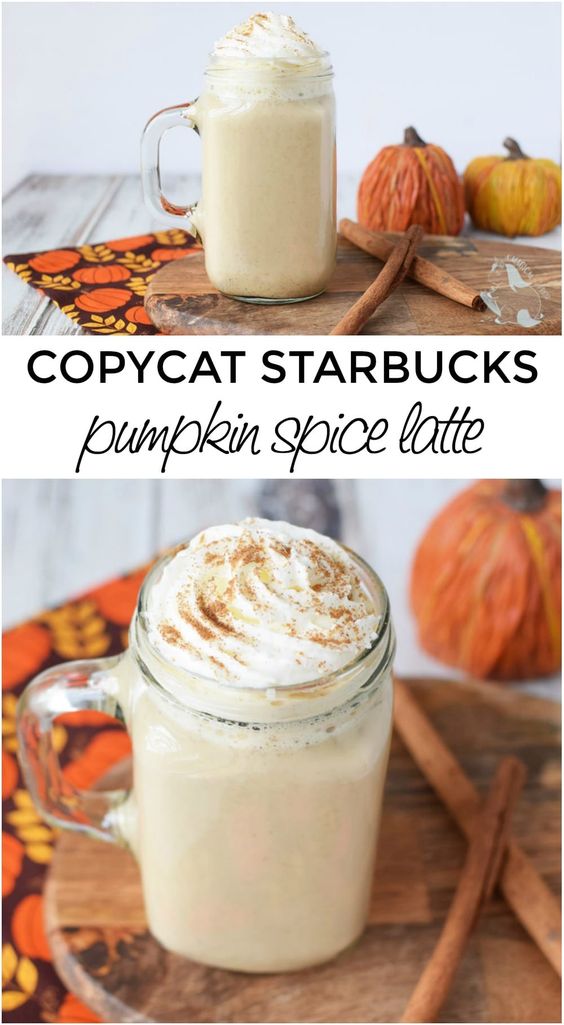 From: amagicalmess.com
35. Cream Cheese Pumpkin Crumb Cake
This is the fall recipe you've all been waiting for- Pumpkin Coffee Cake!
A big slice of spiced pumpkin cake with cream cheese filling in the center and crunchy brown sugar-cinnamon crumbs on top drizzled with sweet glaze.

From: omgchocolatedesserts.com
36. Pumpkin Spice Latte Biscotti
This biscotti has a wonderful pumpkin spice flavor with a little kick.

From:  dontsweattherecipe.com
37. Pumpkin Spice Puppy Chow
Puppy chow snack mix gets a festive twist with pumpkin spices and candy pumpkins.
From: sallysbakingaddiction.com
38. Pumpkin Crème Brûlée
This pumpkin crème brulee is a delicious spin on a classic recipe that is oh-so perfect for this season.
Pumpkin all the things!

From: myorganizedchaos.net
39. Keto Pumpkin Spice Latte Energy Balls
This easy no bake paleo vegan pumpkin spice latte energy bites is made with just 4 ingredients and can be ready in minutes!
Soft and chewy balls to satisfy the sweet tooth, which tastes like pumpkin pie. Best of all, it's keto, low carb and sugar-free!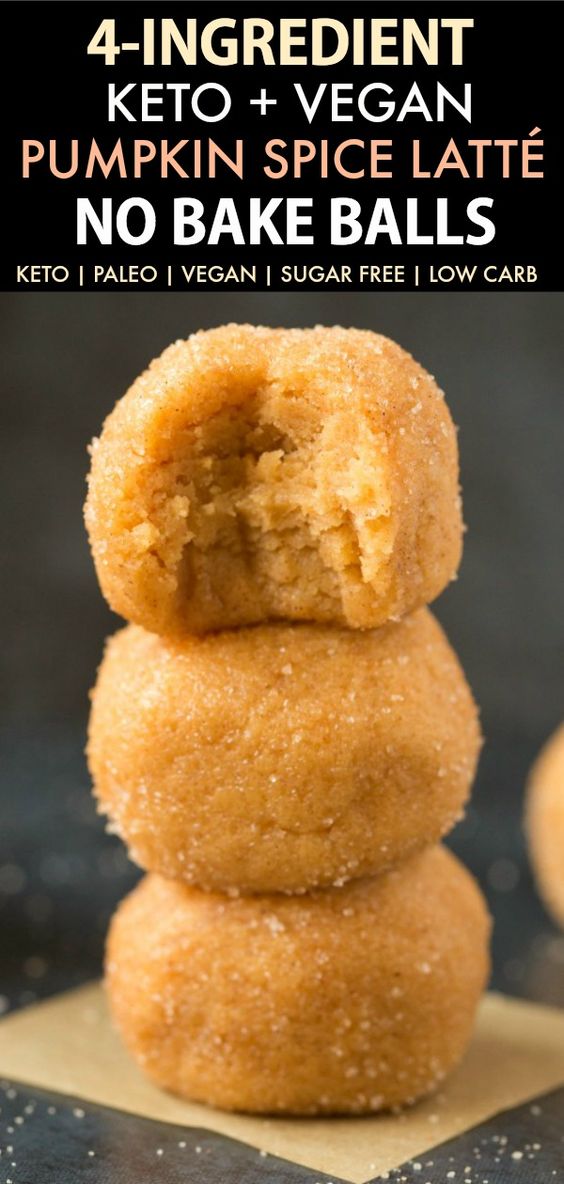 From: thebigmansworld.com
40. Impossible Pumpkin Pie Cupcakes
These impossibly easy pumpkin pie cupcakes are amazing. They're beautiful and of course, irresistible.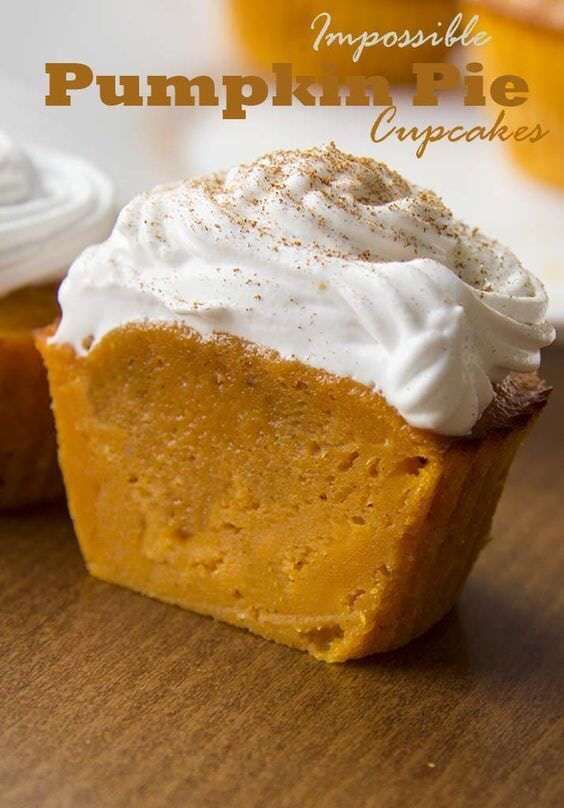 From: foodcuration.org
41. Pumpkin Spice Cupcakes
Pumpkin spice cupcakes are the perfect fall dessert!
They've got a rich pumpkin flavor with a spicy kick, but the cream cheese frosting is light and fluffy and oh so creamy.
If you like anything pumpkin spice, you're going to love this easy cupcakes recipe.

From: thebusybaker.ca
42. Homemade Pumpkin Roll
This classic pumpkin roll recipe is made with a delicious pumpkin cake and heavenly cream cheese filling. And it's surprisingly easy to make!
Be sure to check out the step-by-step video tutorial below.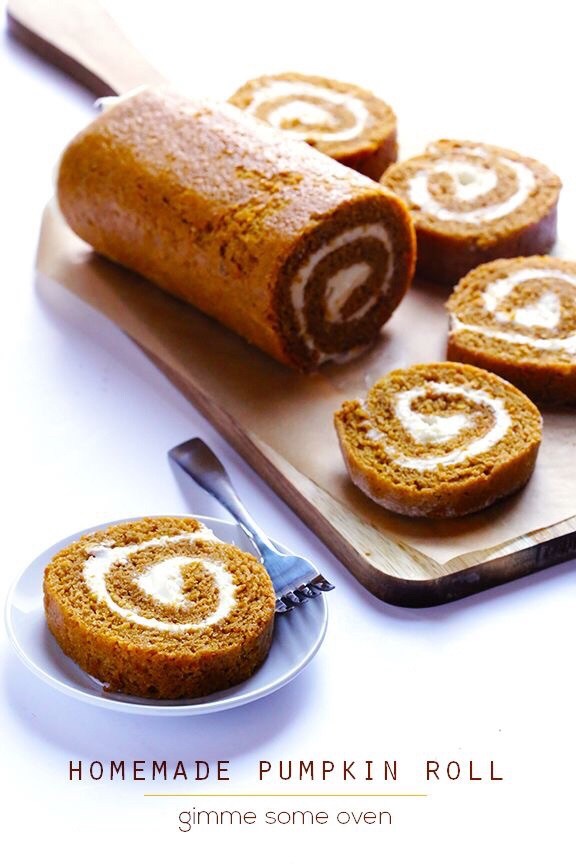 From: gimmesomeoven.com
43. Healthy Pumpkin Pie Smoothie
Whip up one of these delicious Pumpkin Pie Smoothies for breakfast today!
The perfect, healthy way to start your day (or recover after a workout)!

From: shugarysweets.com
44. Fluffy Pumpkin Pie Dip
This fluffy pumpkin pie dip delivers tons of fall flavor in a fluffy no-bake dip!
Warm spices combined with a rich creamy base makes this pumpkin dip perfect for apples, bananas and more!
From: spendwithpennies.com
45. Pumpkin Cinnamon Sugar Donuts
Moist and fluffy Pumpkin Cinnamon Sugar donuts are baked, not fried, and ready in just 20 minutes!

From: bakerbynature.com
46. Pumpkin Spice Glazed Cake Bites
Sweet little bites of spice cake glazed with an amazing pumpkin spice glaze, perfect for fall!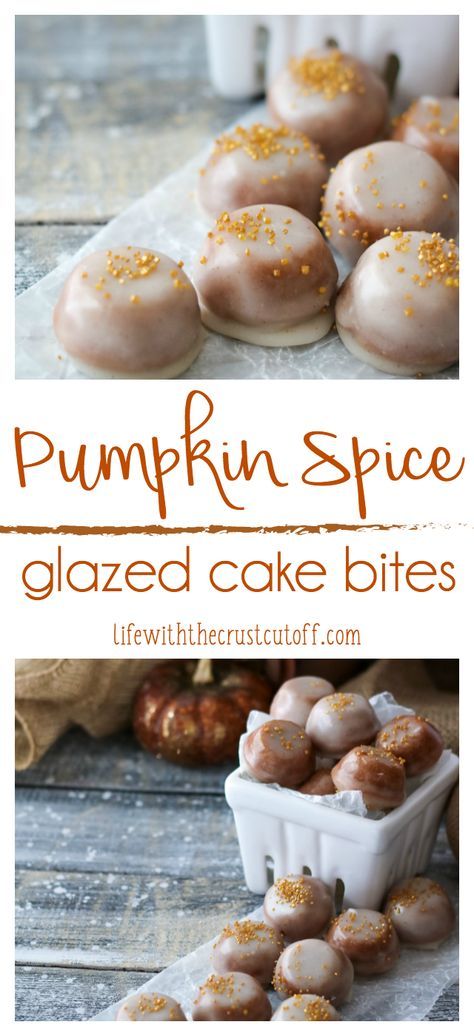 From: lifewiththecrustcutoff.com
47. Pumpkin Spice Latte Overnight Oats
Inspired by Starbucks' classic Pumpkin Spice Latte, this no-cook breakfast has WAY less sugar and is MUCH more satisfying than its namesake. Give it a whirl!
From: hungry-girl.com
48. Pumpkin French Toast with Whipped Pumpkin Butter
Sweet, perfectly spiced and topped with a swirl of homemade whipped pumpkin butter.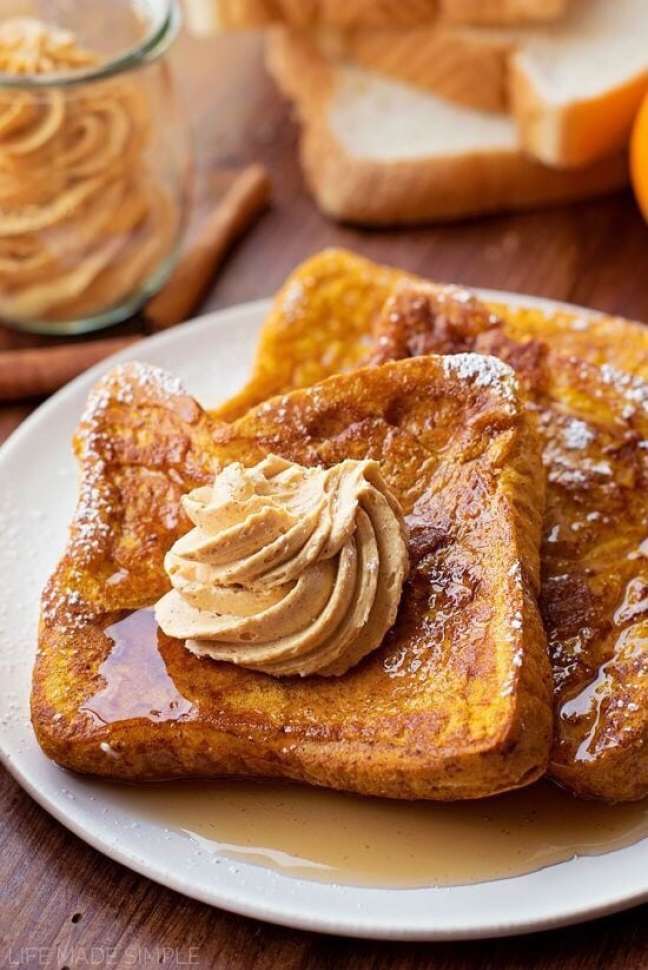 From: lifemadesimplebakes.com
49. Pumpkin Sheet Cake
This easy homemade spiced pumpkin cake, is made in a sheet pan, in just 30 minutes and frosted with a creamy cinnamon cream cheese icing!

From: thenovicechefblog.com
50. Healthy Pumpkin Oatmeal Cookies
While very tasty and satisfying, these healthy pumpkin oat cookies are more functional snack than decadent treat.
At just 88 calories, 1 gram of fat and 17 grams of carbs each, these cookies are the perfect pre or post-workout energizer and easy to fit into a healthy diet.
From: runningonrealfood.com
Loved these pumpkin spice recipes? Pin it for later!
Pin these pumpkin spice recipes roundup to your Holiday or pumpkin spice boards on Pinterest. This way you can always get back to it later!