Today I've rounded up some of the most decadent and tasty truffle dessert recipes. I absolute adore truffles. Mainly because they're so easy to make. And because they taste amazing!
40 Amazing Truffle Dessert Recipes
Hope you enjoy these 40 yummy truffle dessert recipes!
To view the full instructions for any of these truffle dessert recipes, please follow the link below the picture.
1. Easy Salted Caramel Fudge Truffles
You'll want to make these buttery Salted Caramel Fudge Truffles again and again.
Dipped in chocolate, these melt-in-your-mouth truffles are so easy to make (and eat).

From: sweetestmenu.com
2. Peppermint Truffles
Easy 4 ingredient peppermint truffles.
Amazingly creamy peppermint white chocolate ganache center coated with more chocolate and drizzled with extra white chocolate.
This would be a Perfect christmas dessert!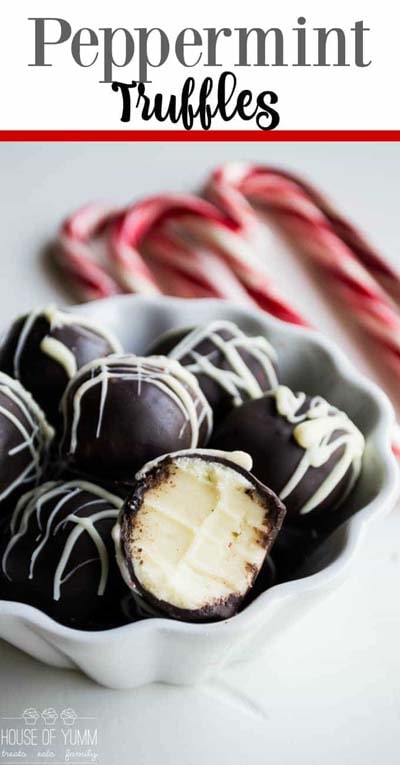 From: houseofyumm.com
3. Coconut Cream Truffles
It's perfectly acceptable to add coconut to every single dessert.
If you like coconut, these Coconut Cream Truffles are for you!

From: crazyforcrust.com
4. Pecan Pie Truffles
Pecan Pie Truffles are the perfect treat to make this fall.
They go great on a Thanksgiving buffet table, as a snack in your lunch, or put them in a cute little box and give them as a hostess gift.
From: glitterandgoulash.com
5. Kahlua Chocolate Truffles
Melt-in-your-mouth Kahlua Chocolate Truffles are made with just 5 ingredients.
From: bakerbynature.com
6. 3-Ingredient Nutella Truffles
Holy cow. Easy 3-ingredient Nutella Truffles.
Because sometimes you just need chocolate, am I right?

From: crazyforcrust.com
7. Key Lime Cheesecake Truffles
Yum – key lime! You can even see some of the zest inside this one.
It's the slightly green fleck on the left side of the truffle… See?
From: eatitandsayyum.com
8. Dark Chocolate Raspberry Truffles
Dark chocolate and sweet raspberry truffles? Yes!
And they are so easy to make, only 4 ingredients. They are perfect to whip up for all the special moms in your life – or just for yourself! No one will judge you, we promise!
From: clarescontemplations.com
9. Peppermint Oreo Truffles
These fun and festive Peppermint Oreo Truffles require no baking and just 6 ingredients.
Anyone can make these and they are an all-time family favorite!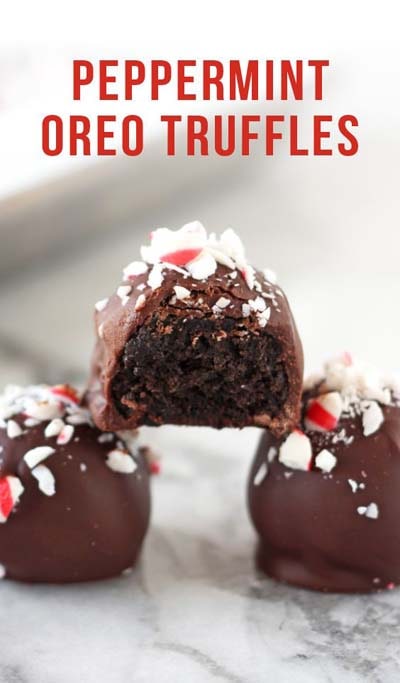 From: handletheheat.com
10. Chocolate Raspberry Truffles
These rich and fudgy Chocolate Raspberry Truffles are coated in macadamia nuts and cocoa powder.
Serve them or give them as a special gift.
From: pintsizedbaker.com
11. Reese's No Bake Truffles For Foodie Friday
No bake truffles are so popular right now and they're perfect for summer!
There's no heating up the oven or any intense step by step instructions. So they're super easy!

From: blog.mymilitarysavings.com
12. S'mores Truffles
These s'mores truffles are no-bake, thus super easy to make.
They're also really delicious, so that's a big bonus. And then there's the whole "super easy" thing – can't complain about that.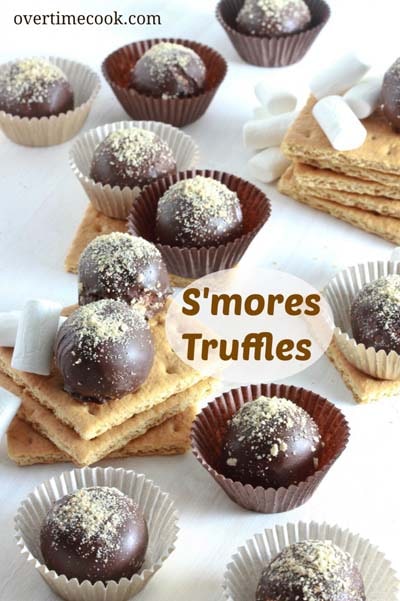 From: overtimecook.com
13. Easy Pecan Pie Truffles
Looking for something different to serve this holiday season? Then how about some Pecan Pie Truffles!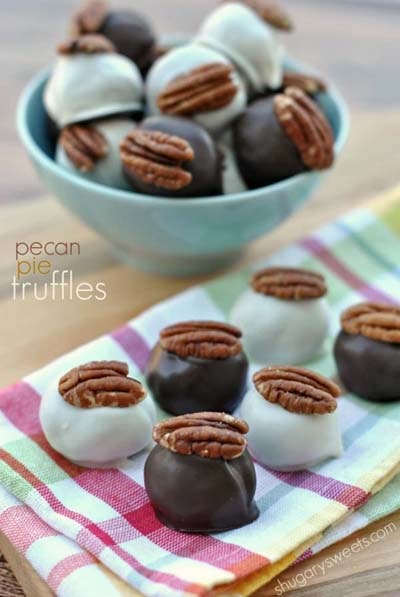 From: shugarysweets.com
14. Pumpkin Cream Cheese Truffles
These adorable pumpkin cream cheese truffles are made extra-special with gingersnap crumbs and plenty of delicious pumpkin pie spices!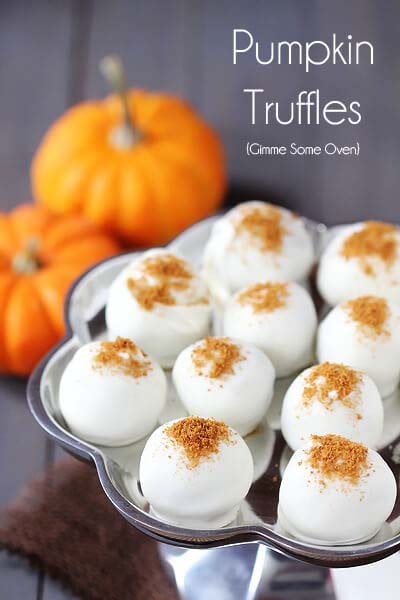 From: gimmesomeoven.com
15. Hot Chocolate Cheesecake Truffles
When it's cold outside, a cup of hot cocoa is just the thing.
But if you're looking for something a little richer, a little more decadent, a little more dessert-y, these Hot Chocolate Cheesecake Truffles just might blow your mind.
They only require a few ingredients – including 2 packets of that hot chocolate mix sitting in your pantry – and they'll fit in everywhere from your holiday party to Valentine's Day dessert.
From: abcsandgardenpeas.com
16. Cake Batter Truffles
Cake Batter Truffles taste just like cookie dough bites… only better.
Smooth, rich, sweet and wrapped in a white chocolate shell.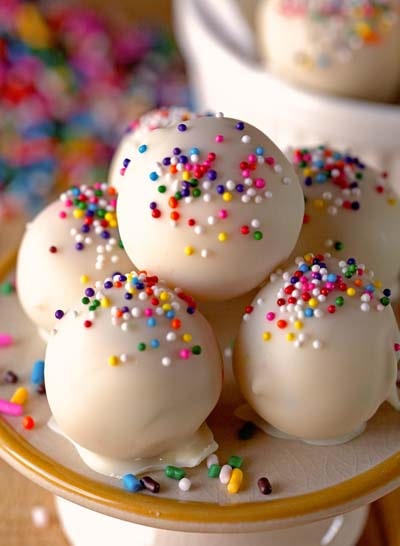 From: deliciouslyyum.com
17. Candy Corn Oreo Truffles
If you love candy corn – and Oreos too – then you'll love these festive bites from Shugary Sweets.
Perfect in the fall, but fun all year round!
From: shugarysweets.com
18. Dark Chocolate Key Lime Pie Truffles
Smooth-as-silk key lime ganache filling enrobed in dark chocolate.
These homemade truffles make me weak at the knees!
From: sallysbakingaddiction.com
19. Peanut Butter Brownie Truffles Recipe
These peanut butter brownie truffles are the perfect combination of chocolate and peanut butter.
They are very simple to make and are so worth the calories. And I also think they go perfectly with any occasion.
The peanut butter drizzle gives it that yellowy orange look that mixes perfectly with the rich brownie color on the inside.

From: sincerelyjean.com
20. Reese's Nutter Butter Truffles
Nutter butter cookies mixed with cream cheese and Reese's peanut butter cups and shaped into little balls.
Then just dip each ball in melted chocolate and you have a no-bake treat that everyone will be raving about.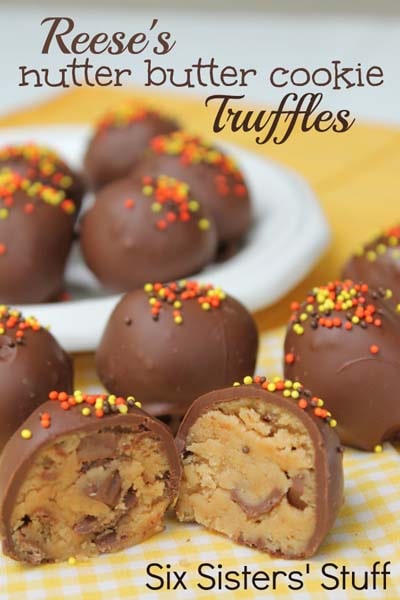 From: sixsistersstuff.com
21. White Chocolate Lemon Truffles
White Chocolate, butter, lemon extract and heavy cream!!!
Do you have any idea what to do with these ingredients? Don't try too hard! The best thing you can do with these four ingredients are White Chocolate Lemon Truffles.
Okay, you must have some great ideas of your own, but for something quick and refreshing at the same time, try these sweet Truffles with the taste of Lemon!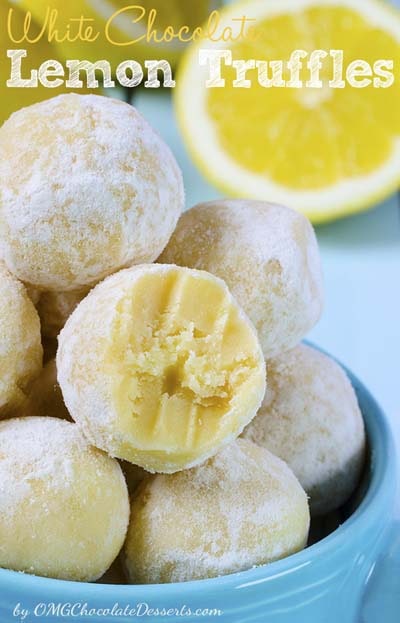 From: omgchocolatedesserts.com
22. Circus Animal Cookie Truffles Recipe
Store these delicious balls of heaven in the fridge until ready to serve as they're best enjoyed cold (in my opinion.)
These Circus Animal Cookie Truffles would be great at a girl's baby shower, first birthday, Easter gathering, on Mother's Day, or just because.
They're so simple to make, why not make them more than once? After all, you don't need an excuse to feel like a kid again!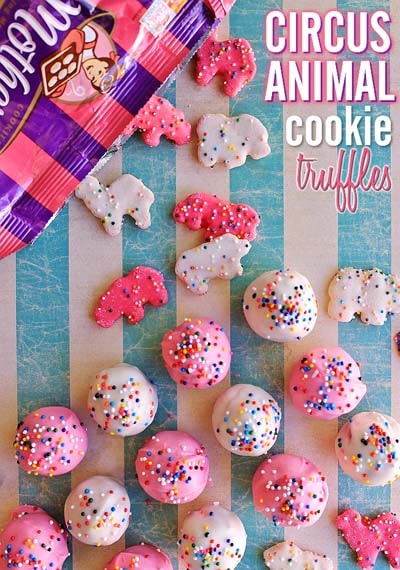 From: mommatoldmeblog.com
23. 5-Ingredient Espresso Chocolate Truffles
Rich, creamy, and caffeinated, these 5-Ingredient Espresso Chocolate Truffles are a coffee lovers dream come true!
As a bonus: they're so easy!

From: bakerbynature.com
24. Churro Truffles
Churros are fried-dough pastries rolled in cinnamon sugar and often conducive to Cinco de Mayo.
They taste JUST like little churro bites!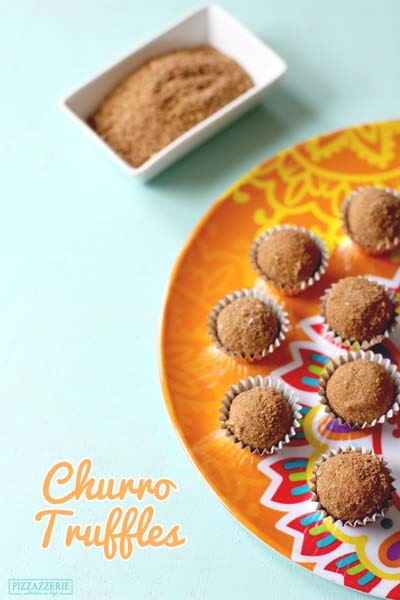 From: pizzazzerie.com
25. Avocado Truffle Chocolates Recipe
An unbelievably smooth, creamy and decadent truffle chocolates recipe made with…wait for it… AVOCADO!
Only 94 calories per truffle!
From: yummyhealthyeasy.com
26. Blueberry Lemon Truffles
Filled with creamy blueberry preserves, cream cheese, white chocolate and then coated with tart lemon flavored chocolate.
These Blueberry Lemon Truffles are to die for delicious!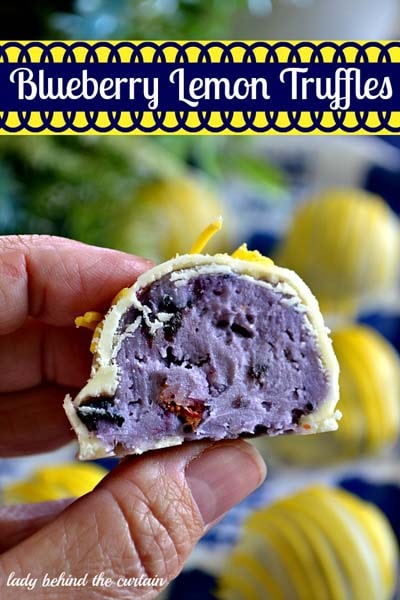 From: ladybehindthecurtain.com
27. Dark Chocolate Toffee Truffle Recipe
These super easy dark chocolate toffee truffles are deceptively simple to make and incredibly indulgent!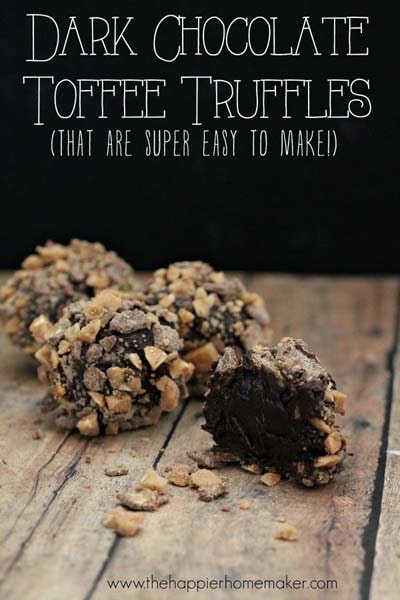 From: thehappierhomemaker.com
28. Caramel Apple Truffles Recipe
Regular sandwich cookie and cream cheese truffles are good.
But when you add Musselman's Apple Butter and stuff the truffles with caramel, they move to a whole new level of delicious.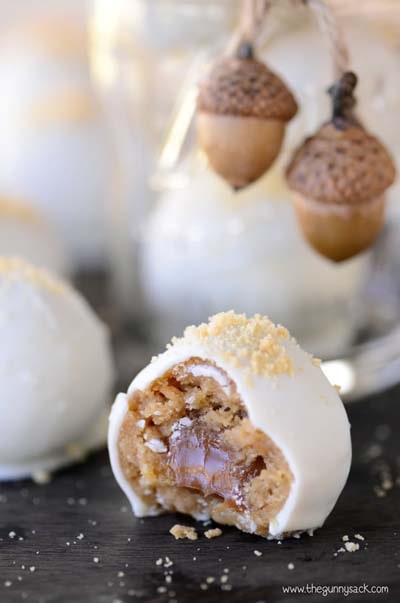 From: thegunnysack.com
29. Raspberry Cheesecake Truffles
Raspberry Cheesecake Truffles are delicious, sweet and tart bites of creamy cheesecake filling hidden inside chocolate shell.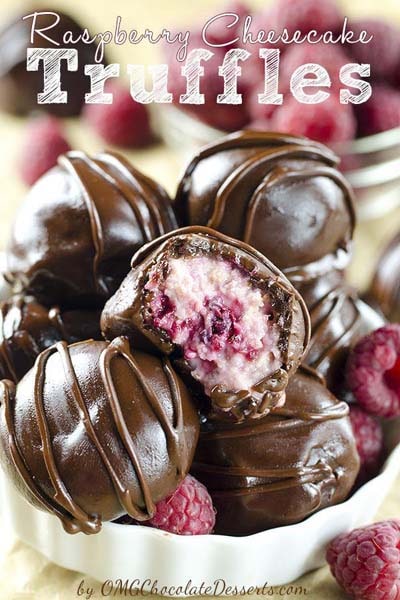 From: omgchocolatedesserts.com
30. Apple Sauce Truffles
This delicious looking truffles actually resulted from a kitchen failure. Head on over to the link below to catch the full story and recipe.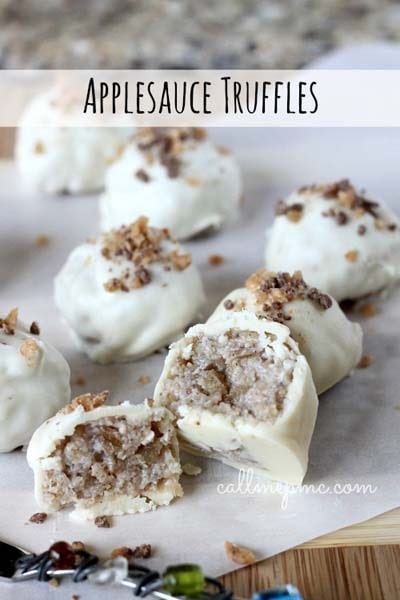 From: callmepmc.com
31. Snickerdoodle Cookie Dough Truffles
The center is cookie dough (no eggs, so no worries) and it's topped with a cinnamon vanilla candy coating.
With extra cinnamon/sugar coating sprinkled on top, of course!
From: shugarysweets.com
32. Strawberry Shortcake Stuffed Golden Oreo Truffles
Strawberry shortcake truffles made with Golden Oreo cookies and cream cheese.
The dough balls are stuffed with fresh strawberries and whipped cream then dipped into melted white chocolate.
A simple and fun way to enjoy the classic strawberry shortcake.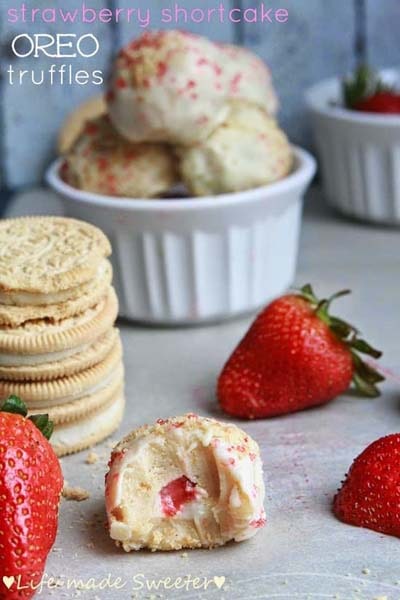 From: lifemadesweeter.com
33. Coffee Truffles
Coffee flavoured truffles with a hint of Kahlua, hand rolled in chocolate. A perfect gift or treat.
You will need about 1 hour hands on time to make the truffles but remember to extra time for chilling and setting.
From: recipesmadeeasy.co.uk
34. Mint Oreo Truffles
Everyone loves Oreos! And these Mint Oreo Truffles couldn't be easier and delicious. Just 3 simple ingredients is all you need.

From: hoosierhomemade.com
35. Raw Chocolate Covered Walnut Truffles
When I first made these truffles I thought I was going to melt with delight.
Perhaps it was a reflection of the multi sensory experience when I took my first bite. Soft, sweet, rich, melt in the mouth chocolate covered sensual deliciousness.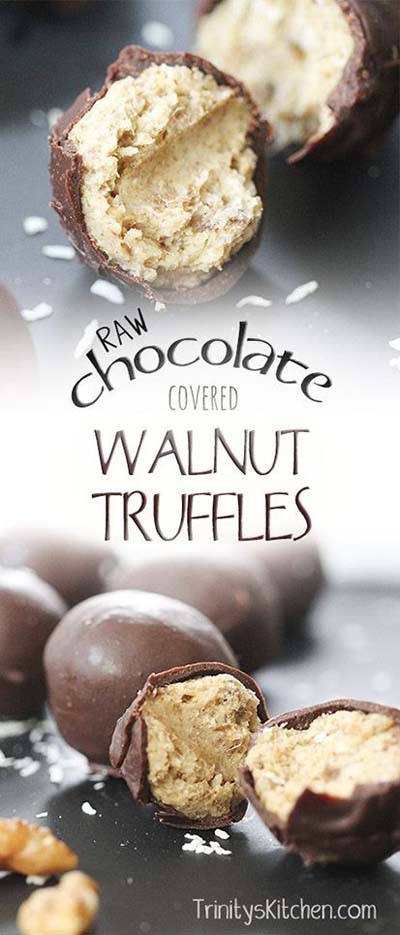 From: trinityskitchen.com
36. Cannoli Cream Chocolate Truffles
Cannoli Cream Chocolate Truffles, an easy homemade no-bake dessert!
So, learn how to make truffles with a cannoli filling like the popular Italian pastry.
This simple candy recipe is ready in no time!

From: snappygourmet.com
37. Peanut Butter M&M'S Truffles
These smooth and creamy peanut butter truffles are filled with M&M'S and topped with rich chocolate.
A homemade candy proving that there is no better combination than peanut butter and chocolate!
From: sallysbakingaddiction.com
38. Easy Lemon Raspberry Truffles
These Easy Lemon Raspberry Lemon Truffles come together with only four ingredients and they have the most wonderful flavor!
From: butterwithasideofbread.com
39. Salted Caramel Mocha Truffles
Salted caramel and mocha come together in a cute little truffle that you can enjoy any time of the day.
And…you might want to double the batch. These Salted Caramel Mocha Truffles will not last very long.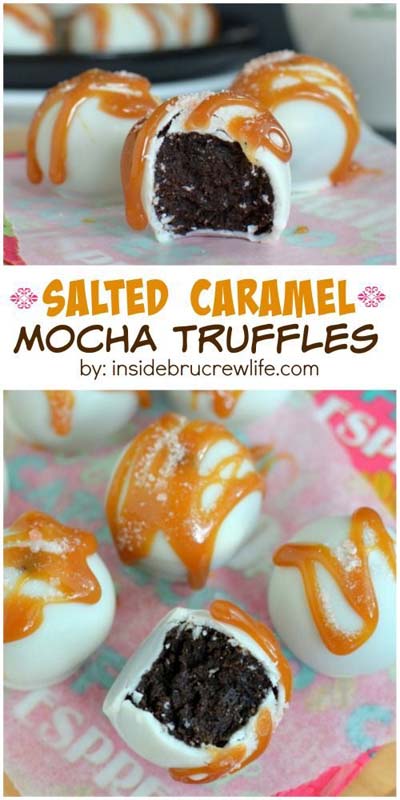 From: insidebrucrewlife.com
40. Gingerbread Cookie Truffles (with leftover cookies)
These delicious gingerbread truffles are ready in 15 minutes.
They make a perfect festive gift for your loved ones and a great way to use all the leftover gingerbread /gingerbread snap cookies.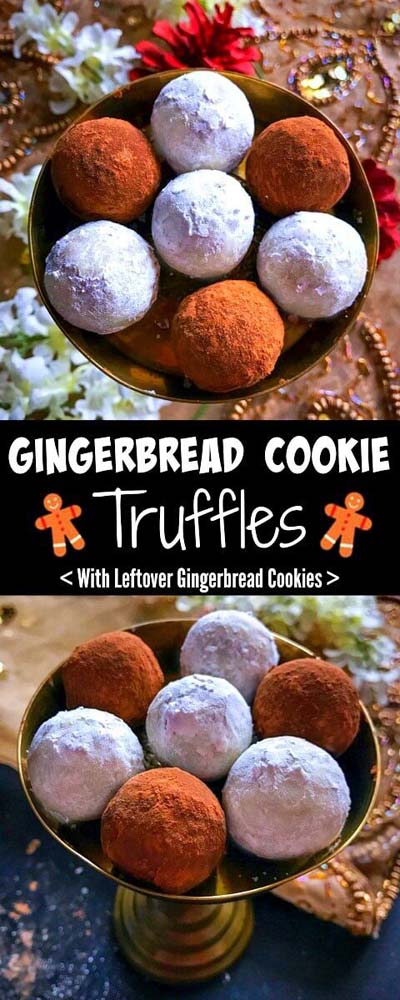 From: easycookingwithmolly.com
Enjoyed these Truffle Dessert Recipes? Then pin it for later!
If you enjoyed this roundup of truffle dessert recipes, please pin it to your desserts board on Pinterest. Remember, sharing is caring!