Today I'm sharing some of my favorite Christmas gingerbread recipes that are always a hit this time of year.
Fill your home with the warm, sweet gingerbread smell by trying some of these recipes this year. Everyone in the house will love you, I swear!
Christmas Gingerbread Recipes That You'll Love
Enjoy these Christmas gingerbread recipes.
For the full recipe and instructions, please follow the link below each image.
1. Gingerbread Souffle with Butterscotch Drizzle
Let's talk Gingerbread Soufflé. And how incredibly delightful it is with a pouring of warm Butterscotch Sauce.
A soft fluffy cake made with molasses and pumpkin spice, served with a dusting of powdered sugar and a drizzle of creamy butterscotch.
If you haven't tried your hand at baking a soufflé, I suggest you grab a few ramekins or mugs and try this recipe. Your gingerbread loving tastebuds will thank you!
From: twocupsflour.com
2. Delicious Gingerbread Loaf
This is the perfect breakfast for those cold mornings.
A warm slice of it + a huge mug of steaming coffee leisurely enjoyed is my definition of breakfast goals.
Add to the mix a bit of snow outside and oh my gosh it can't get any more winter wonderland that that.
From: carmelapop.com
3. Soft Glazed Gingerbread Bars
Craving gingerbread but don't have time to make those cute, little gingerbread men?
Then try these quick and easy, soft gingerbread bars.

From: chocolatewithgrace.com
4. Gingerbread Hot Chocolate
This Favorite Gingerbread Spiced Hot Chocolate recipe will leave you with an amazingly delicious holiday drink!
There's no coffee involved so your kids can enjoy it too. Plus it's ready in less than 10 minutes!
From: savorynothings.com
5. Gingerbread Cake
Perfectly spiced and delicious this Gingerbread Cake has a yummy cream cheese frosting and a gooey caramel drizzle.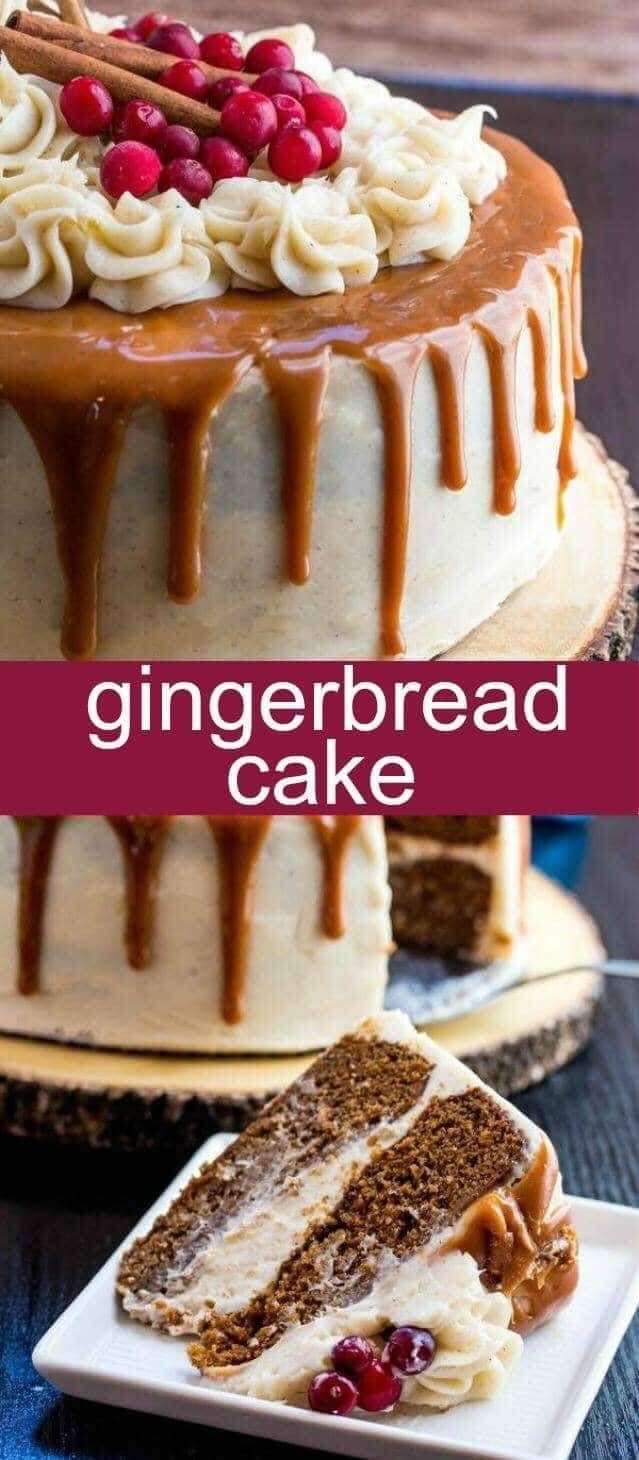 From: thebestcakerecipes.com
6. Copycat Starbucks Gingerbread Loaf
I made WAY too much frosting for one loaf – not that I'm complaining!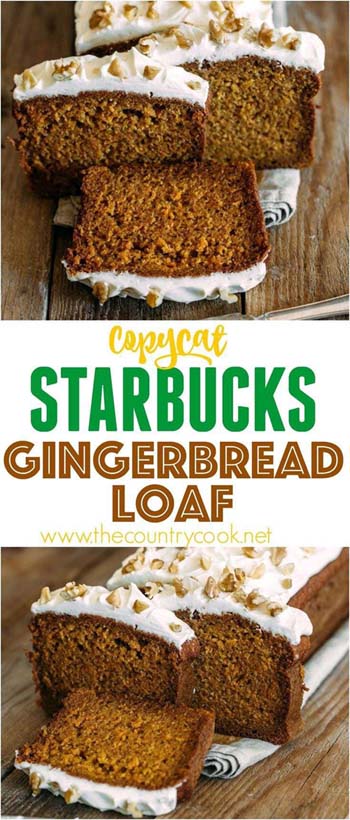 From: thecountrycook.net
7. Pumpkin Gingerbread
Perfect for the holidays, richly flavored pumpkin gingerbread made with pumpkin purée, flour, butter, ginger, molasses, brown sugar, and lots of spices.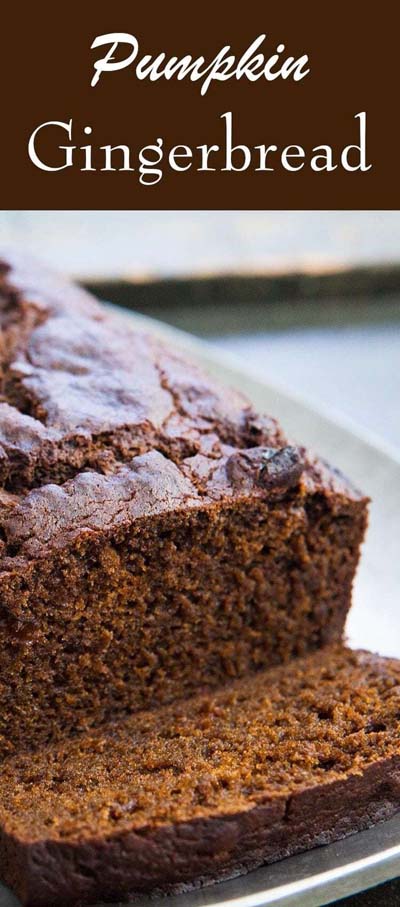 From: simplyrecipes.com
8. Healthier Gingerbread Muffins
Why make cookies when you can make healthier gingerbread muffins?
These muffins are tender and go wonderfully with a warm cup of coffee.

From: littlespicejar.com
9. Gingerbread Cake Roll
Gingerbread becomes something special when filled with a homemade Almond Pastry Cream!
What do you serve when making a layered cake isn't special enough and you want to knock the socks off your guests? A CAKE ROLL of course!
From: ladybehindthecurtain.com
10. Gingerbread Biscotti
Perfect with coffee by the fireplace on a chilly morning!

From: ifyougiveablondeakitchen.com
11. Deliciously Easy Gingerbread Fudge
Made using condensed milk and white chocolate, this Easy Gingerbread Fudge is filled with aromatic spices. Think of ginger, cinnamon, nutmeg, and cloves, along with a good dollop of molasses.
Just like your favorite gingerbread cookie!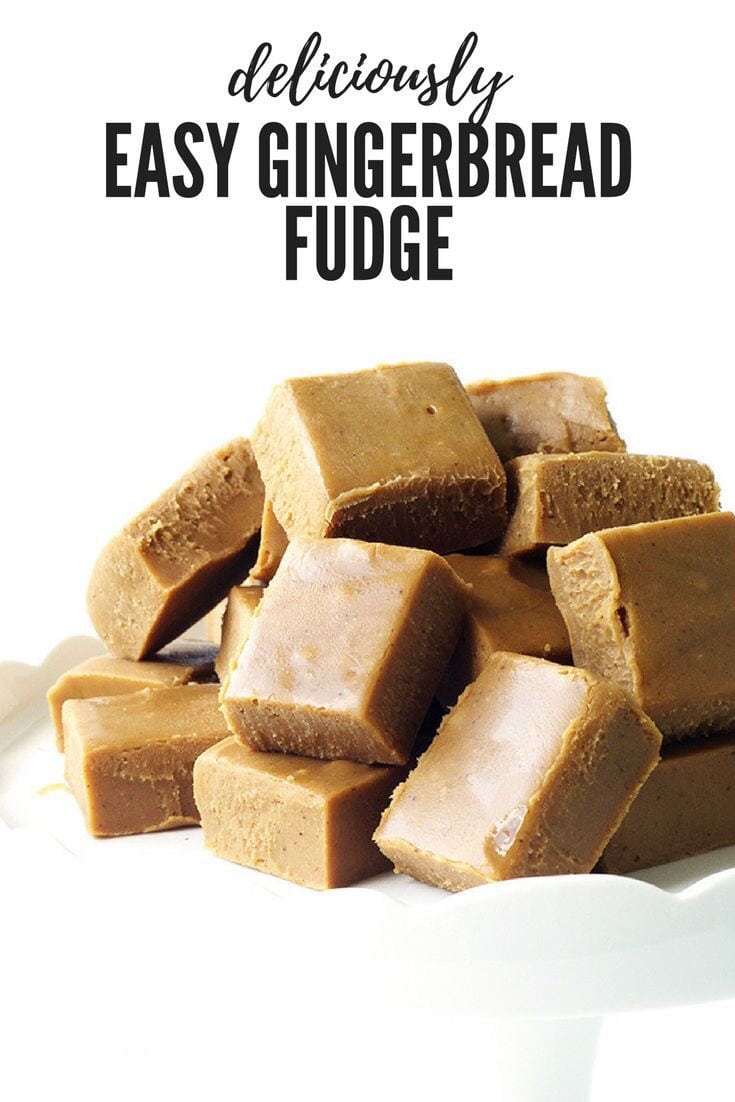 From: sweetestmenu.com
12. Gingerbread Bars with Cream Cheese Frosting
Chewy, perfectly spiced Gingerbread Bars meet sweet, luscious Cream Cheese Frosting. And it is a match meant to be!
These are one of the best holiday bars! And once you try them you'll want to make them every Christmas season!
Hmm, my list of cookies I need to make every year just keeps getting longer and longer!

From: cookingclassy.com
13. Best, Ever Traditional Soft Gingerbread Cookies
They're thick with a subtle molasses flavor and will make your house smell just like Christmas morning when you bake them.
From: tastesoflizzyt.com
14. Gingerbread Cupcakes
Spiced gingerbread cupcake recipe with tangy, sweet cream cheese frosting.
Moist and flavorful, these homemade cupcakes are the perfect treat during the holidays!

From: sallysbakingaddiction.com
15. Gingerbread Crinkle Cookies
Gingerbread crinkle cookies are a must-try during the holidays.
They are chewy, full of ginger flavor and coated in sugar with exposed cookie cracks.

From: ifyougiveablondeakitchen.com
16. Homemade Gingerbread Latte
If you're a gingerbread addict like me, I've got a treat for you today.
You can make your own gingerbread lattes right at home and they are surprisingly easy to make too!
From: eat-drink-love.com
17. The Best Gingerbread Cookie Sticks
Hands down, this is my favorite Gingerbread Cookie recipe of all time.
I love my new way of serving it. Cut into cookie sticks and topped with candy or white chocolate.
From: crazyforcrust.com
18. Eggnog Cheesecakes With Gingerbread Cookie Crust
If you're looking for a tasty dessert recipe that will knock your socks off.
These mini Eggnog Cheesecakes with Gingerbread Cookie Crust are simple to make and are filled to the brim with holiday flavor.
From: iwashyoudry.com
19. Cranberry Gingerbread Muffins
These Cranberry Gingerbread Muffins bake up soft and moist. With juicy cranberries sprinkled in and a cozy gingerbread flavor, it's a winner!
From: pumpkinnspice.com
20. Bourbon Gingerbread Cheesecake
This cheesecake is delish!
It definitely has that gingerbread flavor, but it's nothing over-powering or in-your-face.
From: bethcakes.com
21. Gingerbread Cookie Dough Peanut Butter
Soft gingerbread and molasses cookies are some of my favorites, even preferred to chocolate chip.
And I have a major thing for peanut butter. And cookie dough. This is all of that, in one.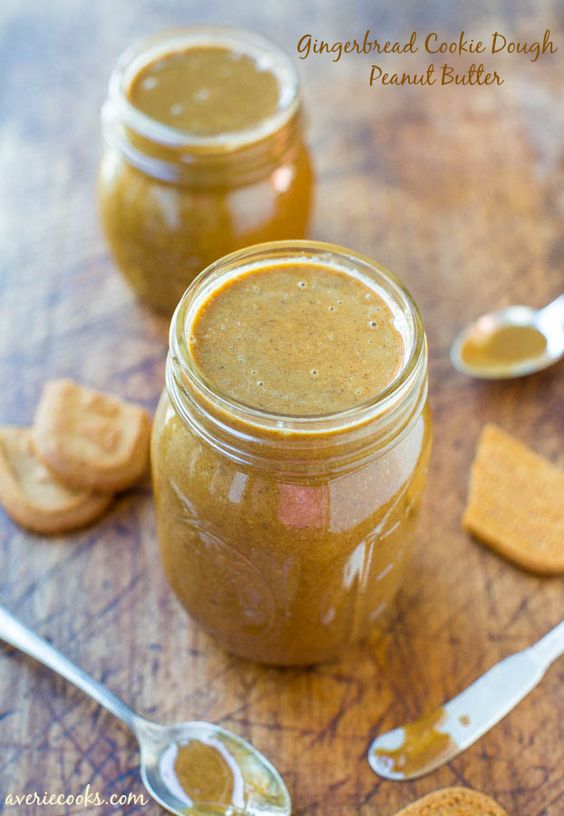 From:  averiecooks.com
22. Gingerbread Pudding Cheesecake
This Gingerbread Pudding Cheesecake with Caramel Sauce and Biscoff Cookie Crust is so delicious and a great treat for everyone!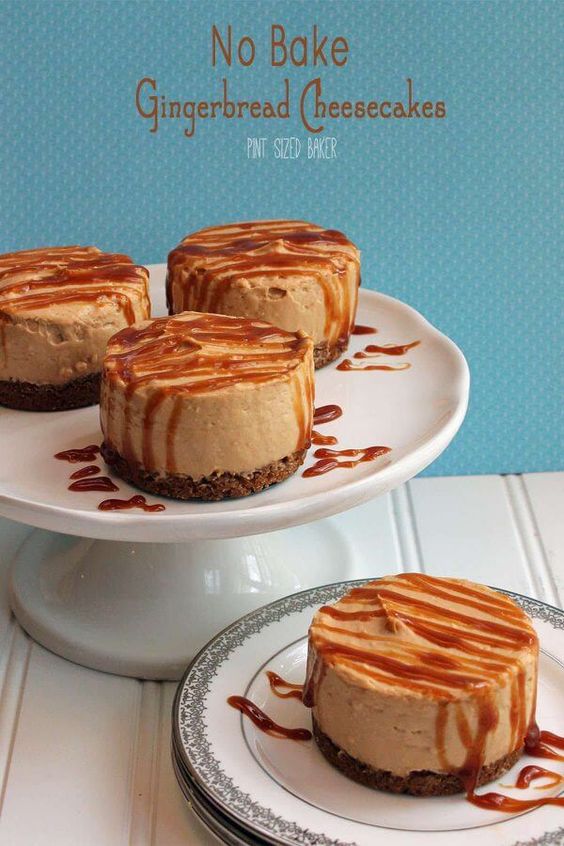 From: pintsizedbaker.com
23. Sugar-free Gingerbread Martinis
Get into the holiday spirit with a delicious low carb gingerbread cocktail.
This is made with new stevia simple syrup for a sugar-free indulgence!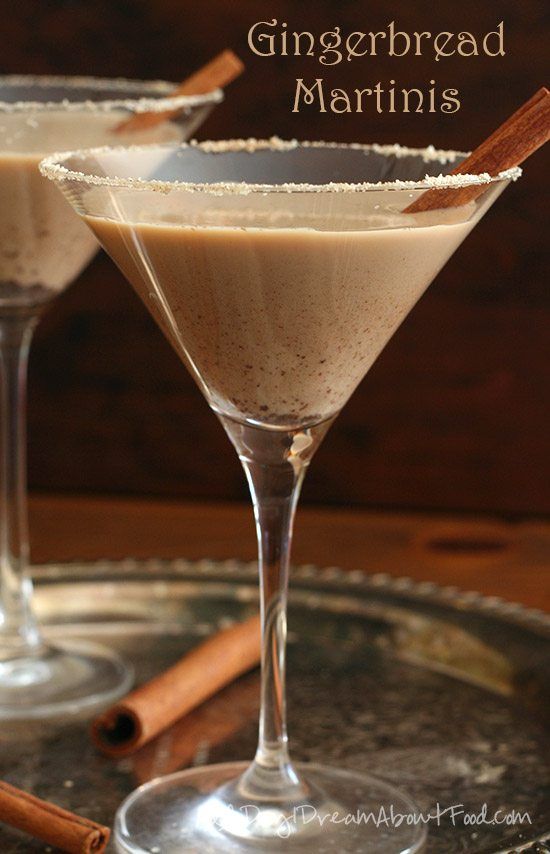 From: alldayidreamaboutfood.com
24. Ginger Icebox Cupcakes
Are you looking for a simple holiday dessert that will still impress your guests? Then this will not disappoint.
You can practically make these in your sleep. They are that easy and everyone loves them.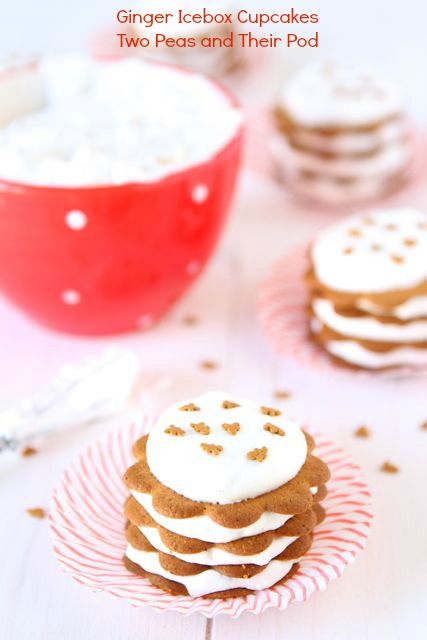 From: twopeasandtheirpod.com
25. Gingerbread Caramel Gooey Bars
These Gingerbread Caramel Gooey Bars might just be my favorite bars to date.
They are so chewy and flavorful, it's hard to stop eating them.
And with all the brown sugar, molasses and sweetened condensed milk in them, they stay soft for no less than a week.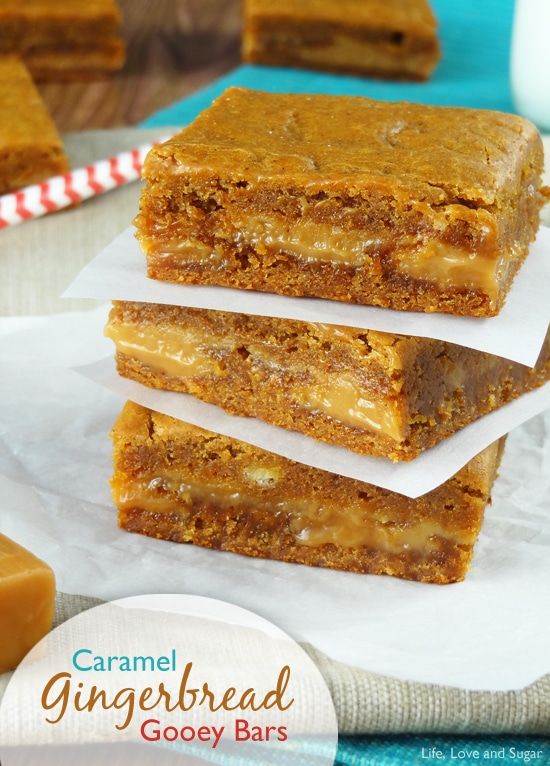 From: lifeloveandsugar.com
26. Gingerbread Buckeyes
Gingerbread Buckeyes combine traditional creamy buckeye filling with crunchy gingerbread cookies.
Which, I don't need to tell you, makes for an irresistibly delicious holiday treat!
These insanely easy bites will be a favorite on your dessert table!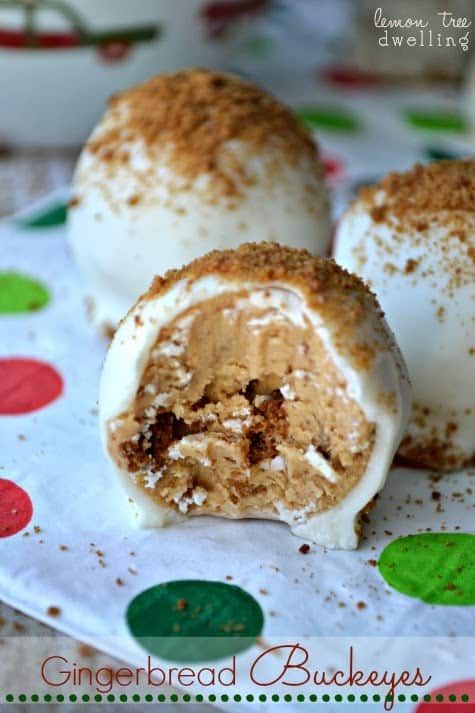 From: lemontreedwelling.com
27. Gingerbread Turtle Thumbprint Cookies
These Gingerbread Turtle Thumbprint Cookies are ridiculously easy to make and taste incredible!
From: iwashyoudry.com
28. Pumpkin Quinoa Gingerbread
Tired of plain old pumpkin bread? Then try this Pumpkin Quinoa Gingerbread!
It has all the yumminess of pumpkin bread and gingerbread combined. But it also has quinoa added in to make it more moist and healthy!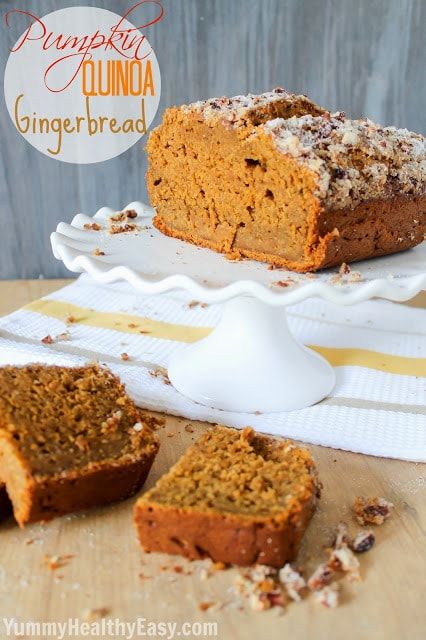 From: yummyhealthyeasy.com
29. Iced Gingerbread Cookies
Soft gingerbread cookies with a touch of molasses.
Filled with the wonderful flavors of ground ginger and cloves covered in a brown sugar molasses icing and gingerbread men sprinkles.
From:  atreatsaffair.com
30. Gingerbread Magic Cake Bars Recipe
Ever since I saw it here I made a vow to turn anything (well, almost anything) I could into some kind of magic cake.
Since we're almost into gingerbread season, I thought that this would be a great addition to the list.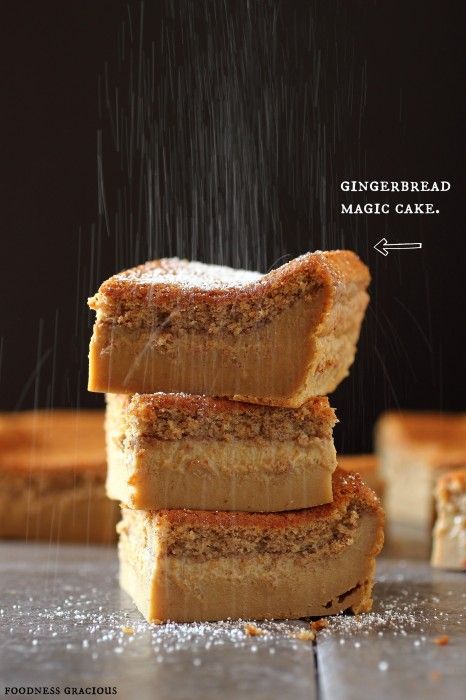 From: foodnessgracious.com
31. Gingerbread 7-Layer Bars
Warm up with the classic, spicy flavor of gingerbread in these awesome seven layer bars!
Topped with different flavors and textures, everything marries together to make one helluva bar.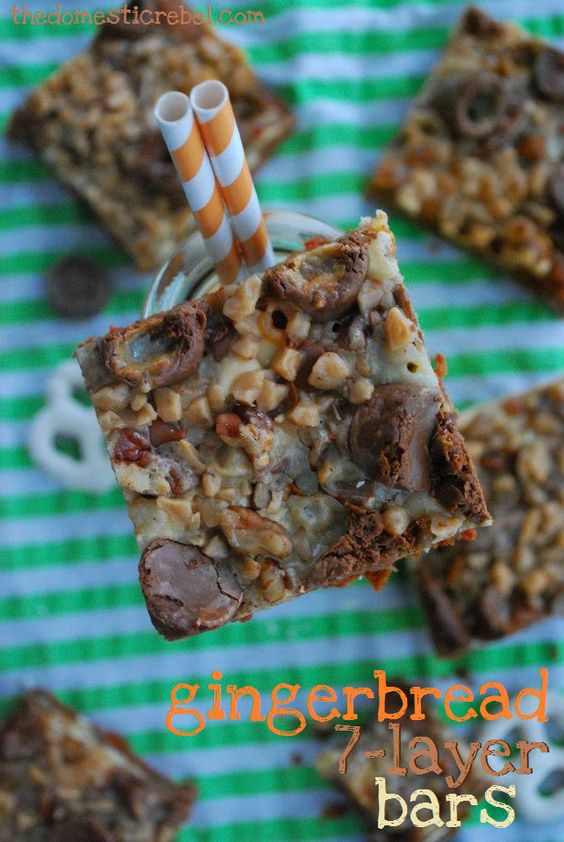 From: thedomesticrebel.com
32. Gingerbread Bread Pudding with Bourbon Sauce
Gingerbread Bread Pudding with Bourbon Sauce is the ideal breakfast for the hurried holiday hostess (or any weekend you're feeling lazy), because it can be prepped entirely in advance.
From: wellplated.com
33. White Chocolate Dipped Ginger Cookie
These White Chocolate Dipped Ginger Cookies are the best ginger cookies around!
They'll quickly become a new favorite holiday cookie!
From: cookingclassy.com
34. Nutella Stuffed Gingerbread Cookies
Soft, spicy gingerbread cookies stuffed full of Nutella.
I could go on, but really I don't feel like I need too. GINGERBREAD AND NUTELLA. I mean come on.
From: thefoodcharlatan.com
35. Gingerbread Cookie Bark
The cookie is incredibly soft, which is a perfect compliment to the hardened chocolate on top.
Beyond tasting great and being super cute, this recipe is also incredibly simple to make. And it's a lot of fun to make with the kids too!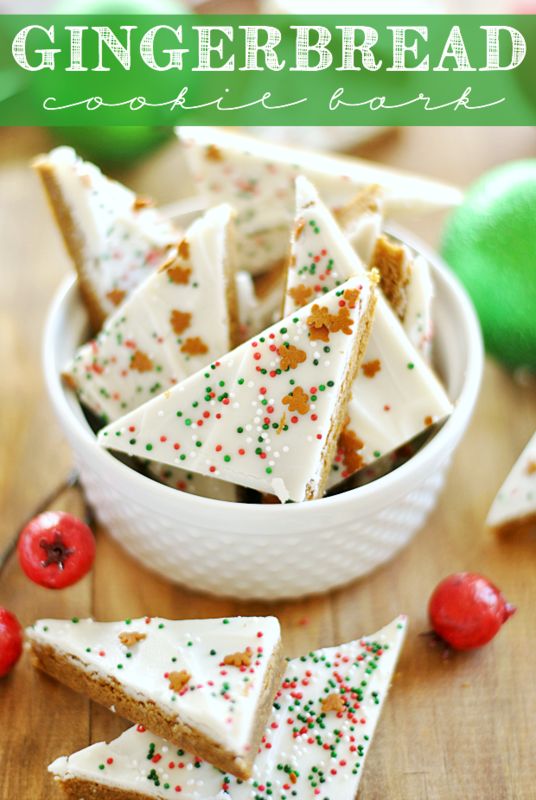 From: somethingswanky.com
Loved these Christmas Gingerbread Recipes? Then pin it for later!
Did you enjoy this roundup of yummy Christmas gingerbread recipes?
Then please remember to pin it to your Christmas board on Pinterest! This will make it easier for you to come back to it later. And remember, sharing is caring!