Fill up your Thanksgiving with new, flavorful and sweet Thanksgiving desserts that you can enjoy with your family. Don't always just make the same things each year, try something new every now and then!
Thanksgiving Desserts
Enjoy a tasty and sweet Thanksgiving with these 40 Thanksgiving desserts recipes.
1. Pumpkin Cheesecake Bars
These pumpkin cheesecake bars are a combination of two holiday classics: pumpkin pie and traditional cheesecake. They're thick, sweet and full of fall spices.
While these do require a bit of extra work, they are totally worth it. And the steps themselves are really simple.

From: lilluna.com
2. Cinnamon Apple Crumb Cake
Are you ready for fall baking? Cinnamon Apple Crumb Cake is the perfect dessert for crisp weather coming up.

From: omgchocolatedesserts.com
3. Pumpkin Cheesecake Snicker-Doodles
I have seen pumpkin snickerdoodles everywhere right now and I have been dying to make them. I love anything that has to do with pumpkin.
But then I stumbled upon pumpkin snickerdoodles stuffed with cream cheese. Life doesn't get much better than that!

From: therecipecritic.com
4. Pumpkin Pie Twists
If you are craving pumpkin flavors for your Fall taste buds, this Pumpkin Pie Twist recipe is perfect for your needs!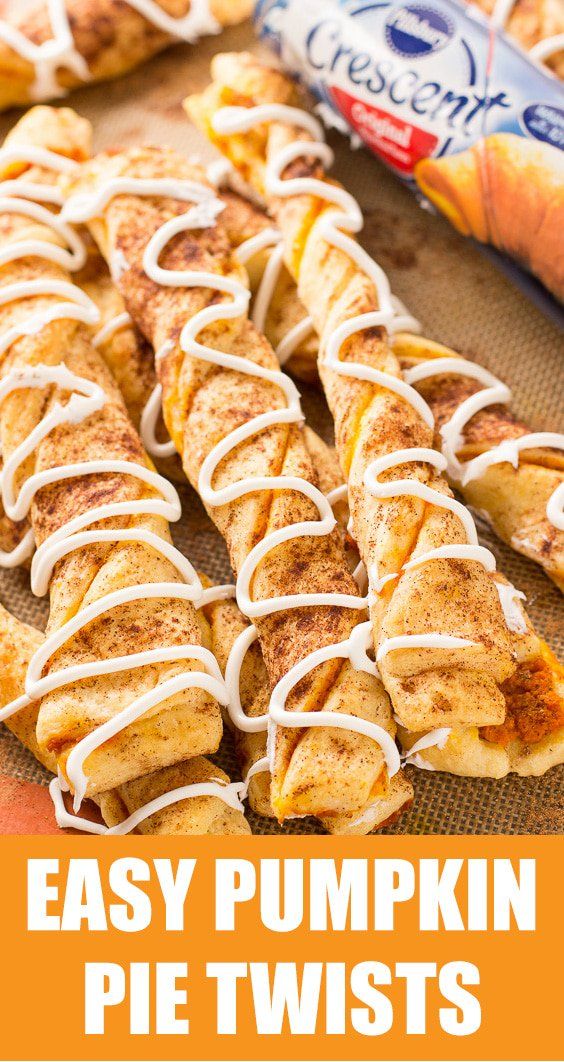 From: deliciouslysprinkled.com
5. Pumpkin Crunch Recipe
With just 7 ingredients any well stocked pantry and fridge will most likely already have what you need to whip this up!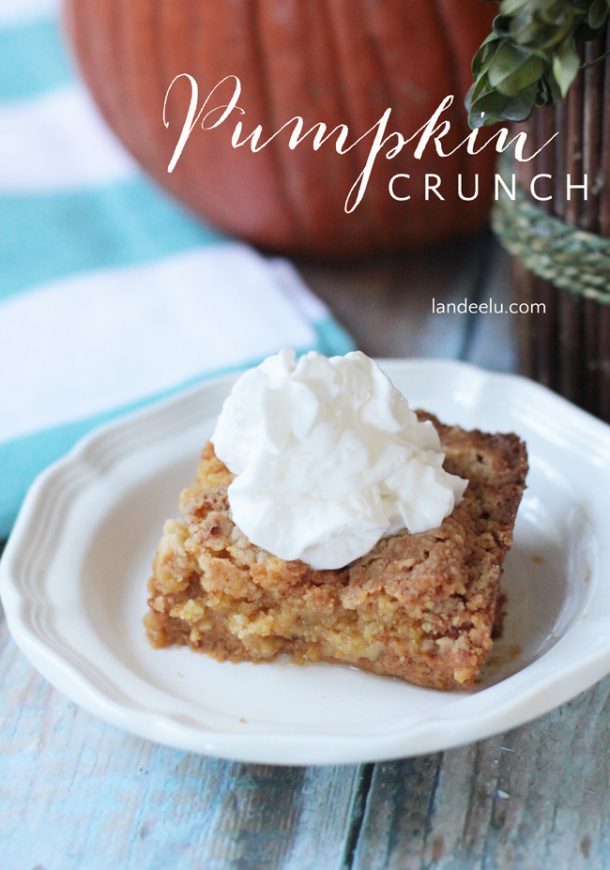 From: landeeseelandeedo.com
6. Apple Crisp Cookie Cups
These apple crisp cookie cups combine classic oatmeal cookies with homemade apple pie filling for the perfect comfort food.
From: livforcake.com
7. Muffin Tin Pumpkin Pies
I love to bake in muffin tins. They are cute, bite-sized, and cook up so much faster.
These make for perfect individual portions. They would be a great way to prepare your pie for dessert this Thanksgiving.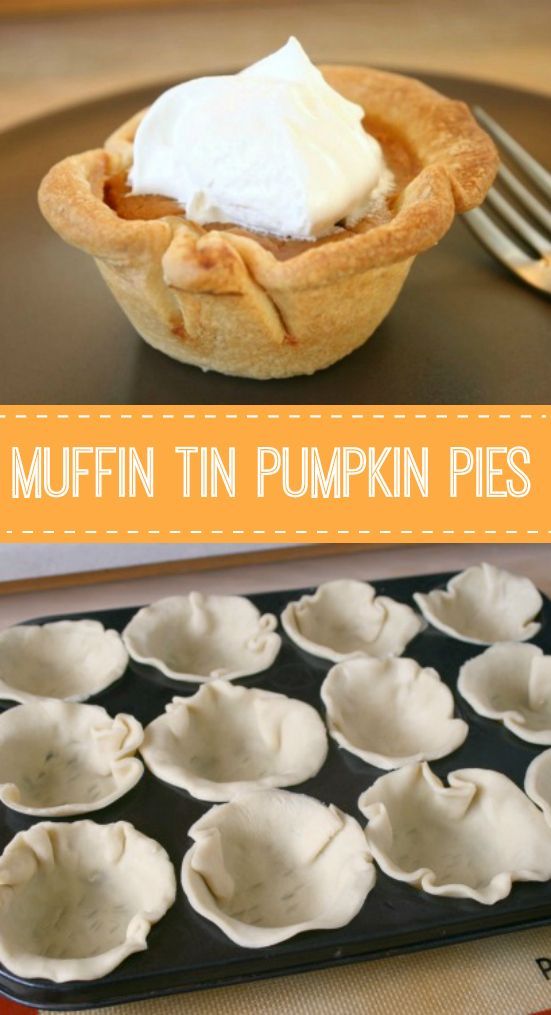 From: makeandtakes.com
8. Harvest Caramel Corn
Harvest Caramel Corn is a great Fall treat or Thanksgiving dessert the features salty popcorn, creamy caramel and sweet chocolate. So very delicious and easy to make!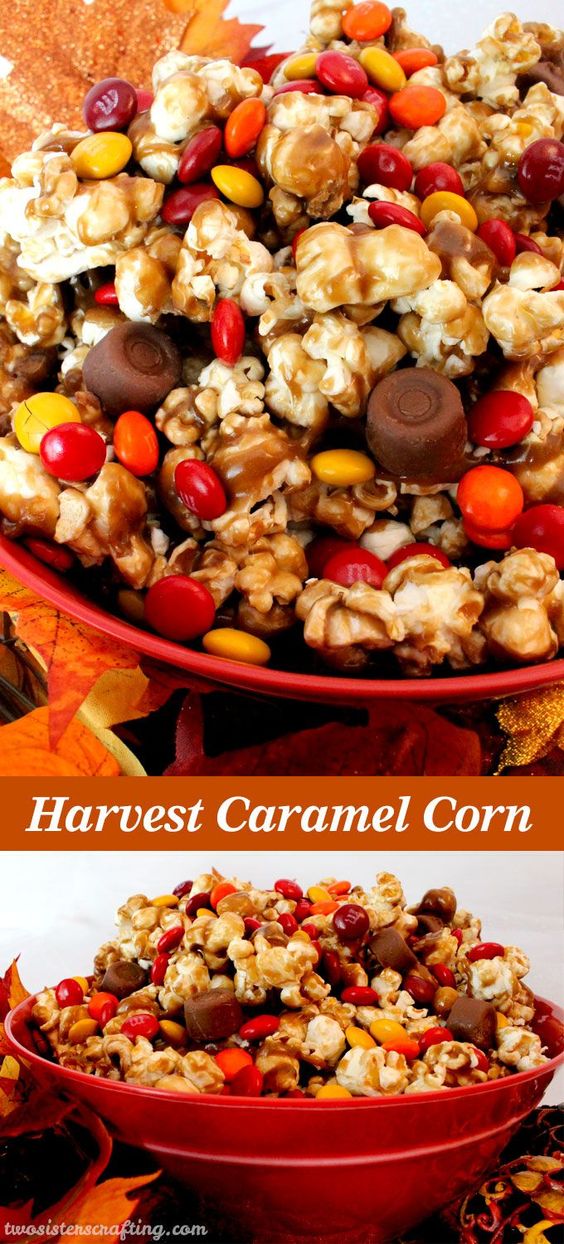 From: twosisterscrafting.com
9. Pumpkin Lasagna Cupcakes
It's layered dessert with cream cheese, pudding, pumpkin and spice, a lot of whipped cream and toasted pecans or walnuts.

From: omgchocolatedesserts.com
10. Pumpkin Spice Lush
This no-bake, creamy, easy and YUMMY layered pumpkin dessert recipe is going to be the star of your fall and winter holiday parties!
This is a Thanksgiving Dinner and Christmas party dessert table must. Pumpkin spice fans will be in autumn and winter treat heaven with every single bite.

From: dreamingindiy.com
11. Caramel Apple Slices
Caramel Apple Slices are a delicious twist on a fall classic that is easier to eat & enjoy at parties or just for fun!

From: domesticallyblissful.com
12. Slow Cooker Baked Apples
These babies are juicy, delectable and a crowd pleaser. Anything that goes well with a scoop of vanilla ice cream has to be good, right?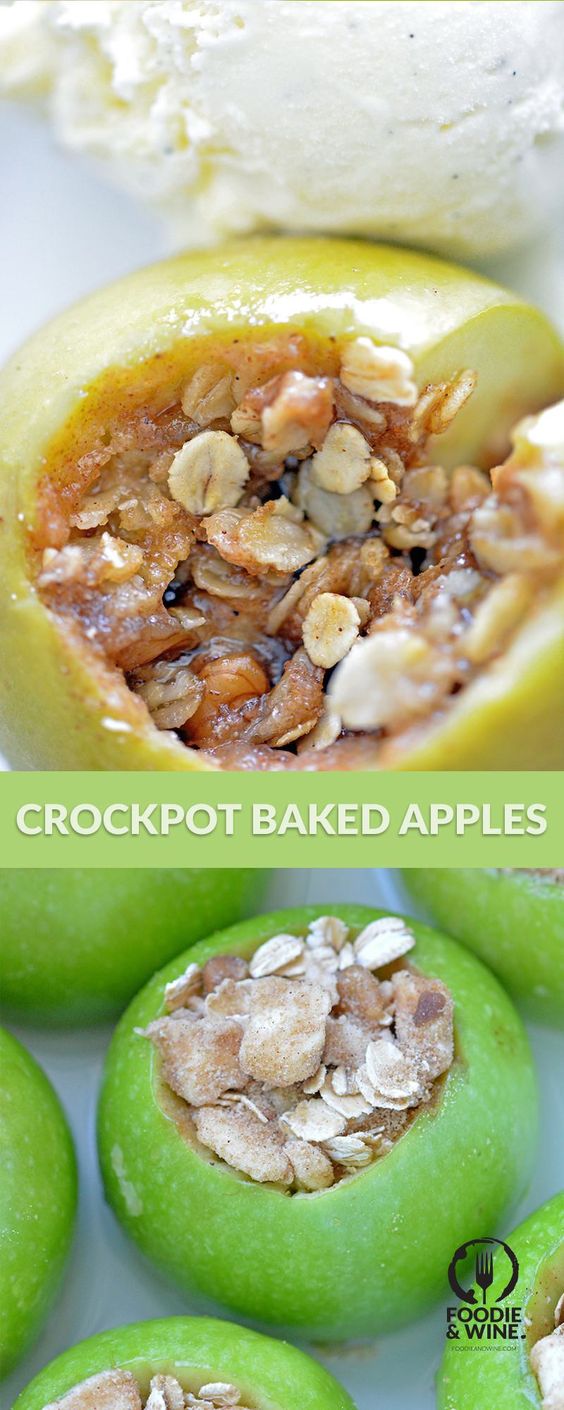 From: foodieandwine.com
13. Oreo Acorn Balls
These Oreo Acorn Balls are SO adorable! Peanut butter Oreo balls made to look like acorns!!

From: thefirstyearblog.com
14. Classic Apple Crisp Dessert Recipe
It's not officially fall without apple crisp with vanilla ice cream for dessert! This family favorite recipe is SO easy and always a big hit with kids and adults alike.
From: dreamingindiy.com
15. Pumpkin Cheesecake Bars With A Streusel Topping
The BEST pumpkin cheesecake bars. A delicious cinnamon graham cracker crust with two layers of cheesecake topped with an easy streusel and caramel sauce.
These famous pumpkin cheesecake bars are sure to be a smash hit wherever you serve them!

From: chelseasmessyapron.com
16. Spiced Pumpkin Whoopie Pies
These cookies are super easy to make, yet look fabulous, so they're perfect for Fall entertaining!
The pumpkin flavor is strong, but not overpowering, and perfectly paired with the sweet and slightly nutty browned butter maple cinnamon frosting.

From: thechunkychef.com
17. Pumpkin Pie Crescents
A delicious pumpkin pie inspired treat in about 20 minutes!
These pumpkin pie crescents contain a quick and easy pumpkin filling wrapped in a flaky crust with a sweet glaze drizzle.

From: spendwithpennies.com
18. Spiced Cupcakes with Cinnamon Cream Cheese Frosting
Spiced cupcakes with cinnamon cream cheese frosting are the perfect fall dessert!
This easy recipe is great for holiday parties and meals. A very special secret ingredients adds a blast of flavor!

From: wonkywonderful.com
19. Pecan Pie Brownies
These Pecan Pie Brownies are a chocolaty twist on the traditional pecan pie! They make a great Thanksgiving dessert but I like making them all year long!

From: realhousemoms.com
20. Pecan Pie Cheesecake
Pecan Pie Cheesecake deserves a blue ribbon in the holiday dessert table category. Your holiday guests are going to be talking about this one and asking for the recipe.
From: dreamingindiy.com
21. Mini Pumpkin Pies
Rather than overwhelming yourself and your guests with too much of a good thing, let them enjoy a bite sized treat. There's always room for something mini!
From: onelittleproject.com
22. Caramel Apple Pie Magic Bars
These caramel apple pie magic bars are the best way to eat apple pie!
A Nilla wafer crust is topped with white chocolate, Rolos, and apples for the perfect magic bar that tastes like the best apple pie!

From: crazyforcrust.com
23. Candy Caramel Apple Slices
Any way you slice it these Caramel Apples are delicious all year long. The crisp, fall apple flavor gets a candied coat of light cocoa Candy Melts candy with a gooey caramel center.

From: wilton.com
24. Pumpkin Roll With Cream Cheese Filling
This delicious homemade Pumpkin Roll recipe is easy to make and walks you through the steps on how to make it. The roll is so moist and delicious!
From: brooklynfarmgirl.com
25. Caramel Pumpkin Cheesecake Dip
This easy to make, over the top Caramel Pumpkin Cheesecake Dip will have everyone coming back for seconds!
The perfect dessert or appetizer for fall!

From: momontimeout.com
26. Fall Leaves Rice Krispie Treats
These Fall Leaves Rice Krispie Treats are beautiful and look like Autumn on a plate. They are going to look gorgeous on our Thanksgiving Dessert table!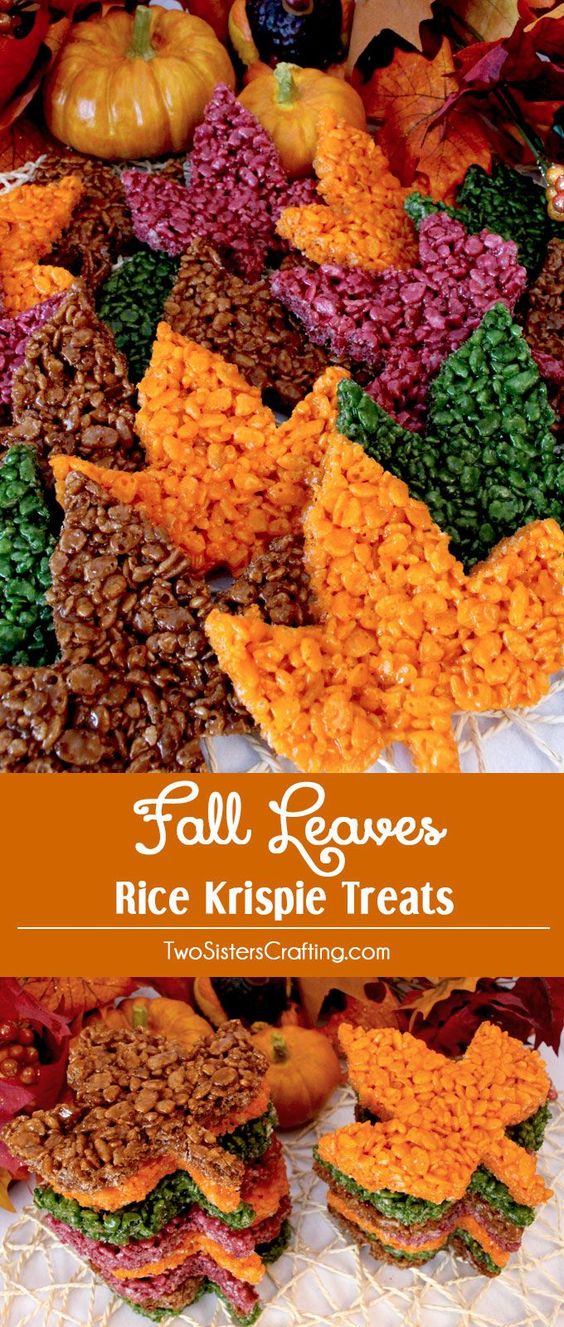 From: twosisterscrafting.com
27. Easy 3 Ingredient Peanut Butter Pumpkins
I'm telling you right now that it can't get much easier…melt, dip, and a sprinkle.
From: easypeasypleasy.com
28. Easy Chocolate Pie Recipe
This easy chocolate pie needs to be on your dessert table this holiday season. You won't regret it.

From: yummyhealthyeasy.com
29. Cannoli Sugar Cookie Cups
Simple and delicious go to a whole new level with these cannoli sugar cookie cups. Easy sugar cookie cups topped with cannoli filling and chocolate chips. Yum!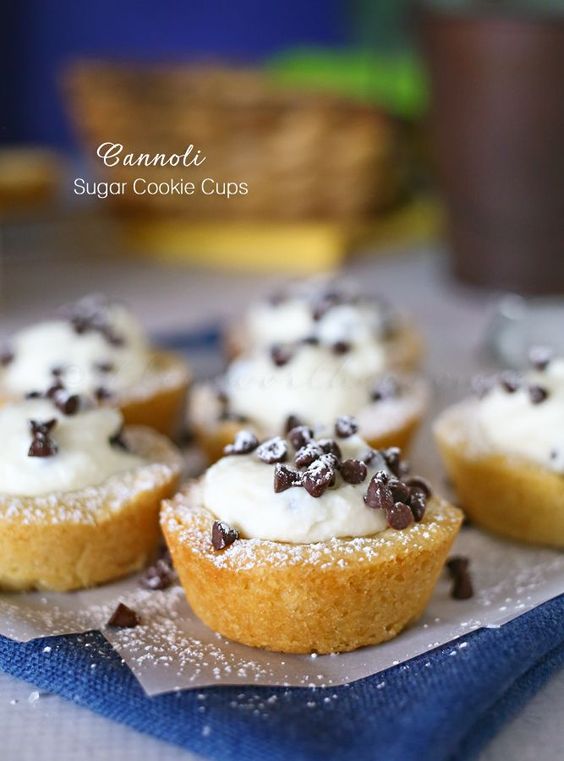 From: kleinworthco.com
30. Mini Pumpkin Cheesecakes
These adorable Mini Pumpkin Cheesecakes are the perfect fall dessert!
Creamy cheesecake has the perfect hint of pumpkin, topped with homemade whipped cream and caramel sauce. It doesn't get much better than these cute mini cheesecakes this season.
From: mykitchencraze.com
31. Easy Glazed 4 Ingredient Pumpkin Cookies
If you can get your hands on a box of cake mix and some store bought frosting then this recipe is for you!

From: easypeasypleasy.com
32. Pumpkin Custards
Since everybody knows the best part of the pie is the pumpkin pie filling, there is no need to bother with crust.
Just make these mini pumpkin pies baked in ramekins for a pumpkin custard you can keep all to yourself.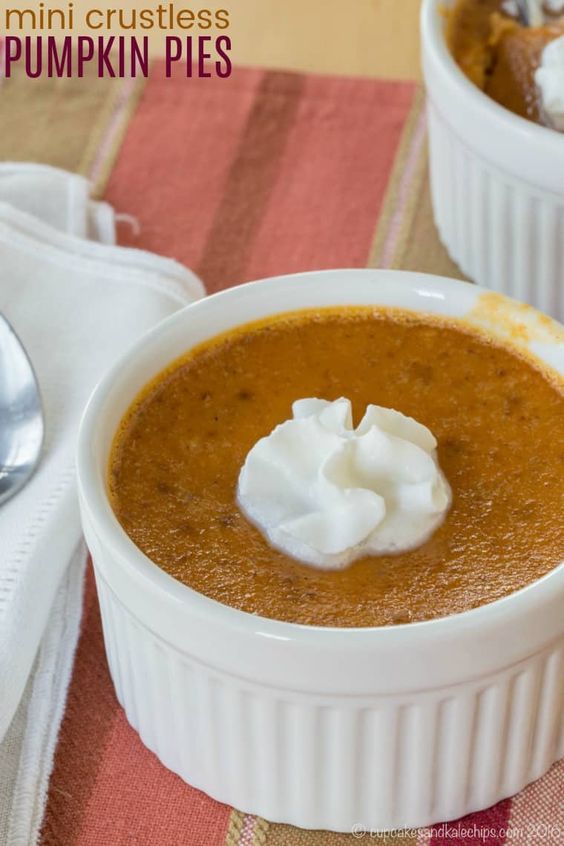 From: cupcakesandkalechips.com
33. Easy Pear Tart
Juicy sliced pears are fanned onto flaky pastry, baked until golden brown, then brushed with pear preserves for a delicious glossy sheen.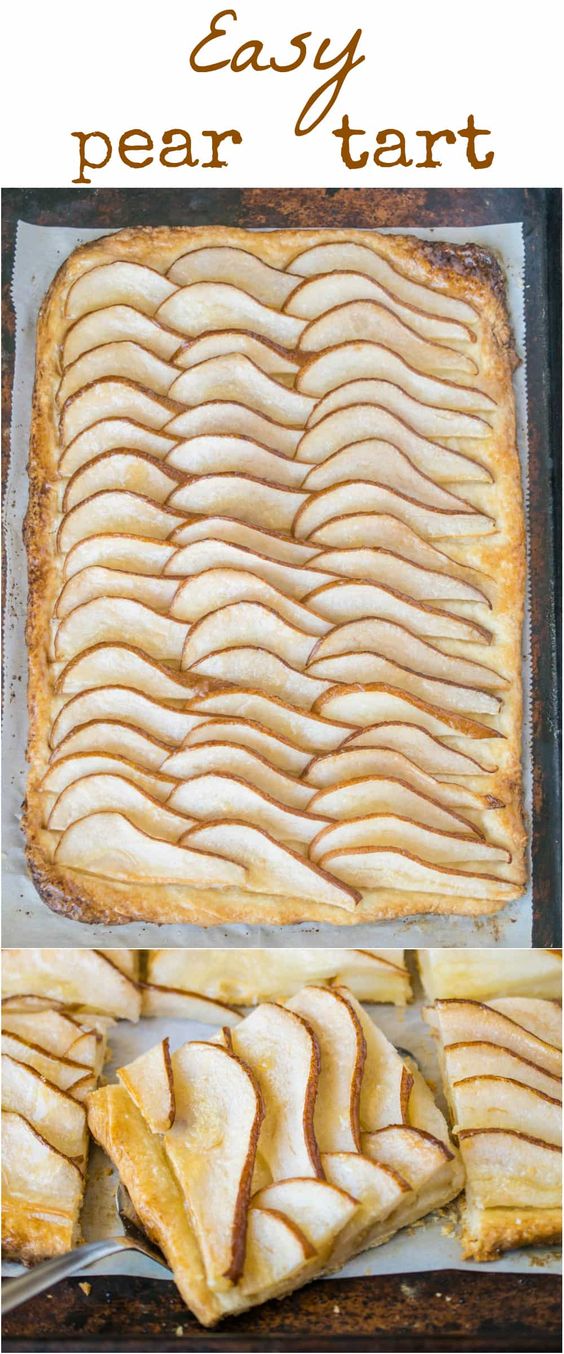 From: culinaryginger.com
34. Caramel Apple Cupcakes
These Caramel Apple Cupcakes are made with a spiced apple cupcake topped with caramel icing. They totally melt in your mouth and are the perfect use for all those apples!

From: lifeloveandsugar.com
35. Pumpkin Cheesecake Brownie Bites
Delicious little brownie bites with a hint of pumpkin cheesecake swirl. Pumpkin cheesecake brownie bites are a great sweet treat to make for any part
From:  foodlovinfamily.com
36. Apple Caramel Cheesecake Recipe
I mean–cheesecake! Need I say more? When you put together things like cheesecake and apple pie, you get a result that is entirely awe inspiring.

From: allshecooks.com
37. Dutch Apple Pie Recipe
Serve this dessert warm with a scoop of creamy vanilla ice cream and your guests will be in heaven!

From:  thetaylor-house.com
38. Four Ingredient Pumpkin Pie Dip
Pumpkin pie is about as fall as you can get when it come to food. It is THE pie of Thanksgiving and just fills your brain with visions of changing leaves and fall colors!
From: mysuburbankitchen.com
39. Pumpkin Cinnamon Rolls
Pumpkin Cinnamon Rolls are made in just 30 minutes! Sweet pumpkin cinnamon rolls are made quickly with crescent dough and then covered in a delicious cream cheese frosting.

From: thenovicechefblog.com
40. Salted Caramel Pumpkin Poke Cake
I just made my new go-to Thanksgiving dessert. I like this more than pie and it's ridiculously easy to make.

From: colormemeg.com
Loved these Thanksgiving Desserts? Pin it for later!
If you enjoyed this list of Thanksgiving desserts recipes, please pin it to your Thanksgiving desserts board on Pinterest.