Get into the holiday spirit by making some of these festive and fun Christmas brownie recipes. They will be a sure hit at any Christmas party or gathering.
20 Decadent Christmas Brownie Recipes
Enjoy these yummy Christmas brownie recipes. To view the full recipes, please follow the link below each image.
Also don't forget to follow The Daily Spice on Pinterest for more great recipes and ideas!
1. Easy Christmas Tree Brownies
These Christmas Tree Brownies are SO EASY and they look adorable!
The icing hardens, so they travel well and make a great treat for a Christmas party!
From: onelittleproject.com
2. Frosted Holiday Mint M&M Brownies
Delicious and easy Frosted Holiday Mint M&M Brownies that everyone will love!
From: lilluna.com
3. Pecan Pie Brownies
These Pecan Pie Brownies take everyone's favorite part of the pecan pie, the gooey, nutty filling, and bake it right on top of rich chocolate brownies.

From: realhousemoms.com
4. Peanut Butter Brownie Bars
These Peanut Butter Brownie Bars are super delicious but we cannot lie … they are very sweet and rich (but definitely in a GOOD way.)
Chocolate and peanut butter are two great tastes that taste great together so just cut these yummy frosted brownies up into smaller sized bars and happily serve them up to your family and friends.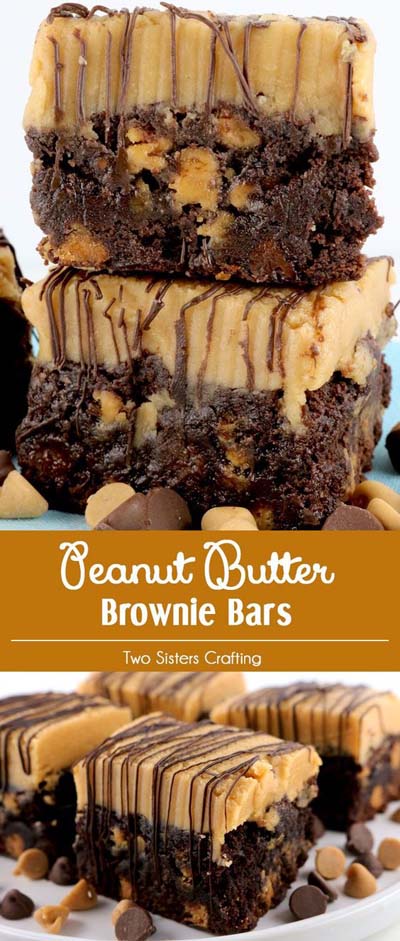 From: twosisterscrafting.com
5. Peppermint Brownies
These Peppermint Brownies are classic fudge brownies with peppermint extract and mint chips for a chilly winter twist.
This easy brownie recipe is topped with dark chocolate ganache and crushed candy canes.
From: bakerita.com
6. Chocolate Coconut Brownies
Fudgy brownies topped with a layer of creamy sweet coconut and finished with a smooth chocolate ganache.
Use your favorite boxed or homemade brownie recipe for this decadent triple layer dessert.

From: celebratingsweets.com
7. Snickers Brownie Bites
Snickers Brownie Bites made from a homemade brownie recipe then stuffed with Snickers candy and topped with chocolate frosting and chocolate candies.
From: butterwithasideofbread.com
8. Cherry Cheesecake Brownies
Fudgy brownies with cheesecake and premium Lucky Leaf pie filling swirled on top!
These brownies are rich and creamy and have three delicious desserts in one!
From: therecipecritic.com
9. Candy Cane Brownies
Fudgy, chewy chocolate brownies topped with peppermint buttercream and crushed candy canes.
This easy recipe makes these candy cane brownies the perfect Christmas brownies!
From: justsotasty.com
10. Eggnog Brownies
The fudgiest brownies with the fluffiest festive buttercream, these delicious Eggnog Brownies are going to be the hit of your holiday parties!
From: thecrumbykitchen.com
11. Mint Chocolate Chip Fudge
Mint Chocolate Chip Fudge is incredibly fudgy and easy to make at home.
These decadent fudge brownies are made of a thick layer of mint and covered with delicious chocolate chips, which are perfect for any occasions.
From: sweetandsavorymeals.com
12. Red Velvet Swirl Brownies
These red velvet swirl brownies are brimming with over-the-top chocolate flavor and swirled with a rich cream cheese topping, and their gorgeous red hue makes them absolutely perfect for serving on Christmas!

From: positivelysplendid.com
13. Raspberry Cheesecake Brownies
Raspberry Cheesecake Brownies are a rich and decedent treat that everyone will love.
Made with either a boxed mix or a from scratch brownie, the addition of raspberry pie filling and cheesecake swirl take these brownies up a notch!
From: butterwithasideofbread.com
14. Chocolate Peppermint Brownies
These are easy to make too because the brownie is a box mix!
The homemade icing is what makes this so scrumptious.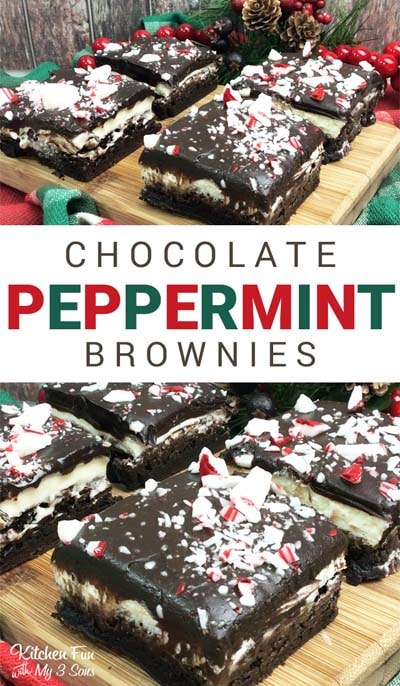 From: kitchenfunwithmy3sons.com
15. Gluten Free Brownie Christmas Trees
These gluten free brownie Christmas trees are a fun way to celebrate the festivities.
I think these are just the prettiest little things! How you decorate them is entirely flexible, too!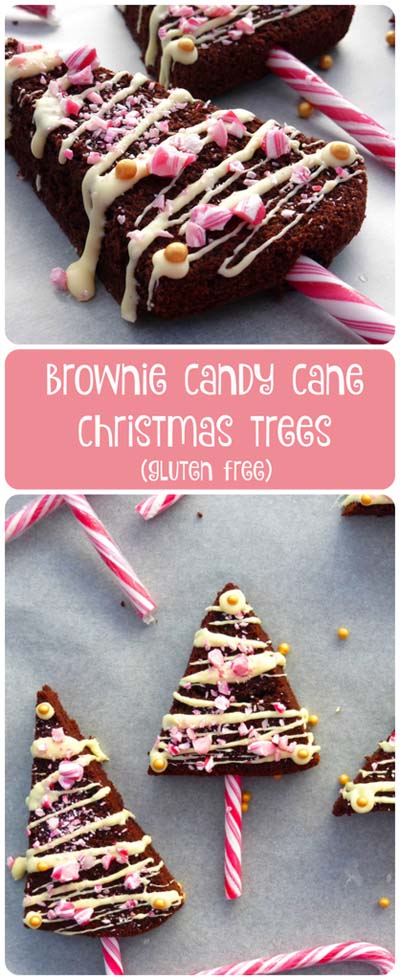 From: theculinaryjumble.com
16. Reindeer Brownies
These reindeer brownies are one of my kids favorite Christmas treats to make because they are easy and so much fun.
They're perfect for a day of holiday baking.
From: kitchenfunwithmy3sons.com
17. Layered Fudge Mint Brownies
Love mint and chocolate desserts? You'll love this fudge mint brownies recipe.
This layered brownie is oh so delicious!
From: ohmysugarhigh.com
18. Double Decker Triple Stuffed Christmas Brownies
Layered with chocolate and vanilla, and filled with three kinds of candy, stuffed Christmas brownies are an easy and impressive treat to make for a crowd.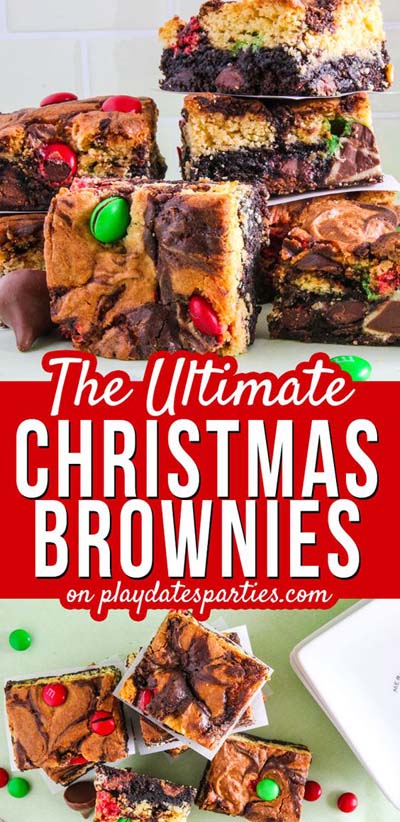 From: playdatesparties.com
19. White Chocolate Peppermint Brownies Recipe
Looking for Christmas desserts? You are going to love this White Chocolate Peppermint Brownies Recipe, one of the perfect Christmas treats.
From: eatingonadime.com
20. Black Forest Brownies
If you love brownies, you will die for these amazing Black Forest Brownies with Chocolate Ganache topping!
The cherries make them sweet and moist and the ganache gives them the richness that makes you think you should only have a small piece. But don't, they are too good for a small piece!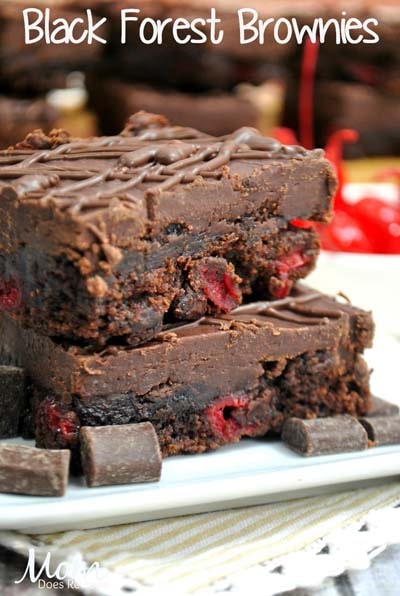 From: momdoesreviews.com
Pin these Christmas Brownie Recipes for later!
Don't have time to make these Christmas brownie recipes at the moment? Then pin it to your Christmas desserts board on Pinterest so you can get back to it later!
Also don't forget to follow The Daily Spice on Pinterest for more great recipes and ideas!