With Thanksgiving just around the corner, I thought it's time to round up some of my favorite Thanksgiving turkey recipes. And so I'm doing just that!
Step up your turkey game this year and make the perfect roast that'll wow your family and friends.
Thanksgiving Turkey Recipes
Enjoy these Thanksgiving turkey recipes. As always, for the full recipe, please click on the link below each image and you'll be taken to the recipe and instructions.
1. Maple-Glazed Turkey with Bacon and Sage Butter
This juicy, tender turkey is slathered with sage-infused butter, shingled with crispy bacon, and glazed with maple syrup in what just might be the best Thanksgiving turkey you've ever tasted!

From: fivehearthome.com
2. Applewood Smoked Turkey With Cider Bourbon Gravy
So here's the deal. I smoked a turkey breast for time-intensive reasons and in hopes of not wasting any food.
I HATE wasting food. This was not an issue considering we took down this turkey in a matter of days!

From: howsweeteats.com
3. Maple Bacon Roasted Thanksgiving Turkey
This recipe for Maple Bacon Roasted Turkey is so easy to make! You'll spend less time in the kitchen this Thanksgiving and more time with your guests.
From: carriesexperimentalkitchen.com
4. Slow Cooker Turkey Breast
This turkey is moist, tender, full of flavor and so easy to prepare! Instructions also include how to make gravy from the drippings.
From: lovetobeinthekitchen.com
5. Herb And Butter Roasted Turkey
It's finally time for Turkey Talk!! I LOVE this herb and butter roasted turkey with white wine pan gravy.

From: halfbakedharvest.com
6. Grilled Tuscan Style Turkey
Want to try something a little different this year with your holiday turkey? Wish you had your oven free for side dishes? Or maybe you are having a big enough crowd that you really need two turkeys!
Grilled turkey solves all these problems and is fast, easy, and tasty. So, butterfly your turkey this year, rub it with Italian flavors, and make Tuscan grilled turkey!
From: justalittlebitofbacon.com
7. Smoky Paprika-Bacon Roasted Turkey
This Smoky Paprika-Bacon Roasted Turkey is the mother of all roasted turkeys.
Saying it's over-the-top might be an understatement, and it will surely bring your Thanksgiving feast to the next level!

From: cookingontheweekends.com
8. Herb Roasted Turkey
Beautifully golden, juicy, and delicious, this is my go-to no-fail roasted turkey recipe infused with a garlic butter herb rub.
It's perfect for serving a crowd at Thanksgiving or Christmas holidays & best of all, easy to customize with your favorite flavors.

From: lifemadesweeter.com
9. Super Juicy No Brine Roast Turkey
Sharing my secret to super juicy no brine roast turkey recipe that will make you a hero of your Thanksgiving dinner.
It involves a bottle of champagne and melted butter! Seriously, unless you want to, you really don't have to brine your bird anymore.

From: sweetandsavorybyshinee.com
10. How To Smoke A Whole Turkey For Thanksgiving
Smoking a turkey for is a long-standing tradition in my family!
And, it's easier and quicker than you would think! Learn how to smoke a whole turkey in this tutorial.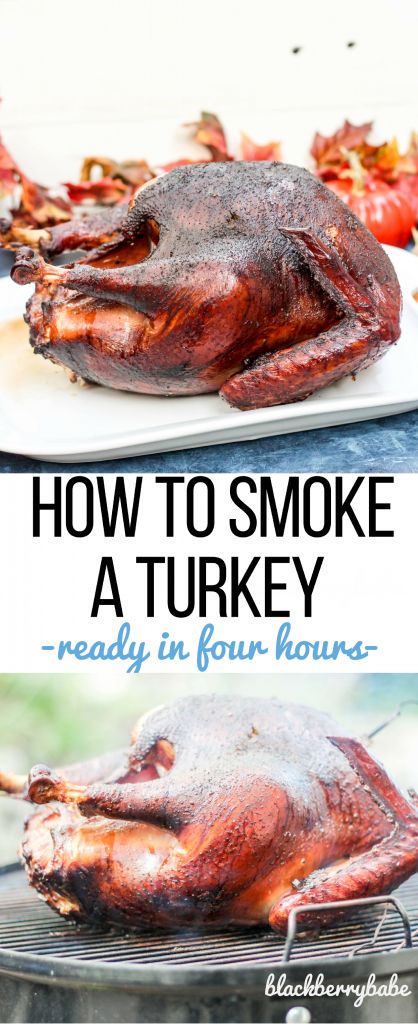 From: blackberrybabe.com
11. Rosemary Lemon Roasted Turkey
Rosemary Lemon Roasted Turkey made with infused rosemary-lemon olive oil, garlic and stuffing.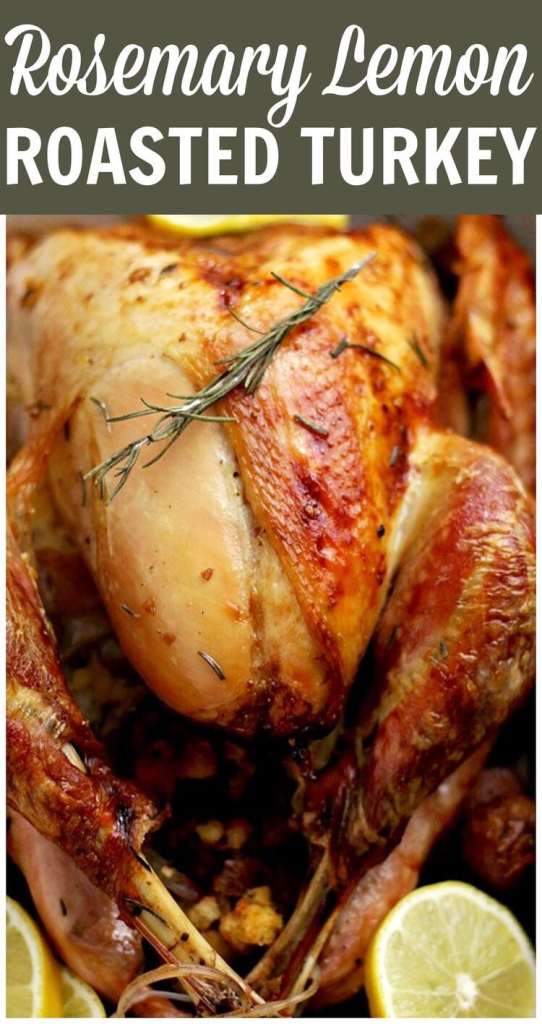 From: diethood.com
12. The Best Roast Turkey
Learn how to roast a turkey that remains moist while being completely cooked throughout.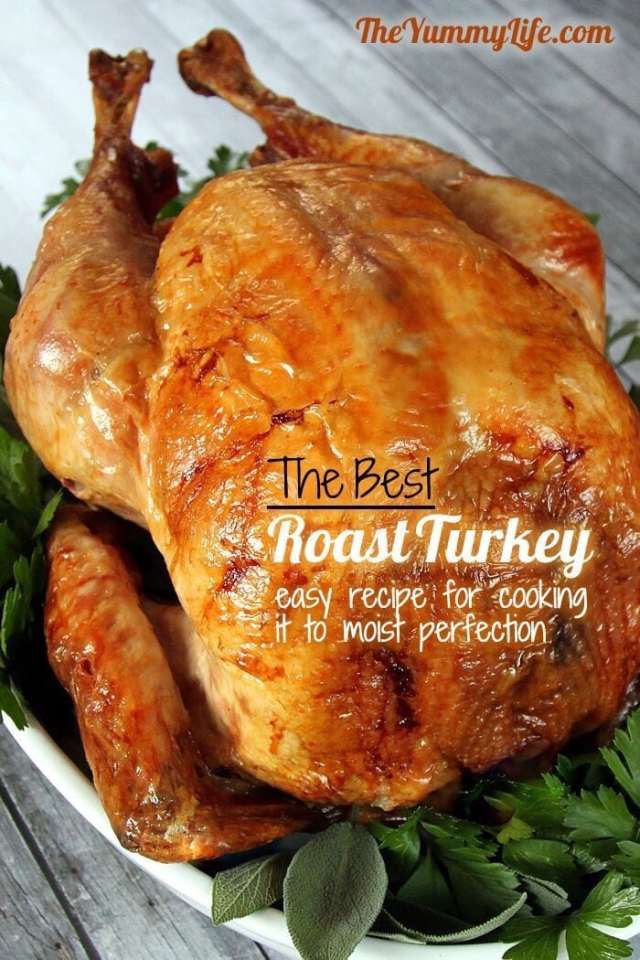 From: theyummylife.com
13. Easy Garlic and Herb Roasted Turkey
This is a no-tears, no-fuss Easy Garlic and Herb Roasted Turkey recipe.
Read on to find out how to roast a turkey without losing your mind!

From: neighborfoodblog.com
14. Rosemary Apricot Glazed Turkey
Savory rosemary and sweet apricot are perfect flavors for turkey!
This Rosemary Apricot Glazed Turkey is a beautiful and delicious recipe for Thanksgiving!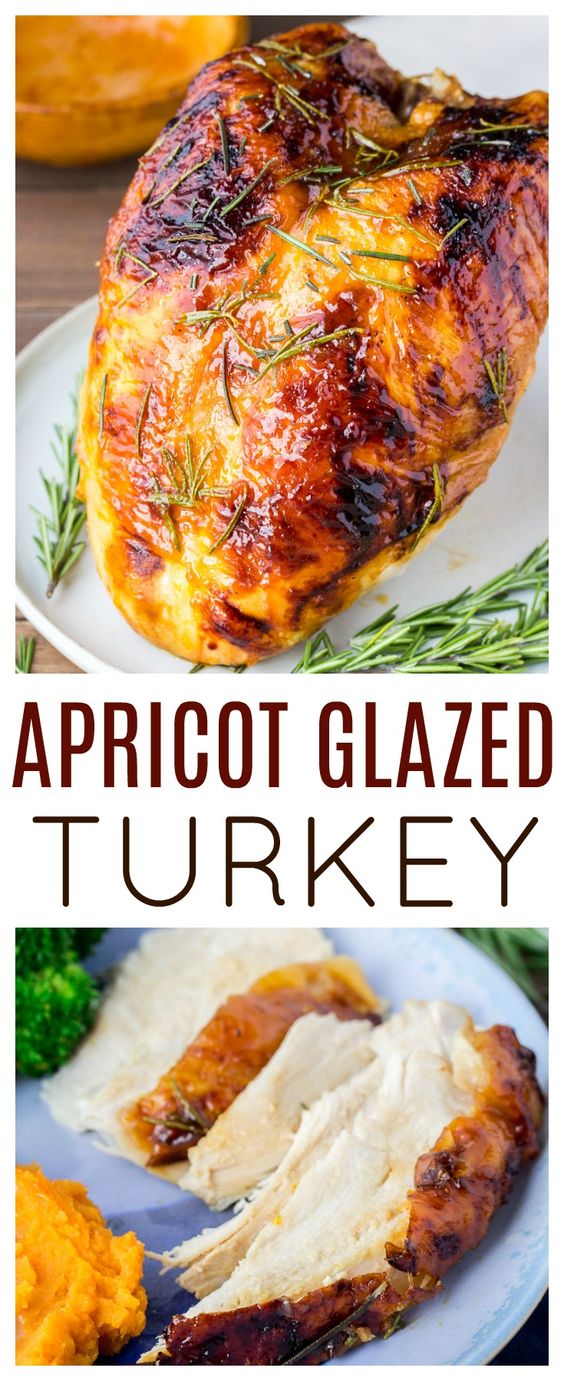 From: deliciouslittlebites.com
15. Easy, No-fuss Thanksgiving Turkey
The BEST Thanksgiving Turkey recipe! It packs all of the flavor and juiciness you expect from the perfect Thanksgiving turkey – with none of the stress!
Plus a step by step tutorial for how to cook the perfect turkey.
From: tastesbetterfromscratch.com
16. Award Winning Instant Pot Turkey Recipe
Your Thanksgiving turkey is just 30 minutes away. Yes! You read that correctly!
Juicy, perfect Thanksgiving turkey in no time with this Award Winning Instant Pot Turkey Recipe.

From: ohsweetbasil.com
17. Orange Glazed Herb Turkey
This Orange Glazed Herb Turkey is bursting with orange flavor! They have taken a traditional recipe and given it a lovely citrus twist.
To do it, they added orange zest, orange juice, and even fresh oranges. The herbs compliment the orange well. And the glaze uses marmalade to sweeten and add another punch of orange flavor.

From: skinnyms.com
18. Citrus Herb Roasted Turkey
The bird is stuffed with citrus and herbs. Also, it is coated with a herb compound butter that you'll want to slather all over everything else.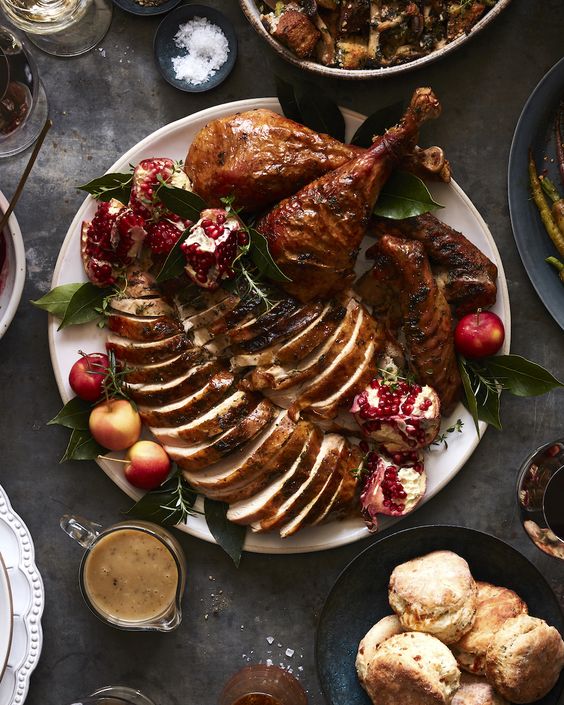 From: whatsgabycooking.com
19. Stuffed Turkey Roll
Calling all turkey lovers!
This stuffed turkey roll is perfect for Thanksgiving and Christmas. Or any time of the year you want a delicious dish. This recipe is also a great alternative to roasting a whole turkey during the holiday season!
I love everything about this simple, yet incredibly delicious recipe.
From: tatyanaseverydayfood.com
20. Mayonnaise Roasted Turkey Recipe
This Mayonnaise Roasted Turkey Recipe may sound a little different, but I think you will be surprised at the delicious results.
Time and time again this turkey recipe and method has proved to be a real winner.  And now it has become the easiest part of a meal.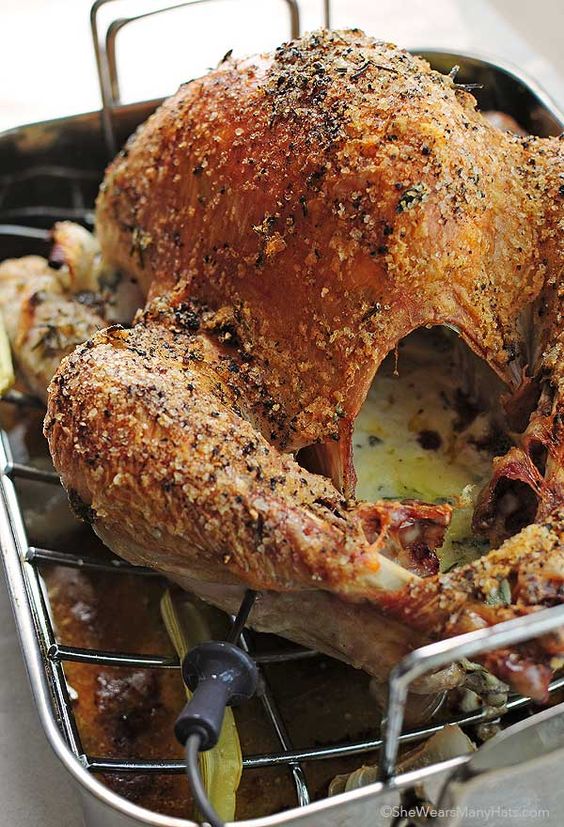 From: shewearsmanyhats.com
Loved this roundup of Thanksgiving Turkey Recipes?
If you enjoyed this roundup of Thanksgiving turkey recipes, remember to pin it to your Thanksgiving board on Pinterest! Sharing is caring! And you'll be able to come back to it next year!