Unicorn desserts are so trendy right now, and it's obvious to see why! Bright, colorful and lots of fun, these unicorn desserts are perfect for a unicorn party. Or just for any day, you know, just because.
35 Amazing Unicorn Desserts
Getting in on the unicorn craze isn't as difficult as you might think, and here is some great inspiration for you! Enjoy these 35 unicorn desserts!
1. Unicorn Pretzels
These super cute pretzels will bring out the inner unicorn in everyone at the party!  The sweet and salty flavors of these fun pretzels will make your guests taste buds tingle with delight!
Full of yummy magic you can bet these fun Unicorn Pretzels will be the talk of your celebration!

From: ladybehindthecurtain.com
2. Unicorn Fudge
This Unicorn Fudge is guaranteed to brighten up anyone's day and is great for a birthday party! This fudge will stay fresh for 2-3 weeks in the fridge or 3 months in the freezer.
From: sprinklesforbreakfast.com
3. Unicorn Ice Cream
This unicorn ice cream is magic on a cone! There's nothing better on a hot day than rainbow ice cream that's covered in star sprinkles and glitter!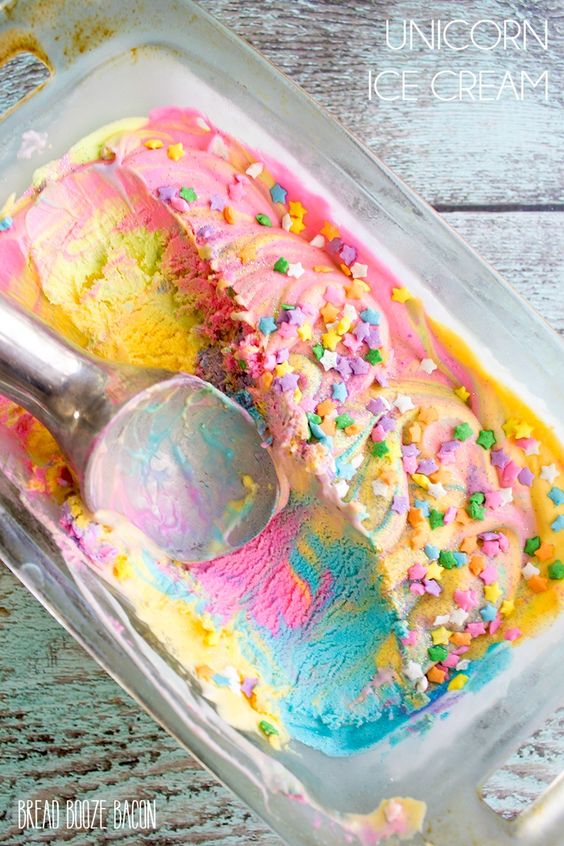 From: breadboozebacon.com
4. Vanilla Unicorn Sugar Cookie Bars
Colored frosting and lots of sprinkles add a fun flair to these easy Vanilla Unicorn Sugar Cookie Bars.
Making and frosting the cookies in one pan makes them a very easy treat to make and share.
From: insidebrucrewlife.com
5. Unicorn Hot Chocolate
A magical pastel rainbow of color, fluffy mini marshmallows and a warm and creamy white chocolate make this Unicorn Hot Chocolate the stuff of little girls' dreams.
From: dixiecrystals.com
6. Unicorn Poop Cupcake Cones
Unicorn Poop Cupcake Cones are a colorful and delicious way to bring fun to your next party!
Learn how to make Unicorn Poop Cupcake Cones and the special tip you need for a perfect rainbow swirl topping.
From: momdot.com
7. Unicorn Loaf Cake
I am loving this recipe for Unicorn Loaf Cake as it has a sweet surprise inside with a magical touch.
Feel free to get even more creative with this recipe by using different colors and shapes.
From: everydayshortcuts.com
8. Rainbow Unicorn Dip
You whip up the cheesecake batter, portion it into four dishes, then swirl all of your colors together to make one big and beautiful bowl of unicorn cheesecake dip.
The entire process takes about 10 minutes from start to finish, and there is NO baking required.
From: chocolatecoveredkatie.com
9. No Churn Unicorn Ice Cream
Sometimes you just need something a little wild and crazy like unicorn ice cream to make you smile!
Best of all, this is Unicorn Ice Cream is a No Churn Ice Cream!

From: bigbearswife.com
10. Unicorn Sprinkle Doughnuts
This recipe, while delicious, is more about making something look fun. And awesome. And covered with sprinkles and lustre dust.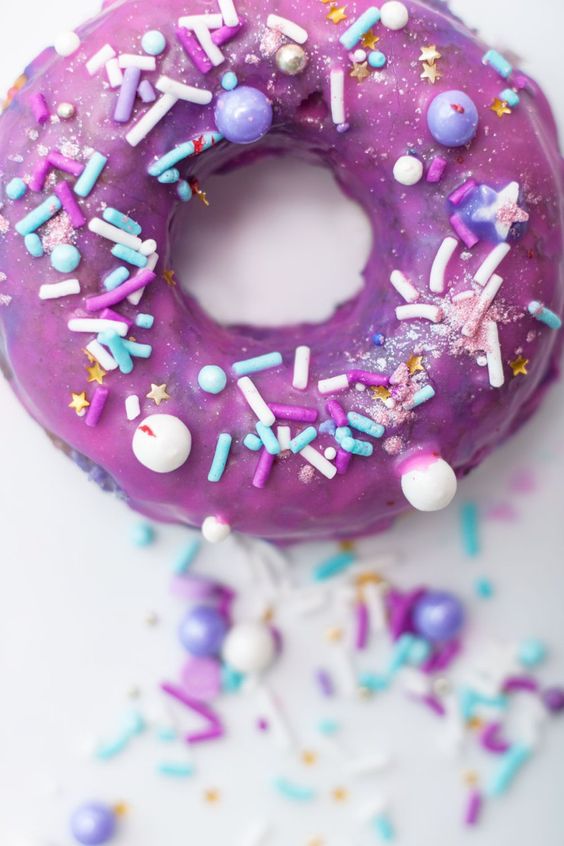 From: peonyandink.com
11. No Bake Rainbow Unicorn Cheesecake Bars
These creamy No Bake Rainbow Unicorn Cheesecake Bars are loaded with colored marshmallows and topped with sprinkles. It's the perfect spring dessert for any party or celebration!

From: insidebrucrewlife.com
12. Unicorn Freakshakes
This unicorn freakshake will have you dreaming of fairytale lands where clouds are made of cotton candy and the skies are painted by rainbows.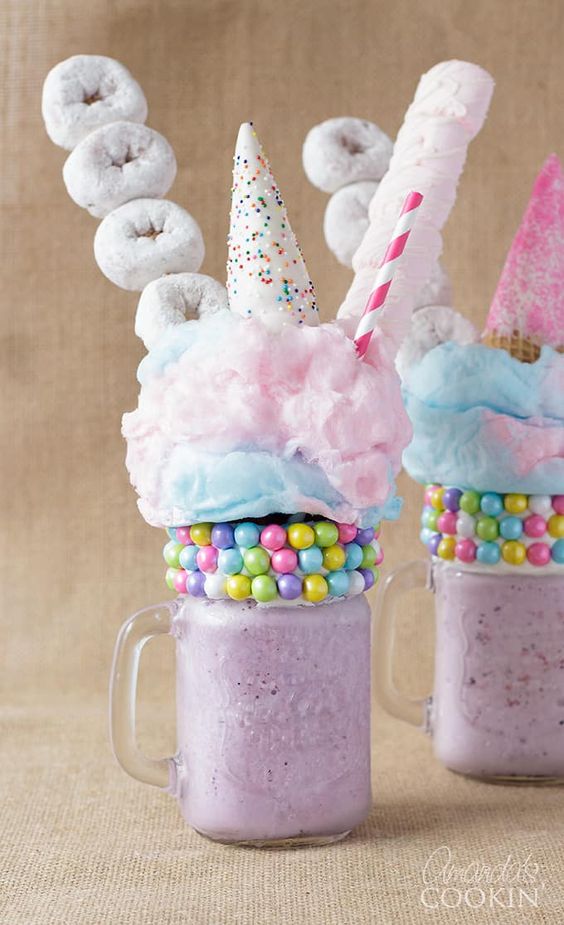 From: amandascookin.com
13. Unicorn Horns
These little "horns" consist of crispy pretzels wrapped in a soft caramel spiral, coated in rich white chocolate, and bedazzled with cute and colorful sprinkles.
So, basically the tastiest unicorn horns you will ever eat in your life.

From: abajillianrecipes.com
14. Unicorn Banana Bread
This unicorn-inspired breakfast-slash-dessert is perfect for the spring holiday season!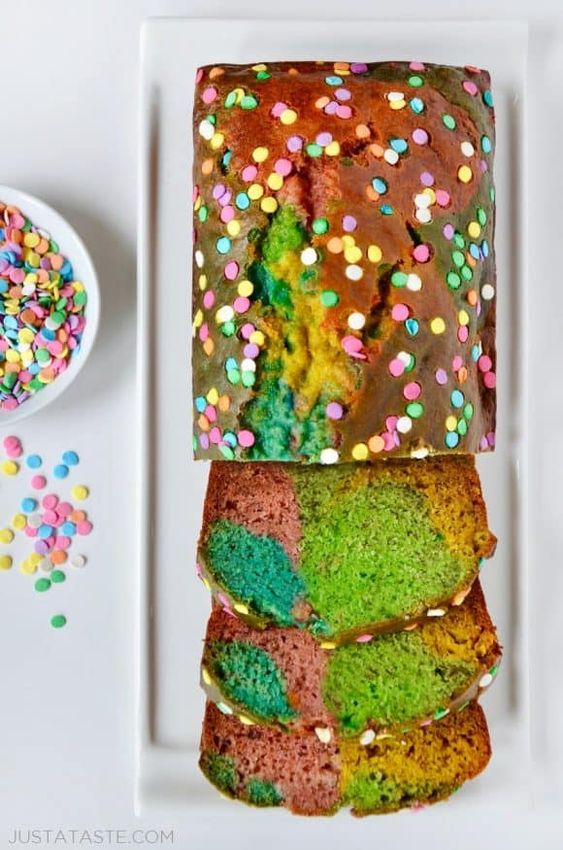 From: justataste.com
15. Unicorn Poop Cookies
These tri-colored, pastel confections are actually meringue, making them sweet and light as air. What I imagine unicorn poop would actually be like!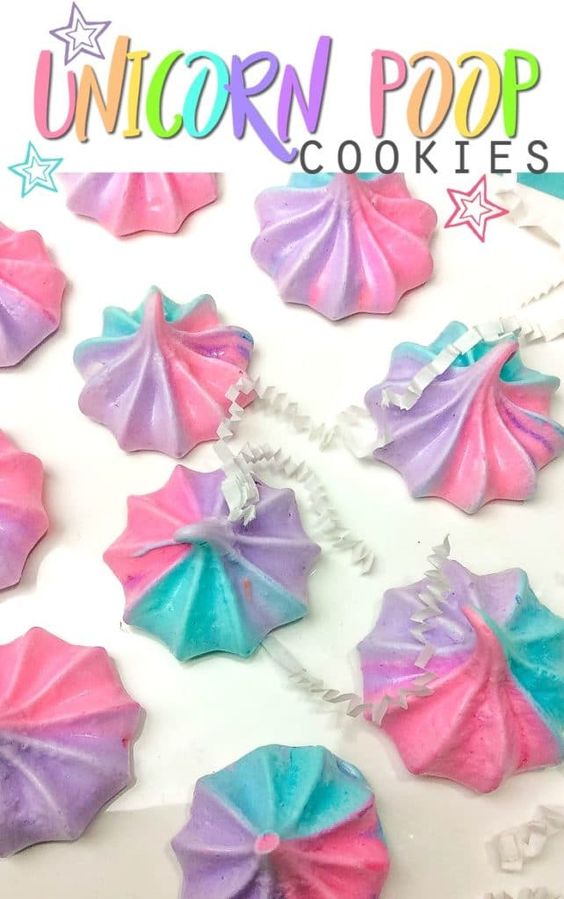 From: mommymusings.com
16. Glitter Chocolate Bars
Unicorn colors, glitter and chocolate. Could there be anything better?!
From: studiodiy.com
17. White Chocolate Unicorn Bark
Yummy, delicious White Chocolate Unicorn Poop Bark – Only 3 ingredients and the best part about it is how super, crazy easy it is to make!!!
From: princesspinkygirl.com
18. No Bake Unicorn Poop Cheesecake
No Bake Unicorn Poop Cheesecake is a gorgeous, delicious and fun recipe that will knock your socks off!
Check out the link below to find this no bake dessert option and print off instructions on how to make your no bake cheesecake.
From: momdot.com
19. Loaded Unicorn Bark
Forget about that drink you missed out on and make this EASY white chocolate bark in 5 minutes!!
It's LOADED with pretzels, peanut butter cups, marshmallows, and sprinkles! Guaranteed to put a SMILE on everyone's face!!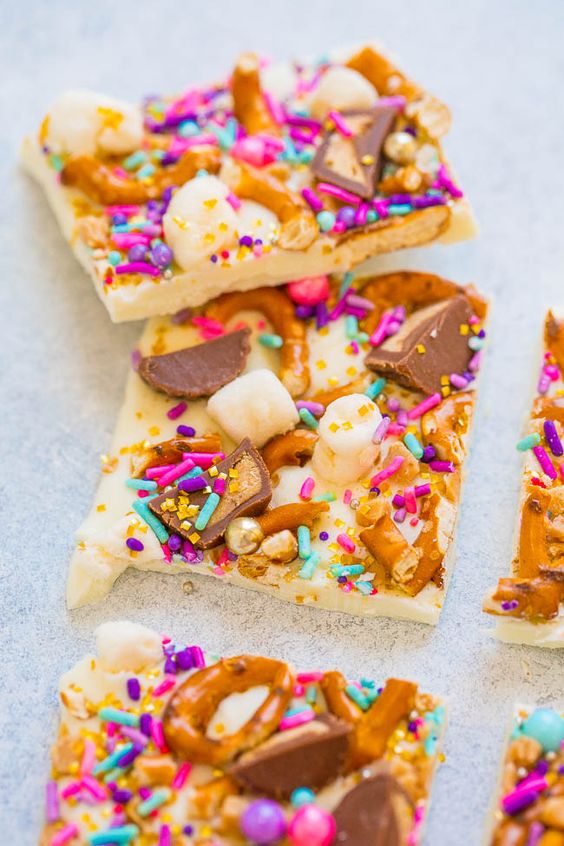 From: averiecooks.com
20. Unicorn Milkshake
These unicorn milkshakes are pure MAGIC!
A rich, thick strawberry milkshake is topped with a rainbow of different sprinkles and candies to make a delicious drink fit for a unicorn. Plus, learn how to make this cool polka dot glass effect!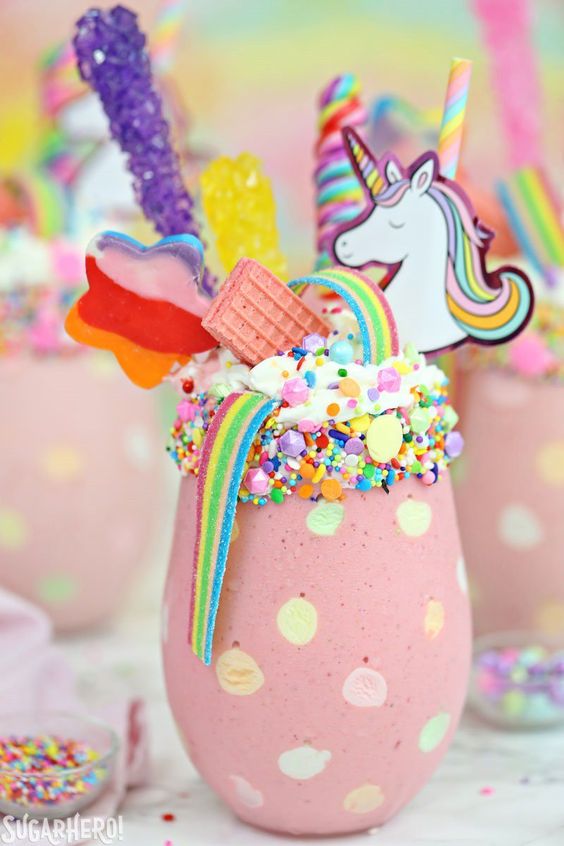 From: sugarhero.com
21. Unicorn Funfetti Cookies
One of my all-time favorite kinds of cookies are FUNFETTI!
First of all, sugar cookie dough is sooo easy to make (so they're perfect for late-night baking). And the addition of tons and tons of rainbow sprinkles just takes them to another level.
From: awwsam.com
22. Unicorn Macarons
Unicorn macarons are here to stay!
Perfect almond French macarons with pink and blue swirls, topped with as many sprinkles as all of your dreams will allow. Filled with cotton candy buttercream
From: southernfatty.com
23. Rainbow Unicorn Cake With Twinkie Filling
This whimsical unicorn cake is super festive with its layers of rainbow cake, vanilla frosting, and Twinkie filling!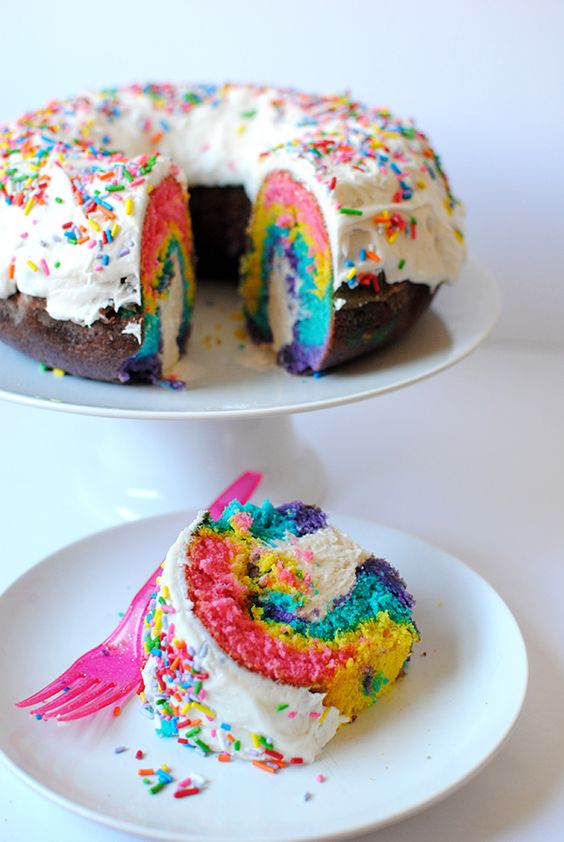 From: letseatcake.com
24. Cotton Candy Unicorn Party Parfaits
Ride the rainbow craze with this unicorn party dessert made with cotton candy flavor whipped cream, crushed golden Oreos, and Lucky Charms marshmallows.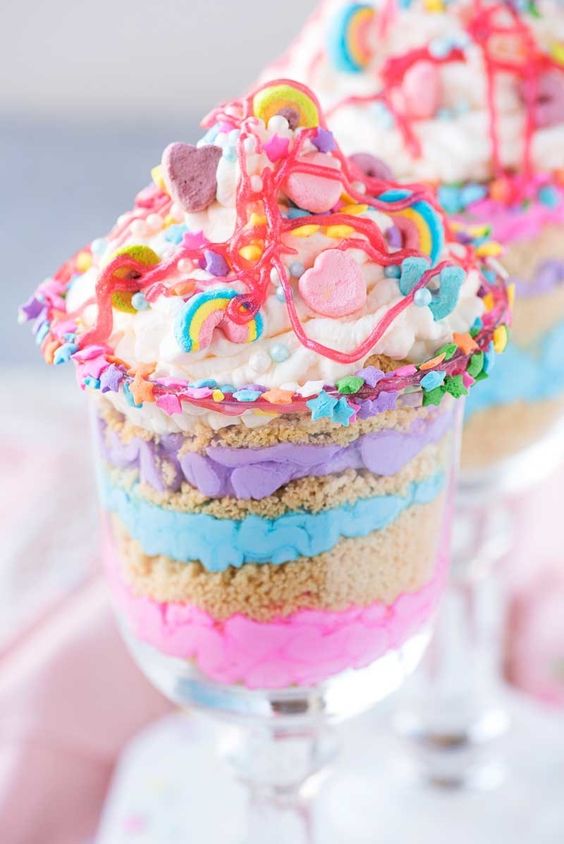 From: homemadehooplah.com
25. Rainbow Marbled Pop Tart Recipe
This project is not only good for showing you how to make rainbow pop tarts, but you could also use it to make pink pop tarts, which are definitely next on my agenda!
From: awwsam.com
26. Rainbow Unicorn Ice Cream Recipe
I know I already have ice cream recipes in this roundup, but also had to include this one!
This ice cream recipe is perfect for your next fantasy unicorn party celebration. Or just because it's fun and delicious. Either way. No judgment here.

From: momspark.net
27. Lucky Charms Munch
This delicious Lucky Charms Munch is an easy snack recipe made with pretzels, M&Ms, white chocolate and lucky charms marshmallows.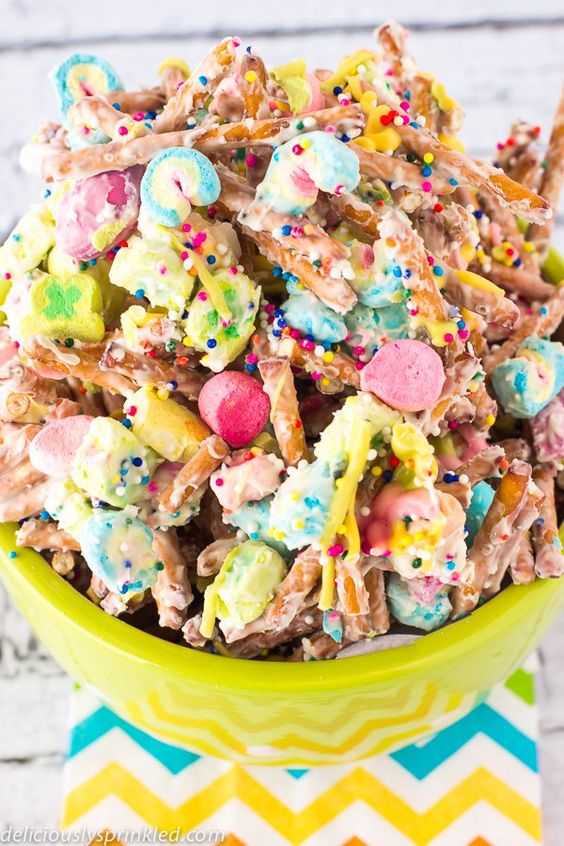 From: deliciouslysprinkled.com
28. Magical Unicorn Donuts
These colorful and magical unicorn donuts are so easy to make and are sure to be a hit with unicorn fans young and old! Get ready to taste the magic!
From: almostsupermom.com
29. Rainbow Swirl Buttercream Frosting
I absolutely love this buttercream. It's so easy to put together, as it's a simple buttercream frosting recipe, but the easy additions of the food coloring make it pop and adds some flair to any occasion, even if that occasion is a stay at home Saturday night.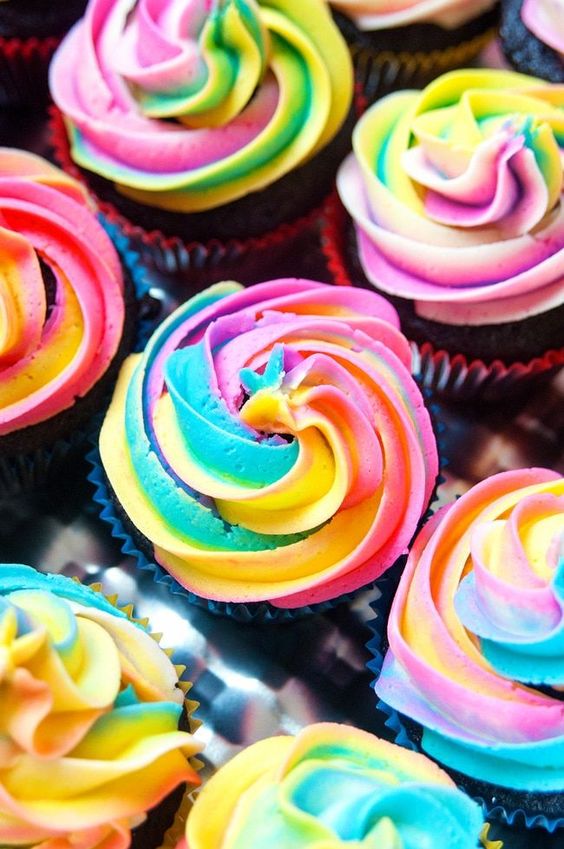 From: thebewitchinkitchen.com
30. Unicorn Poop Drop Cookies
Now you've probably seen about a dozen different ways to make Unicorn Poop Cookies and that's okay! I say, the more colorful poop cookies the better!
From: totallythebomb.com
31.Unicorn Mini Cheesecakes
Light and creamy mini no-bake strawberry cheesecakes in a Lemon Oreo cookie crust, topped with a colorful swirl of whipped cream and an Oreo crown!
From: abajillianrecipes.com
32. Rainbow Marshmallow Dream Bars
These Rainbow Marshmallow Dream Bars are the ultimate Fruity Pebbles treats!
Super soft and colorful, these bars are so good that they needed a name that was a little more exciting than Fruity Pebbles treats!

From: number-2-pencil.com
33. Unicorn Cake Roll
An easy cake roll recipe that is all things rainbows and UNICORNS!
Colorful cake and frosting, pudding, whipped cream, sprinkles, marshmallows and all things glitter and fun.
From: crazyforcrust.com
34. Unicorn Bagel
If you haven't caught a glimpse of these rainbow bagels yet, you've probably been living under an Instagram rock.
They're crazy. They're neon. And they're actually really easy to make. So get your rubber gloves on, things are about to get colorful.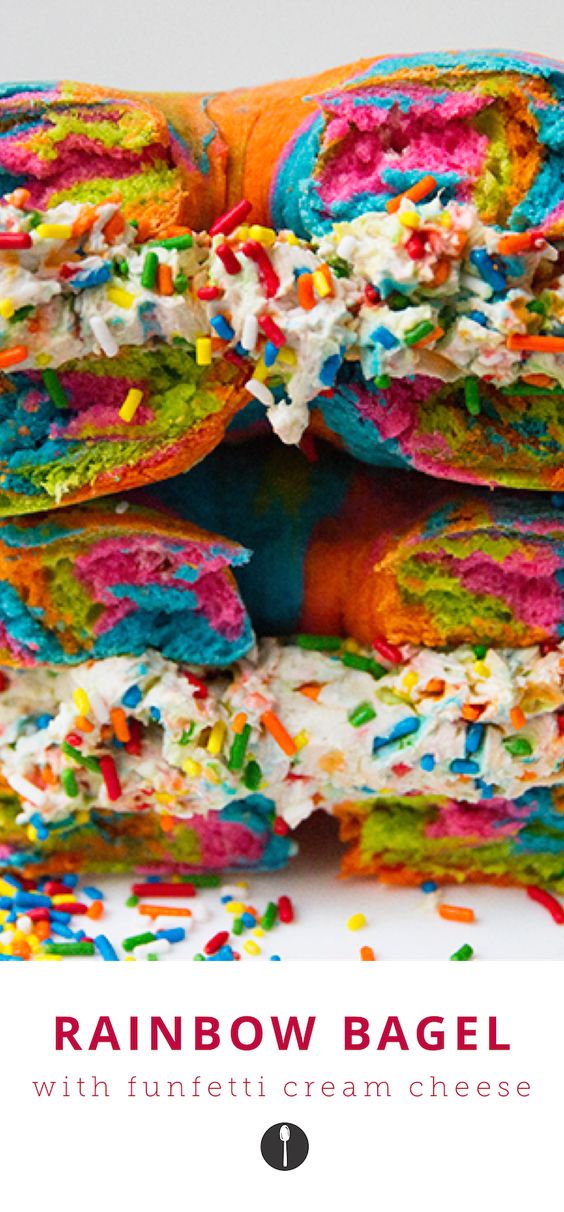 From: spoonuniversity.com
35. Unicorn Popcorn
This popcorn is a fun party popcorn that comes together in just minutes.
Unicorn food is such a trendy thing right now and it is so easy to get in on the craze and be the hero of the party! Perfect for a little girls birthday party too!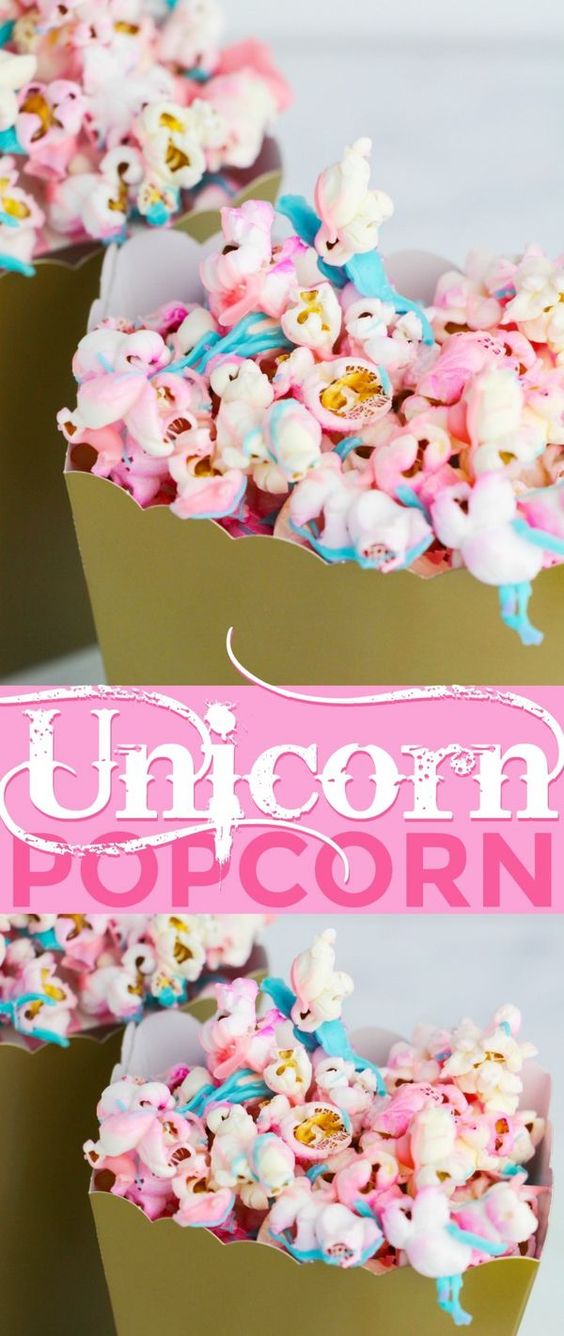 From: lifeloveliz.com
Liked these unicorn desserts?
If you enjoyed this roundup of unicorn desserts, please pin it to your unicorn or desserts board on Pinterest!