Craving some nutty desserts this holiday? No problem, we've got you covered. Here we inspire you with 25 delicious nut dessert recipes to wow your family and friends with this season.
Nut Dessert Recipes
1. Brown Butter Caramelized Apple Crisp Bars
Bars for breakfast with a side of Greek yogurt, or – bars for dessert with a side of ice cream, or – bars for a snack… also with a side of ice cream!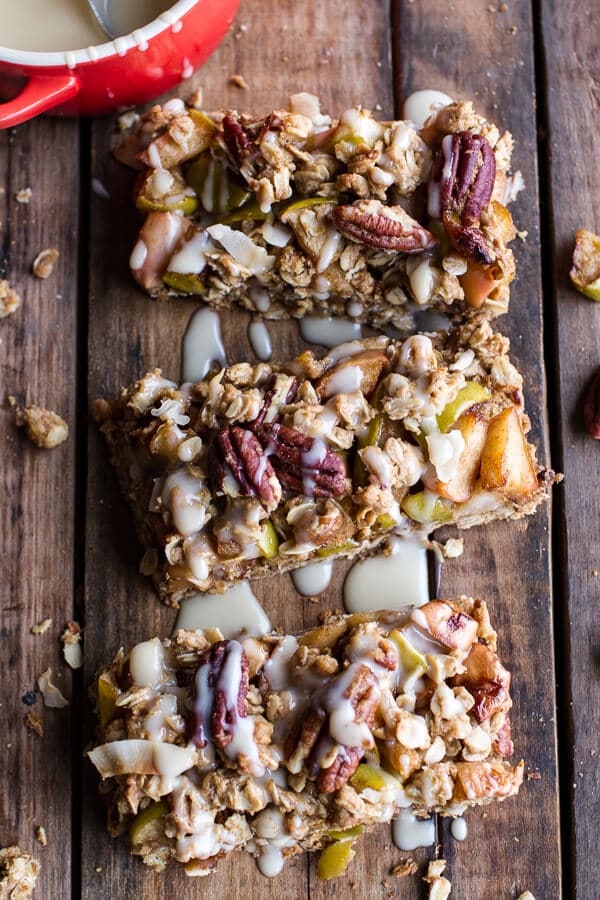 From: halfbakedharvest.com
2.  White Chocolate Macadamia Nut Blondies
White Chocolate Macadamia Nut Blondies will be on your list of favorite bar desserts. This recipe is so tasty that you won't want another blondie dessert.
Not only are these blondies super delicious, but they are extremely easy to make. They take just a few minutes to whip up and are ready to enjoy in just 45 minutes!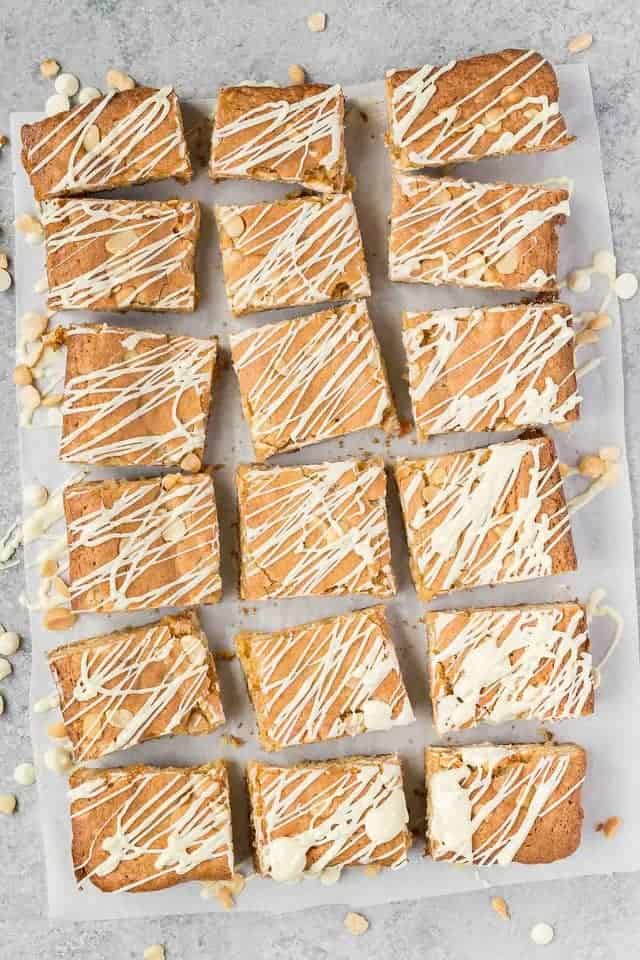 From: bakedbyanintrovert.com
3. Bourbon & Butterscotch Nut Tart
Bourbon & Butterscotch Nut Tart -Assorted nuts are coated in a smooth, creamy butterscotch sauce with just a hint of bourbon then baked in a delicious pecan shortbread crust.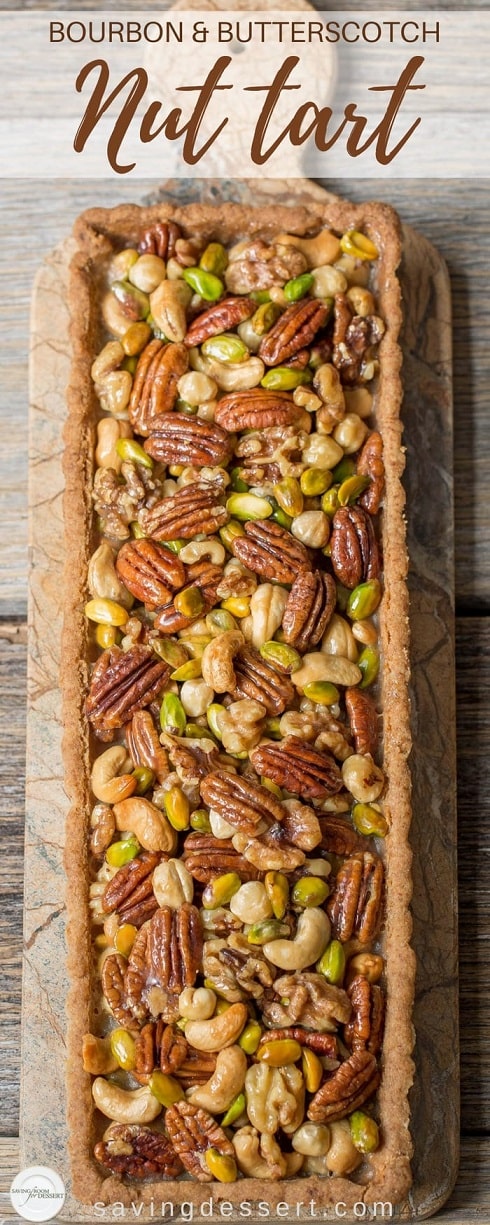 From: savingdessert.com
4. Classic Baklava Recipe
A classic recipe for Baklava, the traditional Greek and Turkish pastry made with ground nuts and layers of phyllo dough, drizzled with a spiced honey syrup. A wonderful addition to holiday dessert spreads or something extra-special for any other time of the year!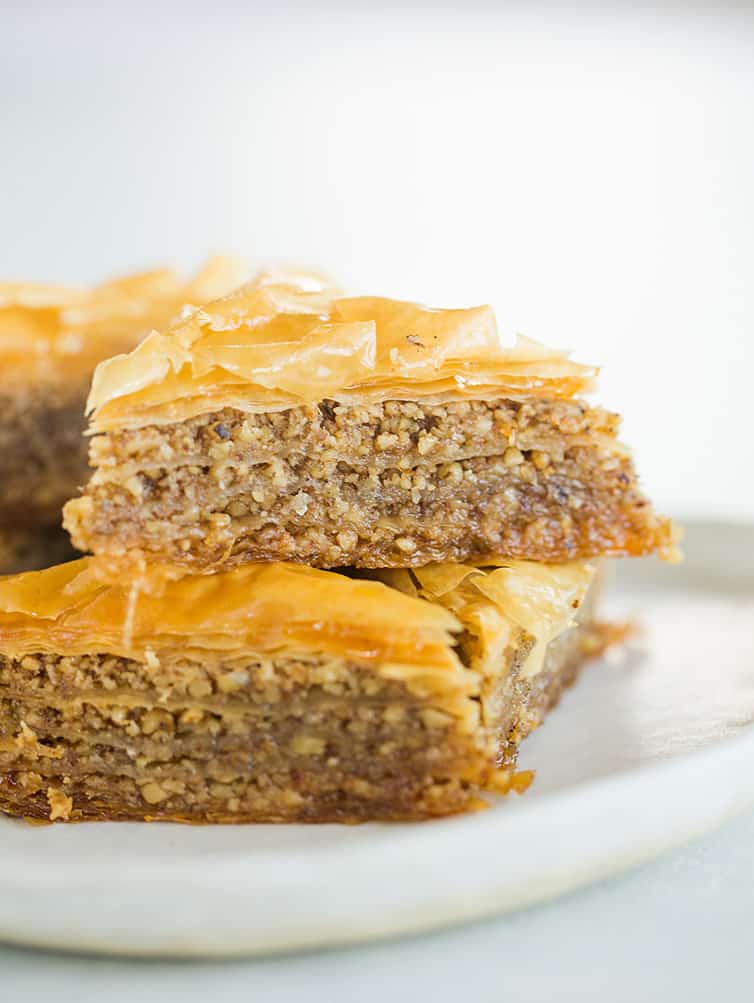 From: browneyedbaker.com
5. Italian Pine Nut Cake
Italian Pine Nut Cake is a sumptuous buttery cake with a hint of herbs & lemon – and crunchy pine nuts! Enjoy a slice on your next coffee break!

From: foodandjourneys.net
6. Cashew Pie
This Cashew Pie is all the best things about a traditional pecan pie, but made with cashews, and extra filling!
An unforgettable Cashew Pie recipe that you will ADORE. Lots of ooey-gooey, brown sugar goodness, and it's simple to make!
From: thegoldlininggirl.com
7. Caramel Apple Dip
This super delicious caramel apple dip recipe is a quick and easy dessert that only contains 4 ingredients!

From: dinneratthezoo.com
8. Chewy Nutty Squirrel Bars
These are super easy to make, and come with a sweet and salty combination of flavors that we absolutely go nuts for! A crisp cookie base is covered with a chewy filling, and that chewy filling is topped with a delightfully delicious swirl of caramel and nuts.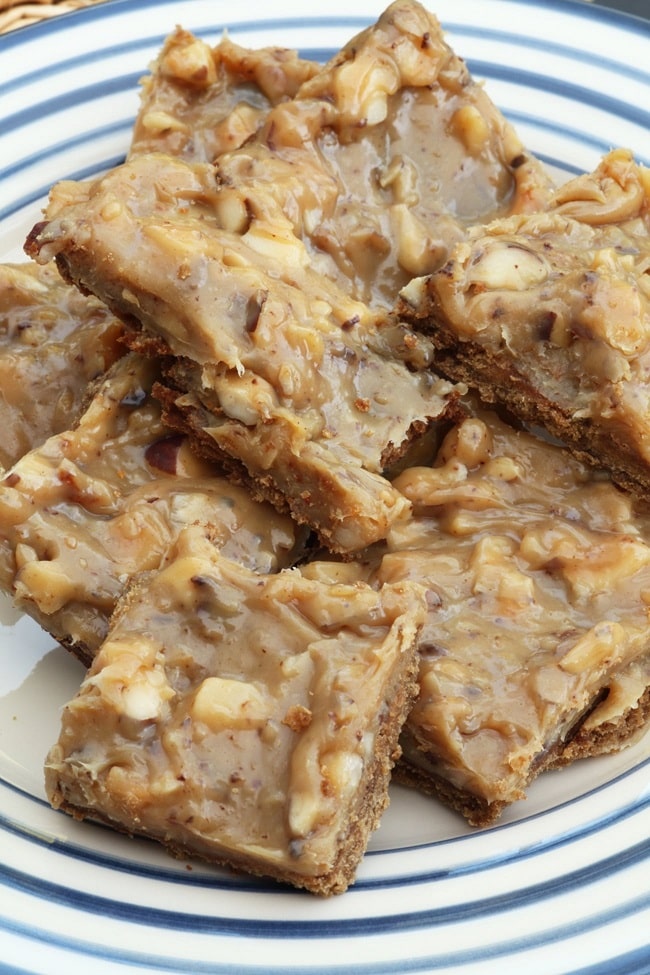 From: 12tomatoes.com
9. The Best Chewy White Chocolate Macadamia Nut Cookies
These cookies are super easy to make, and they are seriously addicting. Like, be prepared to lose all self control and watch the batch disappear right before your eyes.
I recommend sharing, or freezing some cookies to keep your jeans happy.

From: backforseconds.com
10. Crock Pot Candy Vanilla Nut Clusters
This white chocolate cashew and macadamia nut clusters are easily made right in your slow cooker! Makes a great holiday gift too!
From: todayscreativelife.com
11. Sea Salt Dark Chocolate Almond Clusters
Just 4 ingredients in these addicting sweet and salty almond clusters. Toasting the almonds turns them up a notch!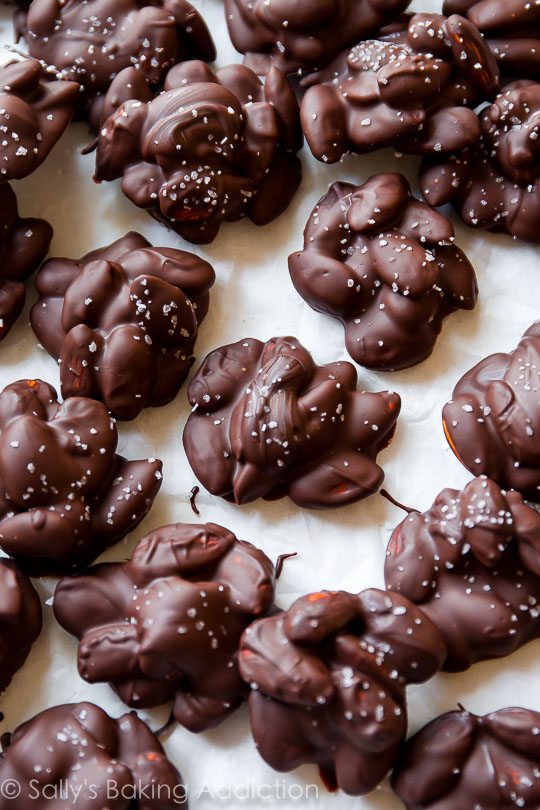 From: sallysbakingaddiction.com
12. Cinnamon Glazed Nuts
Ever wanted to make those sweet, crunchy nuts that are a staple at mall kiosks across the country? Look no farther than these Cinnamon Glazed Nuts (pecans)!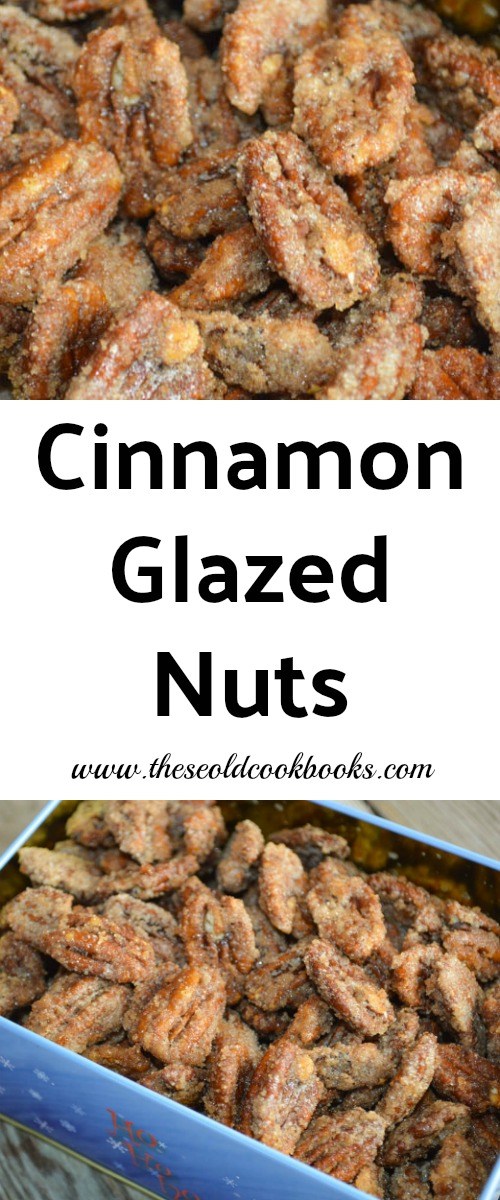 From: theseoldcookbooks.com
13. Maple Nut Fudge
This Creamy Maple Nut Fudge is a breeze to make! Crunchy toasted walnuts add amazing texture and flavor to this decadent fudge recipe!

From: momontimeout.com
14. Cherry Delicious Almond Cake
Love almonds? Then try this one out! It's easy to put together in just a few minutes.
Pop it in the oven and let it cool on a rack until just warm or cooled to room temperature. Sprinkle with powdered sugar, if desired
From: completerecipes.com
15. Caramel Banana Nut Cake
Amazing Caramel Banana Nut Cake made with soft, moist banana cake, delicate caramel cream cheese frosting, chopped walnuts and more caramel topping.
From: willcookforsmiles.com
16. Chocolate Turtle Apple Slices
Chocolate Turtle Apple Slices are thick slices of Fuji apples covered in melted chocolate, drizzled with caramel and topped with nuts

From: momlovesbaking.com
17. Cannoli Cream Chocolate Truffles Recipe
Instead of pistachios, you could drizzle more chocolate (or white chocolate), or use chopped walnuts, pecans, or almonds. Or you could also use mini chocolate chips or candied orange peel.

From: snappygourmet.com
18. Pecan Chewies
If you love the butterscotch-y, caramel-y flavors of blondies, these things are going to blow your mind.  And they're so easy!
Though they might take a little while in the oven, you can whip these up super quickly.  They're perfect for those nights when you realize you need to send something sweet to work or school the next day.
From: southernbite.com
19. Salted Nut Roll
Copycat Salted Nut Roll Candy Bar Recipe is a candy store classic. You can make it at home, and give all your favorite people a homemade gift this year!

From: shugarysweets.com
20. Baked Pistachio Pudding Donuts
Baked donuts that are super soft and moist, thanks to secret ingredient pistachio pudding mix. Topped with sweet glaze and salty chopped pistachios.

From: wellplated.com
21. Pecan Pie Bark
This Pecan Pie Bark is so incredibly good and it just can't get any easier to make. This is the perfect creative dessert recipe for the holidays. Make several batches because it disappears so fast!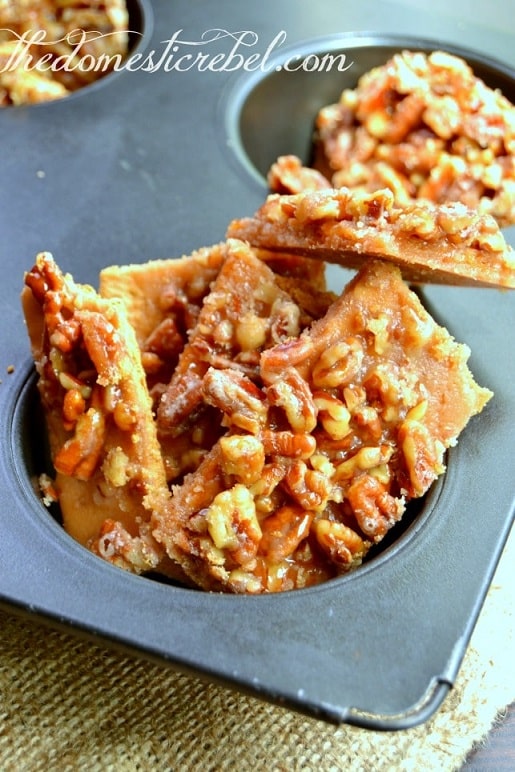 From: wishesndishes.com
22. Brown Butter and Honey Pistachio Cookie Bars
These bars are the perfect dessert when you want something unique, full of flavor, and fast on time! They take less than 30 minutes start to finish.

From: bakerbynature.com
23. Vegan Salted Double Chocolate Hazelnut Cookies
Crisp on the outside, soft and chewy on the inside, utterly chocolaty, filled with toasted hazelnuts and even more chocolate for good measure.
These cookies are the perfect treat to sweeten up your afternoon with a hot cup of tea for when the days are starting to get shorter again.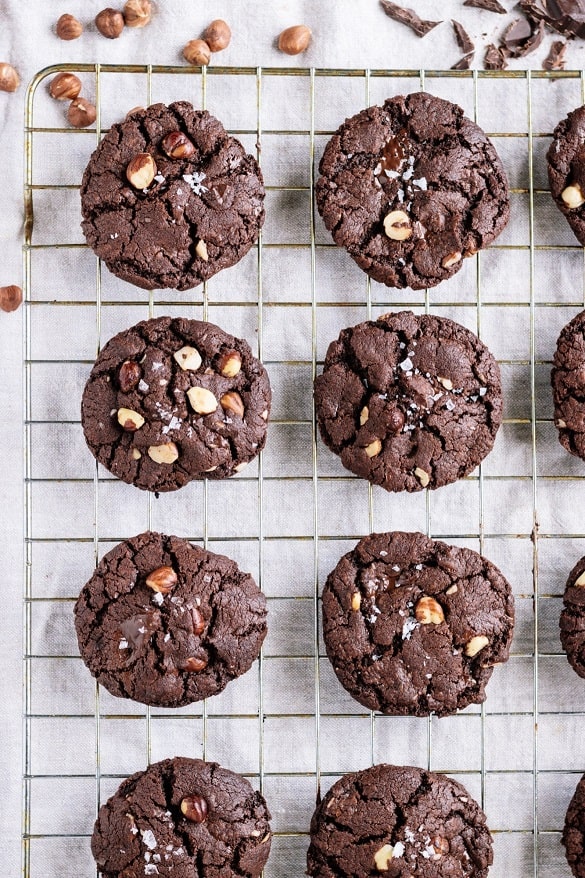 From: myvibrantkitchen.com
24. Mississippi Mud Bars Recipe
Mississippi Mud Bars are are a chewy brownie base, topped with a fluffy marshmallow layer, and finished off with a rich and silky chocolate frosting.

From: auliaskitchen.com
25. Salted Nut Candy Bars
Salted Nut Candy Bars-you'll love the sweet, salty combination of these candy bars, just a few ingredients, no-bake and they make a great gift for the holidays!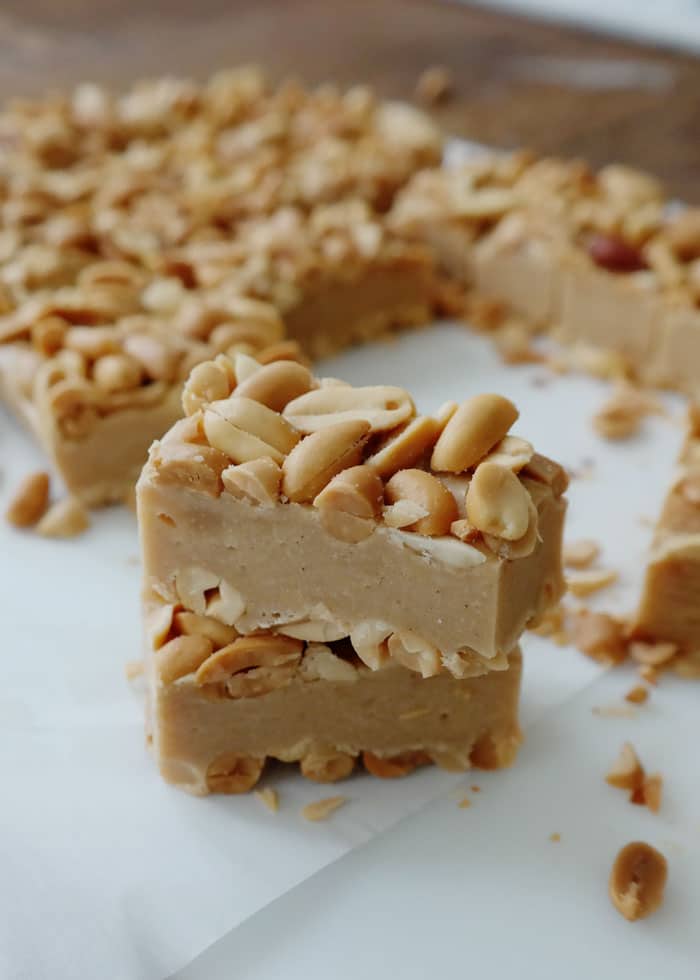 From: chocolatechocolateandmore.com
Pin these Nut Dessert Recipes to your holiday board on Pinterest!
Loved this roundup of nut dessert recipes? Pin it to your holiday or desserts board on Pinterest!