Add a touch of sweetness and fun to your St Patrick's Day this year with these tasty St Patrick's Day desserts and treats. They're perfect for family and friends and also kid approved!
15 Lucky St Patrick's Day Desserts & Treats
To view any of these recipes, please click on the link below each image. Hope you enjoy!
1. Leprechaun Hat S'mores
A festive St. Patricks day treat that the kids will love!
Make this easy green dessert for your St. Patricks Day party!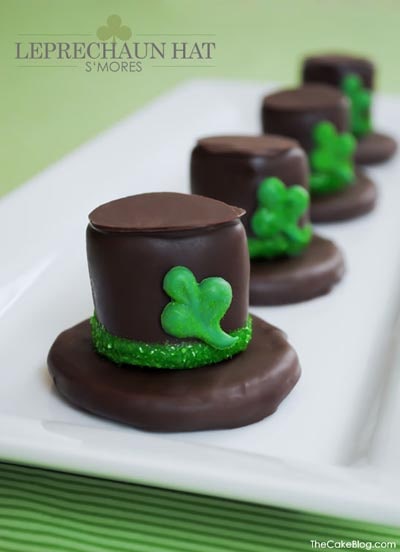 From: thecakeblog.com
2. Pot O' Gold Cake Balls
How fun are these adorable little Pot O' Gold Cake Balls?
These little rainbow surprises are both fun and easy to make. A perfect treat to make and eat with the kids!
From: craftymorning.com
3. St. Patrick's Day Rice Krispie Bites
Yummy, bite-sized balls of crunchy, marshmallow-y delight, our St. Patrick's Day Rice Krispie Bites are an easy to make St. Patrick's Day dessert.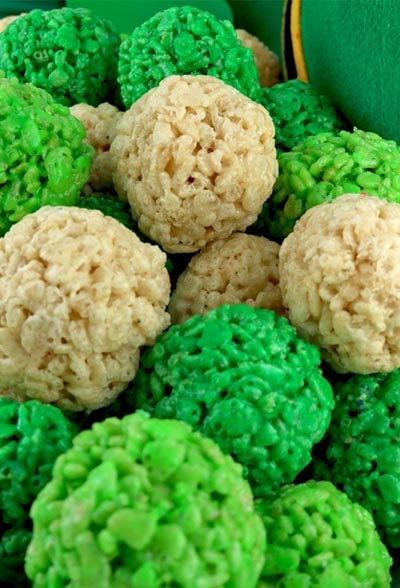 From: twosisterscrafting.com
4. St. Patrick's Day Oreo Cupcakes
These St Patrick's Day Cupcakes are seriously amazing with just the right amount of chocolate and mint you will be in heaven and wont want to stop with just one cupcake.
Celebrate your St Patrick's Day with these amazingly delicious cupcakes.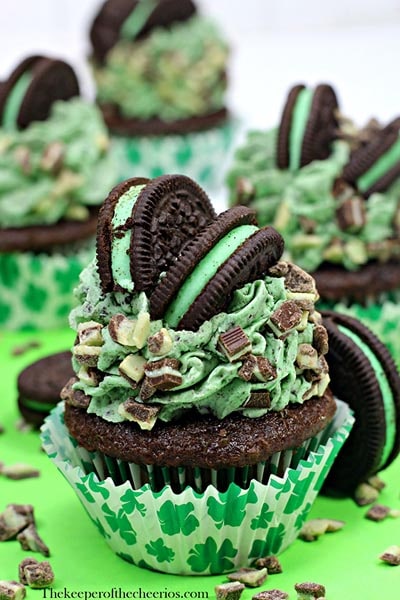 From: thekeeperofthecheerios.com
5. Mint M&M Brownie Cookies
You only need a few ingredients to make these amazing Mint M&M Brownie Cookies!
These are soft and chewy but slightly crispy on the edges.
Just like a brownie in cookie form with melty delicious chocolate chips and minty M&M's.
From: lovetobeinthekitchen.com
6. Leprechaun Bark
Check out the Best Leprechaun Bark Recipe for St Patrick's Day that's super easy to make once you purchase all the colorful ingredients

From: classymommy.com
7. Bailey's Irish Cream Cookies
What I love most about these cookies is that there's not just Baileys in the filling, but in the cookie dough too.
The Baileys in the sugar cookies not only adds a delicate layer of flavor, but also cuts down on the sweetness nicely.
The filling is the perfect balance of sweet and boozy, and the trablit adds a good kick of coffee flavor.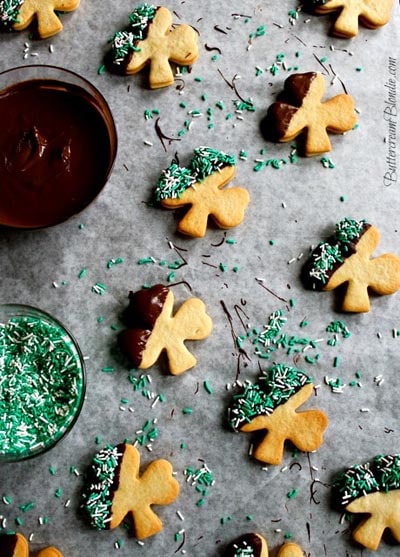 From: buttercreamblondie.com
8. St. Patrick's Day Puppy Chow
The perfect green and minty snack! Beware, it's highly addictive and you will not be able to stop!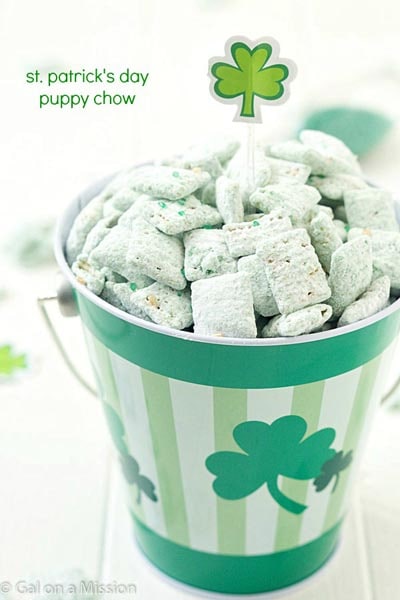 From: galonamission.com
9. Brownie Mint Trifle
Add a unique spin to your St Patricks day desserts with this delicious brownie trifle that everyone will love.
From: savingyoudinero.com
10. Shamrock Cookie Cups
A simple sugar cookie recipe jazzed up for St. Patrick's Day with candy on top. Cute and tasty!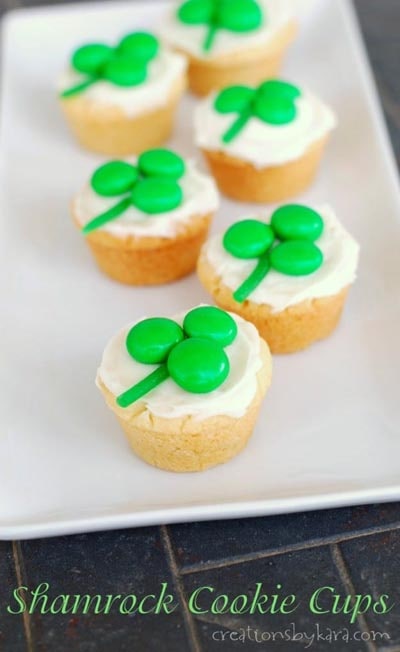 From: creationsbykara.com
11. Hidden Pot of Gold Brownie Cups
St. Patrick's Day is almost here! It's time to whip up a mini delicious treat that is perfect for the holiday.
I love these brownie cups for all occasions because they are always the first to go at parties (because they're oh so delicious). It's easy to give them a St. Patrick's Day "twist" with a secret surprise!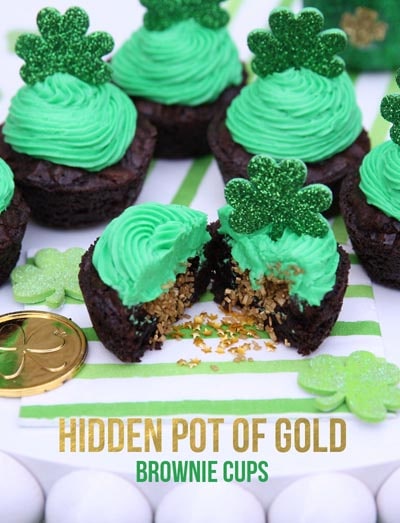 From: pizzazzerie.com
12. St. Patrick's Day Pudding Cups
St Patrick's Day Pudding Cups are made with chocolate instant pudding, mint OREO cookies, sprinkles and whipped cream.
To celebrate St Patrick's Day you just add some green coloring and gold OREO's on top

From: simplymaderecipes.com
13. Baked Mint Chocolate Chip Doughnuts
Baked Mint Chocolate Chip Doughnuts are great anytime of day.
They have a delicious mint flavor with chocolate chips in every bite and a chocolate glaze.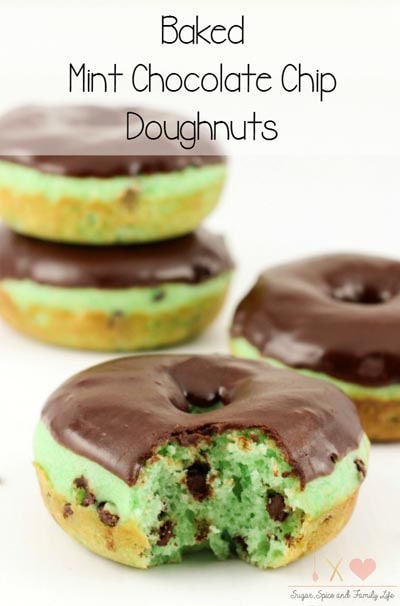 From: sugarspiceandfamilylife.com
14. St. Patrick's Day Sugar Wafers
I love making these little chocolate dipped sugar wafers because they are super cheap, incredibly easy, and you can make them for ANY holiday celebration out there!
From: southernmadesimple.com
15. Green Velvet Cupcakes
Don't you wish there really was a pot of gold at the end of each rainbow?
Well, these rich and fluffy Green Velvet St. Patrick's Day Cupcakes with the best cream cheese frosting and a chocolate gold coin on top come close enough!
From: garnishandglaze.com
Pin These St Patrick's Day Desserts & Treats for later!
Enjoyed these St Patrick's day desserts & treats? Then please pin it to your St Patrick's day board on Pinterest or share it on your favorite social media platform!