Add some color and fun to Easter this year by making some festive and yummy Easter desserts and treats. Not only will you enjoy making, looking at, and eating these fun desserts, but everyone will love you for it!
40 Festive Easter Desserts And Treats
We've rounded up some of our favorite Easter desserts and treats from around the web, so we do hope you enjoy. You can view the full recipe for these treats and desserts by clicking on the link below each image.
1. Easter Egg Blondies
Fast, EASY, super soft, and loaded with chocolate M&M Eggs galore!! Definitely my favorite type of Easter eggs! SAVE this recipe for your leftover Easter candy!!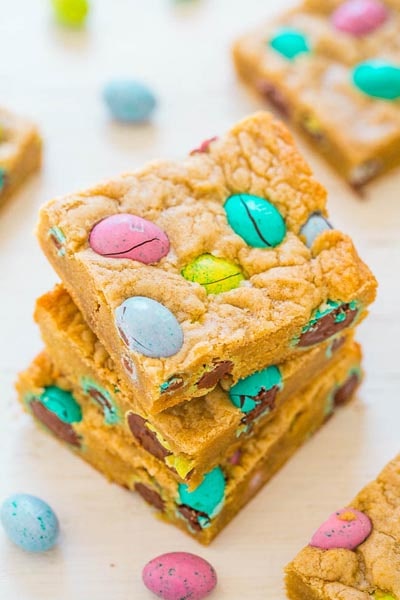 From: averiecooks.com
2. Mini Eggs Easter Brownie Parfaits
These Mini Eggs Easter Brownie Parfaits are the perfect easy-to-make Easter treat that everyone will love!
Delicious chocolate cream, fudgy, chewy brownies, and everyone's favourite Easter treat: Mini Eggs!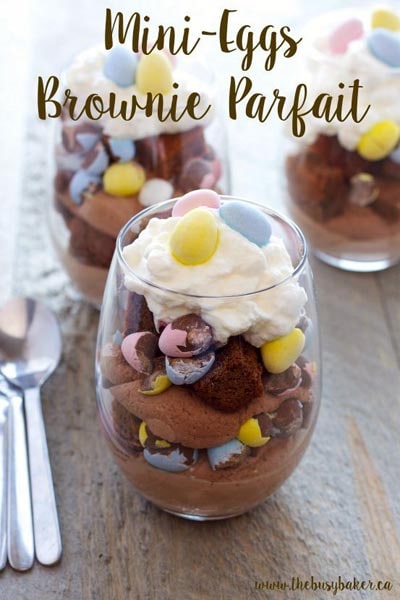 From: thebusybaker.ca
3. Easter Egg Sugar Cookies
A few swirls here, a few polka dots there, and a few stripes is all you need to create adorable, simple Easter egg sugar cookies.
From: aheadofthyme.com
4. Easter Muddy Buddies
These Easter Muddy Buddies are perfect for an Easter snack or Easter dessert – this recipe will quickly become one of your favourite puppy chow recipes!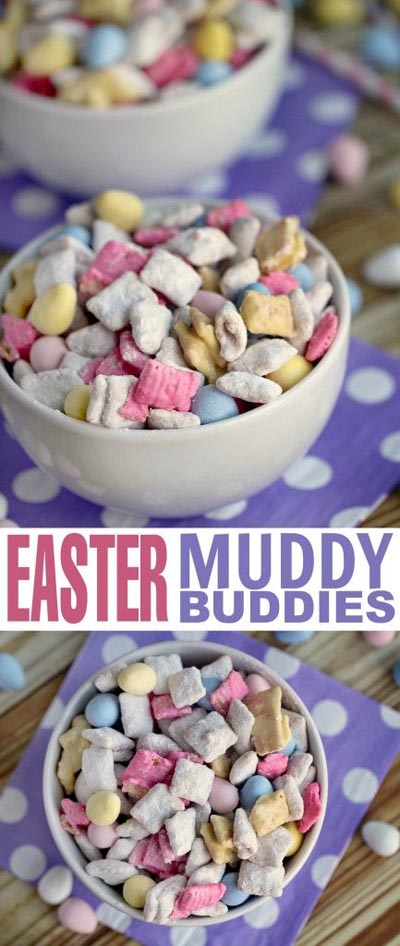 From: frugalmomeh.com
5. Rice Krispie Easter Eggs
We take the classic Rice Krispie Treats recipe and make colorful Rice Krispie Easter Eggs treats that both kids and adults will love.
From: twosisterscrafting.com
6. Easter Confetti Bars
Confetti bars made with Spring colored M&M's, white chocolate, Spring sprinkles, and gooey marshmallows.
These easy desserts are sure to please a crowd!
From: chelseasmessyapron.com
7. Strawberry Ooey Gooey Bars
Strawberry Ooey Gooey Bars have a strawberry cake mix crust with marshmallow cream and fruity pebbles treats on top.
They are irresistible to kids of all ages!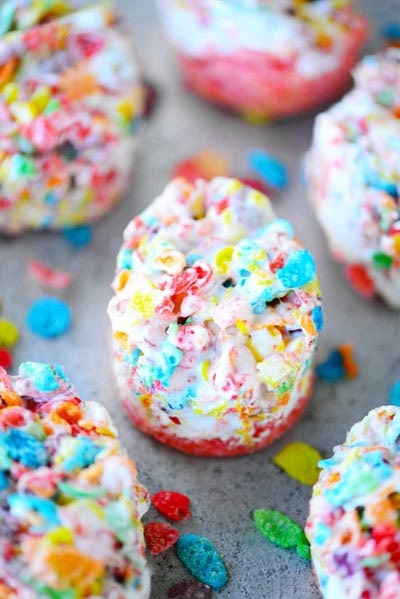 From: thegunnysack.com
8. White Chocolate Easter Egg Cupcakes
The cupcakes are topped with the most amazing frosting! It's got cream cheese, white chocolate, AND butter. Can you get a better combination?!?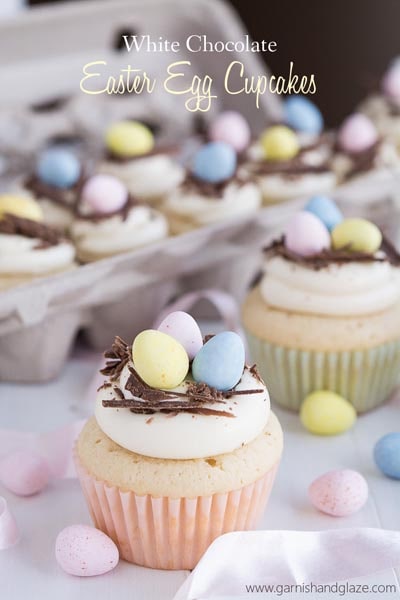 From: garnishandglaze.com
9. Easter KitKat Cake
This KitKat cake screams easter: chocolate overload with a gooey Cadbury Cream Egg center, mini eggs all over its top: it'll make you a hero this Easter!
From: eviltwin.kitchen
10. Easter No-bake Mini Cheesecakes
Looking for an easy Easter dessert? These Easter No-Bake Mini Cheesecakes are perfect!
They're cute pastel striped cheesecakes that are simple to make, no baking required!
From: sugarhero.com
11. Easy 4-Ingredient Easter Fudge
This easy 4-ingredient Easter Fudge is a fun and festive treat everyone will love. Its rich chocolate-y fudge is filled with soft marshmallows and candy-coated mini chocolate eggs.
It's a scrumptious way to welcome Spring and only takes 4 ingredients and 5 minutes to make.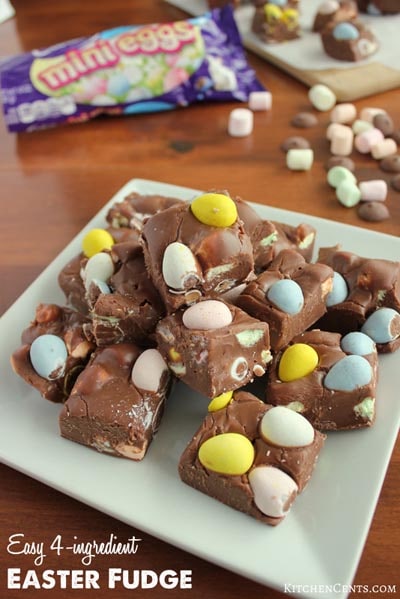 From: kitchencents.com
12. Bunny Mini Cakes
Bunny Mini Cakes are a fun Easter dessert that is a unique take on an Easter Cupcake.
From: twosisterscrafting.com
13. Soft and Chewy M&Ms Cookies
These are the best M&M Cookies I've ever had.
They're soft, moist, and tender in the interior with perfectly chewy edges. The dough is buttery, with hints of vanilla. There's an abundance of M&Ms in every bite.
From: averiecooks.com
14. Springtime Marshmallow Wands
Your family will love these Springtime Marshmallow Wands. But then who wouldn't love marshmallows on a stick covered with chocolate and decorated with sprinkles?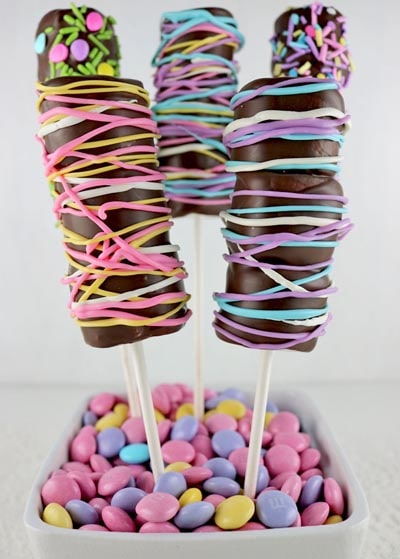 From: twosisterscrafting.com
15. No Bake Mini Egg Cheesecake
This easiest ever No Bake Easter Mini Egg Cheesecake recipe is packed with Easter chocolate treats.
A crumbly biscuit base, topped with whipped cream and cream cheese, an absolutely delicious dessert.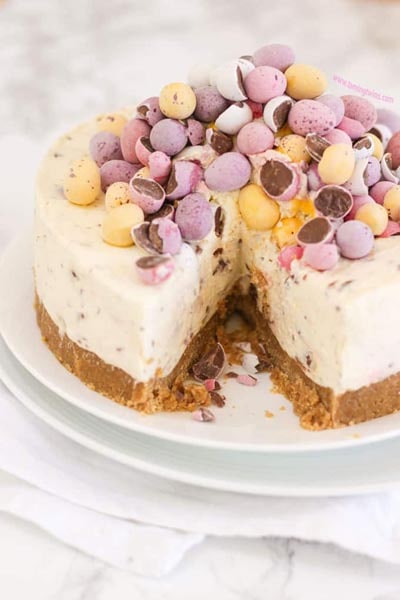 From: tamingtwins.com
16. White Chocolate Easter Crockpot Candy Clusters
White Chocolate Easter Crockpot Candy Clusters are a simple, impressive 3-ingredient homemade Easter candy that everyone will be raving about!
An easy recipe that you layer in the slow cooker, stir and scoop. It is so easy it almost makes itself.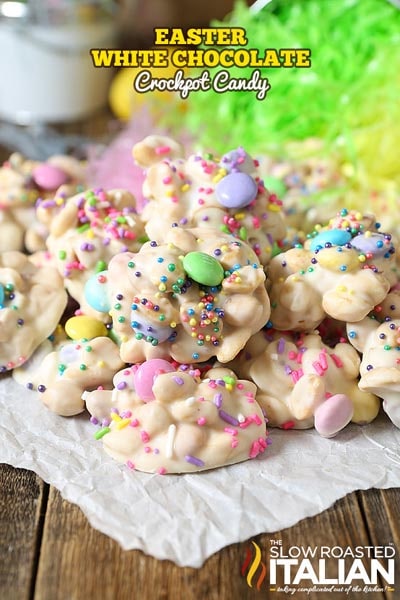 From: theslowroasteditalian.com
17. Peanut Butter Easter Eggs
Peanut Butter Easter Eggs are simple to create and the chocolate peanut butter combination make the perfect soft and sweet filling!
Plus, they are adorable!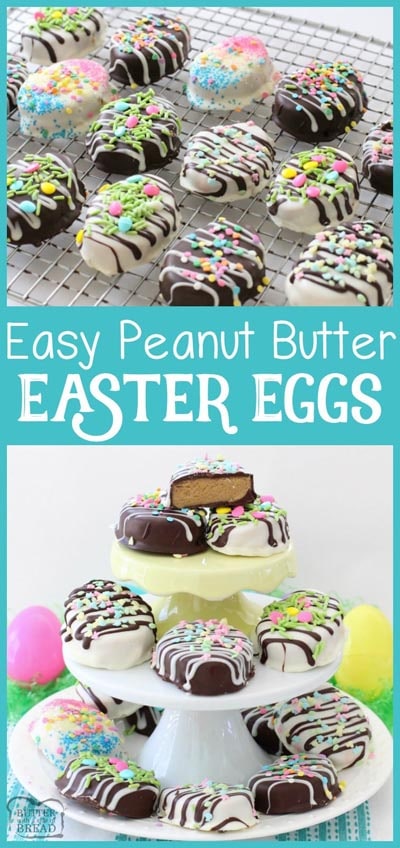 From: butterwithasideofbread.com
18. Malted Milk Easter Dip
Easy 6 ingredient dessert recipe for Easter. If you love malted milk or Whopper robin eggs, then you will love this festive Malted Milk Easter dip.
From: diprecipecreations.com
19. White Chocolate Easter Bark
Make this super easy, delicious, and adorable White Chocolate Easter Bark recipe in the microwave in just 20 minutes for a fun no bake Easter treat.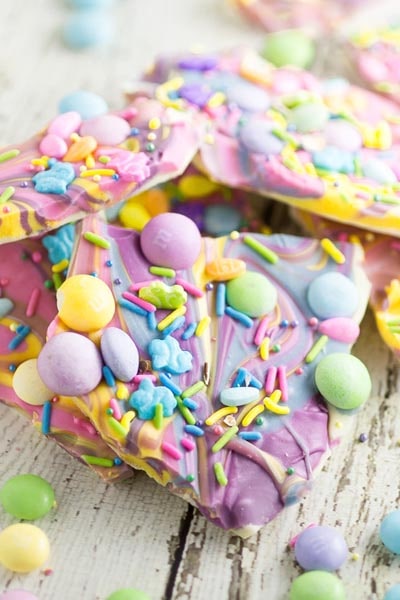 From: thegraciouswife.com
20. Easter Fudge
This Easter Fudge is loaded with malted milk balls and so fun for Easter! This 5 minute fudge comes together easily with no cooking required. A delicious Easter (or anytime) treat!

From: lemontreedwelling.com
21. Bird's Nest Mini Oreo Cheesecakes
Simple cheesecake filling is studded with Oreos, baked in muffin pans, and topped with chocolate shavings and candy eggs for Bird's Nest Mini Oreo Cheesecakes, a fun spring dessert recipe that's perfect for Easter!

From: fivehearthome.com
22. Easter Blossom Sugar Cookies
Soft, chewy cookies, topped with a chocolate candy. What cookie could be better than that? These cookies are a delicious treat and perfect for Easter.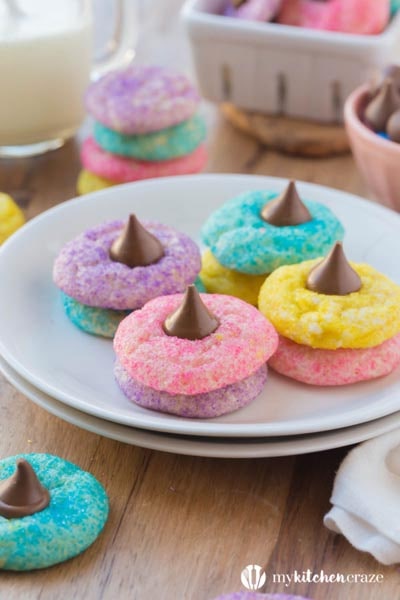 From: mykitchencraze.com
23. Butterscotch Haystacks
These easy butterscotch haystacks desserts are perfect Easter nests and so yummy too.
A crunchy and creamy peanut butter treat with chocolate eggs in the shape of a bird nest they are a no bake dessert kids can help you make with a delicious butterscotch flavor.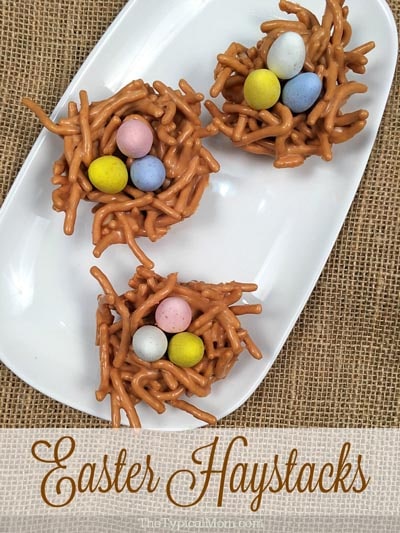 From: temeculablogs.com
24. Easter Oreo Bark
Make this easy and delicious Easter Oreo Bark Recipe in less than 5 minutes. It's a simple and irresistible Easter dessert idea that's perfect for a crowd!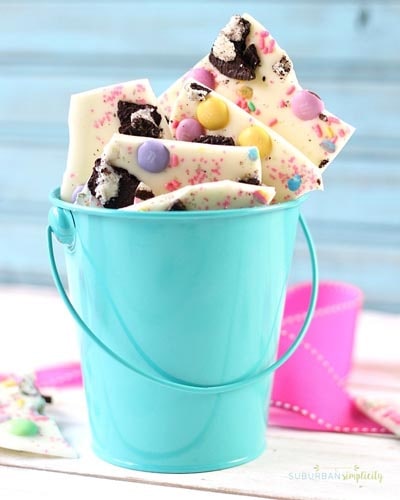 From: suburbansimplicity.com
25. Springtime Celebration Popcorn
Springtime Celebration Popcorn is a colorful and yummy popcorn dessert – the perfect combination of sweet, salty and crunchy in a single bowl.
From: twosisterscrafting.com
26. Easter Egg Cookie Dough Truffles
I promise that no one will be disappointed if they find these Easter Egg Cookie Dough Truffles in their baskets Easter morning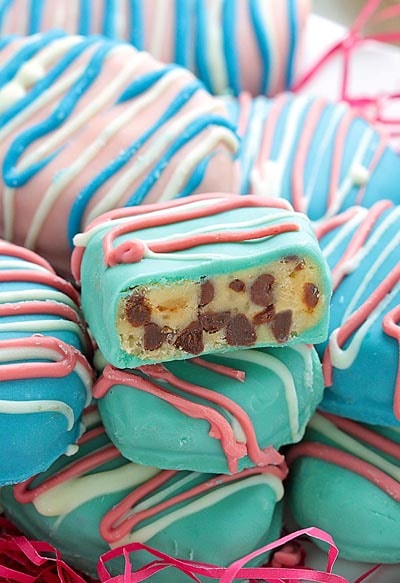 From: cakescottage.com
27. Dipped Easter Egg Treats
These dipped Easter egg treats are so easy to make and kids will have a blast helping out in the kitchen.
The best part about this recipe is that you can add all sorts of sprinkles and other ingredients.
From: momluck.com
28. Easter Egg Cake Balls
A fun Easter dessert idea, cake balls decorated as Easter eggs! Put them in a basket and watch them disappear.
From: skinnytaste.com
29. Bunny Butt Cupcakes
Cute little bunny butts on top of delicious white cupcakes!
These are easy to put together and the perfect Easter Cupcake.

From: iambaker.net
30. Chocolate Malt Cake
A perfectly moist and flavorful chocolate cake is topped with delicious chocolate malt frosting!
From: glorioustreats.com
31. Easter Mini Lemon Tarts
Easter Mini Lemon Tarts are the most refreshing little bite of something sweet and delicious!
Simple, quick and easy dessert is perfect idea for Easter, spring and Mother's Day.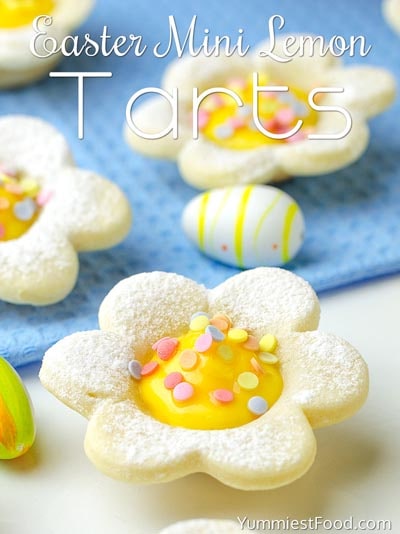 From: yummiestfood.com
32. Carrot Patch Cupcakes
Take boxed cake mix to the next level with these Easy Easter Cupcakes that are so fun and simple to make!
From:  sugarandsoul.co
33. Chocolate Confetti Easter Eggs
Here's this year's fun Easter treat–chocolate confetti eggs bursting with sprinkles and candies inside!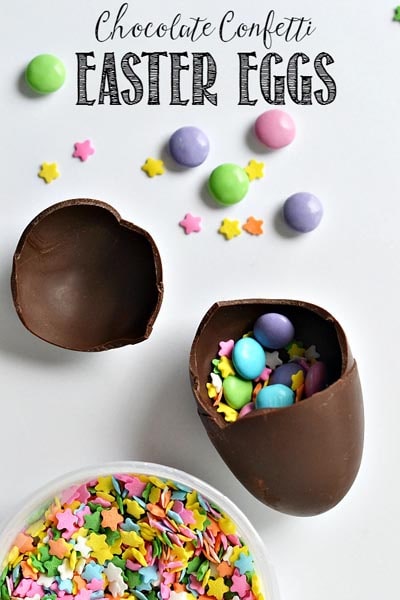 From: cleanandscentsible.com
34. Easy Easter Peeps S'mores
These Peeps S'mores are SO easy to make and such a great twist to traditional s'mores.
You just need some graham cracker squares, Peeps, sprinkles and chocolate.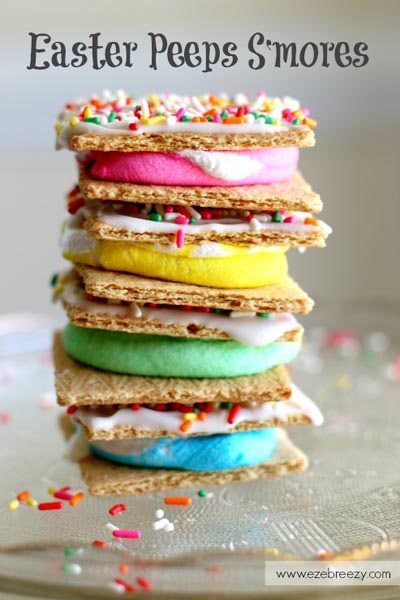 From: ezebreezy.com
35. Mini Speckled Egg Cakes
To be fair, these cakes are a fair amount of work.
But if you love decorating cakes, and you love a bit of a challenge, then you will adore making these mini speckled egg cakes!
Not to mention that they're incredibly cute and your guests will just love them.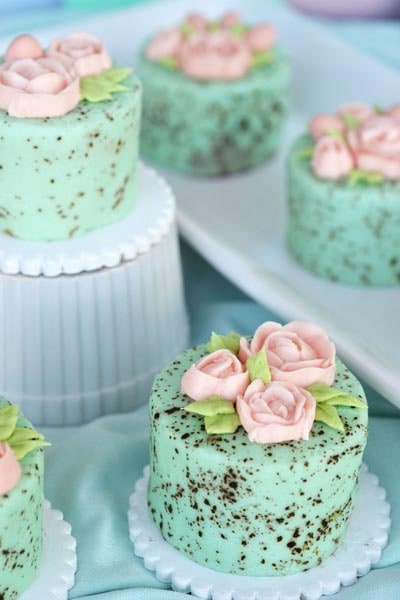 From: angeanblog.com
36. Cheesecake Filled Chocolate Easter Eggs
If you're looking for a really easy and light dessert to serve up after a big meal during the Easter break, then these are for you.
They can be eaten with a small spoon or devoured like a creme egg, whatever floats your boat.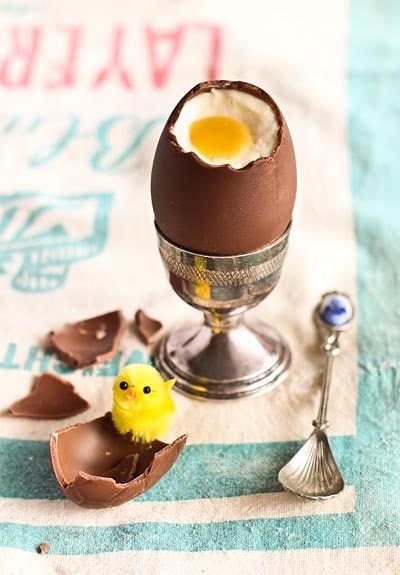 From: raspberricupcakes.com
37. Cadbury Mini Eggs Cheesecake Dip
A creamy cheesecake dip made with crushed Cadbury Mini Eggs candies. This dessert dip is perfect for a potluck or Easter brunch.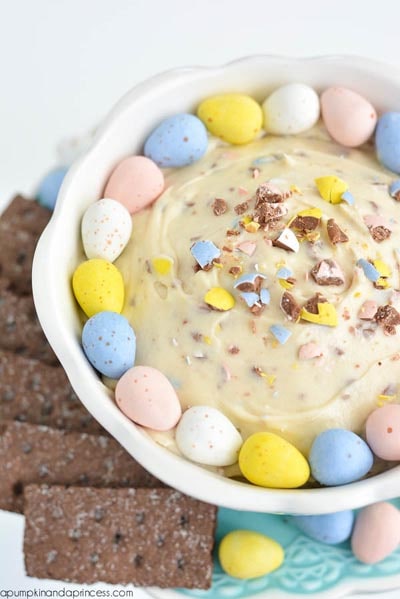 From: apumpkinandaprincess.com
38. Easter Basket Cake
An elegant Easter Basket Cake inspired by grapevine baskets. Learn how to make this simple no-tools-required cake with a step-by-step tutorial.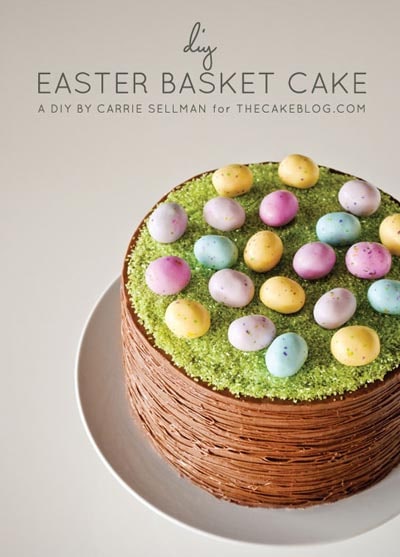 From: thecakeblog.com
39. Malted Easter Egg Chocolate Cheesecake
This Malted Easter Egg Chocolate Cheesecake is thick, creamy, full of chocolate and perfect for Easter! It's also decorated with my favorite Easter candy – malted eggs!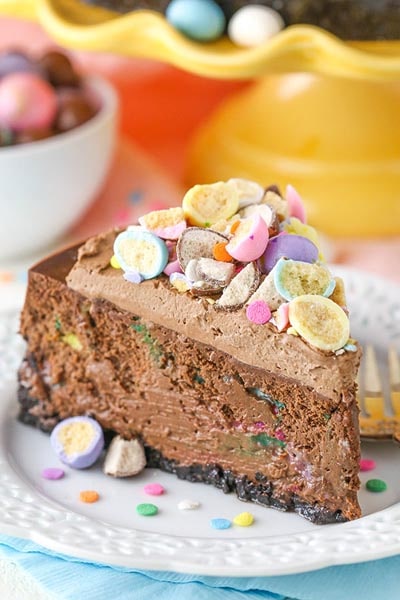 From: lifeloveandsugar.com
40. Easter Bird Nests
These cute little, edible nests are adorable for Easter. Wouldn't they look sweet at each place setting around the dinner table!?
From: gratefulprayerthankfulheart.com
Pin these Easter Desserts And Treats for later!
If you enjoyed this list of Easter Desserts And Treats, please take a moment to pin it to your Easter board on Pinterest or share it on your favorite social media platform.