With Valentine's Day just around the corner, we thought we would share some of our favorite easy Valentines Day cookies with you all.
Cookies are a fun way to celebrate Valentine's day and make the perfect treat for your loved ones. Here are some great ideas for you to make the yummiest (and prettiest!) easy Valentines day cookies!
40 Deliciously Easy Valentines Day Cookies
To view the full recipe for any of these easy Valentines day cookies, please click the link below each image.
1. M&M's Valentine's Day Cookie Bars
These cookie bars are so easy to make and they bake up so nicely.
They are a gorgeous golden brown color and the texture of the mini chocolate chips with the crunchy M&M's is just delicious!
These Valentine's Day M&M Cookie Bars are perfect for a crowd or a classroom.
They can be cut smaller to serve more, or cut larger for for a pretty presentation.

From: number-2-pencil.com
2. Marbled Valentine Sugar Cookies
Classic homemade sugar cookies with a fun marbled twist for Valentine's Day. A festive treat for the entire family!
From: bakedbyrachel.com
3. Red Velvet Sugar Cookies
If you've never had red velvet, it's a tender cake with a touch of cocoa powder.
It loves to be paired white chocolate, and it loves cream cheese; but what you didn't know is how much a white chocolate peanut butter heart brings to the party.

From: dessertfortwo.com
4. Meringue Cookies
These Meringue Cookies will be a hit on Valentine's Day, no one can resist a homemade cookie that is not only delicious but filled with love because they are homemade!
Best of all, these cookies can be changed into any color you would suit your sweetheart's style!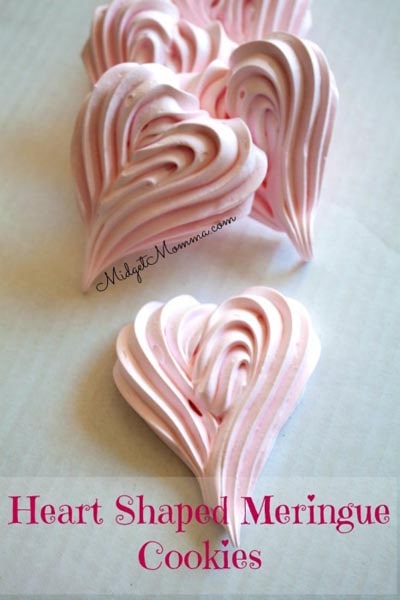 From: midgetmomma.com
5. Heart Shaped Peanut Butter Cookies
Since Valentine's Day is coming up I figured this was the perfect time to share with you how easy it is to make heart shaped peanut butter cookies!
No cookie cutter required & no rolling out dough either.

From: thesemisweetsisters.com
6. Raspberry And White Chocolate Shortbread Cookies
This Valentine's Day, why not give your hunny something that you took time and poured your heart into?
Show him/her how much you care with these cute and delicious raspberry and white chocolate Valentine's Day shortbread cookies.

From: aheadofthyme.com
7. Valentine's Day Frosted Sugar Cookie Bars
A unique take on a Frosted Sugar Cookie, these Valentine's Day Frosted Sugar Cookie Bars are delicious, easy to make and will be an instant family favorite.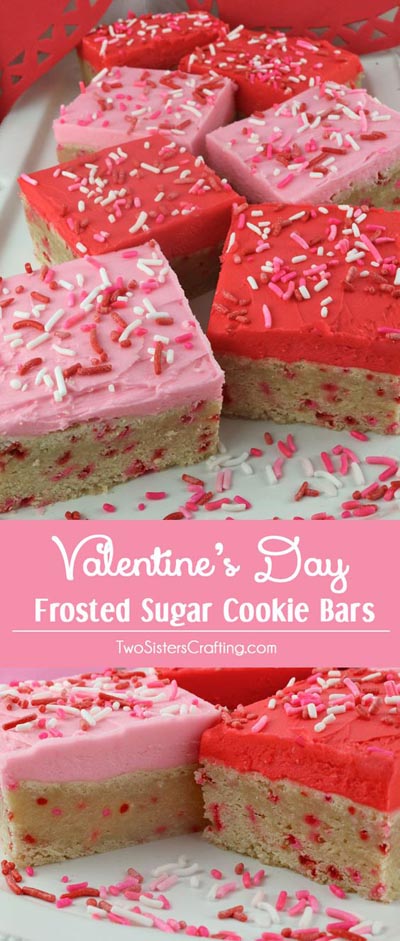 From: twosisterscrafting.com
8. Valentine's Day Oreos
Valentines day Oreos, the perfect cookie for valentines day.
Two red velvet cookies sandwiched in between the best cream filling.
From: sincerelyjean.com
9. Valentine White Hot Cocoa Sprinkles Cookies
Be the cool creative parent and contribute these cookies for your kids' Valentine's Day party!
Find the heart-shaped marshmallows at your local grocery store.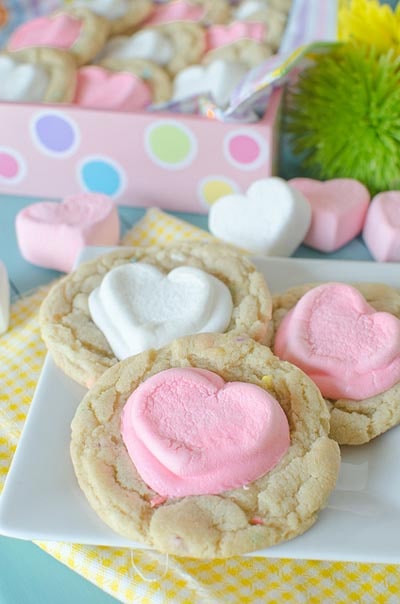 From: seededatthetable.com
10. Chocolate Cake Mix Cookies
This easy chocolate cake mix cookies recipe requires simple ingredients.
These soft cookies are great as a snack or dessert. Many variations included!
From: cakewhiz.com
11. Coconut-Frosted Sugar Cookies with Strawberry Hearts
You might be thinking that the strawberry is on there to be cute.
And it's true, I mean it is Valentine's Day after all.
But seriously. Don't skip the strawberry. It totally makes it.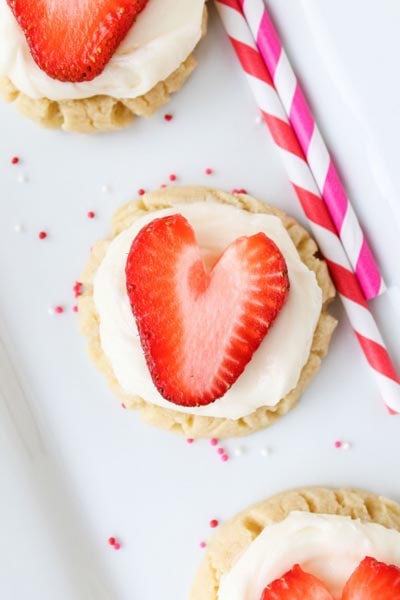 From: thefoodcharlatan.com
12. Chocolate Covered Strawberry Cookies
Strawberry cake mix cookies dipped in milk chocolate and covered in sprinkles.
You just can't go wrong!
From: somethingswanky.com
13. Chocolate Shortbread Heart Cookies
Chocolate Shortbread Heart Cookies are the perfect Valentine's Day treat.
The cookies are chocolate AND they get dipped into melted chocolate. Double the chocolate, double the fun!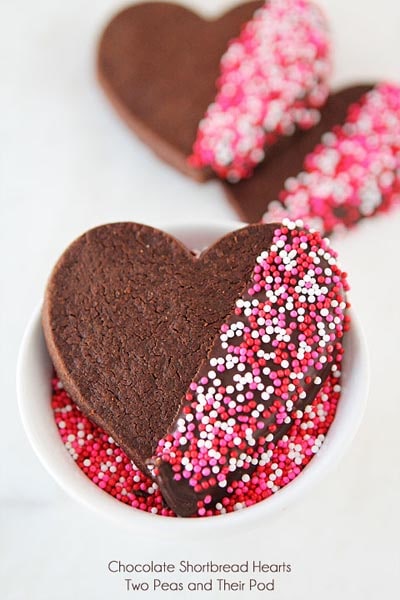 From: twopeasandtheirpod.com
14. Easy Valentine's Day Cookies
These have been requested by both kids AND my husband for dessert every night this week.
These Easy Valentine's Day Cookies have definitely become a family favorite!
From: familyfreshmeals.com
15. Cupid Cookies
Whether Cupid works that way or not, for sure these cookies would be PERFECT for Valentine's Day.
To someone you like, love, your kids, or someone you think deserves a little fun and love in their life.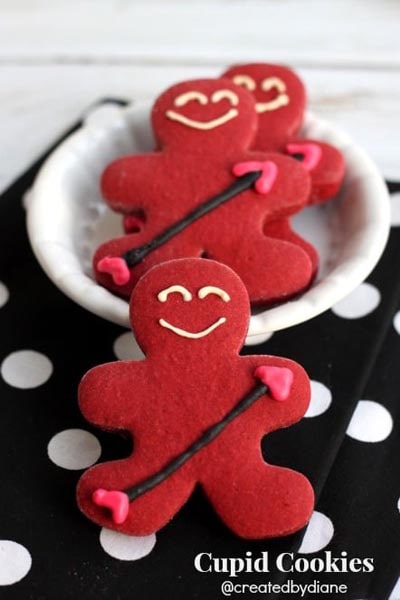 From: createdby-diane.com
16. Big Chocolate M&M Valentine's Day Cookies
These big cookies are a chocolate lovers dream!
Super fudgy cookies that are soft and chocolatey in the middle and packed full of Valentine's Day M&M candies!

From: thesaltymarshmallow.com
17. Valentines Cookie Stacks
These Valentines Cookie Stacks are so quick and make and require no baking at all!
You can use any color frosting and any sprinkles to make these your own!
From: bigbearswife.com
18. Valentine's Day Sugar Cookies
Valentine's Day is a day to share with the ones we love and what better way to show love than a gorgeous cookie.
These sweet Valentine's Day Sugar Cookies will surely be appreciated by everyone that receives them.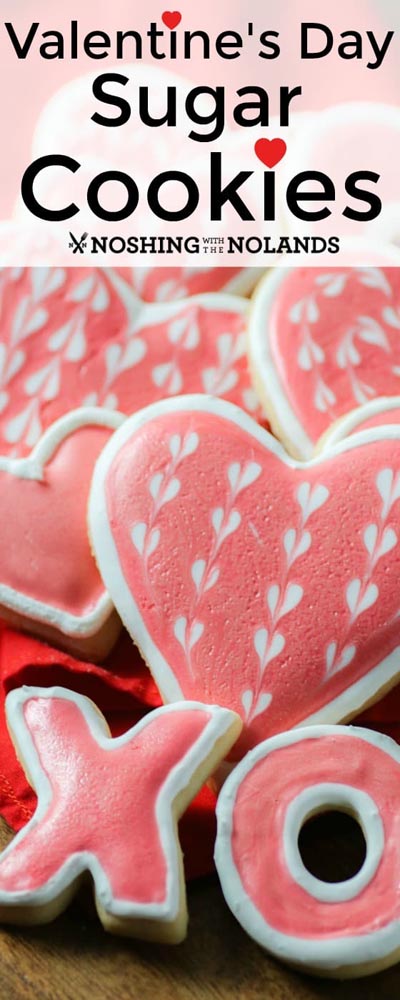 From: noshingwiththenolands.com
19. Cut Out Sugar Cookies
The recipe for these cookies is very simple: you just add all the ingredients to the bowl and mix.

From: crazyforcrust.com
20. Strawberry and White Chocolate Cake Mix Cookies
Super moist and delicious strawberry and white chocolate cake mix cookies!
This recipe uses a secret ingredient for the moistest cookies ever! So pretty and pink!

From: momontimeout.com
21. Valentine's Day Chocolate Sugar Cookies
These soft Chocolate Sugar Cookies are perfect for Valentine's Day!
Filled with Nutella and decorated with sprinkles, these easy heart-shaped chocolate sandwich cookies have a tender center, crisp edges, and make a great edible Valentine's gift.
Kids and adults alike will love these cute homemade treats!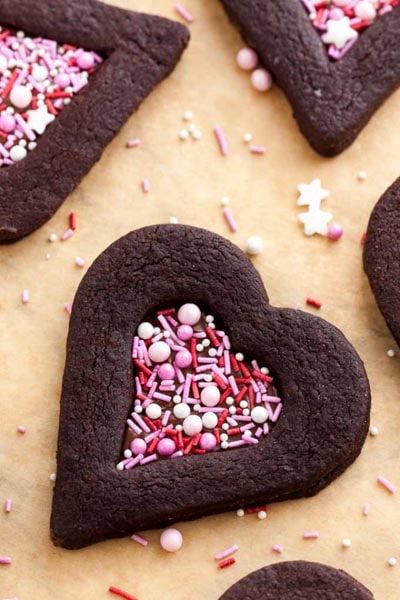 From: platedcravings.com
22. Strawberry Truffle Kiss Cookies
These easy strawberry cookies start with a cake mix.
Adding pink sanding sugar and chocolate kiss candies turn them into a cookie that everyone will want to snack on.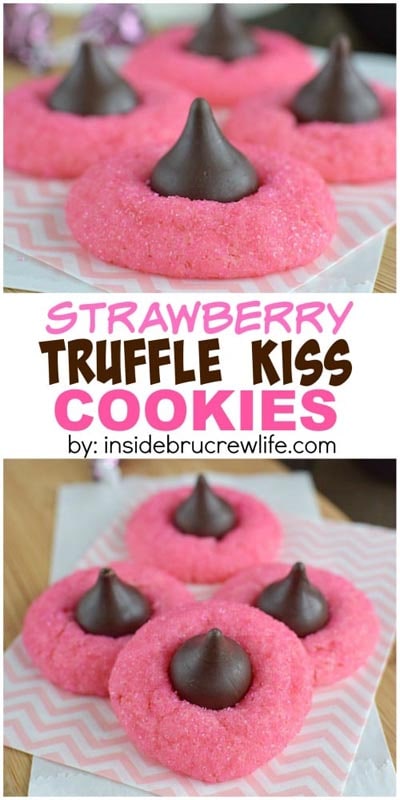 From: insidebrucrewlife.com
23. Red Velvet Crinkle Cookies
Everyone deserves a special sweet treat on Valentine's Day so make a batch of Red Velvet Crinkle Cookies and share the love.
And if you don't want to share and end up eating the entire batch of cookies by yourself, I won't tell. You can always run to the store for a box of chocolates!
From: twopeasandtheirpod.com
24. Valentine's Day Heart French Palmier Cookies
Are French Palmier Cookies hard to make? Well, once you know the secret these little French cookies might become your go-to fast cookie recipe.

From: delicioustable.com
25. Chocolate Dipped Strawberry Spritz Cookies
Strawberry jam gives the classic spritz cookie a kiss of natural strawberry flavor while a quick dip in rich dark chocolate makes these cookies just perfect for Valentine's day.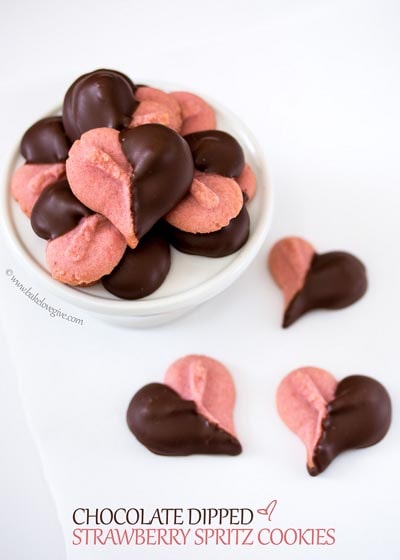 From: bakelovegive.com
26. Vanilla Bean Valentine's Day Cookies
Sweet Vanilla Bean Valentine's Day Cookies with Dove Chocolate hearts. So much flavor in one cookie!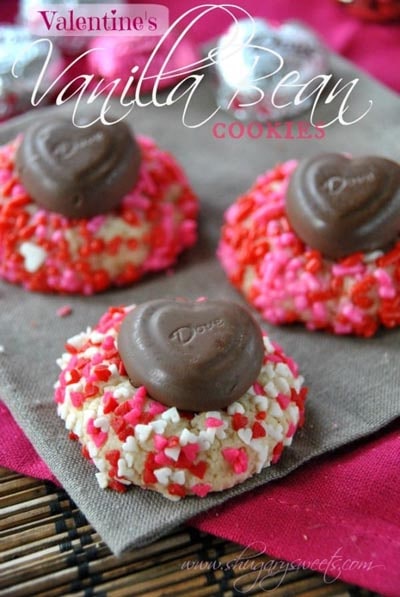 From: shugarysweets.com
27. Oreo Cheesecake Cookies
These cookies only take 5 ingredients to make. If you decide to make them pink, that will make it 6 ingredients.
They really are pretty easy to make too!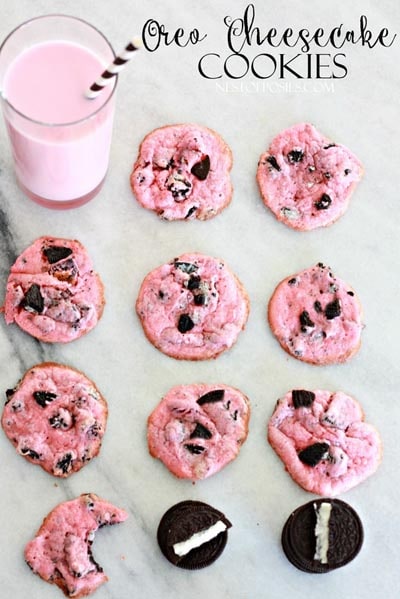 From: nestofposies-blog.com
28. Chocolate Chip Cookie Dough Valentine's Hearts
These Chocolate Chip Cookie Dough Valentine's Hearts are irresistible cupid inspired desserts.
Chocolate, peanut butter and cookie dough in the shape of a heart – do I need to say more?
From: omgchocolatedesserts.com
29. Valentine's Monster Cookies
Share some Valentine's Monster Cookies with those you care about to celebrate Love Day!
These soft, chocolate-y cookies are loaded with goodness!
From: idigpinterest.com
30. Valentine's Chocolate-Dipped Heart Cookies
Easy to make and yet so ridiculously adorable – these heart cookies are the perfect Valentine's dessert.
From: theloopywhisk.com
31. Shortbread Hearts With Salted Caramel And Chocolate
If you like to show your affection and esteem by baking, this recipe for Shortbread heart cookies with homemade salted caramel and chocolate drizzle is pretty much the best thing ever.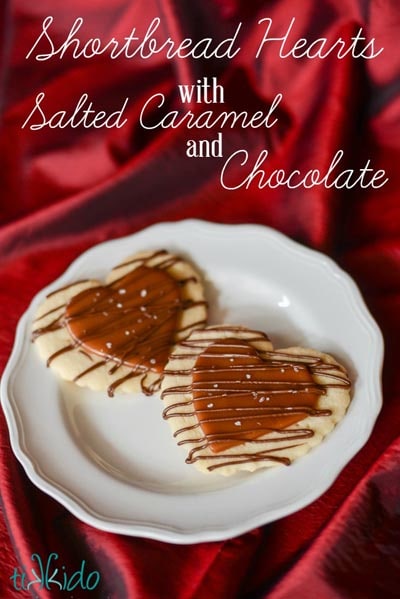 From: tikkido.com
32. Very Valentine Pudding Cookies
These Very Valentine Pudding Cookies are the perfect chocolate cookie recipe for Valentine's Day!
They're chocolatey, pretty, and stay soft for days!

From: crazyforcrust.com
33. Valentine Bear Holding Heart Cookies
These sweet bears look too adorable to eat!
They're soft from the molasses but still firm on the outside. And have a delicious cinnamon flavor.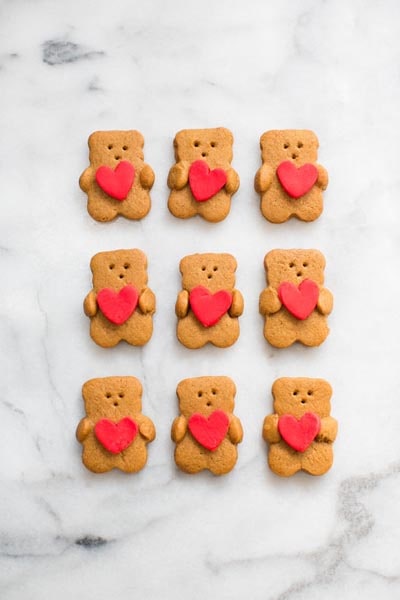 From: hellowonderful.co
34. Incredible Sugar Cookie Cake Recipe
This sugar cookie cake is incredible on its own, but you know kids love M&M's, too.
Either way you slice it, I know it will be one of your favorites, too.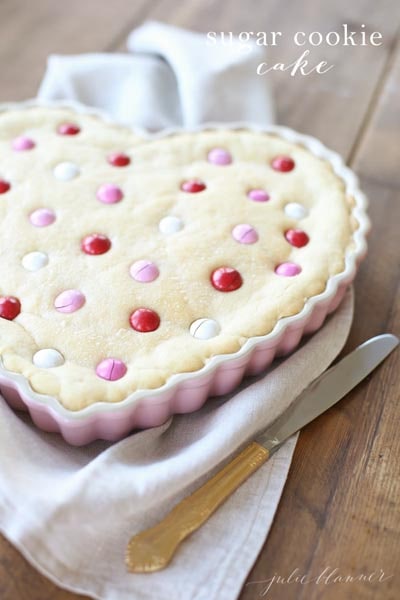 From: julieblanner.com
35. Love Bug Oreo Cookies
Love Bug Oreo Cookies – delish Hot & Spicy Cinnamon Oreos dressed to impress for Valentine's Day.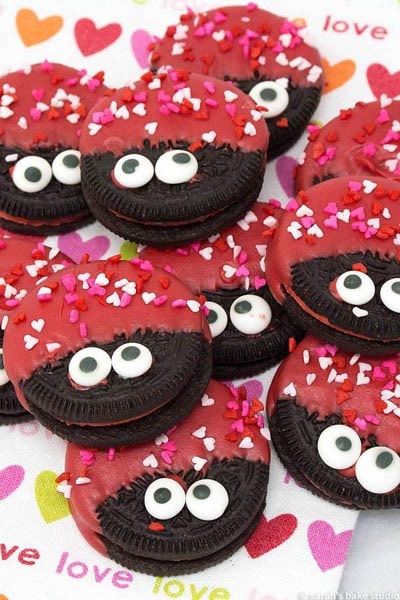 From: sarahsbakestudio.com
36. Easy Valentine Cookies
These butter shortbread hearts sandwiched with raspberry jam are the perfect Easy Valentine Cookies gift for your loved one.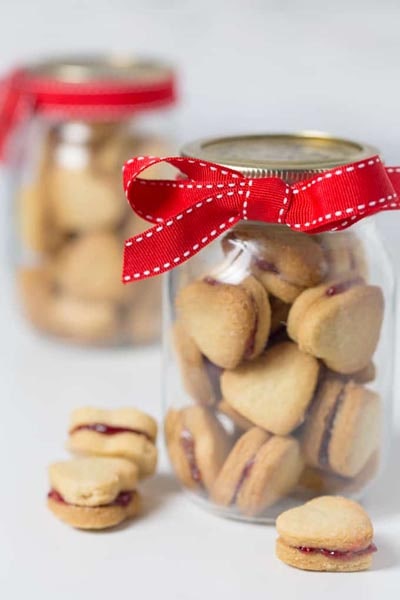 From: kitchensanctuary.com
37. Chocolate Cookies With Raspberry Frosting
Colorful, super delicious and easy to make these Chocolate Cookies with Raspberry Frosting are a yummy cookie that your family will love.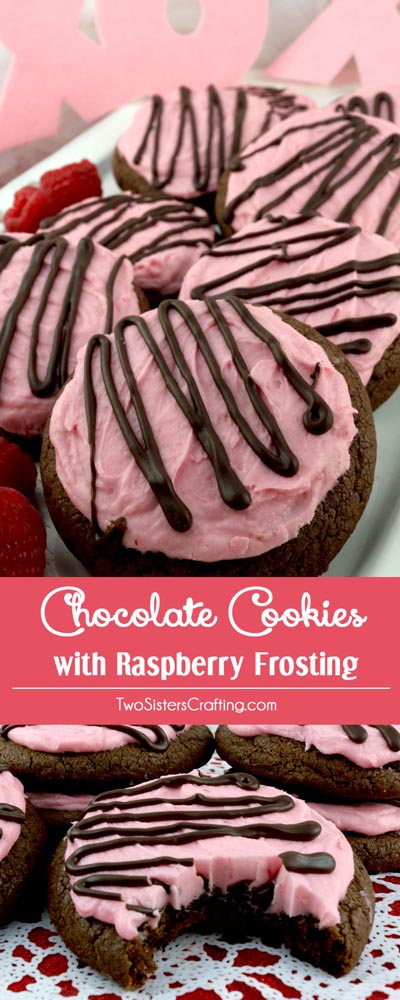 From: twosisterscrafting.com
38. Oreo Truffles Valentine's Hearts
Truffles in the shape of a heart, creamy inside, crunchy on the outside!
Except being a really tasty treat, if you pack them nicely into cellophane with a ribbon, it could be a great homemade gift.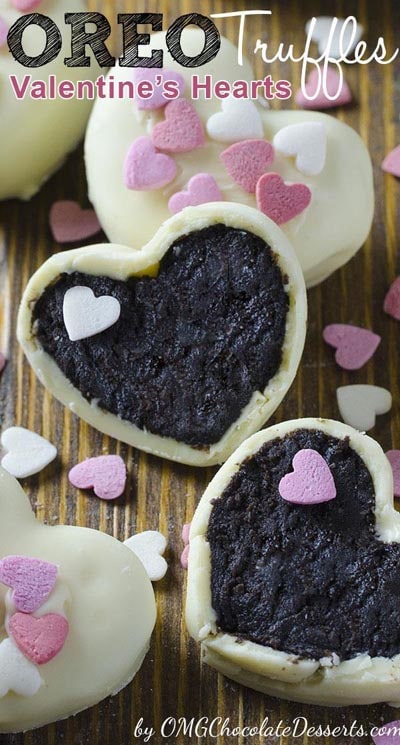 From: omgchocolatedesserts.com
39. Valentine Shortbread Cookies
It is Valentine's day, so let it be magical and romantic!
Make these delicious Valentine Shortbread Cookies and spend perfect moments with your partner!
From: yummiestfood.com
40. Valentine's Peanut Butter Cookies
Simple cookie dough rolled in pink and sparkly sprinkles. And they don't take any extra time or effort to make.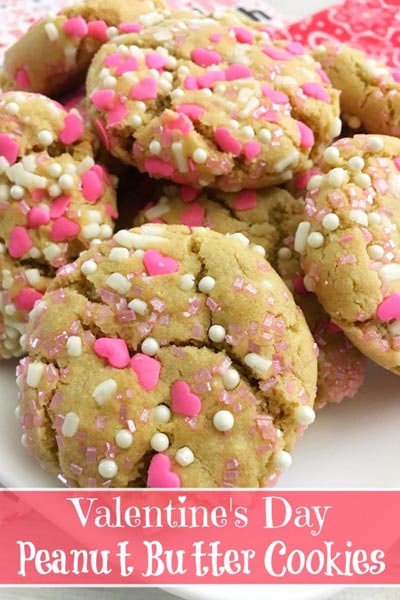 From: 5dollardinners.com
Pin These Easy Valentines Day Cookies For Later!
Enjoyed this roundup of easy Valentines day cookies? Then please take a second to pin it to your Valentines Day board on Pinterest!