Valentine's day treats or desserts are a fun and cute way to make your loved ones feel extra special on V-day. And one of the easiest desserts you can make is Valentine's day cupcakes!
We love cupcakes because they're so versatile and you can decorate them to fit any occasion. And Valentine's day is no exception of course!
30 Amazing And Tasty Valentine's Day Cupcakes
Whether you're looking for something sweet to make for that special someone in your life, or simply looking to make something cute for Valentine's day to make for your family or friends, these cupcakes will not disappoint!
If you want to view the full recipe for any of these cupcakes, be sure to follow the link of the respective number. Hope you enjoy!
Also don't forget to follow us on Pinterest for more tasty recipes and ideas like this!
1. Chocolate Valentine's Heart Cupcakes
Make these adorable heart accents and use them to decorate your favorite cupcakes for Valentine's day!
From: mybakingaddiction.com
2. Valentine Chocolate Cupcakes With Strawberry Buttercream
These Valentine Chocolate Cupcakes with Strawberry Buttercream are decadently delicious!
The cake is incredibly moist and oh so chocolaty and the strawberry buttercream is creamy and fluffy with the perfect amount of sweet strawberry flavor!
From: thebeachhousekitchen.com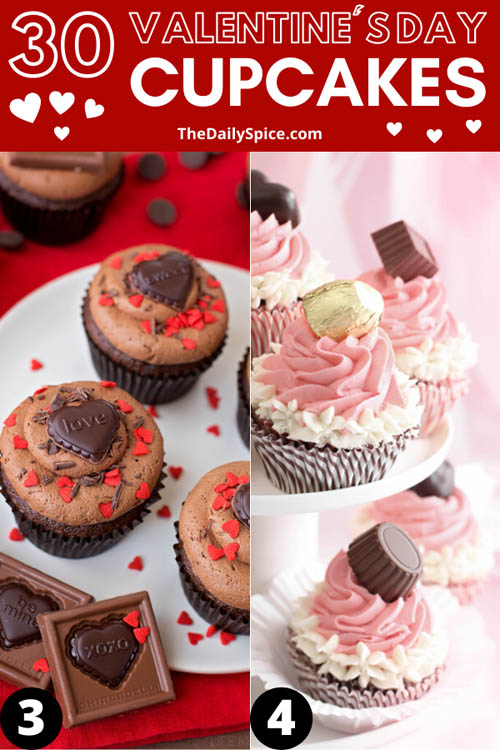 3. Chocolate Sweetheart Cupcakes
Whether you're making these for friends, family or for someone extra special, these chocolate sweetheart cupcakes are sure to be a hit!
They're incredibly moist, tender and topped with the fluffiest chocolate buttercream!
From: lifemadesimplebakes.com
4. Neapolitan Bonbon Cupcakes
These are super simple to make and the decoration could not be easier – just pop a chocolate on top!
One thing is for certain, these cupcakes are all about variety.
You get a little of everything – rich chocolate cake, vanilla and strawberry buttercream, and a surprise flavor-filled bonbon on top!
From: sprinklebakes.com
5. Ghirardelli Dark Chocolate Heart Cut-out Valentine Cupcakes
A simple chocolate cupcake with a ganache filled heart topped with sprinkles. Perfect for your valentine!
From: persnicketyplates.com
6. Chocolate Cherry Amaretto Cupcakes
If you're a lover of amaretto, you'll love these boozy cupcakes!
From: thesprinklefactory.com
7. Love Stitch Cupcakes
A very pretty and romantic love cupcake treat for all the loves in your life.
From: janinehuldie.com
8. Strawberry Shortcake Cupcakes
Yellow cupcakes, whipped vanilla buttercream and fresh strawberries make these strawberry shortcake cupcakes a fun variation of the summertime treat.
From: chocolatewithgrace.com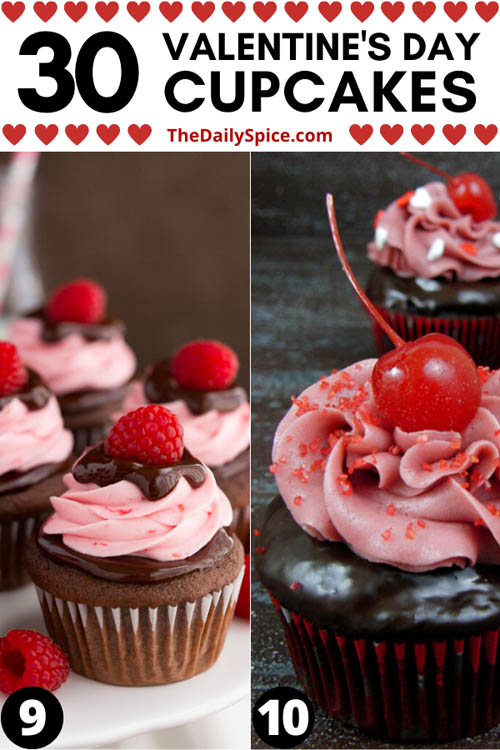 9. Raspberry Chocolate Cupcakes
Spread the love this Valentine's Day with Raspberry Chocolate Cupcakes topped with two layers of rich ganache and creamy raspberry cream cheese frosting.
From: handletheheat.com
10. Chocolate Covered Cherry Cupcakes
How adorably cute are these cupcakes?! If you like dark chocolate and cherries, definitely give these a go!
From: curlygirlkitchen.com
11. Sweet Heart Cupcakes
These fun Sweet Heart Cupcakes are quite easy to create, and are perfect for sharing with someone you love!
From: glorioustreats.com
12. Romeo and Juliet Cupcakes
These Romeo and Juliet cupcakes consist of moist chocolate cupcakes filled with melted guava paste and topped with a cream cheese and guava frosting
From: easyanddelish.com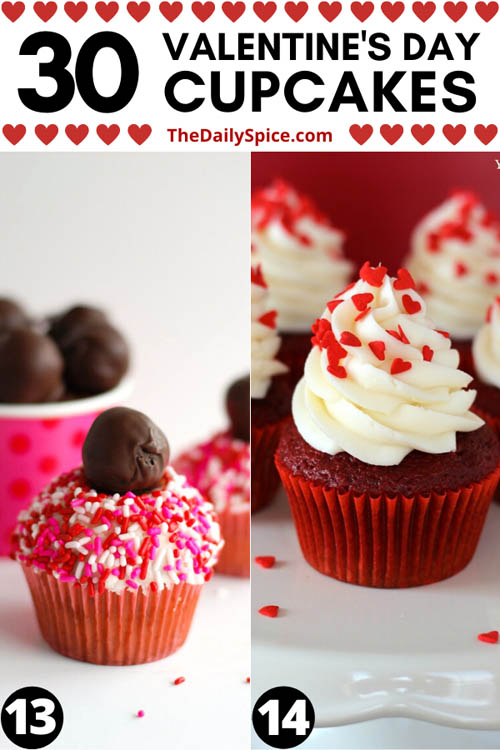 13. Cookie Truffle Cupcakes
What is better than a cupcake?….um a cupcake topped with a cookie truffle!
You will definitely get your cookie fix with this recipe.
There are crushed up cookies in the cupcake, topped with buttercream frosting, and then topped with a truffle filled with crushed up cookies.
From: foodlovinfamily.com
14. Red Velvet Cupcakes
You definitely cannot go wrong with red velvet for Valentine's day, so why not try a red velvet cupcake?
From: yourcupofcake.com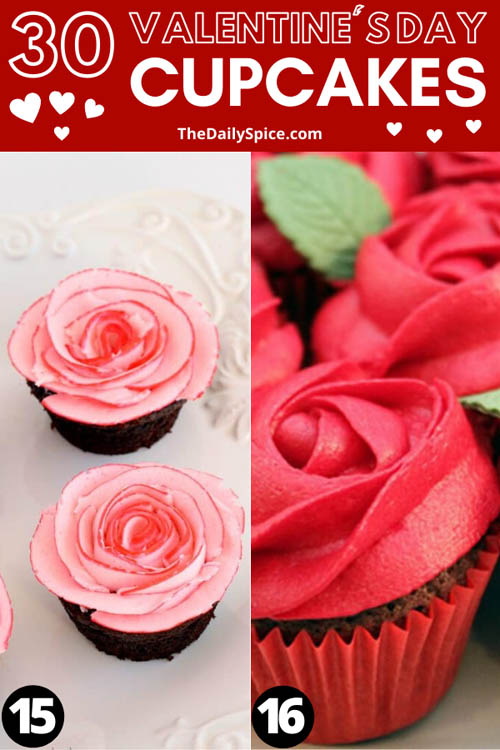 15. Fudgy Chocolate Cupcakes With Two-tone Roses
These fudgy chocolate cupcakes with two tone roses are a fun, pretty dessert for mother's day or valentine's day.
From: thereciperebel.com
16. Red Rose Cupcakes
There's nothing more romantic then a bunch of red roses – so why not make these special rich chocolate cupcakes topped with romantic flowers to show someone you care this Valentine's Day?
From: goodtoknow.co.uk
17. Love Bug Cupcakes
A valentine's day dessert recipe that your kids will love! Decorate a cupcake with buttercream frosting and hearts following this picture tutorial.
From: thecakeblog.com
18. Moist Chocolate Cupcakes with Prague Frosting
These Chocolate Cupcakes are moist, decadent, ultra-flavorful and easy.
From: natashaskitchen.com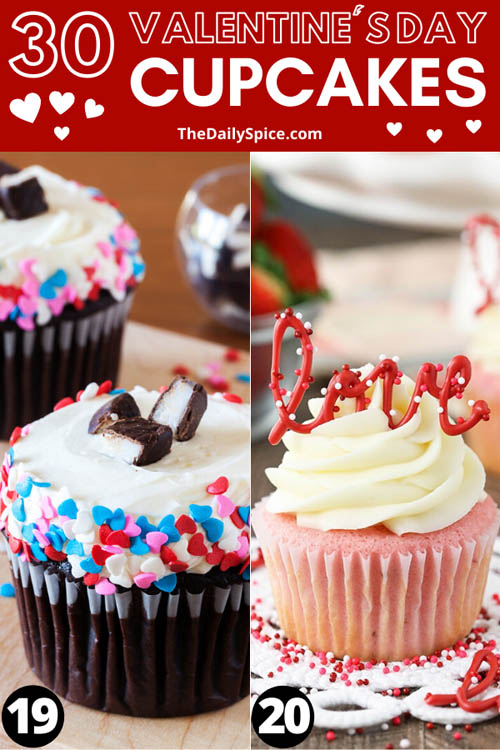 19. Peppermint Pattie Chocolate Cupcakes
Ultra-moist and topped with peppermint pattie buttercream, this recipe for Valentine's Day Peppermint Pattie Chocolate Cupcakes for Two is perfect for you and your Valentine.
From: thepkpway.com
20. Strawberry Cupcakes With Cream Cheese Frosting
These Strawberry Cupcakes with Cream Cheese Frosting are perfect! So moist and fluffy! And they are an amazing copy of one my favorite cupcakes!
From: lifeloveandsugar.com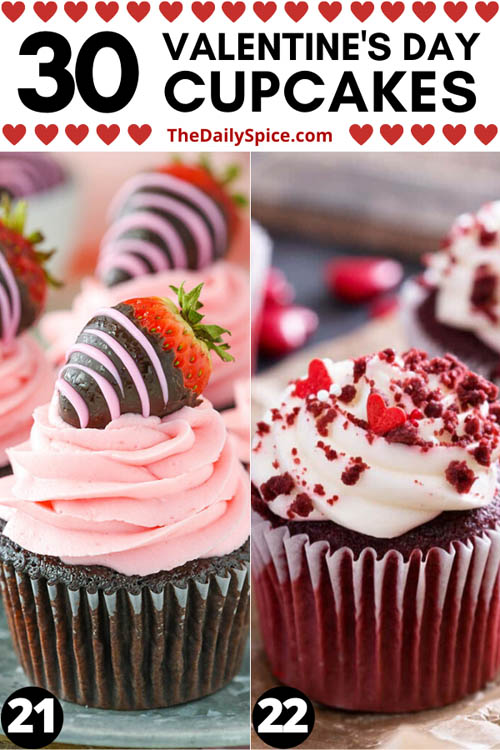 21. Chocolate Covered Strawberry Cupcakes
These Chocolate Covered Strawberry Cupcakes are made with a moist chocolate cupcake recipe, fresh strawberry frosting and delicious chocolate covered strawberries.
From: lifeloveandsugar.com
22. Valentine Red Velvet Cupcakes Recipe
Red Velvet Cupcakes would be a great treat to make for Valentine's Day or any other day you want to make a special treat for someone you love.
Making homemade baked goods is always a nice way to give extra attention to showing someone how much you care.
From: allshecooks.com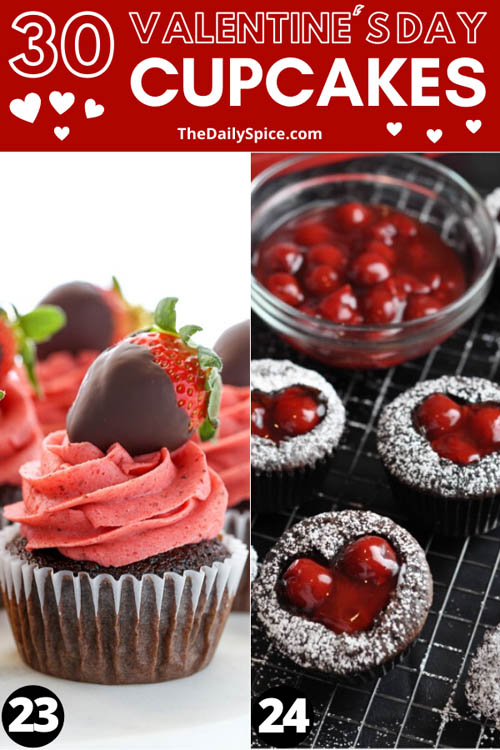 23. Chocolate Covered Strawberry Cupcakes
Moist chocolate cupcakes topped with a strawberry buttercream frosting and chocolate covered strawberries!
These Chocolate Covered Strawberry Cupcakes are the ultimate Valentine's Day dessert.
From: livewellbakeoften.com
24. Cherry Cordial Cupcakes
These are yummy dark chocolate cake filled with dark chocolate ganache and cherry cordial cream, then topped with cherries.
From: lemon-sugar.com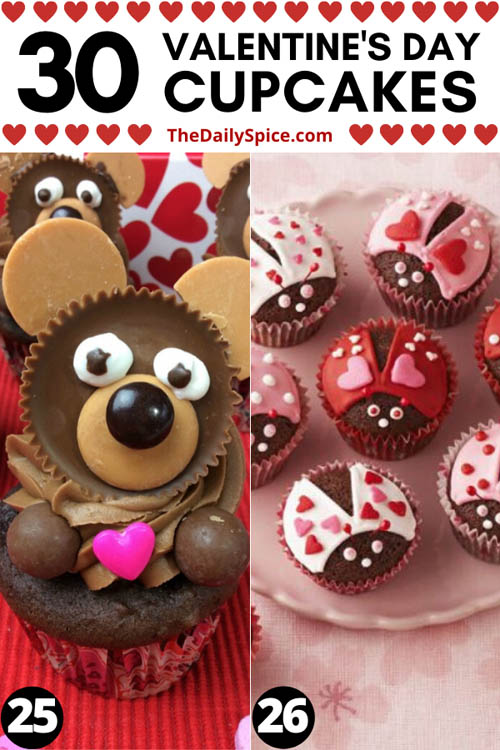 25. Valentine's Day Bear Cupcake Recipe
There is seriously nothing that speaks Valentine's Day in a cuter way than these adorable Bear Cupcakes!
These little brown bears are showing their hearts on their chests as a sweet treat your whole family will love.
A little patience will be needed for this recipe, but the results are so darn worth it!
From: plumcrazyaboutcoupons.com
26. Chocolate Lovebug Cupcakes
These adorable cupcakes are sure to warm your sweetie's heart and stomach!
From: countryliving.com
27. Dark Chocolate Cupcakes with Raspberry Buttercream Frosting
These are some of the most decadent cupcakes you'll ever make – and in such a good way!
They are rich and luscious and oh so irresistibly chocolatey!
From: cookingclassy.com
28. Chocolate Heart Cupcakes
In this irresistible Valentine's Day dessert, half the batch is decorated with chocolate hearts stamped out of the cupcakes with a cookie cutter, while the other half is topped with vanilla frosting hearts.
From: marthastewart.com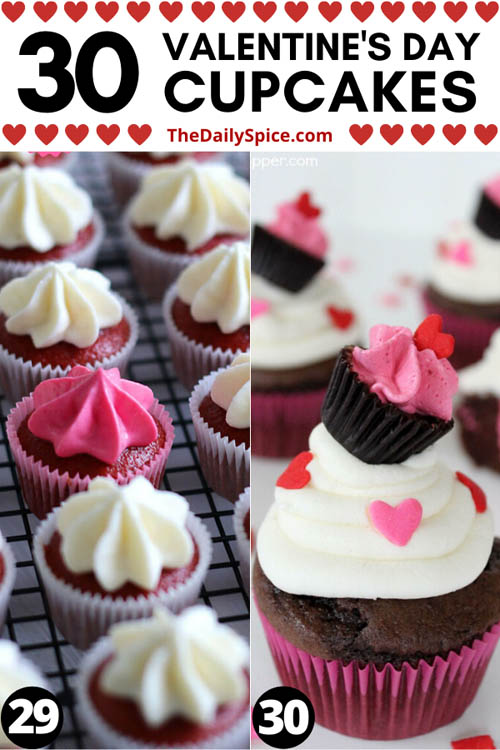 29. Valentine's Day Mini Beet Root Red Velvet Cupcakes
These red velvet cupcakes get their color from beet roots (red beets), not from artificial food coloring.'
You can also make these cupcakes completely vegan if you like!
From: baketotheroots.de
30. Valentine Raspberry Cream Filled Cupcake With A Cupcake
These super easy and totally adorable Valentine Raspberry Cream Filled Cupcakes with a Cupcake topper will be perfect for showing some love!
The cupcake recipe starts with a boxed cake mix then filled with a yummy raspberry butter cream icing.
From: cincyshopper.com
Looking for more fun Valentine's day recipes and ideas? Then you might also like these posts:
Don't forget to pin these Valentine's Day Cupcakes for later!
If you enjoyed this roundup of Valentine's day cupcakes, why not save it to your Valentines day board on Pinterest? That way you can always come back to it later when you're looking for ideas!
Hint hint, you can also follow us on Pinterest for more tasty recipes and ideas like this!