Looking for a cute Valentine's Day gift for your loved ones this year? Then check out these cool DIY Valentines Day mason jar gifts!
Not only are they cheap and easy to make, but they are thoughtful personal gifts that you spend time to make yourself. Your loved ones will surely appreciate the time and effort you put into making any of these lovely gifts!
30 Easy DIY Valentines Day Mason Jar Gifts
To view the full instructions or get the printables for any of these mason jars, please click on the link below each image.
1. Heart Mason Jar
How cute are these heart mason jars? Check out the site linked below for the adorable printables to make your very own heart mason jars!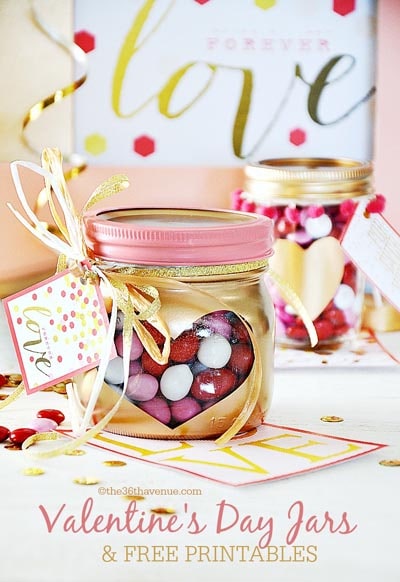 From: the36thavenue.com
2. Hugs and Kisses Mason Jar
It's hard to resist those tiny bundles of chocolate joy and it's such a cute and easy Valentine's Day gift!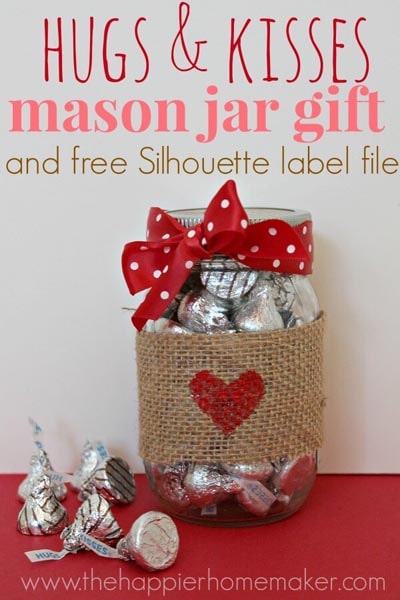 From: thehappierhomemaker.com
3. Red Hots Valentine's Candy Gift in a Jar
Let your man know how "Hot" he is with this fun Red Hots Valentine's Candy Gift in a Jar!
From: thefrugalgirls.com
4. Jar of Hearts
It's simple to do and make a great gift for a friend, a teacher or co worker.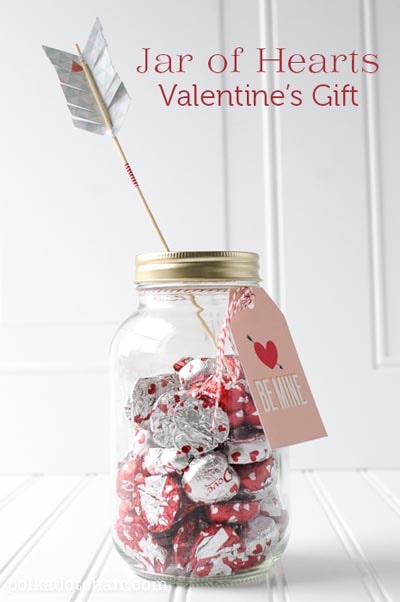 From: polkadotchair.com
5. S'mores Valentines Mason Jar
Really simple, but a cute and tasty gift that YOU can give this year!

From: anightowlblog.com
6. Snack Jars With a Note
These are so adorable and would even be great to stuff in your little ones lunch boxes for a fun surprise love note on a regular day.
They are so simple to make (and totally corny) that it's a win win for everyone!
From: lovejessicaanne.blogspot.com
7. Cocktail in a Jar
Here is a super fun, totally easy and extra adorable project for you.
Since you are all busy shopping and such, so while you are out make sure to pick up the couple of things you'll need to make these fab Mason Jar Cocktail Gifts for all your favorite boozers!
From: somethingturquoise.com
8. Valentine Chalkboard Mason Jars
Decorate mason jars and fill them with sweets for your sweetie.
From: plaidonline.com
9. Candy Corn Mason Jar Gift
This is simply a mason jar filled to the brim with Valentine candy corn (it tastes just like the Halloween colored candy corn) that is topped with a red and white gingham canning lid and tied with a "corny" little stamped love note!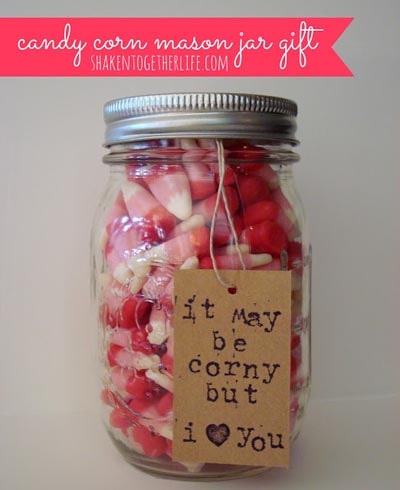 From: shakentogetherlife.com
10. Donut Forget Me Mason Jar
Print the tags and surprise your family with a lovely Valentine's Day breakfast treat!
From: the36thavenue.com
11. Layered Candy Mason Jar
Do you have someone sweet in your life you'd like to give a little something sweet to? Then try your hand at making this cute sweets jar!
From: simplykierste.com
12. Love You To Pieces in a Jar
Another cute mason jar idea with adorable printables – check out the link below to download your mason jar printables.
From: apumpkinandaprincess.com
13. Notes in a Jar
You could fill it with a favorite candy or other small items along with some love notes.
From: atthepicketfence.com
14. Valentine S'mores in a Jar
Super easy to do and what I like about this is that it's works as a family gift.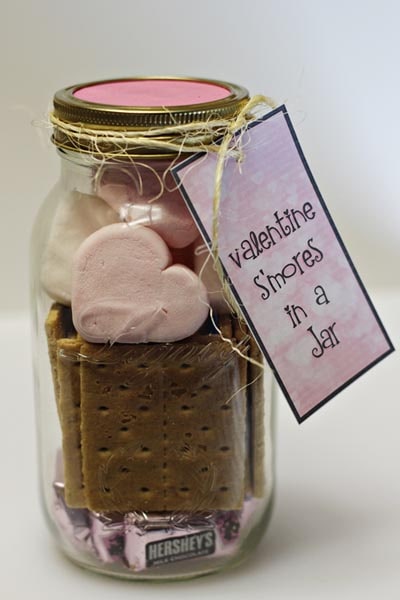 From: homecookingmemories.com
15. XO See Through Mason Jar
This idea is super easy to make and really cute too!! There are also some cute printables to go with the jar available at the site linked below!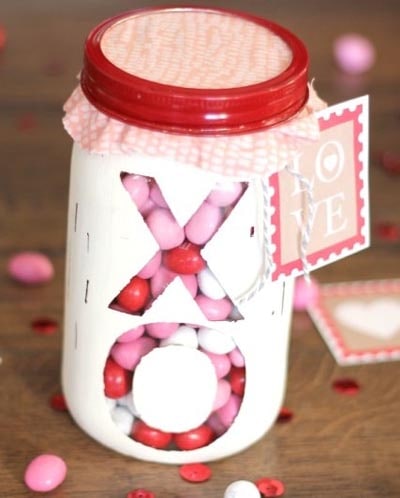 From: hawthorneandmain.com
16. Cranberry White Chocolate Oatmeal Cookie in a Jar Recipe
If you're looking to give a special gift that shows you took the time to make something yourself and also gives the recipient something they can actually use and enjoy, these Cranberry White Chocolate Oatmeal Cookie in a Jar are just the thing!

From: thriftyjinxy.com
17. Valentine Slime
If you're looking for something to give to your kids, slime can be a great non-candy gift idea for Valentine's Day.
Kids can have fun helping you to make the slime and printing off these cute slime gift tags "Happy Valen-slime Day".
This Valentine Slime will make a great gift this Valentine's Day!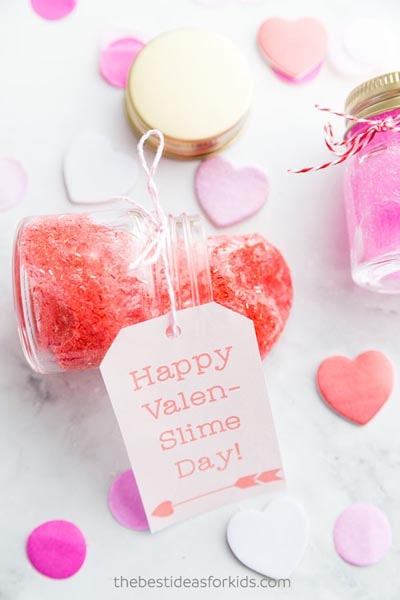 From: thebestideasforkids.com
18. Always Sweet Mason Jar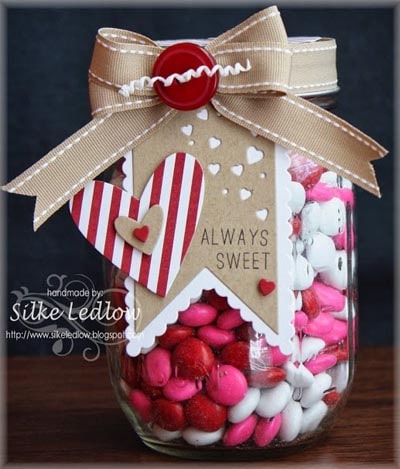 From: silkeledlow.blogspot.com
19. Hot Strawberry Drink Mix
Top your beverage with whipped cream or marshmallows for an extra special touch. This drink would go perfectly with a special Valentine's day brunch.
From: littlemisskate.ca
20. Heart Attack Printables
Typically a "heart attack" isn't a good thing… but, not in this case!
This Heart Attack is a fun way to show your friends and family that you adore them.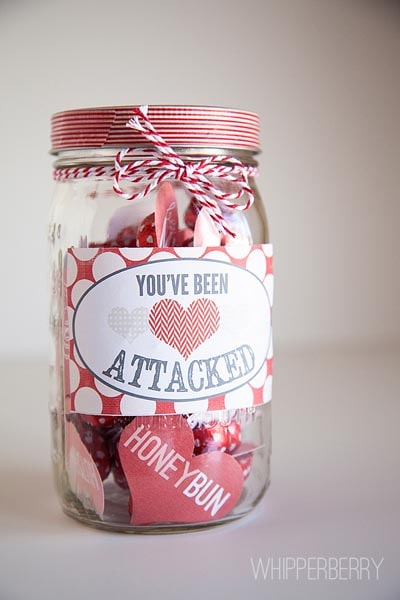 From: whipperberry.com
21. Glittered Heart Mason Jar Tumblers
These glittered heart mason jar tumblers will be a huge hit! The coolest part is that they are also dishwasher safe!
From: addicted2diy.com
22. Popping in Mason Jar
I love this gift idea because it's so inexpensive and it makes a great gift for someone who either loves popcorn or for families.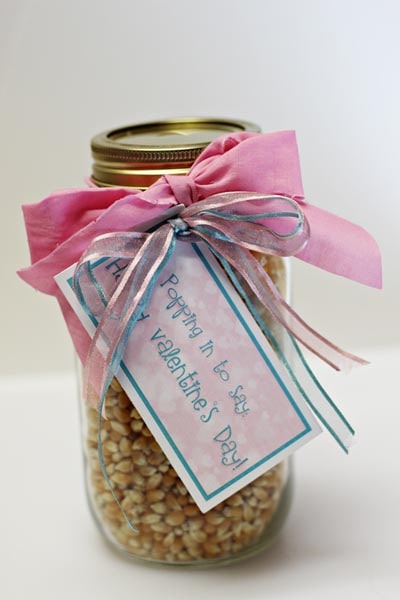 From: homecookingmemories.com
23. Valentines Day Trail Mix
If you are looking for a treat that is a little more healthy, this Valentines Day Trail Mix Recipe is just the thing.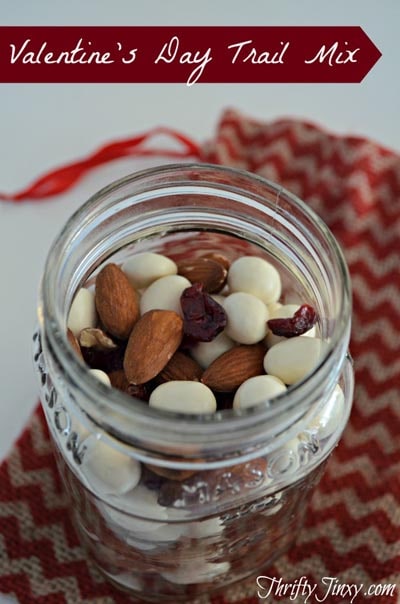 From: thriftyjinxy.com
24. Strawberry Sugar Scrub Mason Jar
This Strawberry Sugar Scrub is perfect for putting into mason jars and giving as gifts!
From: thegunnysack.com
25. Coffee Beans in a Jar Gift
Calling all coffee drinkers!  I have such a simple and practical gift idea to share with you all today.
These Coffee Beans Gift Jars are the perfect gift for coffee lovers!
From: purelykatie.com
26. Mani-Pedi in A Jar
This mason jar is a great idea for just about anyone on your shopping list when you want a gift that is fun, frugal, and heartfelt!
From: masonjarbreakfast.com
27. Red Velvet in a Jar
Red Velvet Cake In A Jar is a whole new way to enjoy red velvet cake! Made with strawberry cream cheese frosting, these mini desserts are portable, giftable, and adorable!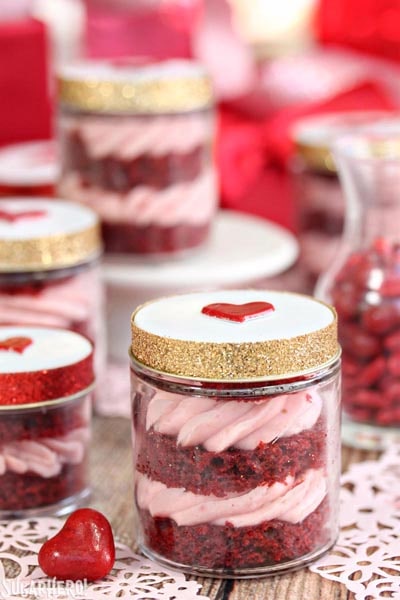 From: sugarhero.com
28. Valentines Day Teacher DIY Gift
This adorable and super easy to make mason jar gift is exactly what your kids teachers want in their classrooms!
They love homemade presents, and they will never guess that this DIY cutie could be made with dollar store items.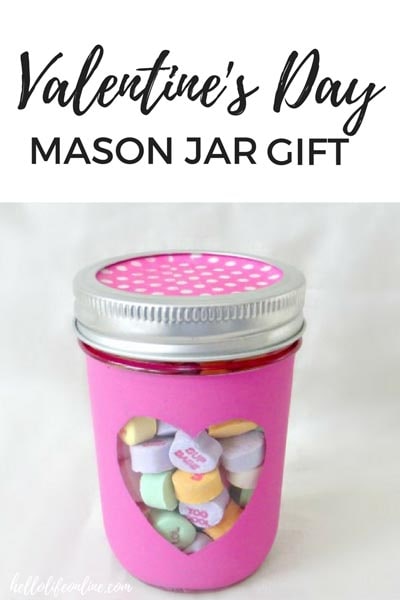 From: hellolifeonline.com
29. Sweetheart Soda Pop
From: iheartnaptime.net
30. Lemon Drop Valentines Mason Jar Gift
If you're a sucker for puns and cheesy sayings, you'll love this cute little gift.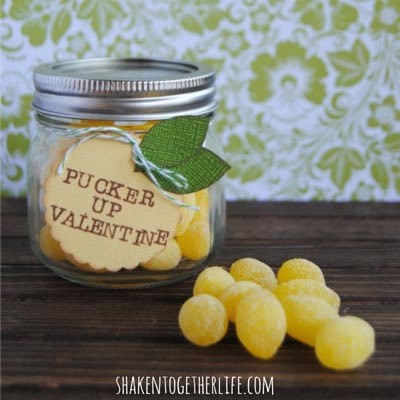 From: shakentogetherlife.com
Don't Forget To Pin These Valentines Day Mason Jar Gifts!
If you enjoyed this roundup of easy DIY Valentines Day mason jar gifts, please take a moment to pin it to your Valentines day board on Pinterest, we would be so grateful!