Easter is right around the corner, and there's no denying that Easter also brings with it the most adorable desserts. Including adorable cupcakes. Yep, we've rounded up some pretty cute but also fun Easter cupcake ideas you can try making this year.
We love cupcakes for any occasion, because they're so much fun to decorate. Not to mention you can customize them to fit in with almost any theme you want. And kids love them (so do we) and often like helping to make them too.
This post contains affiliate links. Please read our disclosures policy for more info.
20 Easy Easter Cupcake Ideas
Bunnies, carrots, pastel colors, there's a cupcake for anything Easter you can think of. So check out the ideas below and find the perfect cupcake to celebrate Easter. And don't forget to pin your favorite cupcakes to Pinterest!
1. White Chocolate Easter Egg Cupcakes
White Chocolate Easter Egg Cupcakes are the perfect cute and yummy treat for your Easter celebration.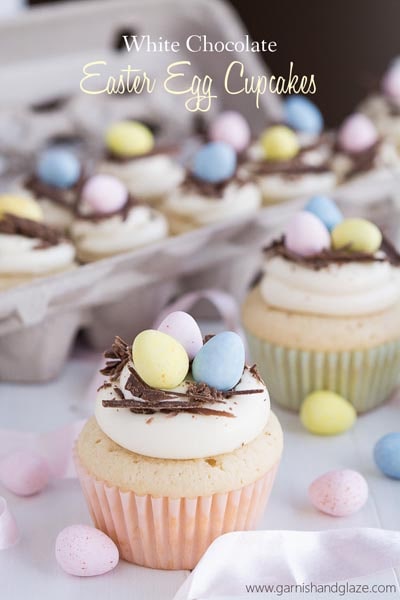 From: garnishandglaze.com
2. Bird's Nest Cupcakes
These cupcakes are enticingly delicious! This is definitely a recipe I will be using often. The cupcake is moist and perfectly tender.
They are sure to put a smile on the face of any lucky person who gets one.
From: cookingclassy.com
3. Easter Chick Cupcakes
For this little project, you can really use any flavor of cupcake you want and you can flavor the frosting with whatever extract you'd like, but you'll want to use the frosting recipe above because it's very light and will hold its shape well.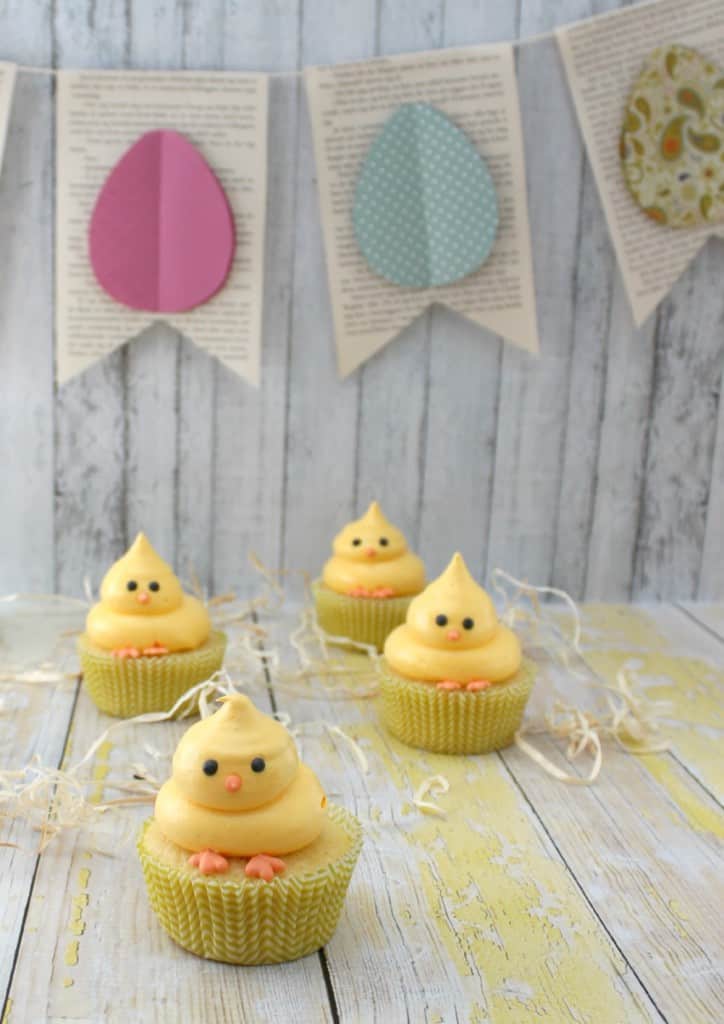 From: thesimple-sweetlife.com
4. Chocolate Bunny Cupcakes
If you're not baking inclined, this recipe is perfect! Easy to make, insanely delicious, super cute!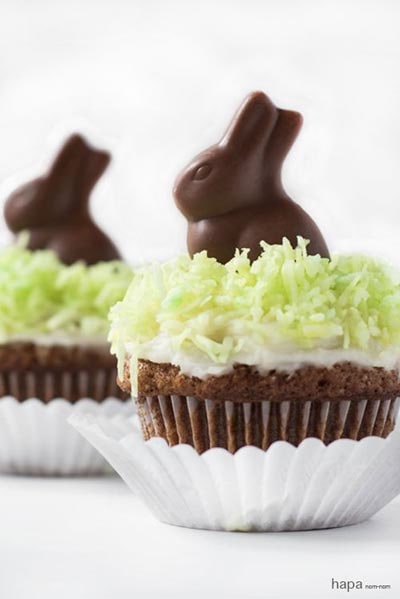 From: hapanom.com
5. Carrot Cake Cupcake
Carrot cake cupcakes? Yes please!
Top these cupcakes with a generous spoonful of cream cheese frosting and spread evenly. Toll edges in chopped pecans to create this cute look.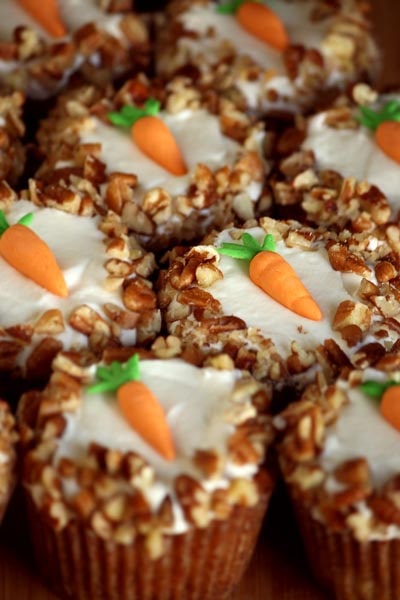 From: whisk-kid.com
6. Bunny Ears Cupcake
These look just like a furry little bunny, how cute! A hit with kids and adults alike!
From: mykitchenescapades.com
7. Sparkling Surprise Carrot Cupcakes
Sure to make your little egg-hunters squeal with delight, these carrots are actually cupcakes!!
Cake batter is baked inside an ice cream cone, topped with icing and then coated in orange candy and oodles of sprinkles.
Edible grass provides the finishing touch on top. Just look inside!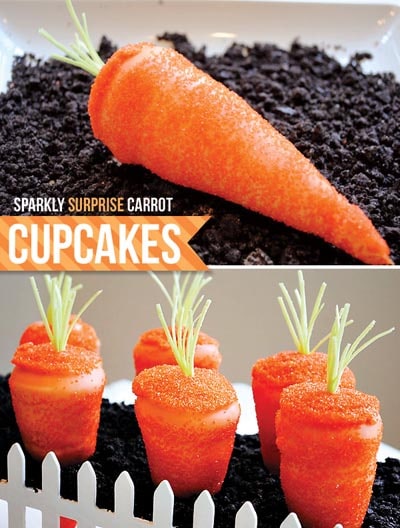 From: hwtm.com
8. Reese's Cup Easter Bunny Cupcakes
No Easter would be complete without some chocolate bunnies so I crafted these Reese's Cup Easter Bunny Cupcakes that you can make and share with friends and family.
From: hungryhappenings.com
9. Garden Carrot Cupcakes
These easy Easter cupcakes are so cute!
If you don't have a fancy piping bag, just put your frosting in a large plastic bag and snip off the corner!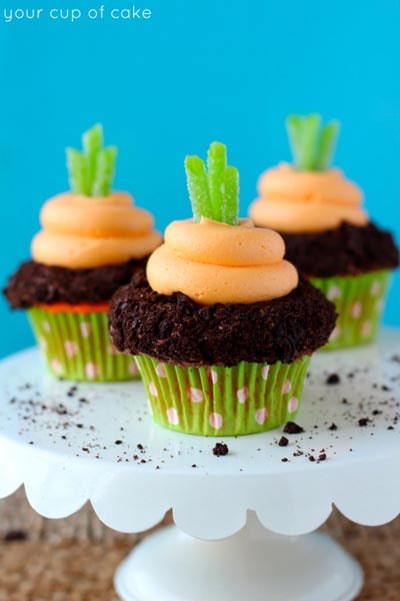 From: yourcupofcake.com
10. Easter Basket Cupcakes
Make these adorable Easter Basket Cupcakes this Spring! Follow the easy video tutorial for a fun project to work on with your kids or grandkids. Use your favorite cupcakes along with this fabulous American-Style Buttercream, for an unforgettable holiday treat!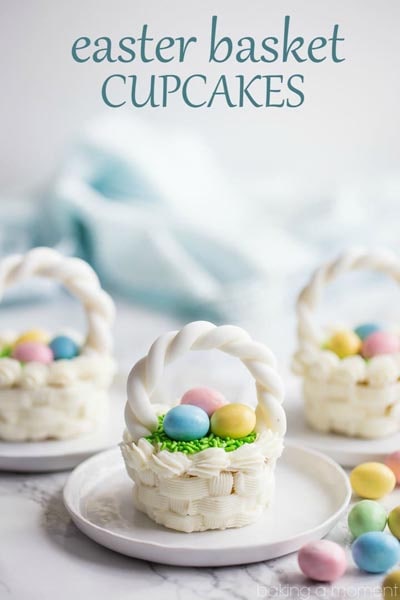 From: bakingamoment.com
11. Speckled Easter Cupcakes
How adorable are these speckled Easter cupcakes!? They would be perfect for any pastel colored Easter party.
From: urbanbakes.com
12. Cute Garden Carrot Cupcakes For Easter
Strawberries dipped in chocolate to look like carrots! These Cute Garden Carrot Cupcakes baked in mason jars are the most adorable cupcakes you'll see this spring!
From: yourcupofcake.com
13. Easter Bunny Peeps Cupcakes
These cute Easter Bunny Peeps Cupcakes are easy to make and look fabulous on your table for Easter dinner. Plus, kids love to help make them!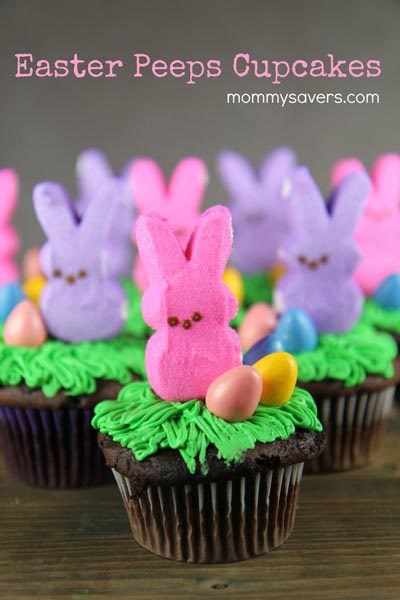 From: mommysavers.com
14. Carrot Cake Cupcakes
Carrot Cake Cupcakes are so moist and fluffy and have a not-too-sweet cream cheese frosting on top! Made completely from scratch with lots of grated carrots these cupcakes are so easy to make and perfect for Easter!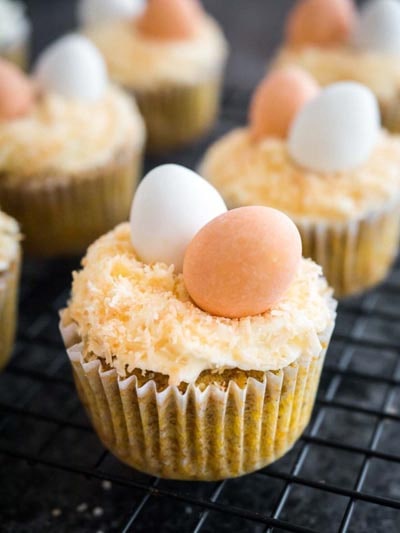 From: platedcravings.com
15. Easter Rose and Orange Cupcake
A hint of spice and stunning sugar work make these cupcakes the perfect centerpiece for any Easter celebration.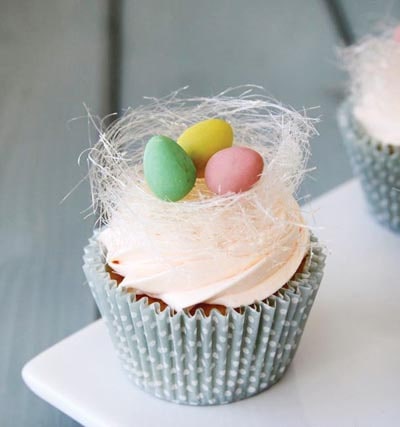 From: hwtm.com
16. Creme Egg Cupcakes
Chocolate Sponge Cupcakes, with a Hidden Creme Egg Centre, Multi-Tone Buttercream Frosting, and Half a Creme Egg on top.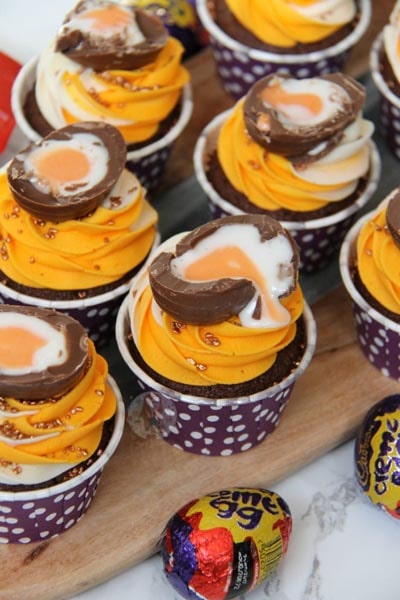 From: janespatisserie.com
17. Bunny Butt Cupcakes
These adorable and delicious bunny butt cupcakes are the perfect treat for Easter and easier to make than you might think!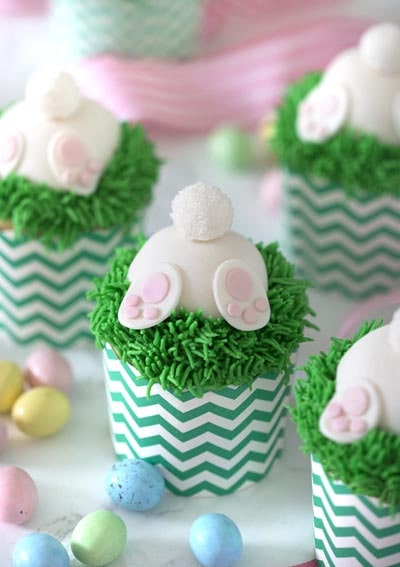 From: preppykitchen.com
18. Happy Bunny Cupcakes
With Pillsbury Funfetti Cake Mix, marshmallows, jellybeans and pink decorator sugar, you can turn plain white cupcakes into Happy Bunny Cupcakes! See how easy it is to make these super cute Easter treats!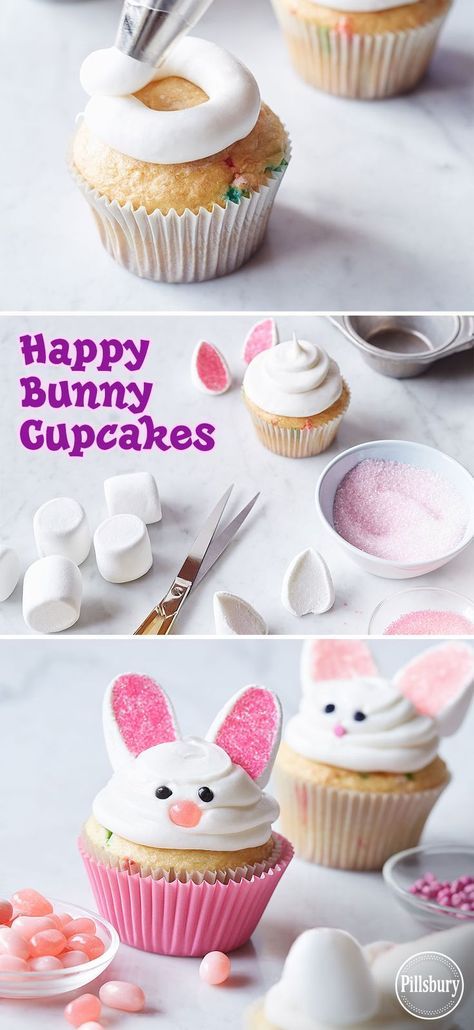 From: pillsburybaking.com
19. Robin's Nest Cupcakes
Dark, rich, chocolate cupcakes topped with buttery chocolate frosting make for the most decadent Robins' Nest Cupcakes. Plus they're so easy to make. They are the perfect spring or Easter treat!
From: thecraftingfoodie.com
20. Blooming Easter Cupcakes
Topped with simple piped flowers and candy bunny ears, these Easter cupcakes are a spring floral fantasy!
A spring dessert that is also great for baby showers, wedding showers or even birthdays, these Blooming Easter Cupcakes are deceivingly easy to make.
From: wilton.com
Pin these Easter Cupcake Ideas to Pinterest!
If you enjoyed this roundup of cute Easter cupcake ideas, please take a moment to pin it to your Easter board on Pinterest. You can also share it on your favorite social media platform. We would be super grateful!