Party pinwheels are some of the easiest and quickest appetizers and bite sized snacks you can whip up in a few minutes to feed a crowd. We love that they're also extremely versatile and that you can fill them up with all different kinds of flavors.
We've picked some of our favorites for you below. So next time you're looking to make a quick snack, whether for game day or a family gathering, why not give some of these a try? You won't regret it!
Also, remember to follow us on Pinterest so you can get more great ideas like this. You can also pin this post to your appetizers board on Pinterest for easy access to it later!
40 Perfect Party Pinwheels and Roll Ups
To view the full recipe for any of these party pinwheels, please click the link corresponding to the specific recipe you'd like to view.
Hope you enjoy!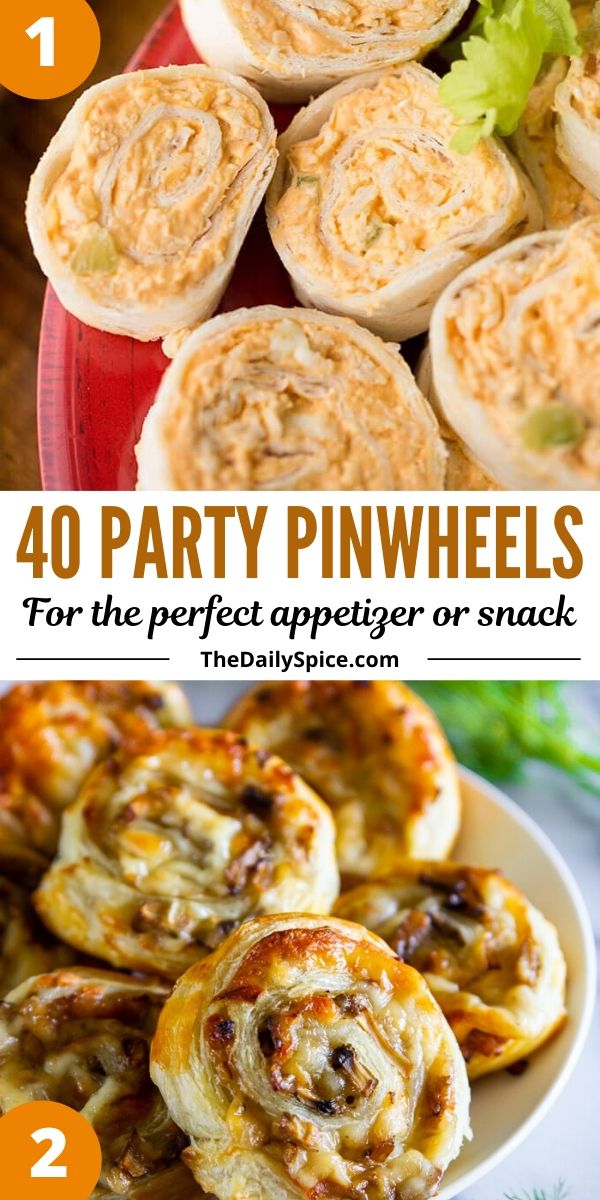 1. Buffalo Chicken Pinwheels
Buffalo Chicken Pinwheels are delicious, and have a nice tangy flavor and a bit of heat to them. These tortilla pinwheels are perfect for your next party, or Game Day!
From: simplyhappyfoodie.com
2. Mushroom Puff Pastry Pinwheels
These cheesy mushroom puff pastry pinwheels are the perfect appetizer for a holiday potluck. They can be eaten warm or at room temperature.
Anyone who enjoys the combination of garlic, mushrooms, and cheese will definitely love this pinwheel recipe!
From: simplyhomecooked.com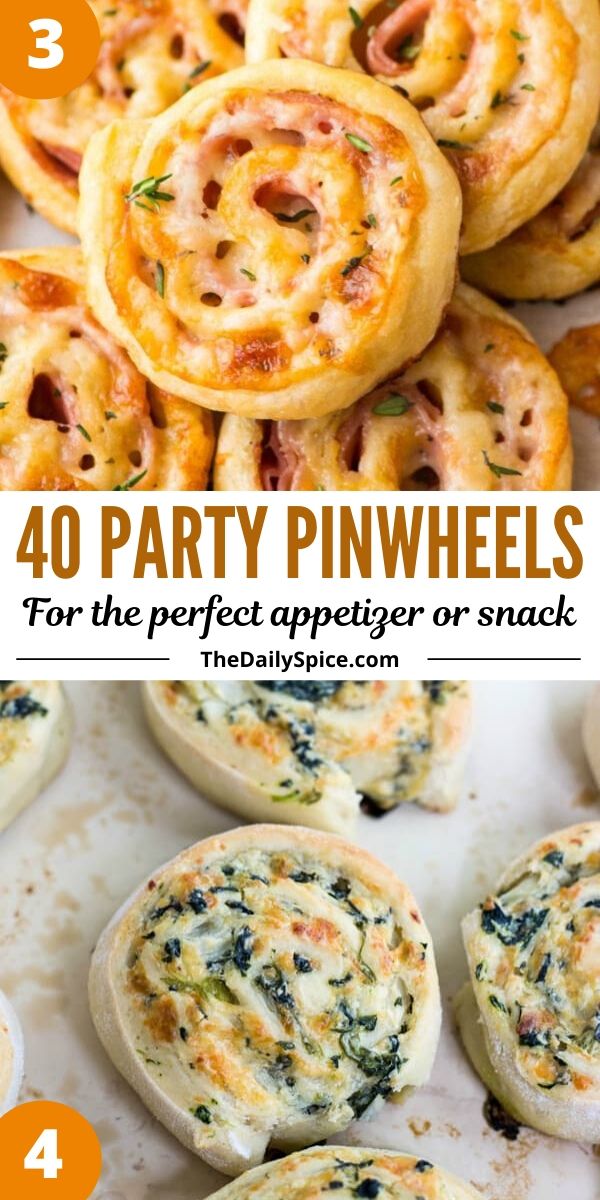 3. Ham and Cheese Pinwheels
A combination of deli meat, cheese, mustard, and puff pastry, you simply cannot go wrong with these tasty ham and cheese pinwheels!
From: wellplated.com
4. Spinach Dip Pinwheels
Creamy cheesy spinach is rolled tight in soft fluffy dough to make these Spinach Dip Pinwheels a great appetizer for any party!
From: tornadoughalli.com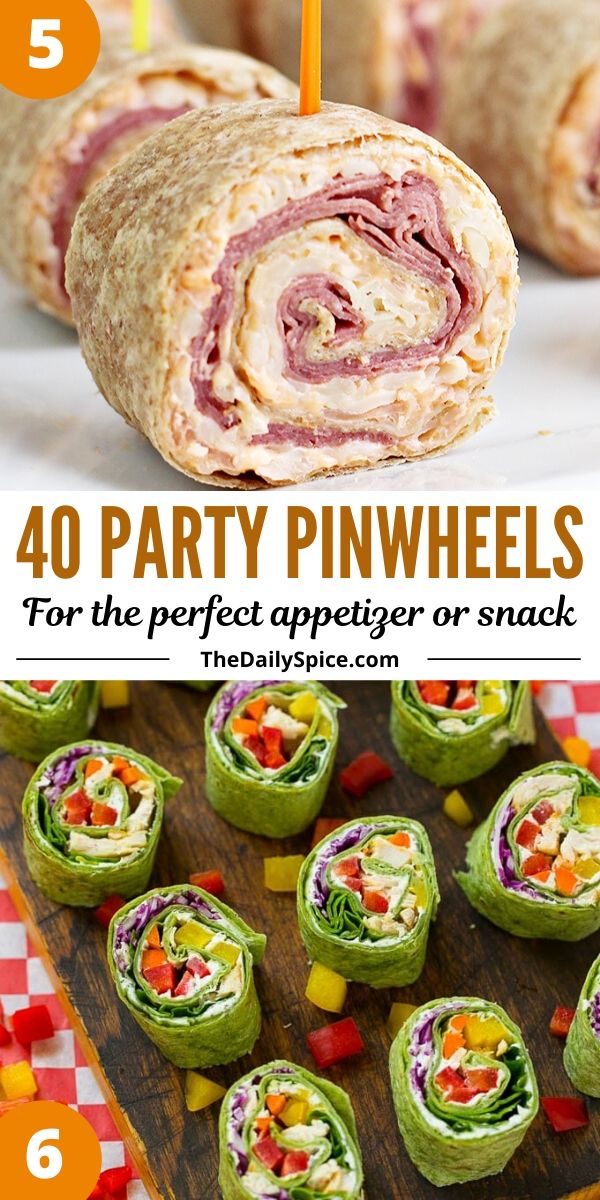 5. Reuben Tortilla Pinwheels
This Reuben Tortilla Pinwheels Recipe is perfect if you are wanting St. Patrick's Day party food, or if you just love all the flavors in a Reuben sandwich.
From: homecookingmemories.com
6. Rainbow Veggie Pinwheels
These veggie pinwheels are a rainbow of colorful fresh veggies with ranch flavored cream cheese, all rolled up inside a spinach tortilla wrap. They're perfect for a snack or back to school lunch!
From: dinneratthezoo.com
7. Greek Salad Pinwheels
These Creamy Greek Salad Pinwheels are a delicious appetizer any time of the year and everyone loves them!
They pack a huge flavor punch and are super easy to make. The flavors are incredible, but mild enough they are loved by kids and adults alike.
From: yellowblissroad.com
8. Sausage Pinwheels Recipe
This sausage pinwheels recipe is an easy, make-ahead appetizer that'll be the hit of your next party! Your guests will come back for seconds!
From: breadboozebacon.com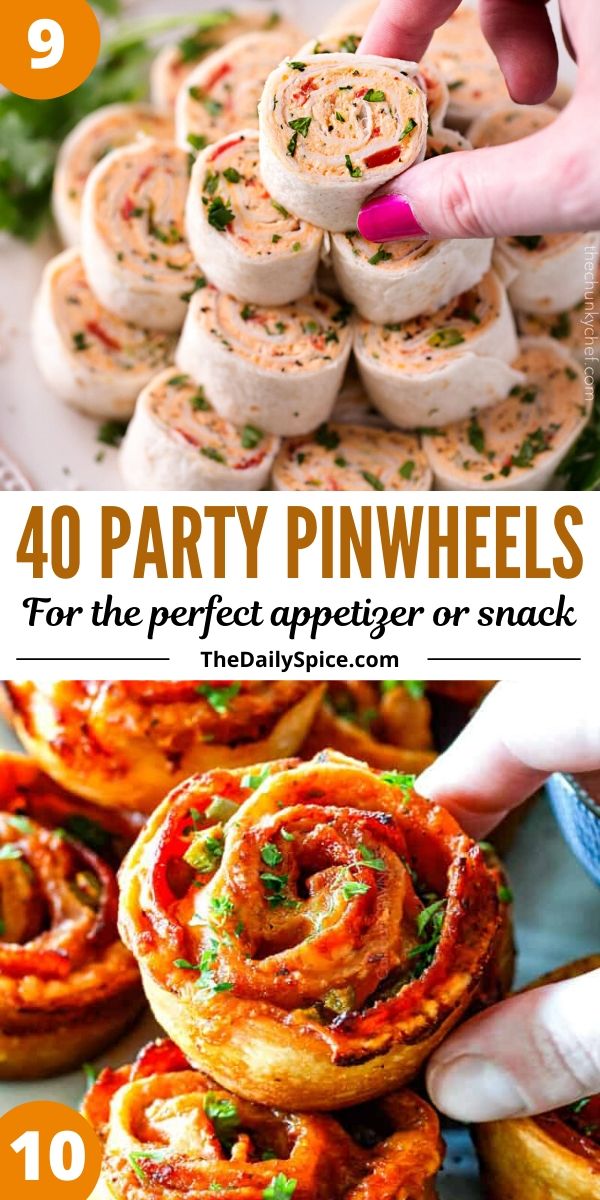 9. Chicken Taco Mexican Pinwheels
A creamy filling made with chicken taco flavors is spread over a soft flour tortilla and rolled up to make the most delicious Mexican pinwheels ever!
From: thechunkychef.com
10. Pizza Pinwheels
Pizza Pinwheels are super easy to make, customizable, freeze beautifully, and absolutely irresistible for snacks, appetizers or fun meals!
You can use store bought pizza dough and then these Pizza Pinwheels literally come together in minutes!
From: carlsbadcravings.com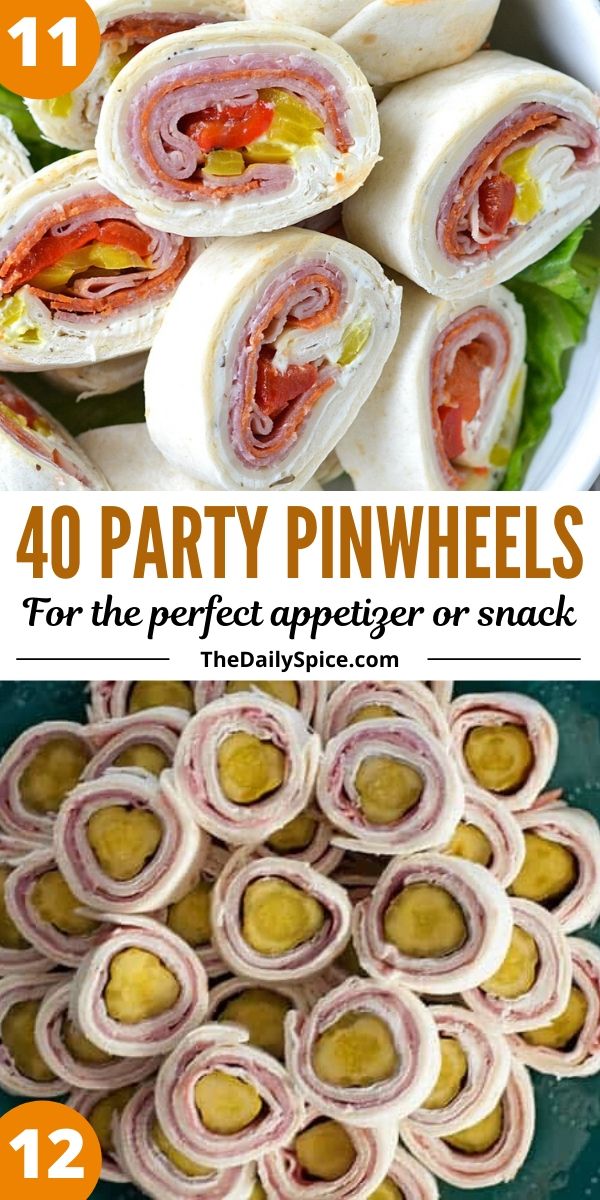 11. Easy Italian Pinwheels
These super yummy Italian Pinwheels are so easy to make and are filled with slices of provolone cheese, salami, pepperoni, ham, red and banana peppers and wrapped in a creamy Italian filling.
A definite must try for any Italian meat lover!
From: motherthyme.com
12. Classic Pickle Ham & Cheese Roll-ups
A classic recipe for pickle ham & cheese roll-ups. These are of course for the pickle lovers!
From: northernyum.com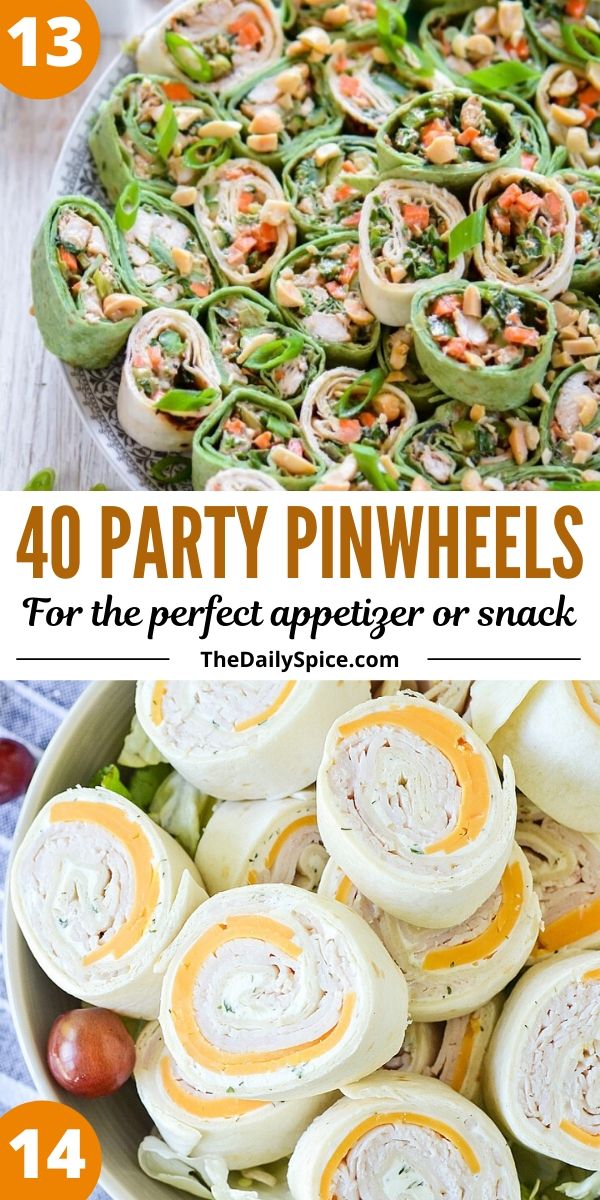 13. Thai Peanut Chicken Roll-ups
Soy marinated juicy chicken, spicy chili-lime peanut sauce coated crunchy vegetables wrapped in spinach tortillas and sliced in party-style pinwheel bites.
From: chefdehome.com
14. Turkey Cheddar Ranch Pinwheels
Not only are these yummy for lunch they make a great appetizer or pack in a container to take on the go.
From: motherthyme.com
15. Brie and Blackberry Jam Crescent Roll Appetizer
This easy baked brie appetizer recipe combines soft brie, blackberry jam, fresh sage, and crescent roll dough into easy-to-serve pinwheels.
From: goodinthesimple.com
16. Cranberry Feta Pinwheels
Cranberry Feta Pinwheels are the perfect make ahead holiday snack or appetizer. A creamy filling with feta cheese and sweet dried cranberries rolled in tortillas and sliced.
From: spendwithpennies.com
17. Greek Tortilla Pinwheels
An easy little party appetizer that takes hardly any effort to make but looks pretty cute!
Just chop Greek salad bits, scatter them over a feta and yogurt spread on a tortilla, roll up the tortilla, and chop into rounds. Delicious!
From: scrummylane.com
18. Chicken Taco Roll-ups
Love tacos, but also love finger food?. Then combine them both into these Chicken Taco Roll-Ups. These are perfect as an appetizer, lunch, or side dish.
You are going to love this simple and delicious finger food.
From: sixsistersstuff.com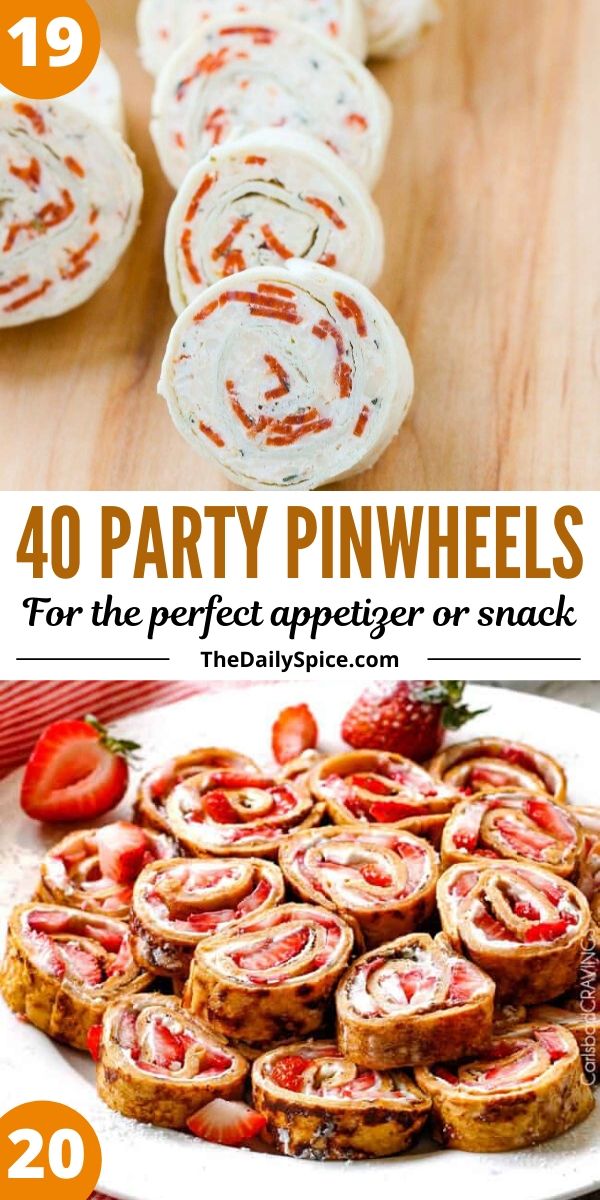 19. Pepperoni Pizza Tortilla Party Pinwheels
These fun pepperoni pizza tortilla pinwheels make a great appetizer for a party or school lunch. Your kids will think they have hit the jackpot when they open their lunchbox and see these!
From: rachelcooks.com
20. French Toast Pinwheels
The thinness of the Flatbread combined with the French Toast breading reminds of a French Toast Crepe – can you image the deliciousness?! You are just going to have to try them…
From: carlsbadcravings.com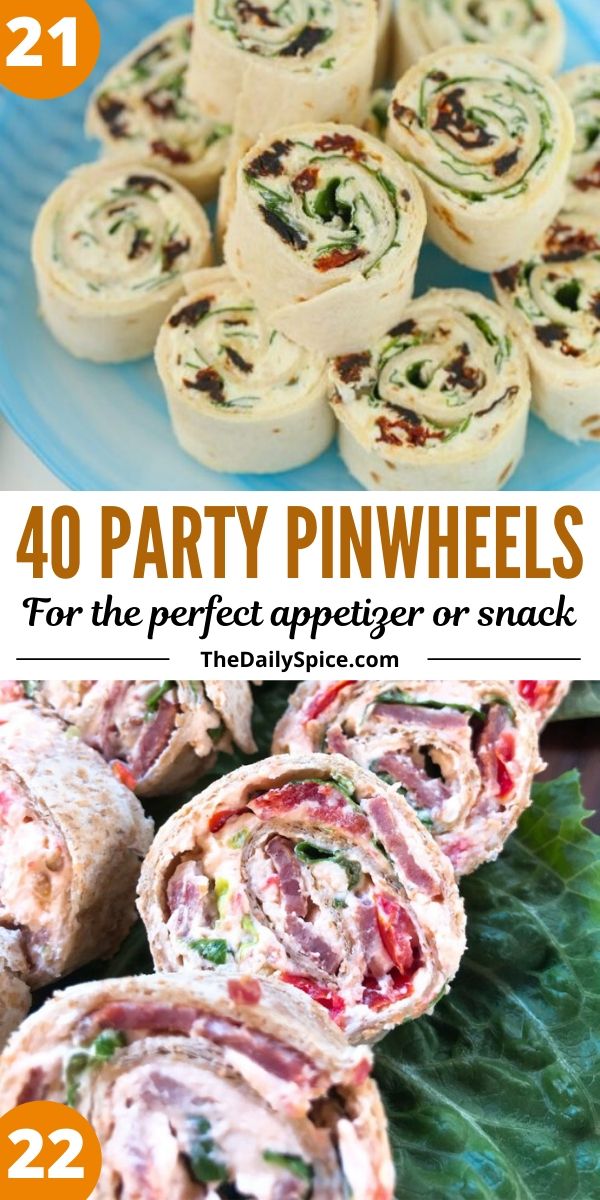 21. Sun Dried Tomato Basil Pinwheels
Creamy Sun Dried Tomato Basil Pinwheels are perfect for picnics, potlucks, road trips or snacking at home!
No cooking or baking, just a delicious sandwich in 5 minutes!
From: superhealthykids.com
22. Caesar BLT Pinwheel Roll Ups
Bacon, lettuce, and tomato with Caesar and cream cheese in a fun and simple appetizer
From: threeolivesbranch.com
23. Turkey Pinwheels Appetizers
This Turkey Pinwheel recipe is great, healthy with vitamins, protein, fiber and low in fat.
And, it's a chance to get some veggies in, such as green leaf lettuce and tomato. You can also add any of your family favorite vegetables to these pinwheels.
From: valyastasteofhome.com
24. Cheddar Chorizo Pinwheel Bites
These chorizo pinwheel bites are a delicious combination of spicy/ cheesy/ buttery/ and a little sweet. It's a little bit of everything amazing all in one bite.
From: realhousemoms.com
25. Spinach Feta Pinwheels
Flaky, buttery puff pastry is rolled around spinach, feta, mozzarella, and green onions to create these outrageously delicious Spinach Feta Pinwheels
From: thatskinnychickcanbake.com
26. Roasted Red Pepper Hummus Pinwheels
These Roasted Red Pepper Hummus Pinwheels are the perfect appetizer to share during any occasion.
From: iwashyoudry.com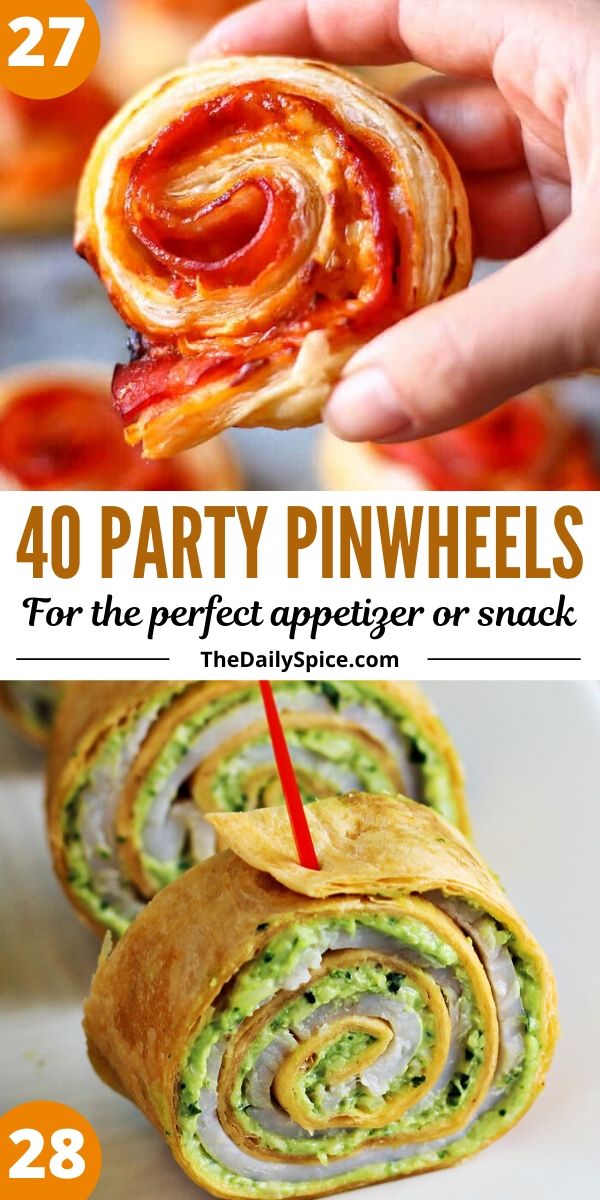 27. Puff Pastry Bacon Pinwheels
Bacon and Cheddar Puff Pastry Pinwheels are fast and easy to make! They're also so tasty they are perfect for parties and family gatherings!
From: julieseatsandtreats.com
28. Pesto Tortilla Pinwheels
This Pesto Tortilla Pinwheels recipe is an easy party food that can be put together in no time! Perfect for any fun event – including holiday parties, baby showers, and more!
From: homecookingmemories.com
29. Chocolate Chip Peanut Butter Banana Roll Ups
Something a bit on the sweeter side, these Chocolate Chip Peanut Butter Banana Roll Ups are tasty nutritious bites you will love.
They make a quick snack for all those who love good food.
From: sweetspicykitchen.com
30. Monte Cristo Pinwheels
Inspired by a popular sandwich, these baked Monte Cristo Pinwheels, are sweet and savory will definitely be your go to appetizer recipe all season long!
From: kitchen-concoctions.com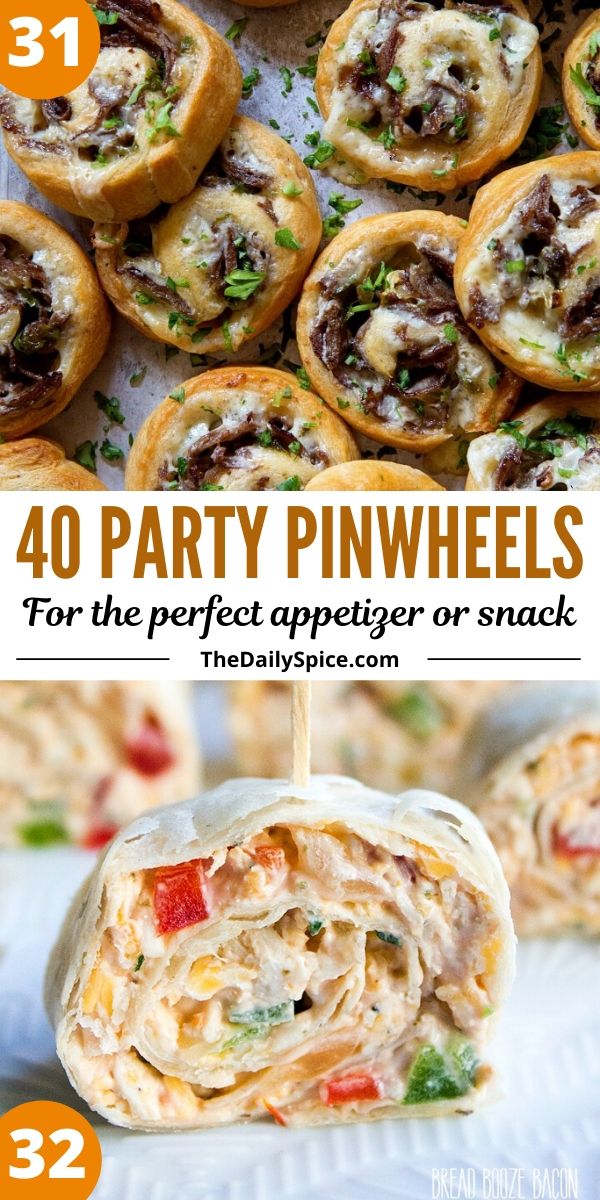 31. Cheese Steak Pinwheels
Cheese, steak and yummy pizza dough, who can say no to this?
From: realfoodbydad.com
32. Mexican Pinwheels
These little guys taste as good as they look, and you can customize them with your favorite add-ins.
From: breadboozebacon.com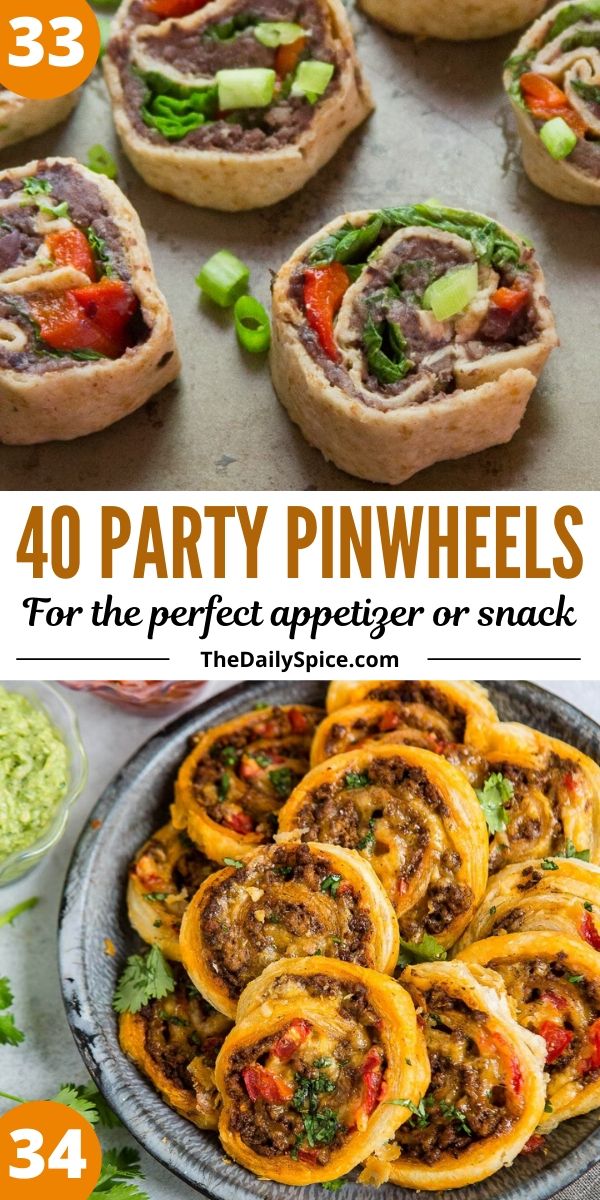 33. Southwest Black Bean Pinwheels
Flour tortillas spirals are stuffed with zesty whipped black beans and toppings to make these scrumptious black bean pinwheels. Perfect for party snacking or packed lunches!
From: connoisseurusveg.com
34. Taco Pinwheels
Taco pinwheels are a great appetizer that even the kids can help you make. All you need is puff pastry, taco meat, tomatoes and cheese plus a few bowls of toppings like guacamole!
From: ohsweetbasil.com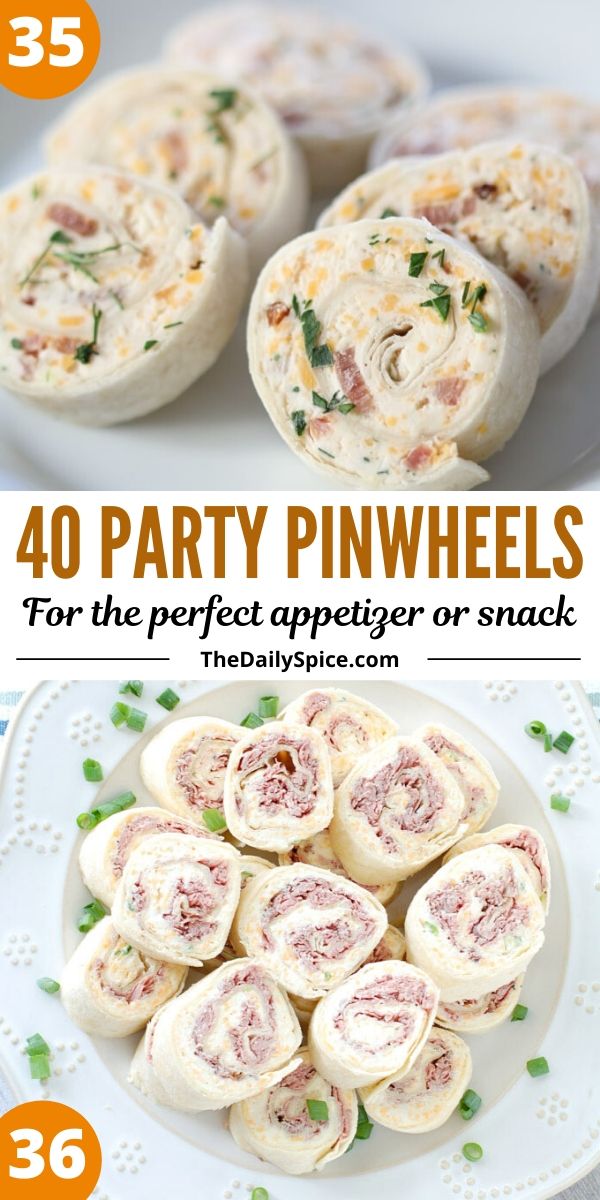 35. Cheddar Bacon Ranch Tortilla Pinwheels
These Cheddar Bacon Ranch Tortilla Pinwheels are a crowd pleasure. Not only are they packed with flavor, but they are so easy to make!
From: inspiredbycharm.com
36. Roast Beef Tortilla Roll Up
Roast beef tortilla roll ups are a great make-ahead appetizer or lunch. Fast to make and filled with delicious flavors like roast beef, horseradish, cream cheese, cheese and green onion.
From: foodlovinfamily.com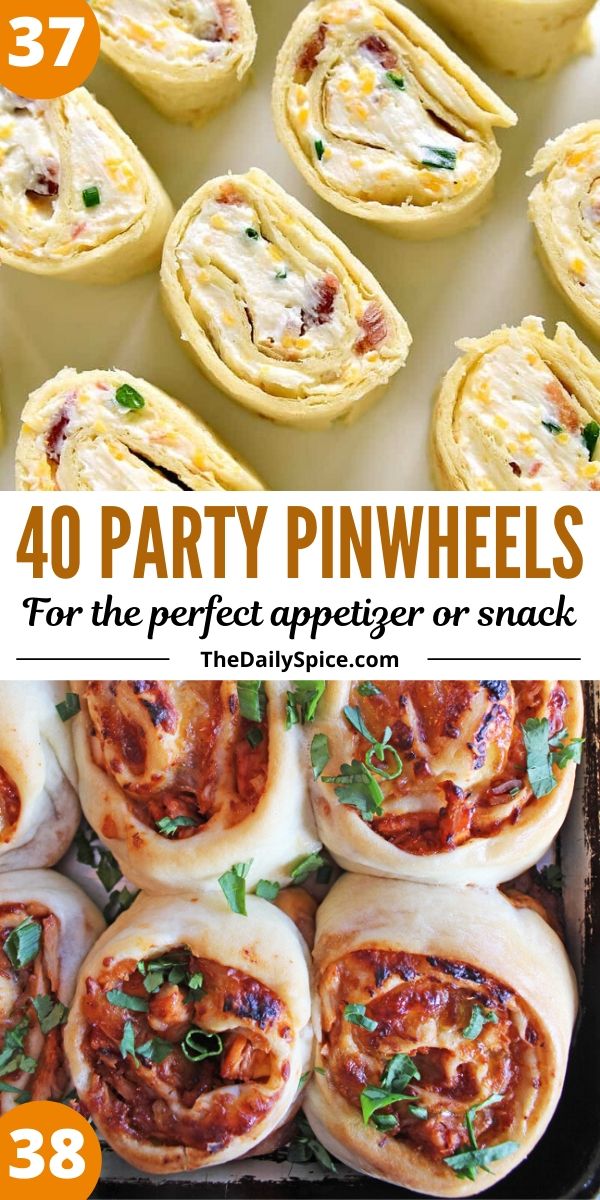 37. Bacon Cheddar Ranch Pinwheels
Loaded with bacon, cheddar cheese, and creamy ranch flavor, these easy roll-ups are sure to become a new favorite appetizer recipe.
Not only are they super quick and easy to make, but they're easy to transport, too. Which makes them perfect parties, picnics, or game days!
From: lemontreedwelling.com
38. BBQ Chicken Pinwheels
Made with yummy pizza crust, rotisserie chicken, bbq sauce and cheese. I mean, just look at that, do you need any more convincing?
From: jamiecooksitup.net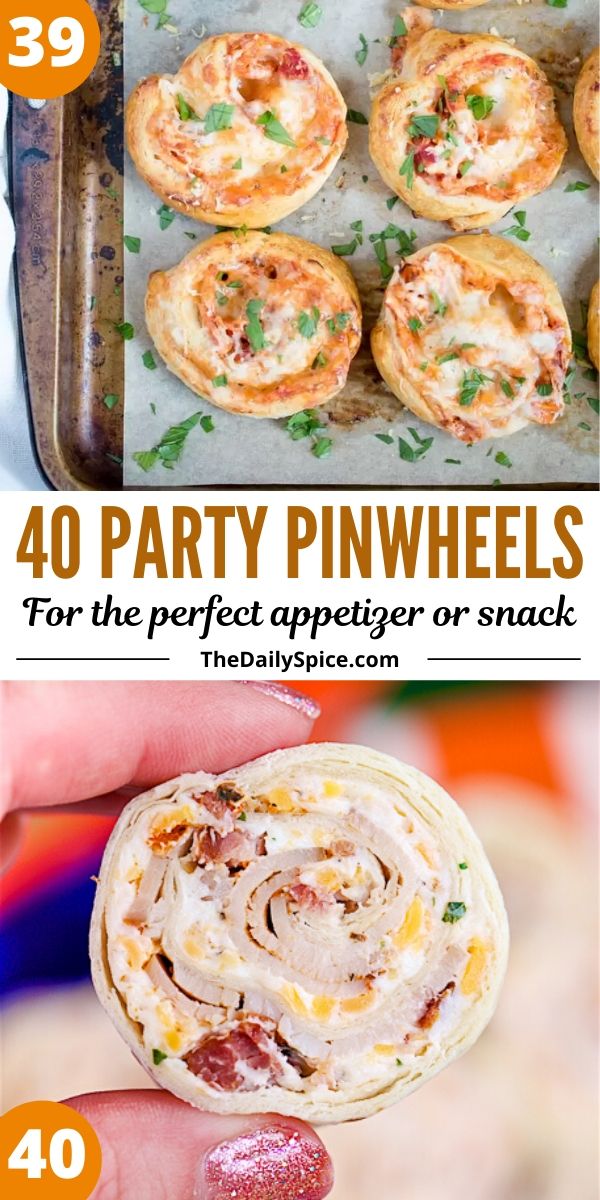 39. Chicken Parmesan Pinwheels
These Chicken Parmesan Pinwheels are a delicious way to enjoy those beloved Italian flavors without a lot of effort.
Festive enough for a Christmas appetizer and easy enough for a weeknight dinner.
From: yellowblissroad.com
40. Cracked Out Turkey Pinwheels
Cream cheese, cheddar, bacon, Ranch and turkey wrapped in a tortilla. How could anyone not love these?!
They are super easy to make and will keep for several days in the fridge.
From: plainchicken.com
Looking for more appetizer ideas? Be sure to check out these posts too:
Don't forget! Pin these Party Pinwheels for later!
Want to make some of these party pinwheels but don't have the time right now? Then pin it to your appetizers or party board on Pinterest so you can come back to it later!