Got yourself a new Spiralizer and looking to test it out with some yummy spiralizer recipes? Then we've got some great ones to share with you. We absolute love our spiralizer as it adds some variety and fun to our favorite recipes.
This post contains affiliate links. Please read our disclosures policy for more info.
15 Fun And Tasty Spiralizer Recipes
If you don't own a Spiralizer yet, you're seriously missing out! This one is definitely our favorite spiralizer to use as you don't have to manually twist your vegetables and risk spiralizing your fingers accidentally. (don't ask)
So try out some of these yummy recipes and let us know what you think! To view the full recipe for any of these please click on the link below the image!
1. Chipotle Sweet Potato Noodle Salad
SUPER good real food salad with a short ingredient list! This has cilantro, sweet potato, roasted corn, pepitas, and a homemade chipotle garlic dressing.
From: pinchofyum.com
2. Crispy Baked Spiralized Fries
These fries go well as a side dish, loaded with toppings, on top of salads, on top of burgers, or just as a snack.
They're crazy good!
From: inspiralized.com
3. 15 Minute Garlic Lime Cashew Zoodles
These 15 minute garlic lime cashew zoodles are a super easy and healthy vegan meal option.

From: saltandlavender.com
4. Butternut Squash Noodles with Cauliflower Alfredo
This creamy delight feels like an indulgence, but surprise! It's loaded with vegetables.
From the cauliflower Alfredo sauce to the butternut squash noodles, there's no shame in taking seconds.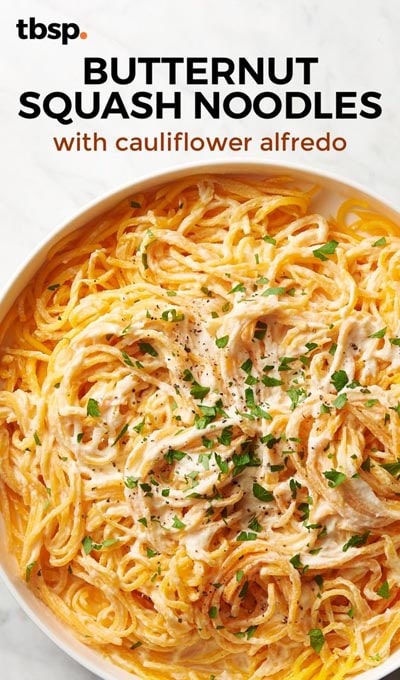 From: tablespoon.com
5. French Onion Zoodle Bake
French Onion Zoodle Bake has all the flavors of the classic French soup, but with a healthy, hearty twist!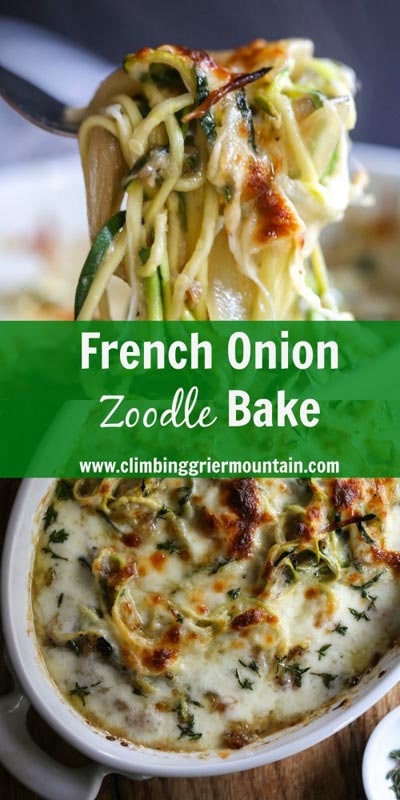 From: climbinggriermountain.com
6. Spiralized Zucchini Mac And Cheese
Mac and cheese just got a healthy makeover with this spiralized zucchini mac and cheese recipe!
Seasonal zoodles are coated with a vegan cheeze sauce and topped with a delicious oat crumble for your next weekday dinner!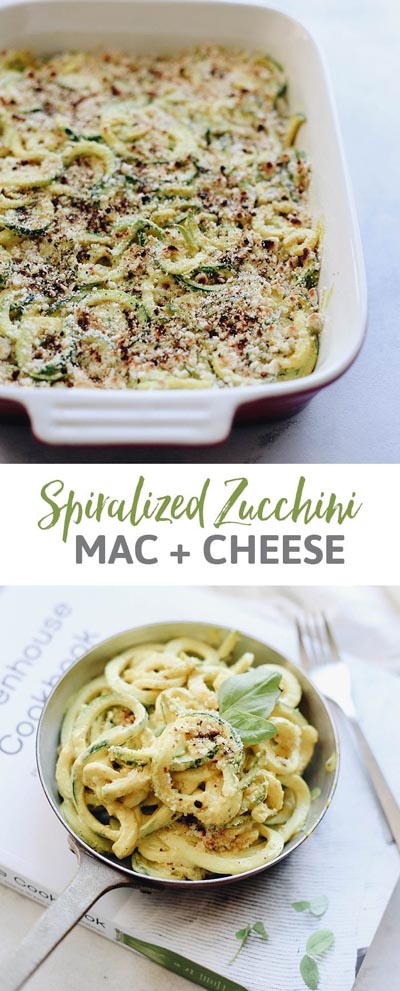 From: thehealthymaven.com
7. Spiralized Sweet Potatoes With Brown Sugar Honey Butter
This super easy recipe for Spiralized Sweet Potatoes with Brown Sugar Honey Butter is a beautiful side dish to any meal!

From: deliciouslittlebites.com
8. Flounder With Carrot Noodles
This tasty, pan-seared Flounder with Carrot Noodles is a simple and filling meal. It makes a perfect lunch or dinner, and you won't believe how delicious these carrot noodles are!
From: cooktoria.com
9. Sweet Potato Breakfast Nests
Stuff these little nests with sauteed spinach and pork breakfast sausage. Top with an egg and bake for the perfect grab and go bite.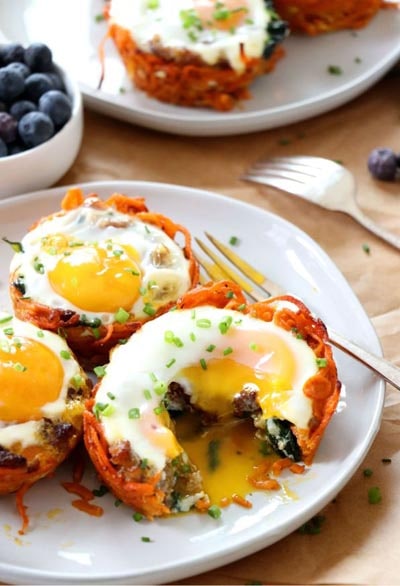 From: dashofsavory.com
10. Stir-fry Zucchini Noodles
Healthy Chicken Chow Mein Zoodles makes the perfect easy weeknight meal
Best of all, it takes under 30 minutes to make and is so much better than takeout!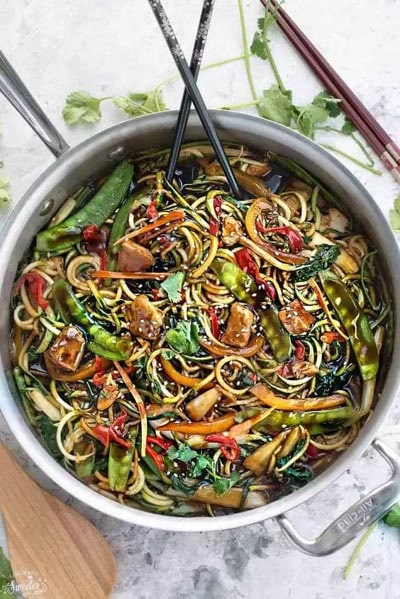 From: lifemadesweeter.com
11. Spiralized Sweet Potato Spaghetti Casserole
Lighten up a classic home cooked comfort food dish with spiralized sweet potatoes!
A simple wholesome gluten free/grain free spaghetti casserole ready in no time. Protein rich and veggie packed.
From: cottercrunch.com
12. Spiralized Apple Salad with Citrus Dressing
Healthy spiralized apple salad made in only 15 minutes! A refreshing salad topped with oranges, pecans, cheddar cheese, cranberries, sunflower and chia seeds.

From: jessicagavin.com
13. Spiralized Beet And Spinach Salad With Gorgonzola
The dressing is simple, and the salad is great for a light afternoon meal. It would also work well as a dinner, tossed with some quinoa or topped with some rosemary roasted chicken or maybe some grilled steak.
The beet noodles are roasted with thyme, which really brings out their earthy, robust flavor.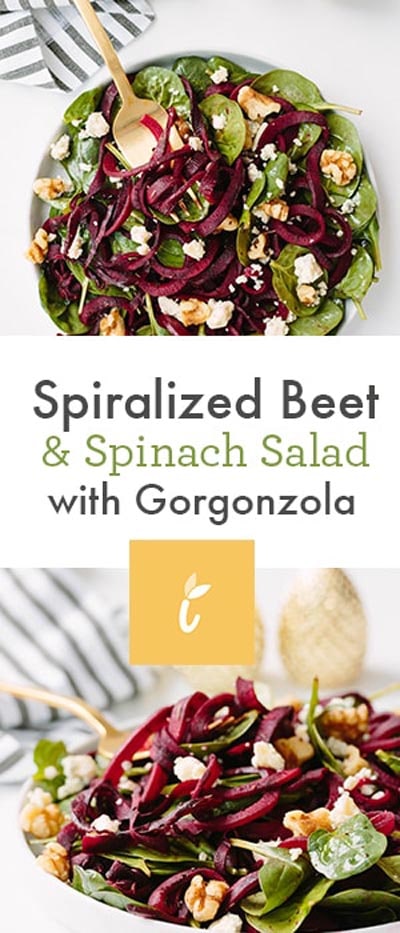 From: inspiralized.com
14. Singapore Zoodle Stir Fry With Chicken
A twist on the classic Singapore Noodles only low carb and low calories with Zoodles will leave your house smelling like a Chinese restaurant! Weight Watchers Smart Points: 6 per serve!
From: cafedelites.com
15. Lemon Garlic Zucchini Noodles
Zucchini noodles tossed in a simple garlic and lemon herb sauce is a very light and easy dish.

From: kirbiecravings.com
Pin these Spiralizer Recipes for later!
If you enjoyed these healthy spiralizer recipes and want to try them out at a later stage, don't forget to pin it to your recipes board on Pinterest!