If you're on the keto diet, or even a low carb diet, and wondering what to make for dinner, you've come to the right place. These easy keto casserole recipes are just what you're looking for!
They're nutritious, tasty and best of all – easy to make! That's what's best about these keto casserole recipes. On those busy days, you can simply whip up one of these recipes, pop it in the oven and have a tasty meal.
30 Easy and Yummy Keto Casserole Recipes
Low Carb Big Mac Casserole
Hope you enjoy these yummy keto casserole recipes. As always, please click on the link below each image to view the full instructions for any of these keto casserole recipes!
1. Creamy Bacon Garlic Spaghetti Squash
Easy whole30 creamy bacon garlic spaghetti squash bake. Paleo, healthy, and easy to make!
Get ready to dig into some serious delicious and healthy eats!!
From: paleoglutenfree.com
2. Keto Chili Cheese Dog Casserole
Wow! This is an excellent meal for introducing your family to a low-carb high-fat lifestyle because everyone loves hot dogs!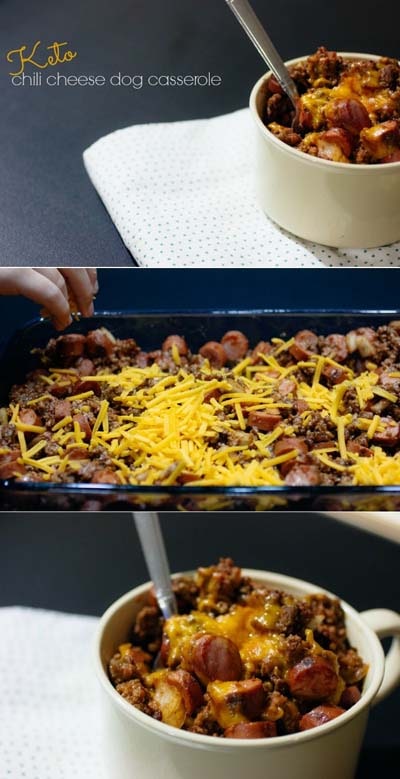 From: ketosizeme.com
3. Low-carb Green Bean And Mushroom Casserole
This delicious Low-Carb Green Bean and Mushroom Casserole recipe is perfect for the holidays! It can be part of a low-carb, LC/HF, keto, Atkins, diabetic, or Banting diet.

From: simplysohealthy.com
4. Keto chicken Garam masala
Meet your new favorite spice blend!
Garam masala makes every meal sing with earthy, punchy flavors.
Throw in silky coconut cream, sweet bell peppers and chicken, and you'll want to make this keto dish over, and over, again. And then over again!
From: dietdoctor.com
5. Cheesy Cauliflower Casserole
Loaded to the brim with gooey, cheesy goodness, this cheesy cauliflower casserole is the perfect low-carb and keto friendly macaroni and cheese substitute.
With only a handful of ingredients, this yummy filling side dish comes together with little effort on your part.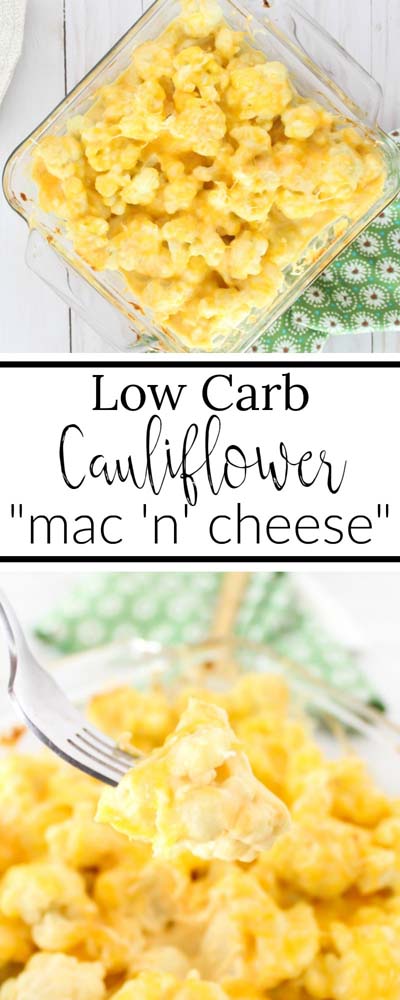 From: domesticallycreative.com
6. Pesto Caprese Chicken Casserole
Think keto and casseroles can't go together? Think again!
This casserole has layers of tender chicken, cheesy mozzarella and parmesan, tangy pesto, spinach, and roasted cherry tomatoes! Doesn't that sound amazing?
From: ketodietapp.com
7. Keto Taco Bake
My kids love tacos, and this Keto Taco Bake had them raving last night.
Now I will say this thing is like a fat bomb explosion. So if you having a hard time reaching your fat goals each day, wow, add this to your diet and you will NOT have that problem anymore.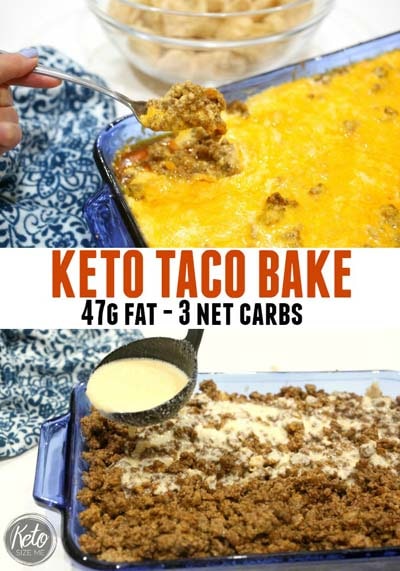 From: ketosizeme.com
8. Low-Carb Cauliflower Creamed Spinach
This recipe is definitely a family favorite.
Yes, I say that almost every time we post a recipe, but this time it's more true than the other times. I may or may not say that every time too, but that's besides the point.
From: livingchirpy.com
9. Low Carb Chicken Enchilada Casserole
This low carb chicken enchilada casserole recipe will be loved by everyone.
But the absence of tortillas makes it perfect for low carb or keto diets. You could add tortillas if you prefer as well.
From: 730sagestreet.com
10. Cheesy Smoked Sausage And Cabbage Casserole
Dinner doesn't get much easier than this Cheesy Smoked Sausage and Cabbage Casserole.
I guarantee it will go into heavy rotation in your home!

From: peaceloveandlowcarb.com
11. Buffalo Chicken Casserole
This Buffalo Chicken Casserole is creamy with just a hint of heat and very flavorful.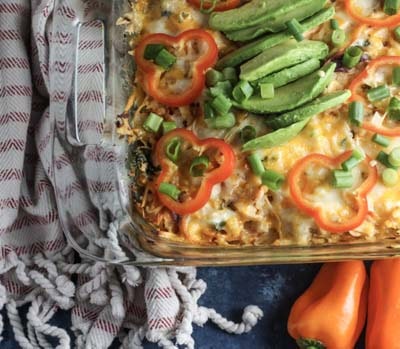 From: mincerepublic.com
12. Ham And Cauliflower Casserole Au Gratin
This Low-Carb Ham and Cauliflower Casserole Au Gratin is definitely a treat for low-carb comfort food!
And it's low-carb, Keto, low-glycemic, gluten-free and can be South Beach Diet friendly.

From: kalynskitchen.com
13. Zucchini Lasagna Recipe
Zucchini Lasagna is a delicious, low-carb, wheat-free and gluten-free lasagna that's loaded with vegetables.
It's SOOO good you won't miss the pasta!
From: skinnytaste.com
14. Cabbage Noodle Tuna Casserole
This is my low carb, gluten free take on a traditional classic.
You won't even miss the pasta.

From: peaceloveandlowcarb.com
15. Nacho Chicken Casserole
This is my Southwestern take on Shepherd's Pie.
It's got a great heat coming through from the chili seasoning, a good balance of acidity and sweetness from the tomatoes, and plenty of cheese to boot.
The cauliflower on top just adds a layer of fluffy goodness that lightens up what might be considered a heavy dish.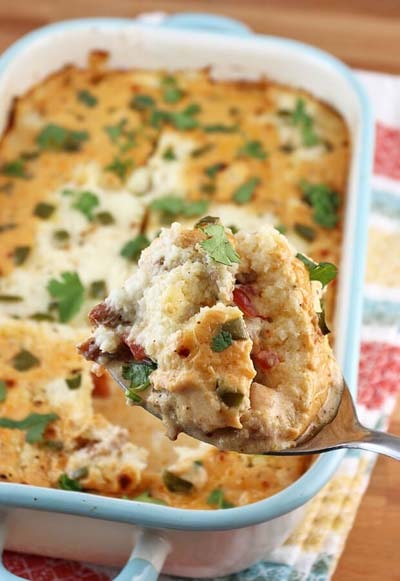 From: ruled.me
16. Zucchini Sausage Breakfast Bake
This flavorful sausage and egg low carb breakfast bake is a perfect brunch item, and it makes a great dinner too.
You can even make it ahead of time and rewarm it before serving.
Using coconut flour instead of wheat flour keeps this breakfast bake low carb and gluten-free.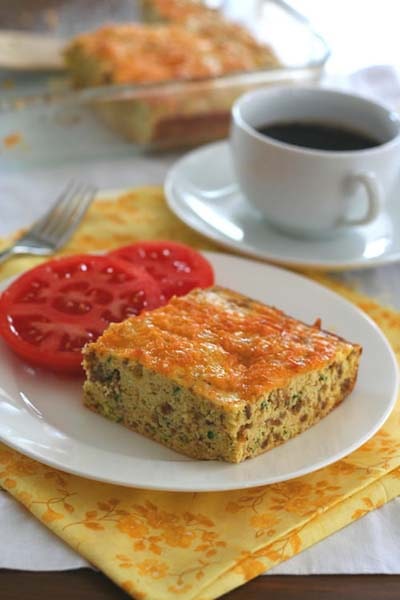 From: asweetlife.org
17. Creamy Cheesy Brussels Sprouts with Bacon
Roasted brussels sprouts with crispy bacon baked in a creamy cheese sauce.
Looking at the picture, need I say more?

From: diethood.com
18. Keto Chicken Broccoli Casserole
An easy Keto Chicken Broccoli Casserole that comes together quickly and tastes just like the chicken and broccoli casserole you remember from your childhood!
This recipe is low carb, sugar free, gluten free, grain free, keto-friendly, and a Trim Healthy Mama S Fuel.

From: mymontanakitchen.com
19. Low-carb Twice-baked Cauliflower
Low-Carb Twice-Baked Cauliflower is a side dish that everyone will love!
And this tasty dish is also Keto, low-glycemic, gluten-free, and South Beach Diet friendly

From: kalynskitchen.com
20. Chicken Bacon Ranch Casserole Recipe
A low carb, cheesy chicken bacon ranch casserole recipe that the whole family will love.
Quick and easy with just 7 common ingredients, 5 minutes prep, and options for 2 ways to make it.

From: wholesomeyum.com
21. Keto Spinach Artichoke Chicken
A keto friendly spinach artichoke chicken casserole.
Uses all of the delicious ingredients of a spinach and artichoke dip baked over chicken tenderloins.
From: sarcasticparent.com
22. Chicken Bacon Caesar Keto Casserole
With the bold flavors of garlic, parmesan, and bacon this easy keto casserole will please the most reluctant low carb eater.
It is easy, flavorful, and can be made ahead. You can even make it in a crockpot.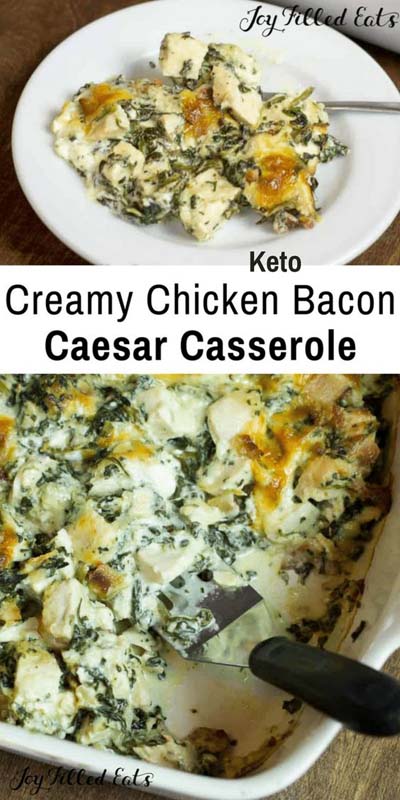 From: joyfilledeats.com
23. Loaded Cauliflower Casserole
Cauliflower casserole is a great low carb dinner recipe that also works well as a side dish. You're going to love our easy loaded cauliflower casserole recipe!
Our loaded cauliflower casserole is bursting with flavor. This casserole takes cauliflower to a whole new level thanks to yummy ingredients like sour cream, lots of cheese, and crispy bacon.
From: dearcrissy.com
24. Low Carb Breakfast Casserole
You can add veggies to this low carb breakfast casserole with sausage or serve it with a red sauce or a cream sauce.
Also, you could use a pie dish or double the recipe and make a much larger casserole. You can even bake it in a cast iron pan! The possibilities are endless!
Or, you can also slice this up to make it easy to reheat the slices for breakfast all week.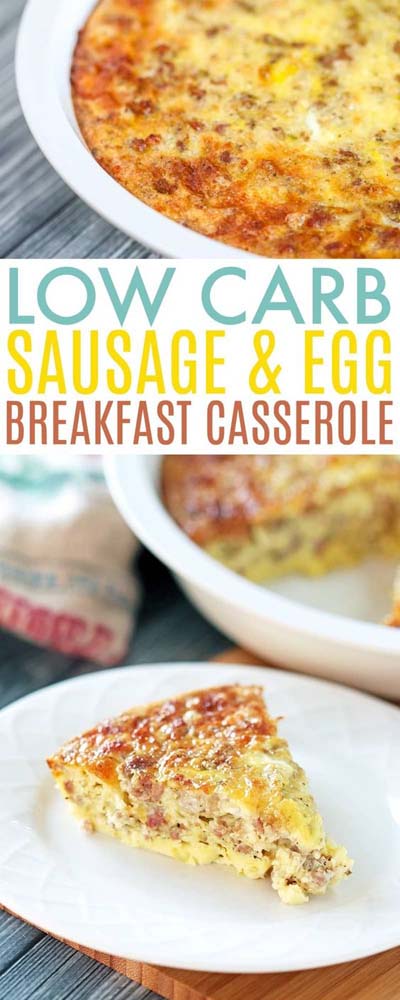 From: 730sagestreet.com
25. Broccoli Cauliflower Rice Chicken Casserole
This low carb and cheesy Broccoli Cauliflower Rice Chicken Casserole recipe is perfect for dinner and makes great leftovers. It's also gluten free!

From: isabeleats.com
26. Deconstructed Pizza Casserole
Serve hot and enjoy! And I promise this will hit the spot any time you're really craving pizza.

From: kalynskitchen.com
27. Sausage and Cauliflower Casserole
This casserole is straightforward and simple. It's tasty and nourishing. It highlights both veggies and protein.
It's a welcome shift away from creamy, soupy casseroles, with plenty of its own hearty ingredients and texture.
This wholesome sausage and cauliflower casserole will be a favorite new addition to your regular recipe rotation.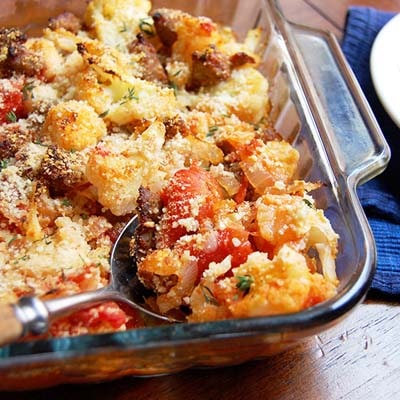 From: paleogrubs.com
28. Low Carb Big Mac Casserole
This Big Mac Casserole has all the flavor of a Big Mac. But without all the carbs and fast food additives! It comes kid and husband approved.

From: peaceloveandlowcarb.com
29. Chicken Cordon Bleu Casserole
This Chicken Cordon Bleu Casserole will knock your socks off.
It is so much easier than a traditional rolled and breaded cordon bleu and has even more flavor.
This has chicken, ham, and swiss in a creamy dijon sauce. And since you aren't breading or stuffing the chicken it is quick and easy.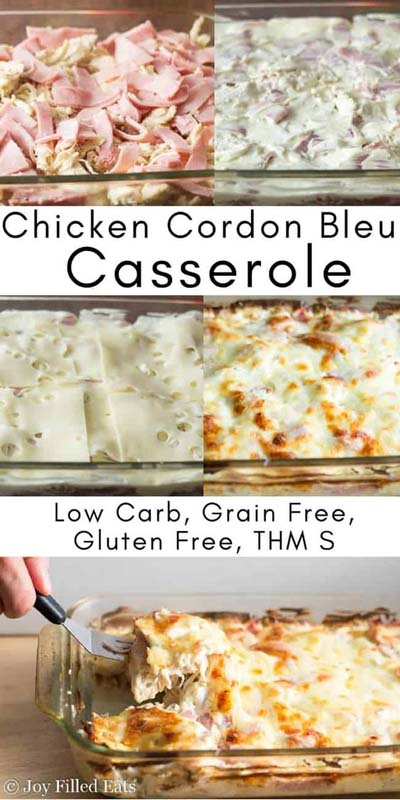 From: joyfilledeats.com
30. Easy Jalapeño Shrimp Veggie Bake
Spicy jalapeño shrimp veggie bake is low carb, grain free, and an easy to make recipe in under an hour!
Seasonal vegetables, lean protein, herbs, and spices, all cooked in casserole dish even cast iron skillet. A better for you gluten free casserole with shrimp and veggies! And a total crowd pleaser!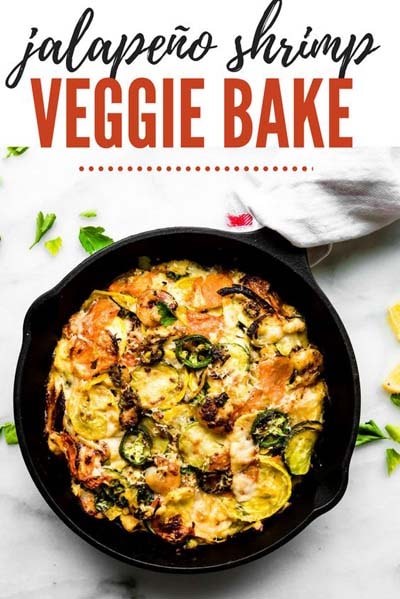 From: cottercrunch.com
Enjoyed this roundup of Keto Casserole Recipes? Then pin it for later!
If you enjoyed this roundup of keto casserole recipes, please remember to pin it to your keto board on Pinterest! That way you can always come back to it later if you need to!