Everyone get's that peanut butter craving sometimes right? I know I do. So to satisfy that craving in the best possible way, we've rounded up the best peanut butter desserts we could find.
Whether you're looking for peanut butter brownies, peanut butter cheesecake, peanut butter cookies, or even peanut butter ice cream, you're sure to find something you like!
---
PS: Don't forget to follow The Daily Spice on Pinterest for more awesome recipes and ideas!
---
Peanut Butter Desserts
Peanut butter goes great with anything. Okay maybe not anything, but most things. Like chocolate. Or ice cream. You get the idea.
Below you'll find all sorts of delicious peanut butter desserts and combinations. Hope you enjoy!
To view the full recipe for any of these, please follow the link below each image.
1. Outrageous Stacked Peanut Butter Brownies
These decadent bars are stacked with peanut butter cookie dough, peanut butter sandwich cookies, peanut butter cups and topped with a fudgy brownie batter for a seriously indulgent treat!

From: bettycrocker.com
2. No Bake Peanut Butter Bars
Don't get me wrong, I love every kind of peanut butter, and nut butter, under the sun. Whether it's the fancy stuff or the basic butter at the convenience store on the corner.
But for some reason I always feel that the best peanut butter for this recipe is the smoothest, most everyday peanut butter I can find. It makes for the incredible texture that Reese's are loved for.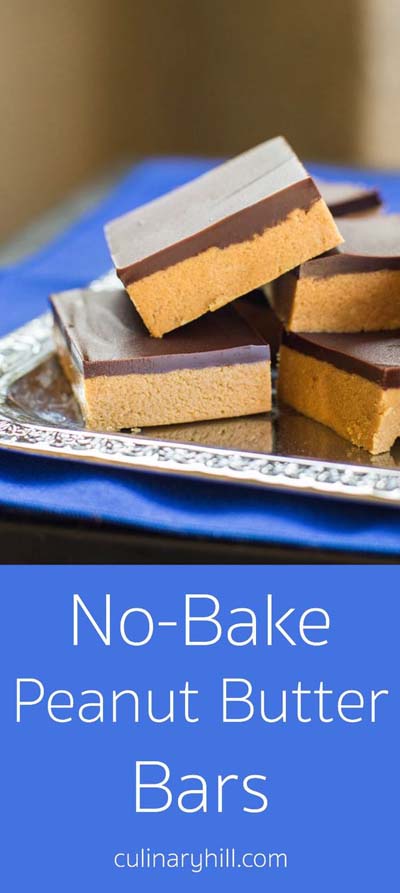 From: culinaryhill.com
3. Easy Peanut Butter Pie Recipe
Our easy no bake peanut butter pie recipe is sweet, creamy and completely delicious.
From: dearcrissy.com
4. Reese's Peanut Butter Cookie Cake
Are you ready to die and go to peanut butter heaven?!
Trust me, this Reese's Peanut Butter Cookie Cake will have you shouting for joy at all the amazing-ness.

From: everydayadventures.com
5. Lunchroom Peanut Butter Bars
A sweet peanut butter bar is topped with decadent milk chocolate and served up lunchroom style.
It's a no-bake blast from the past!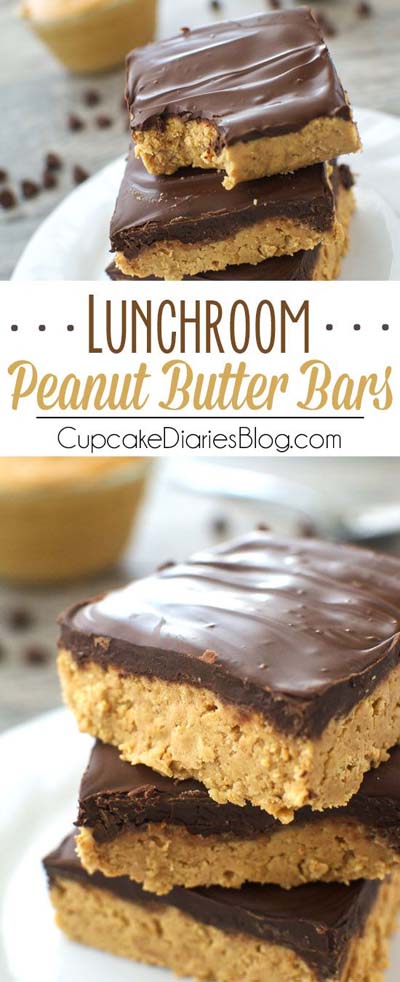 From: cupcakediariesblog.com
6. Peanut Butter-chocolate Chip Pie
This Peanut Butter-Chocolate Chip Pie is a simple, almost no-bake pie with big chocolate and peanut butter flavor.

From: bakeorbreak.com
7. Chocolate Peanut Butter Layer Dessert
Need a dessert that will feed a crowd?
Then this rich chocolate peanut butter layer dessert will do the trick. And the sweet and salty pretzel crust is amazing!

From: cucinadeyung.com
8. Peanut Butter Pie Jars
Layers of buttery graham cracker crust, peanut butter cream, chocolate ganache, and homemade whipped cream.
It is a chocolate peanut butter lover's dream!

From: modernhoney.com
9. Peanut Butter M&M Blondies
Sometimes I just want peanut butter and M&M's. Okay – not sometimes… I want them everyday.
So I decided to make something fast and easy so I could have these two amazing ingredients together.
Serve some right out of the oven with some ice cream on top. With the rest, let them cool and eat them the next day!
From: sixsistersstuff.com
10. No Bake Chocolate Peanut Butter Delight
This No Bake Chocolate Peanut Butter Delight is the perfect layered dessert recipe for the chocolate peanut butter lovers in your life!
From: farmwifecooks.com
11. The Ultimate Peanut Butter Cookie
These super soft and chewy peanut buttery cookies are stuffed with a peanut butter butterscotch truffle filling!
From: abajillianrecipes.com
12. Peanut Butter Buckeyes
Buckeyes, also known as Peanut Butter Balls, have a smooth peanut butter center and chocolate shell.
So make this simple buckeye recipe for your Christmas treat trays.
From: chocolatewithgrace.com
13. Perfect Peanut Butter Cookies
These incredibly thick and soft cookies are loaded with peanut butter and rolled in sugar.
They're my absolute favorite go-to recipe!
From: sprinklesomesugar.com
14. Peanut Butter Chocolate Mousse Brownie Cake
Get this show-stopper of a recipe for peanut butter chocolate mousse brownie cake.
It's rich, decadent, and totally amazing. And plus it can be made ahead of time!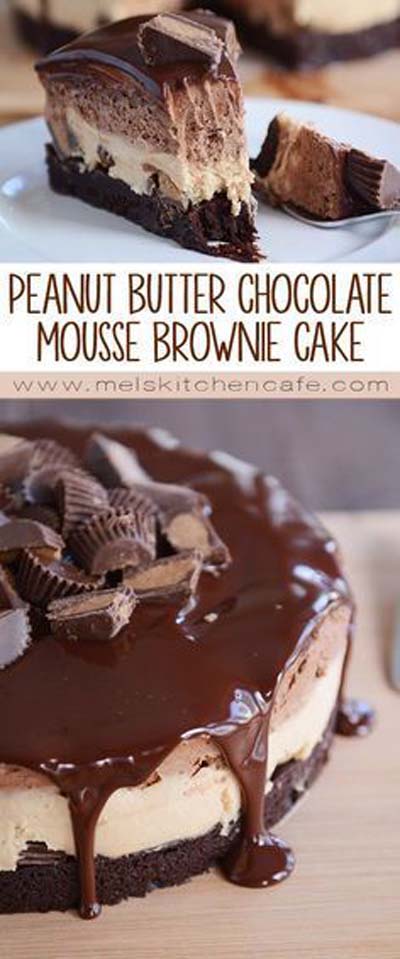 From: melskitchencafe.com
15. Easy Peanut Butter Fudge
This Easy Peanut Butter Fudge Recipe only has 4 ingredients….YAY!!
I've said before that it is my mission to share easy yet delicious recipes with you, so add this one to your list!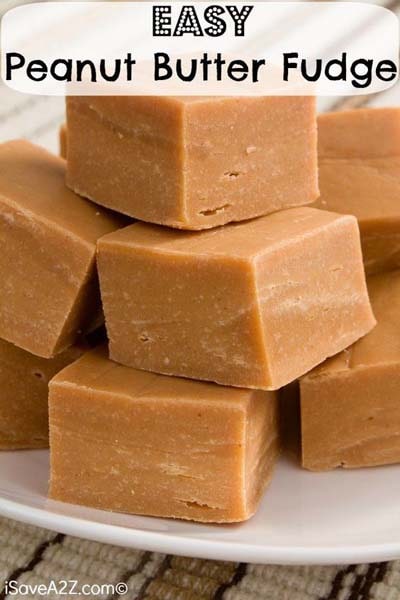 From: isavea2z.com
16. Peanut Butter Marshmallow Cookie Bars
Peanut Butter Marshmallow Cookie Bars are an easy and delicious dessert.
They are soft and chewy and loaded with Skor bits.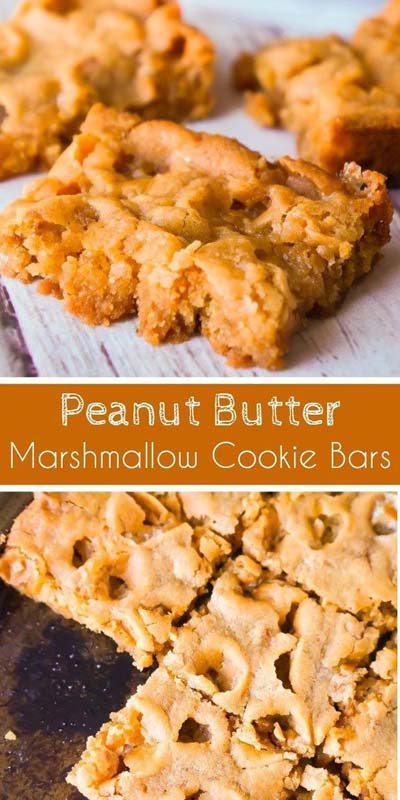 From: thisisnotdietfood.com
17. Peanut Butter Cupcakes
Fluffy, moist peanut butter cupcakes topped with creamy peanut butter frosting.
These are the perfect cupcakes for true peanut butter lovers.
From: justsotasty.com
18. No Bake Vegan Peanut Butter Balls
With only 3-ingredients and no added sugar, these are everything you need in a healthy peanut butter snack!
From: bakingyouhappier.com
19. 3 Ingredient Peanut Butter Cookies
3 Ingredient peanut butter cookies are super simple to make and they are the best peanut butter cookies I've ever had!
These are a must make!
From: backforseconds.com
20. Frozen Peanut Butter Pie
Guys, we're total peanut butter addicts over here.
This frozen peanut butter pie is a delicious (almost) no-bake treat that's perfect for warm weather.
If you love sweet and salty desserts, this one's for you!
From: lilluna.com
21. Peanut Butter Banana Ice Cream
This is a yummy smooth and velvety peanut butter banana ice cream.
And it's made with just 2-ingredients and a food processor!
It's so good you'd never suspect it's healthy too! Simple, delicious, vegan and gluten-free.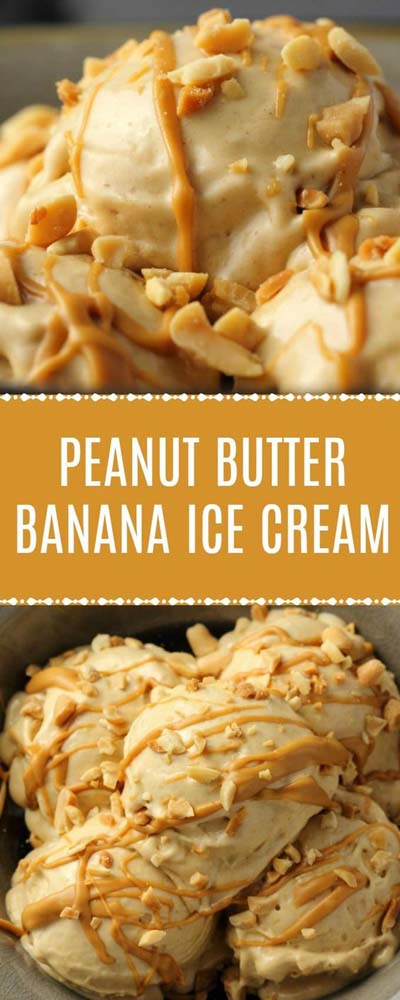 From: lovingitvegan.com
22. Brownie Bottom Peanut Butter Cheesecake
This decadent cheesecake is a peanut butter dream!
It's the perfect sinful cheesecake for large gatherings or "just because."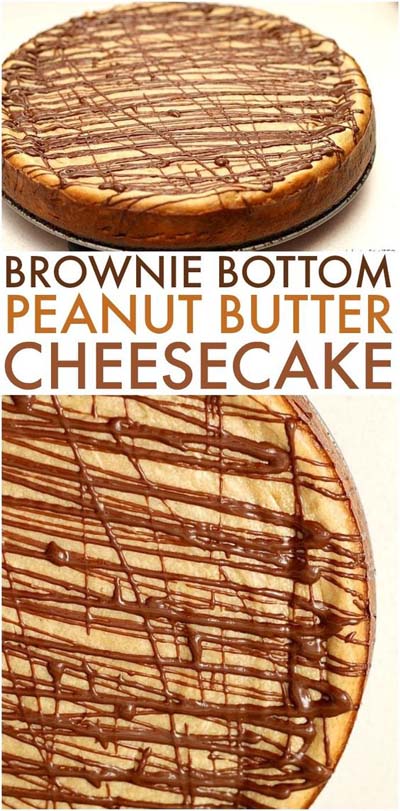 From: persnicketyplates.com
23. Easy Banana Peanut Butter Ice Cream Bars
You are going to love these super easy banana peanut butter ice cream bars!
And they are ridiculously easy to make & only have 5 ingredients (plus salt)!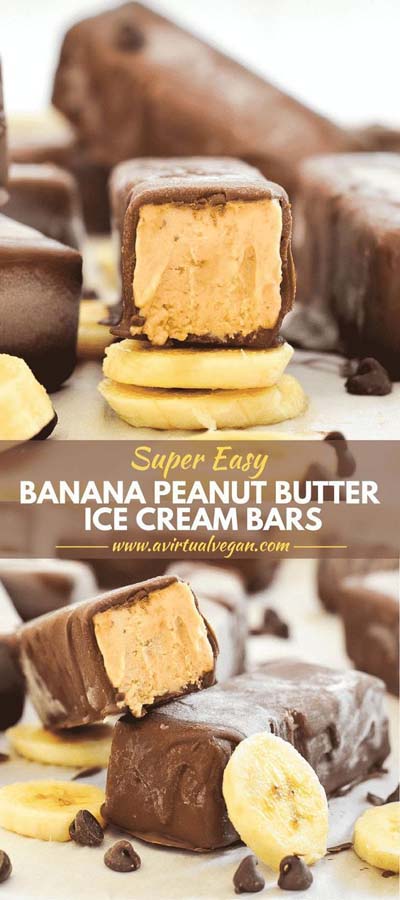 From: avirtualvegan.com
24. Chocolate Chunk Peanut Butter Cookies
Ultra thick soft batch peanut butter cookies loaded with chocolate chunks!
These go perfect with a cup of coffee or a cold glass of milk.

From: bakerbynature.com
25. Peanut Butter & Jelly Cookie Cups
Good old peanut butter and jelly sandwiches. It's a childhood favorite for many.
There is just something so comforting about that peanut butter and jelly combination.
And I often reach for it if I'm feeling a bit snackish or just need some comfort food.
From: livforcake.com
26. Easy Chocolate Peanut Butter Fudge
This yummy fudge is made with just four wholesome ingredients!
This refined sugar free and vegan fudge is incredibly smooth, creamy, and melts in your mouth.
From: bakerita.com
27. Chocolate Covered Peanut Butter Crunch Balls
Satisfy your chocolate and peanut butter cravings with these easy Chocolate Covered Peanut Butter Crunch Balls!
This delicious candy is great for the holidays and cookie trays!

From: momontimeout.com
28. Peanut Butter Pretzels
Peanut Butter Pretzels are a simple treat my family went nuts over!
They're super easy to make and oh my word- once you taste them, prepare yourself to be obsessed.
I love a good peanut butter recipe and these are SO good.

From:  butterwithasideofbread.com
29. Peanut Butter Brownies
These peanut butter brownies are a rich chocolate base topped with peanut butter frosting and a layer of fudge.
A dessert that looks fancy but is actually super easy to make!
From: dinneratthezoo.com
30. Peanut Butter S'mores Cookie Bars
These peanut butter s'mores cookie bars are made with a chewy, graham cracker infused peanut butter cookie base, mini marshmallows and real milk chocolate!
And they taste so amazing!
From: sugarspunrun.com
31. Peanut Butter Chocolate Layer Cake
This Peanut Butter Chocolate Layer Cake is made with layers of moist chocolate cake, peanut butter frosting and chopped Reese's!
It's rich, delicious and so fun!
From: lifeloveandsugar.com
32. Chocolate Peanut Butter Oatmeal Bars
For chocolate peanut butter fans, these oatmeal bars can't be beat!
Super yum! And, they are really easy to make!

From: momendeavors.com
33. Chocolate Peanut Butter Trifle
With this many layers of sweet goodness, you can never go wrong!
From: astepinthejourney.com
34. Peanut Butter Cinnamon Rolls
If you like peanut butter, you'll love these Peanut Butter Cinnamon Rolls.
A rich egg yeast dough is filled with gobs of peanut butter and chocolate chips, making for a breakfast your family will love!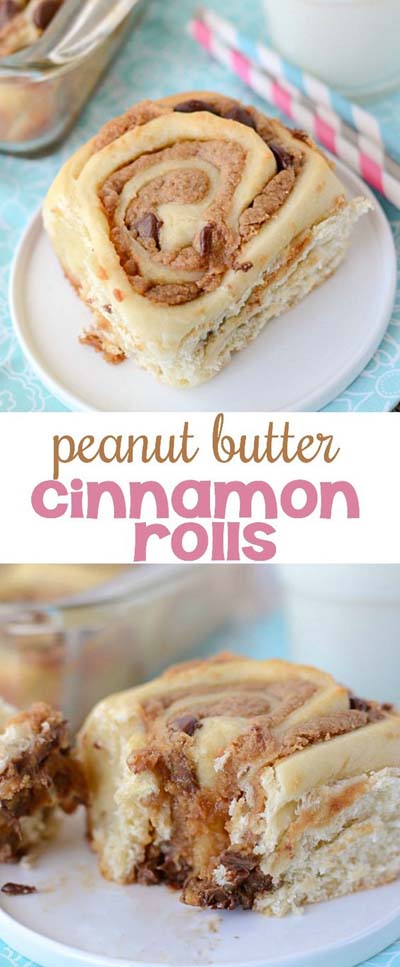 From: crazyforcrust.com
35. Peanut Butter Muddy Buddy Cookies
Guys, you are going to love these peanut butter muddy buddy cookies!
Muddy buddies are one of my favorite treats to make and now they are in cookie form!
Peanut butter, chocolate and powdered sugar make this delicious cookie.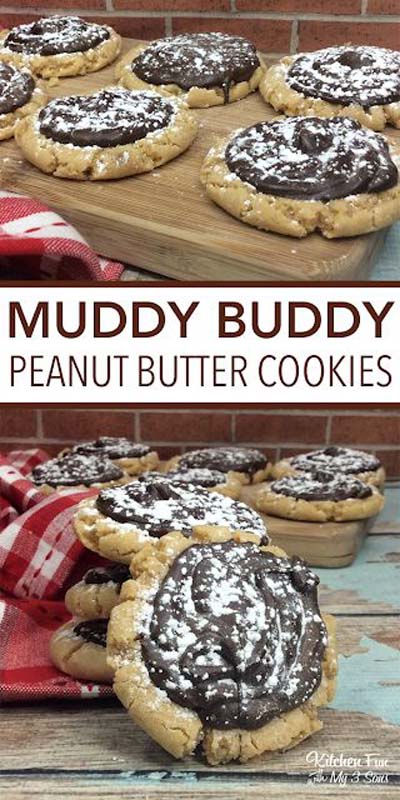 From: cakecooking-recipes.blogspot.com
36. Peanut Butter Cup Brownies
Yep, All American Dream Brownies!
These peanut butter cups and thick, fudgy chocolate brownies are definitely worthy!
From: thebakingchocolatess.com
37. Best Peanut Butter Buttercream Frosting
Looking for something unusual to top your chocolate cake or cupcakes?
Then how about this amazing Peanut Butter Buttercream Frosting?
You won't be sorry!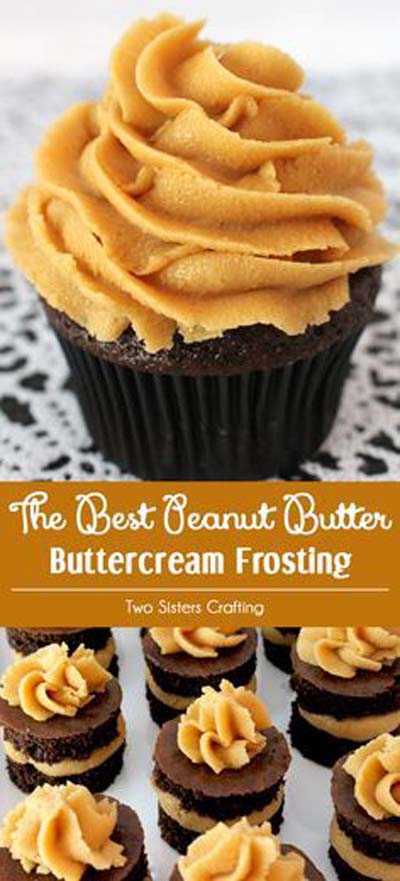 From: twosisterscrafting.com
38. 3 Ingredient Peanut Butter Caramel
This caramel was inspired by the filling of those peanut butter cups, but the amounts have been adjusted and then heated over the stove.
It turned out to be the most easiest, dreamiest peanut butter caramel ever.
From: thevegan8.com
39. Chocolate Peanut Butter Mini Pies
These Chocolate Peanut Butter Pies can be made ahead and put in the freezer. So they are the ideal stress free entertaining or special occasion dessert!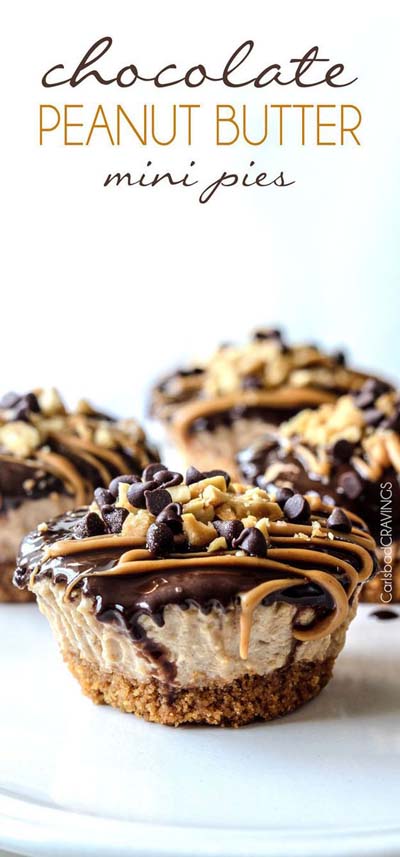 From: carlsbadcravings.com
40. Peanut Butter Banana Nice Cream
This banana nice cream flavored with peanut butter and chocolate chips is an easy, healthier, vegan ice cream dessert recipe.
And one that's actually made with real food ingredients!
From: yummymummykitchen.com
Enjoyed these Peanut Butter Desserts? Then pin it for later!
Hope you enjoyed these peanut butter desserts. If you did, then please take a moment to pin it to your desserts board on Pinterest!
Also, don't forget to follow The Daily Spice on Pinterest for more awesome recipes and ideas!