Get dinner ready without a hassle with these tasty crockpot dinner recipes. These crockpot recipes are super easy to make, just throw everything together in your crockpot and let it do a
30 Delicious Crockpot Dinner Recipes
Enjoy these 30 quick and easy crockpot dinner recipes. Please click on the link below each image to view the full recipe.
1. Crockpot Roasted Garlic Butternut Squash Soup
Unbelievably smooth, creamy, and flavorful, this comforting butternut squash soup makes itself completely in the crockpot and you'll never believe it's only 110 calories per bowl!

From: wholeandheavenlyoven.com
2. Crock Pot Chicken And Dumplings
Chicken and Dumplings are probably the ultimate comfort food. Tender juicy shredded chicken and soft dumplings in a rich creamy brothy gravy.
From: spendwithpennies.com
3. Crock Pot Cheesy Potato Soup
This easy, cheesy potato soup recipe is the perfect comfort dish for those chilly winter months or anytime you're craving something delicious!
From: dearcrissy.com
4. Easy Biscuit Chicken Pot Pie
Need an idea for an easy comfort food meal? Then this easy biscuit chicken pot pie recipe is a great one. It's one of those meal ideas where you pretty much just throw things in the pot and go about your day.

From: writtenreality.com
5. Slow Cooker Honey Garlic Chicken And Veggies
The easiest one pot recipe ever. Simply throw everything in and that's it! No cooking, no sauteeing. SO EASY!

From: damndelicious.net
6. Slow Cooker Cheesy Chicken Penne
Heaven on a plate! Plenty of sauce to coat all the noodles. I highly recommend this meal for an easy weeknight meal.

From: themagicalslowcooker.com
7. Slow Cooker Balsamic Chicken
Slow cooker balsamic chicken is easy to prep with just a few ingredients for a simple weeknight dinner that has big flavor!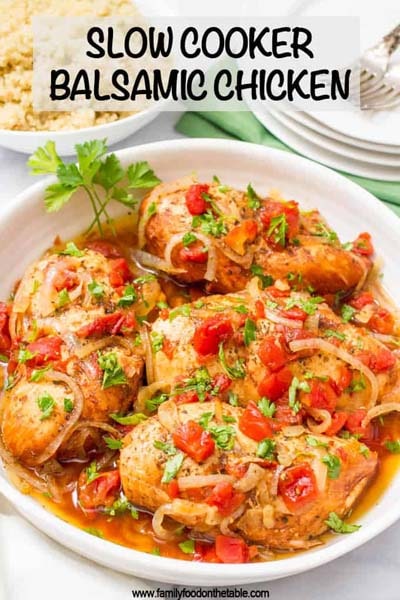 From: familyfoodonthetable.com
8. Classic Slow Cooker Pot Roast
No matter the temperature outside, this classic slow cooker pot roast is exactly what your belly is craving. It's a healthy, homemade meal that comes together quickly and cooks while you're away. Come home and dinner is done!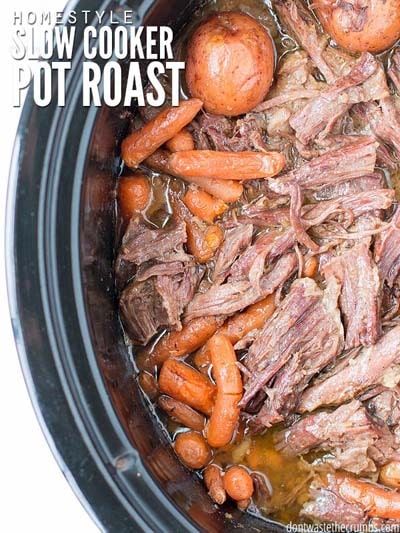 From: dontwastethecrumbs.com
9. Creamy Crockpot White Chicken Chili
This crockpot white chicken chili is made easy in the slow cooker, and has just the right amount of spice to warm up your night!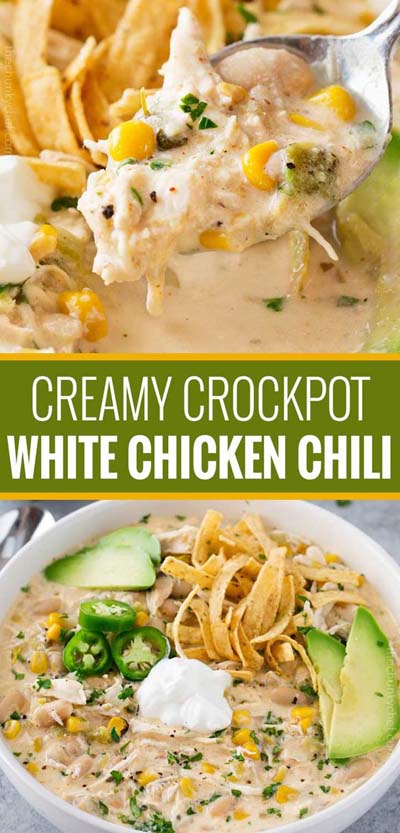 From: thechunkychef.com
10. Easy Slow Cooker Lasagna
This crock pot lasagna is possibly the easiest lasagna you will ever make. A few minutes of stove top cooking for the meat and onions, and then into your slow cooker everything goes. Dinner will be ready when you are!
From: kristineskitchenblog.com
11. Crock Pot Beef Stroganoff
A fast and easy Crock Pot Beef Stroganoff that takes just a few minutes of prep work for a fantastic, hearty, family friendly meal. This is one of the most popular recipes on my site with hundreds of thousands of shares and positive reviews. There is a reason this recipe is well-liked. Easy, flavorful, and hearty. It is a family favorite.

From: eazypeazymealz.com
12. Crock Pot Smothered Pork Chops
It's one of those recipes that is so easy, you think people may not look twice at it because the ingredients are so simple, but man, it is so good!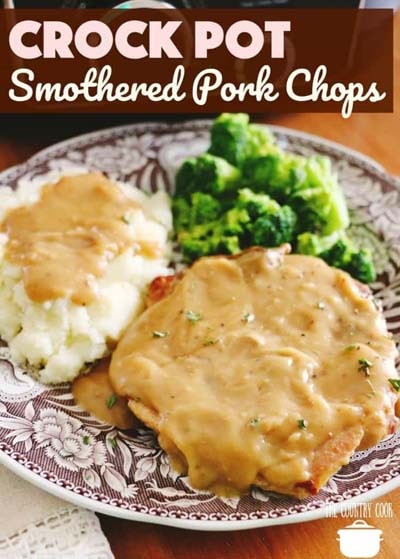 From: thecountrycook.net
13. Slow Cooker Angel Pork Chops
These Slow Cooker Angel Pork Chops were a huge hit in our house! They are some of the best pork chops I've ever made. The pork chops are so tender and full of amazing flavor!
From: plainchicken.com
14. Slow Cooker Buffalo Chicken Chili
Slow Cooker Buffalo Chicken Chili is delicious, simple and award winning! This is the go-to when you are tired of boring chili recipes!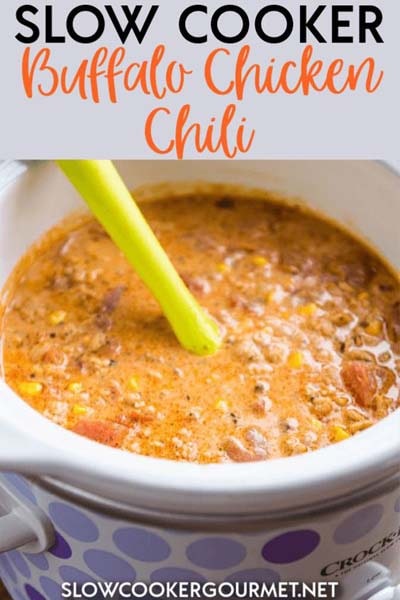 From: slowcookergourmet.net
15. Slow Cooker Cheesy Buffalo Chicken Pasta
The most decadent, amazing and delicious meal to ever come out of your slow cooker! This Slow Cooker Cheesy Buffalo Chicken Pasta continues to get rave reviews! See why for yourself!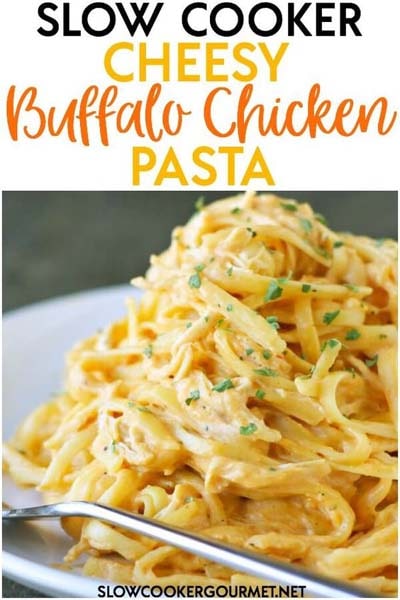 From: slowcookergourmet.net
16. Slow Cooker Chicken And Mushroom Stroganoff
Slow Cooker Chicken and Mushroom Stroganoff takes just minutes to throw in the slow cooker! It is so creamy and delicious and will become an instant family favorite!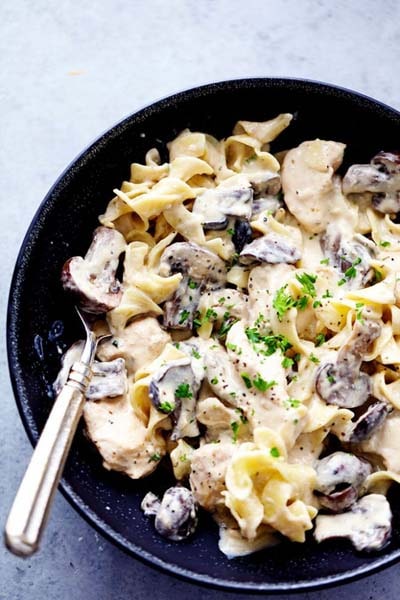 From:  therecipecritic.com
17. Crockpot Sausage & Potatoes
Crockpot Sausage & Potatoes is such an easy dinner idea with only five ingredients! Plus it will leave your house smelling amazing as it cooks all day!
From: diaryofarecipecollector.com
18. Creamy Crockpot Chicken Stuffing and Green Beans
This Creamy Crockpot Chicken Stuffing and Green Beans is the one-pot hotdish at its best. It literally takes only a few minutes to put it together.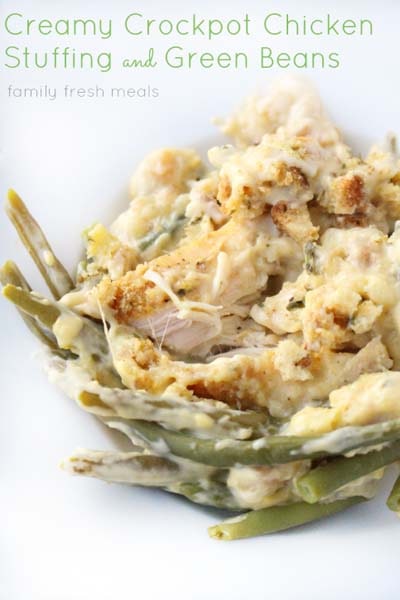 From: familyfreshmeals.com
19. Easy Crockpot Creamy Chicken Enchilada Chili
The absolute BEST Crockpot Creamy Chicken Enchilada Soup. Dump it and forget about it meal!

From: chelseasmessyapron.com
20. Crock Pot Chicken Broccoli Alfredo
What's not to like? This is crazy easy, and we all love Alfredo. We'll make this again for sure. I used fresh broccoli, and it needed a little longer cook time than frozen, but I planned for that and it was perfect.
From: funnyisfamily.com
21. Crockpot Chicken Marsala Recipe
This light and amazing Crockpot Chicken Marsala makes an amazing family supper. So good, you could even make it for a dinner party or date night! The chicken is full of flavor and extremely tender after being in the crockpot for hours. This is a must try!
From: momswithcrockpots.com
22. Slow Cooker Pesto Mozzarella Chicken Pasta
What I love about this meal is how there is not much prep to do to get this in going in the crock pot. Putting the chicken and sauce ingredients in the crock pot takes less than 10 minutes.

From: themagicalslowcooker.com
23. Crock Pot Beef Stew
Serve up a hot meal without the fuss for your family tonight. This crock pot beef stew is the perfect easy comfort food. It is simple to prepare in the slow cooker, made entirely from scratch for a healthy dinner! It is the best kind of meal you can sit down to!
From: savorynothings.com
24. Healthy Slow Cooker Chicken Potato Soup
Chicken Potato Soup is so comforting, and this healthy slow cooker soup recipe is so tasty too. Don't you love meals that feel and taste super naughty, but aren't?

From: aspicyperspective.com
25. Slow Cooker Chicken Parmesan Casserole
My whole family loved this slow cooker chicken parmesan casserole. And so easy to make!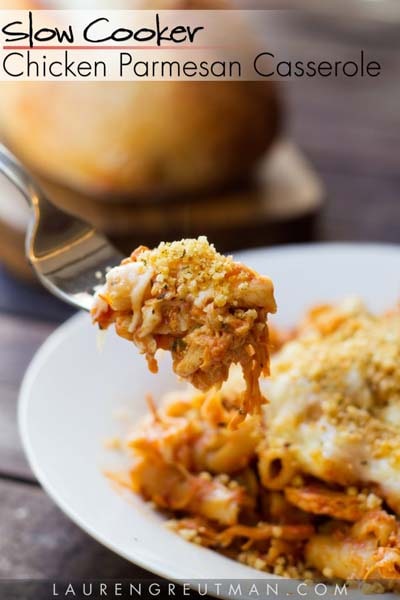 From: laurengreutman.com
26. Easy Creamy Mushroom Chicken
Calling all MUSHROOM lovers! This recipe is just too easy to pass up. You can add more or less chicken depending on how many people you're serving, but it's also good leftover. I prefer to serve it with wild rice and salad, but it would go well with just about anything.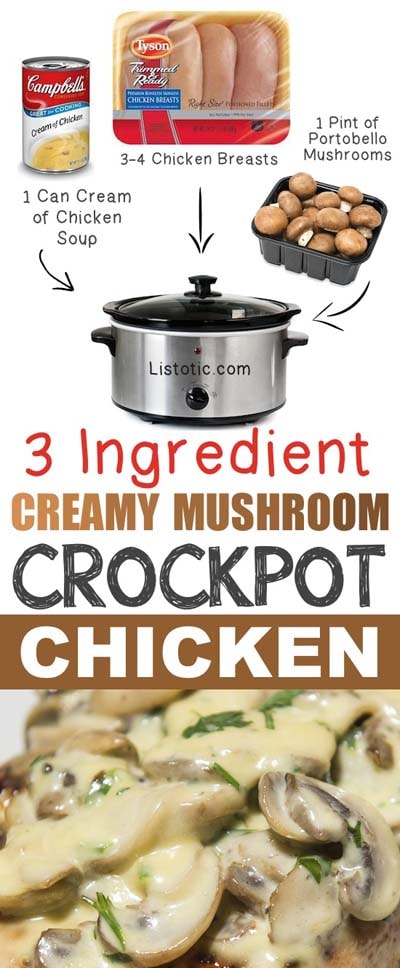 From: listotic.com
27. Crock Pot Ham With Brown Sugar Glaze
This crock pot ham is a spiral cut ham topped with a 3 ingredient glaze, then slow cooked to perfection. This is the BEST way to make your holiday ham, the slow cooker does all of the work!
From: dinneratthezoo.com
28. Slow Cooker Chicken Parmesan Pasta
Save time and effort and make everyone's FAVORITE Italian dish in your crockpot. You can also freeze half for another meal!

From: damndelicious.net
29. Crockpot Ravioli
Because of all of the baking I have been doing, quick and easy meals for my family have been a necessity. That means I have been using my crock pot a lot. This recipe was a great one. The ravioli cooked up quickly and it was tasty. It was great as leftovers, as well.
From: pipandebby.com
30. Creamy Chicken Noodle Soup Recipe
This creamy chicken noodle soup loaded with tender shredded chicken, plump noodles, and healthy vegetables. It's hearty, delicious and loved by everyone who tries it!
From: natashaskitchen.com
Loved these Crockpot Dinner Recipes? Then pin it for later!
If you enjoyed these crockpot dinner recipes, we would love you forever if you would take a moment to share this post to your food and recipes Pinterest boards!