Warm yourself up this winter by making these delicious chili recipes. Best of all, they really aren't a lot of effort to make!
40 Tasty Chili Recipes
Enjoy these easy Chili recipes. To view the full instructions for any of the recipes, please click on the link below each image.
1. Slow Cooker Tailgate Chili
Slow Cooker Tailgate Chili is the perfect chili for feeding a crowd or watching the game!
Simple, full of flavor and easy to make and take!

From: slowcookergourmet.net
2. Slow-Cooker Three Bean Chili
This Slow Cooker Three Bean Chili recipe also happens to be vegetarian, and EASILY vegan if you skip the sour cream and cheese garnish. You're probably thinking say what?
It's so warm, comforting and and delicious, it doesn't even need meat. All right you guys, bust out that slow cooker!!!

From: aberdeenskitchen.com
3. Sweet Potato Black Bean Chili
Our family's favorite chili! This Sweet Potato Black Bean Chili is super easy to make and full of rich, cozy flavors. Total soul-warming comfort food!

From: thegardengrazer.com
4. White Bean Chicken Chili
White bean chicken chili simmered in a crockpot with whole roasted jalapenos, tender beans, corn, and lean chicken breast. This recipe is fantastic if I don't say so myself!
From: jessicagavin.com
5. Crockpot Chicken Enchilada Chili
A simple and tasty creamy slow-cooked chicken enchilada chili. No cream of "x" soups needed!
From: chelseasmessyapron.com
6. Creamy Slow-Cooker White Chicken Chili
This creamy white chicken chili is made super easy in your slow cooker! Creamy with plenty of spice, it's the perfect companion on a chilly night!
From: thechunkychef.com
7. Queso Chicken Chili
This creamy and delicious Queso White Chicken Chili is the perfect bowl of comfort. Grab a bowl of this and enjoy some TV for a perfect night in!
From: lydioutloud.com
8. Clean-Eating Turkey Chili
I love healthy, clean eating recipes and I wanted to share one of my favorite quick clean eating meal ideas – this clean eating turkey chili recipe that you can make in your slow cooker!
From: dearcrissy.com
9. Cincinnati Chili
Deliciously hearty, this Cincinnati Chili is a unique chili recipe served over spaghetti and topped with cheese, onions or beans or a combination of the 5!
From: tornadoughalli.com
10. Healthy Sweet Potato Ground Turkey Chili
Sweet potato ground turkey chili is a healthy and quick gluten free dinner recipe that is full of black beans, corn, and lots of chili flavor!

From: evolvingtable.com
11. Buffalo Chicken Chili
This Buffalo Chicken Chili features all the flavors of your favorite finger food in a spicy chili. It's a healthy, hearty way to enjoy buffalo wings in a new way!

From: platingsandpairings.com
12. Butternut Squash Chili
This Butternut Squash Chili is made for all those chilly evenings. Gather the family around the table and warm up with a delicious bowl of this hearty and healthy dinner.
From: chewoutloud.com
13. Award-Winning Texas Chili
In all honesty this is my all time faovirte chili recipie and its always a go to when I dont know what to cook for dinner!
This is has always been a family favorite. Its a very simple and cheap meal to make.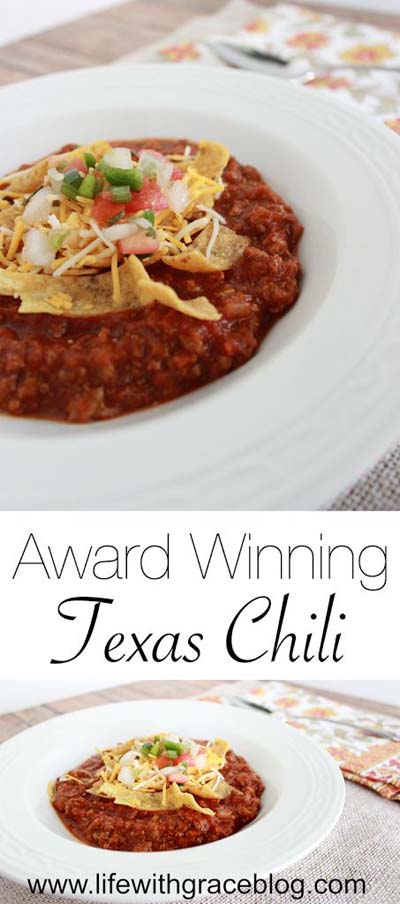 From: lifewithgraceblog.com
14. Roasted Red Pepper Chicken Chili Recipe
Slow cooker Roasted Red Pepper Chicken Chili Recipe, a rich and tangy chili, yet easy on your waistline. Perfect for new year resolutions!

From: aspicyperspective.com
15. 20-Minute Texas Style Chili
This Texas style chili is bursting with meat and spice and only takes 20 minutes to come together. Perfect for game days or an easy weeknight family dinner!

From: houseofyumm.com
16. Slow Cooker Beef Chili
An easy, classic slow cooker beef chili that takes no effort at all and is a perfect winter meal your family will love for dinner or for a game day treat!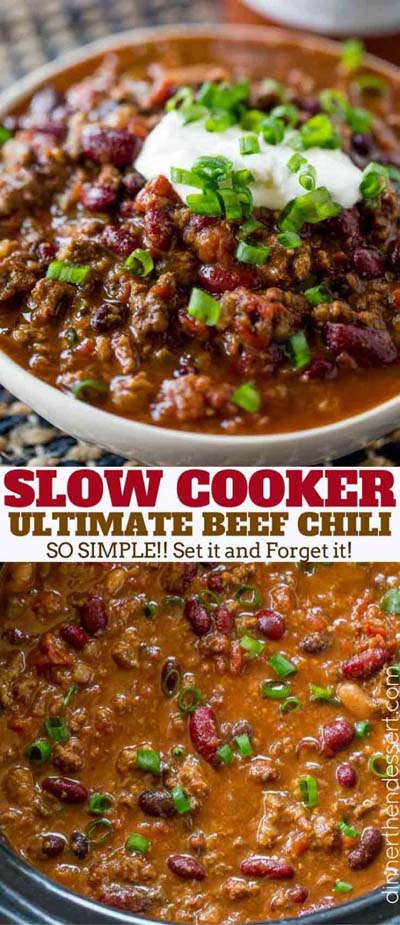 From: dinnerthendessert.com
17. White Bean Sausage Chili
Pork sausage and white beans in a seasoned broth, finished off with both cream and sour cream for a delicious, hearty chili the whole family will love.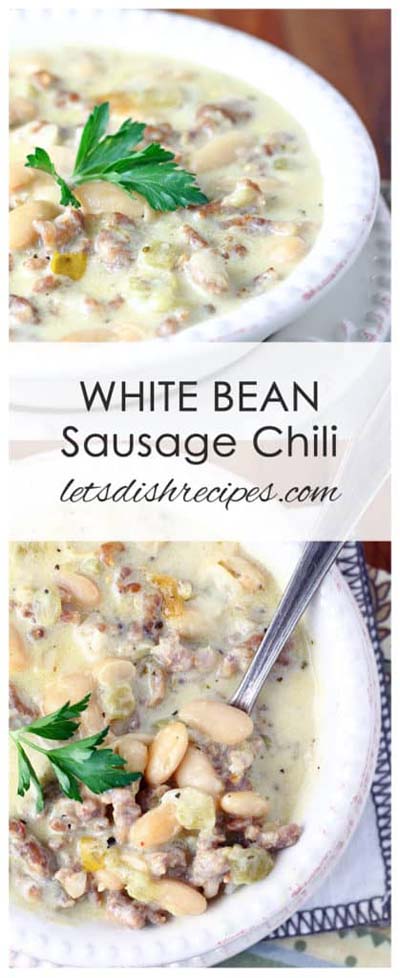 From: letsdishrecipes.com
18. Spicy Crock Pot Chili
There's nothing better than a good crockpot chili recipe. You get the ingredients prepped, throw it all in the crock pot and by the time everyone is home from their day you have a wonderful batch of chili on the table in a matter of minutes!
From: dadwithapan.com
19. Loaded Slow-Cooker Chili
This recipe is fool proof because you cut up peppers and onions and dump all of the ingredients into the slow cooker!
Just shop, cut, dump, and slow cook! Five hours later, you have a delicious, filling meal to serve those hungry guys.
From: noplatelikehome.com
20. Crock Pot White Chicken Chili
Crock Pot White Chicken Chili is a gluten-free, hearty and healthy crock pot recipe. You'd never guess it's low-fat, too!
From: iowagirleats.com
21. Crock Pot Sweet Potato Chipotle Chili
Crock Pot Paleo Sweet Potato Chipotle Chili! This beanless chipotle chili recipe is healthy but hearty, with an extra kick of spice!
Made with simple ingredients you probably already have in your fridge! An easy whole 30 and paleo friendly chili made in the crock pot so you can be ready to serve with little effort.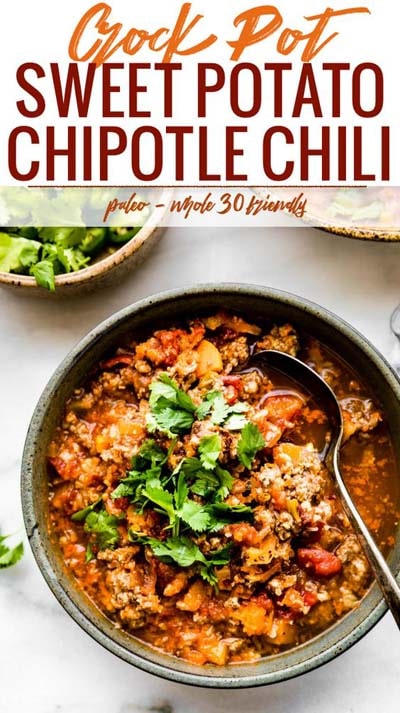 From: cottercrunch.com
22. Slow Cooker Buffalo Chicken Chili
Slow Cooker Buffalo Chicken Chili has the perfect amount of spice, a smooth creamy base, lots of tender chicken, and takes only 10 minutes to prepare.
Be ready to win chili contests and hand out the recipe because this is the best chili you'll ever make!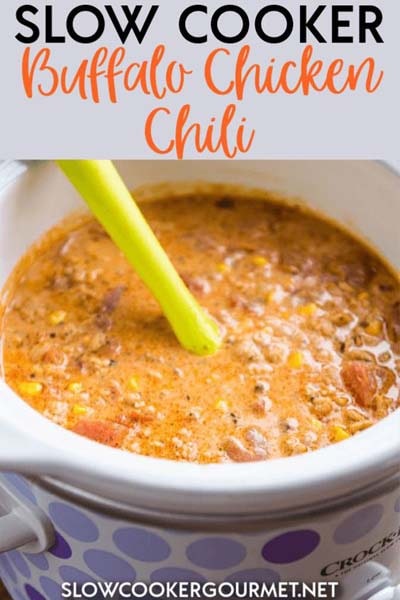 From: mamagourmand.com
23. Bill's Chili (The World's Best Chili)
This beef chili is fully loaded with both ground beef and stew beef, plus bacon and plenty of "secret spices". Plus it makes enough to feed a crowd.
Let it simmer all day on the stove, or get it ready and keep it warm in a crockpot for a tailgate party. Then get ready to enjoy a bowl of comfort food because your new family favorite homemade chili will be what we know as Bill's Chili.
From: cupcakesandkalechips.com
24. Sweet & Spicy Slow-Cooker Chili
Glenn's Sweet & Spicy Slow Cooker Chili is unlike any chili we've eaten before!
One bite into it – and it starts out quite sweet thanks to the addition of brown sugar, plus some bourbon and brown sugar-flavored canned baked beans. Then a very spicy kick takes over – and your taste buds won't know what hit them! (In a good way of course!)

From: afamilyfeast.com
25. Easy Stovetop Pale Ale Chili
Pale Ale Chili is a hearty and easy to make game day chili made with pale ale beer that is perfect for football season.

From: homemadeinterest.com
26. One-Pot Chili Mac & Cheese
One Pot Chili Mac and Cheese – two favorite comfort foods come together in this super easy, one-pot dish that the whole family will go crazy for!
From: bellyfull.net
27. Slow-Cooker Sweet Potato Turkey Chili
My favorite thing about this chili is that it's cooked in the slow cooker, so all I have to do is throw all the ingredients in in the morning and by the evening my house smells amazing and dinner is ready!
From: iwashyoudry.com
28. Pumpkin Chili
Pumpkin Chili is extra hearty with a delicious sweetness and earthy undertone that takes chili to a whole new level of good. The perfect way to knock off the chill and satisfy hungry bellies.

From: tidymom.net
29. Frank's Game Day Buffalo Chicken Chili
Football season is in full swing and I have the perfect recipe that combines two game-day favorites in one – Frank's Game Day Buffalo Chicken Chili.

From: homeandplate.com
30. Creamy Crockpot White Chicken Chili
A family favorite made healthier, and so easy too! No cream of chicken soup or seasoning packets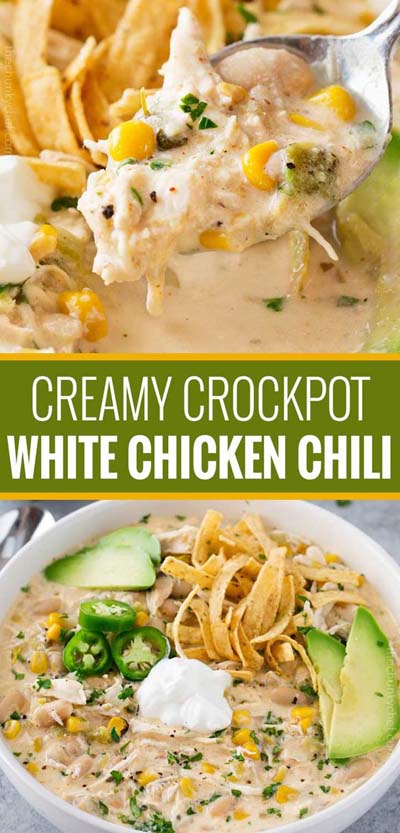 From: lovelylittlekitchen.com
31. Slow Cooker Jamaican Jerk Chicken Chili
Slow Cooker Jamaican Jerk Chicken Chili with Plantain Chips. This set-it-and-forget-it shredded chicken chili takes island flavor straight to your bowl.

From: hostthetoast.com
32. Family Favorite White Chicken Chili
This white chicken chili recipe is so hearty, creamy and full of your favorite Tex-Mex flavors. It's absolutely delicious and I dare you to eat just one bowl!
From: scatteredthoughtsofacraftymom.com
33. Taco Ranch Chicken Chili
You'll love this taco ranch chicken chili that cooks in the slow cooker all day!
Tender chicken loaded with vegetables, beans, and plenty of flavor. Only a few pantry staple ingredients is all you need for a satisfying dinner that is so comforting. Be sure and load it up with all your favorite toppings.

From: togetherasfamily.com
34. Simple Classic Chili
A no-frills recipes for a simple classic chili. Made with lean beef, two different kinds of beans, and a whole lot of heartiness, this classic chili is perfect on its own or mixed into cheese for a yummy queso dip.
From: certifiedpastryaficionado.com
35. Thick and Hearty Homestyle Chili
Chili is the perfect winter warm-up meal, right?! This is the best we have ever eaten.
I know, everyone says that about their favorite recipe but I swear this is the ONE.
It's not a loose soup, it's thick, chunky and loaded with rich flavor certain to please the entire family.
It's also perfect for game day gatherings. A one pot, easy meal that can easily feed a crowd.
From: dontsweattherecipe.com
36. Cornbread-Topped Skillet Chili
It's all completely approachable, cozy, and just perfect for weeknights or weekends when you want a satisfying meal to warm you up. Let me know if you try it!

From: sallysbakingaddiction.com
37. Instant Pot Chicken Pumpkin Chili
Instant Pot Chicken Pumpkin Chili is a quick and easy chili recipe to bring in the Fall season!!
Since this pumpkin chili recipe is made in the Instant Pot you can enjoy your healthy, dairy-free, and gluten free dinner recipe in a fraction of the time.
From: evolvingtable.com
38. Instant Pot White Bean Chicken Chili
This Instant Pot White Bean Chicken Chili recipe is so easy and filling. It's the perfect quick meal the entire family will love, made with ingredients commonly already found in one's pantry!
From: allergyfreealaska.com
39. Chili Mac
Remember your childhood and enjoy a warm and filling meal. Perfect for those cool days ahead!
From: thecountrycook.net
40. Beef & Chorizo Chili
This easy and healthy one-pot ground beef and chorizo chili is a great dish to enjoy this Cinco de Mayo…or anytime! Recipe for homemade fresh chorizo is included.

From: tastyeverafter.com
Loved these Chili Recipes roundup? Then pin it for later!
Don't forget to pin these chili recipes to your recipes board on Pinterest!