Since meat is the most of the time one of the more expensive items for any recipe, it's a good idea to sometimes go with some meatless meal recipes instead. Meatless Monday anyone?
20 Meatless Meal Recipes For A Tight Budget
Adding some meatless meals to your diet every now and then can not only save you some money, but can also be quite fun. You'd be surprised at all of the meatless options out there.
Below we've rounded up some of our favorite meatless meal recipes, including 10 meatless dinner recipes and 10 meatless lunch recipes. Don't worry about whether it's listed as a lunch or dinner recipe though, you can definitely have any of these whenever you want!
10 Meatless Dinner Recipes
First up, some of our favorite meatless dinner recipes.
1. Instant Pot Mushroom Tetrazzini
Simple Creamy Comforting Pasta dinner with simple pantry ingredients. Ready within minutes! The sauce is like bechamel sauce with a roux.
From: veganricha.com
2. Roasted Cauliflower and Lentil Tacos with Creamy Chipotle Sauce
You're going to love this vegetarian lentil tacos recipe. Roasted cauliflower, seasoned lentils and creamy chipotle sauce combine to make a delicious taco!
From: cookieandkate.com
3. Vegetarian Fried Rice
Everybody should know how to make veggie fried rice. Hands down one of the most delicious and easiest ways to use up leftovers. Ready in max. 12 minutes!
From: hurrythefoodup.com
4. Spinach Artichoke Lasagna
This healthy vegetarian spinach lasagna includes lots of fresh spinach, jarred artichokes and the simplest homemade tomato sauce. This lasagna tastes even better the next day!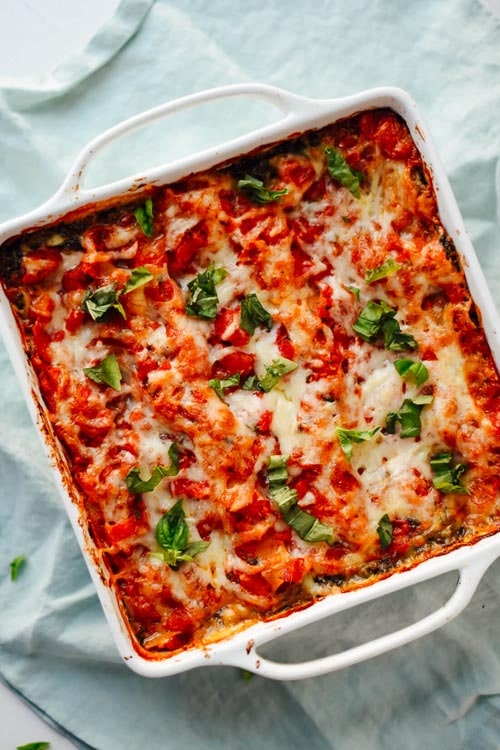 From: cookieandkate.com
5. Slow Cooker Potato And Corn Chowder
The easiest chowder you will ever make. Throw everything in the crockpot and you're set! Easy peasy!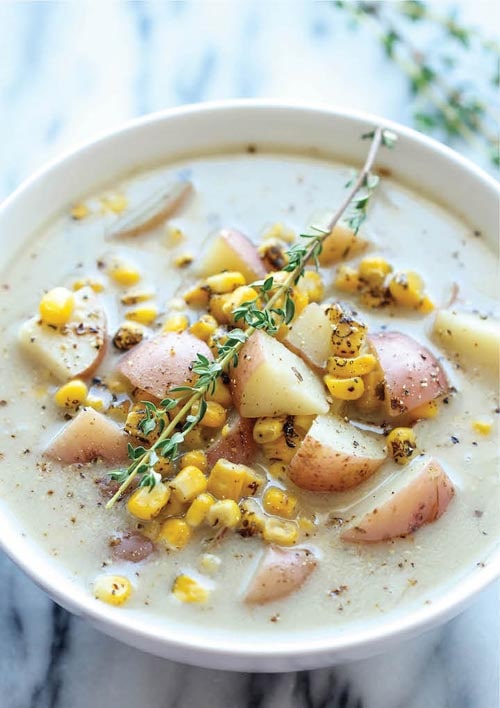 From: damndelicious.net
6. One Pan Mexican Quinoa
Wonderfully light, healthy and nutritious. And it's so easy to make – even the quinoa is cooked right in the pan!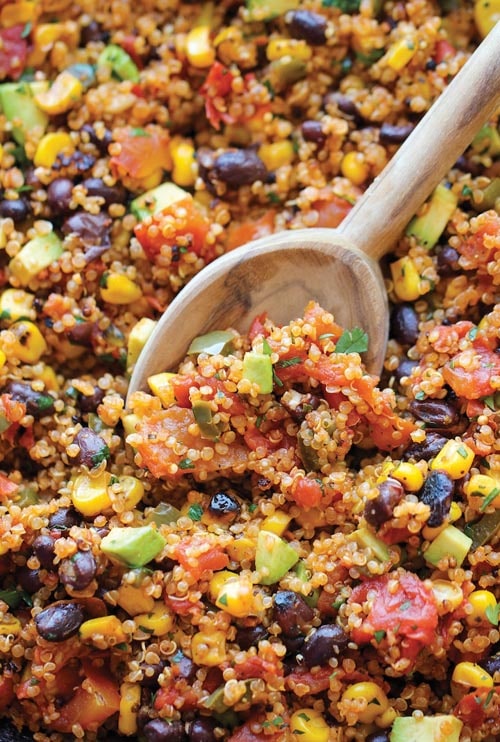 From: damndelicious.net
7. Vegetable Stir Fry With Noodles
This colorful vegetable stir fry with noodles is packed with vegetables and drenched in a salty sweet sauce. Fast, easy, and customizable.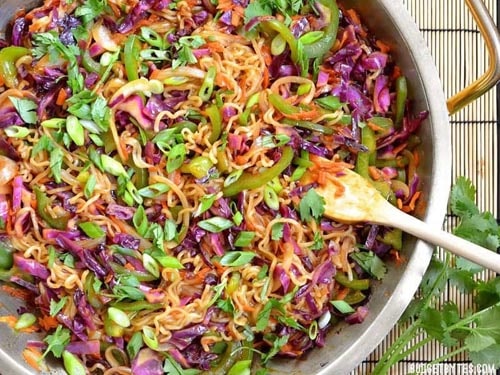 From: budgetbytes.com
8. Tofu Parmigiana
Instead of having a greasy, battered coating, the tofu "steaks" in this revamped Parmigiana are breaded and lightly pan-fried in just a small amount of oil then topped with part-skim mozzarella, fresh basil and your favorite marinara sauce.
This Italian classic will please even those who are tofu-phobic.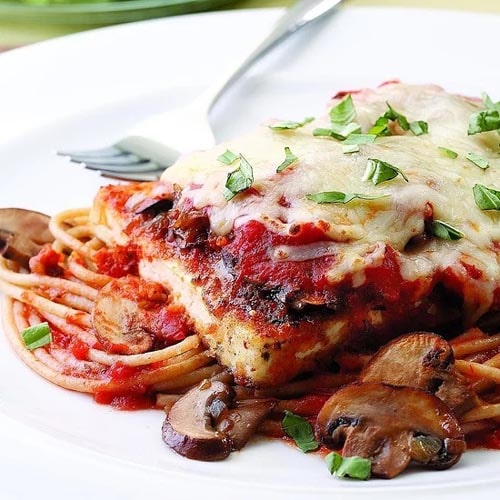 From: eatingwell.com
9. Easy Lo Mein
The easiest lo mein you will ever make in 15 minutes from start to finish. It is so much quicker, tastier and healthier than take-out!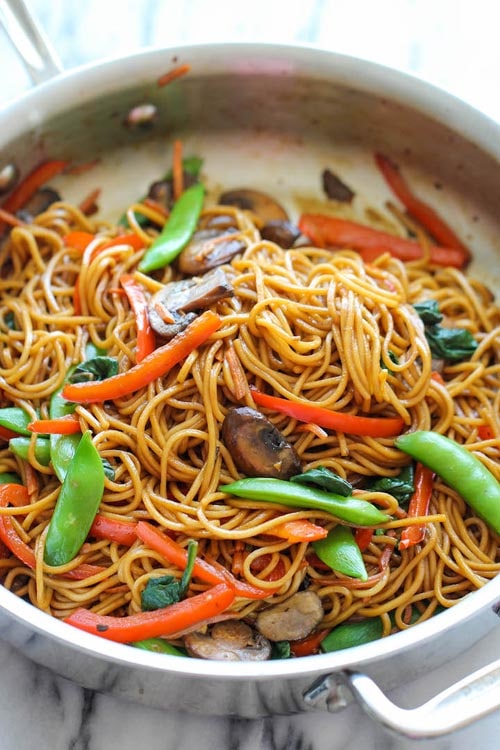 From: damndelicious.net
10. 5 Ingredient Spanish Rice
This quick and easy restaurant-style Spanish Rice is made with only 5 ingredients, and it's quick, simple and delicious.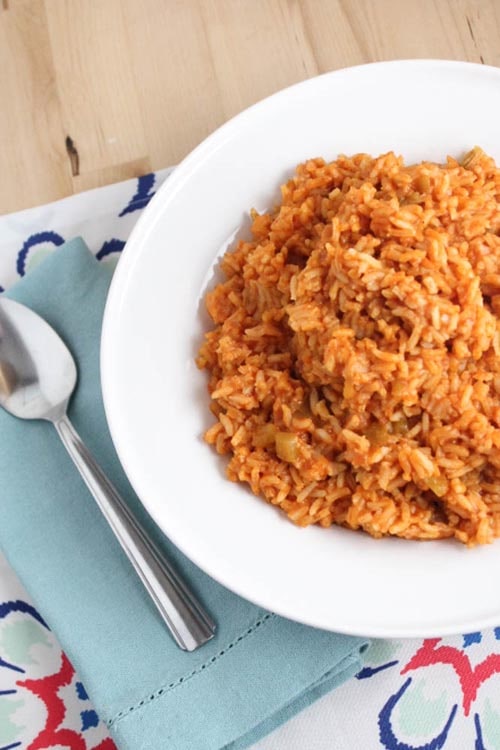 From: foodlove.com
Meatless Lunch Recipes
Next, we'll look at our favorite meatless recipes that are perfect for lunch!
11. Grilled Squash Garlic Bread
Ricotta, garlic, and grilled veggies give this garlic bread a summer refresh.
From: womansday.com
12. Tomato, Mozzarella, and Basil Panini
This lovely medley of flavors makes a perfect summer meal, especially when garden-fresh tomatoes are at their peak.
From: skinnyms.com
13. Black Bean Croquettes
Staples like canned black beans and frozen corn transform into spicy croquettes in mere minutes. Serve with warm corn tortillas, coleslaw and lime wedges.
From: eatingwell.com
14. Thai Pineapple Fried Rice
Thai-style sweet and spicy pineapple fried rice with red bell pepper, cashews and cilantro. This is a healthy and quick vegetarian meal!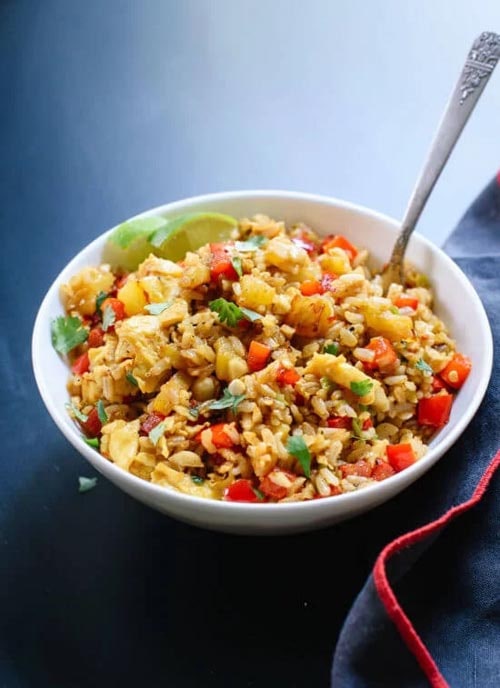 From: cookieandkate.com
15. Spiced Tomato Soup with Flatbread
Flatbreads smothered in an herbed butter and coconut spread are perfect for dunking into this creamy tomato soup.
From: womansday.com
16. Italian Vegetable Hoagies
This delightfully easy, and somewhat messy, sandwich packs a punch with sweet balsamic vinegar, artichoke hearts, red onion, provolone cheese and zesty pepperoncini. We love it for dinner as well as lunch.
From: eatingwell.com
17. Caprese Pesto Pasta Salad
This Caprese Pesto Pasta Salad is the traditional Caprese salad in pasta form! Pasta, tomatoes, basil, and tomatoes! This is so fresh and the perfect side dish for BBQs and potlucks!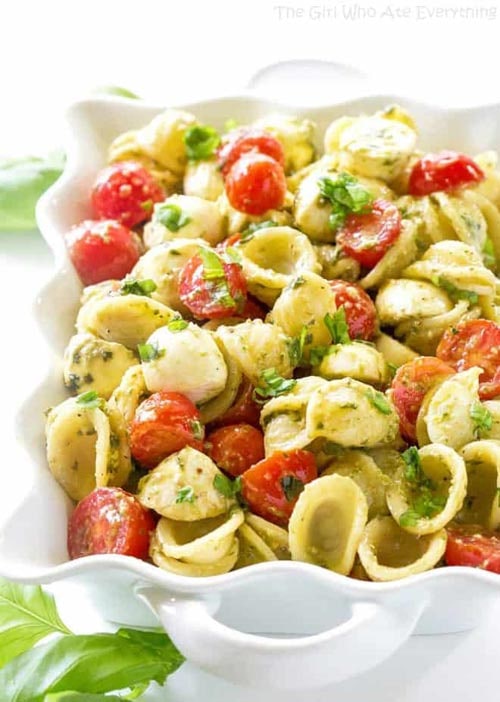 From: the-girl-who-ate-everything.com
18. Vegan Sloppy Joes
This vegan Sloppy Joes recipe has a tangy lentil filling that's full of flavor and nutrients! It's a plant based dinner everyone will love.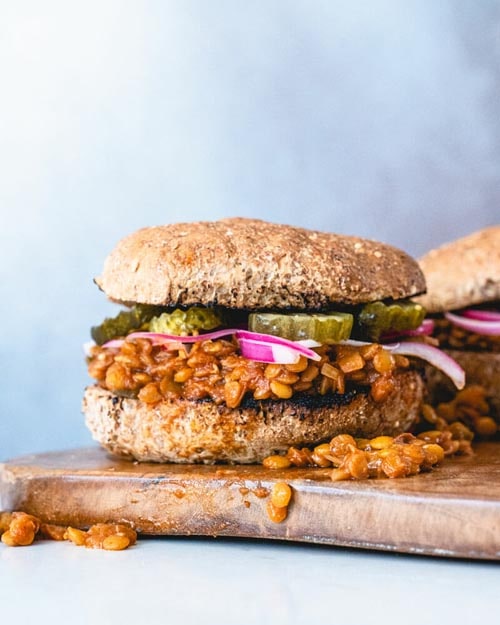 From: acouplecooks.com
19. Sweet Potato Burrito
Sweet potato burritos with black beans, smothered in a simple but flavorful avocado salsa verde sauce.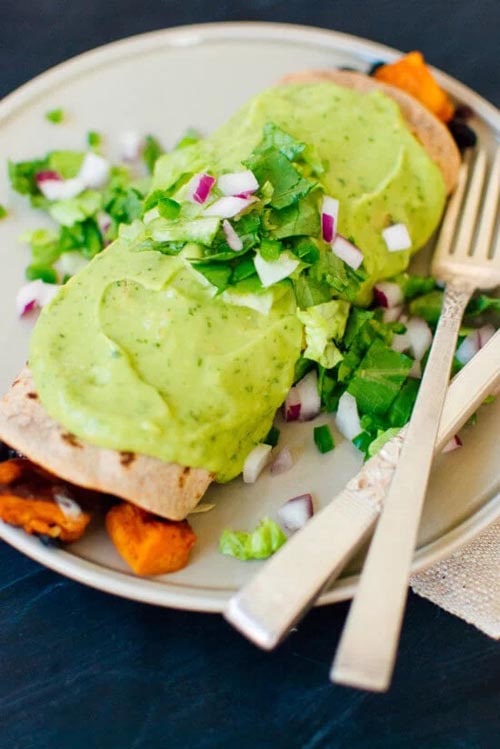 From: cookieandkate.com
20. Avocado Grilled Cheese
Who knew guac and grilled cheese were meant to be together? A very simple yet easy meal!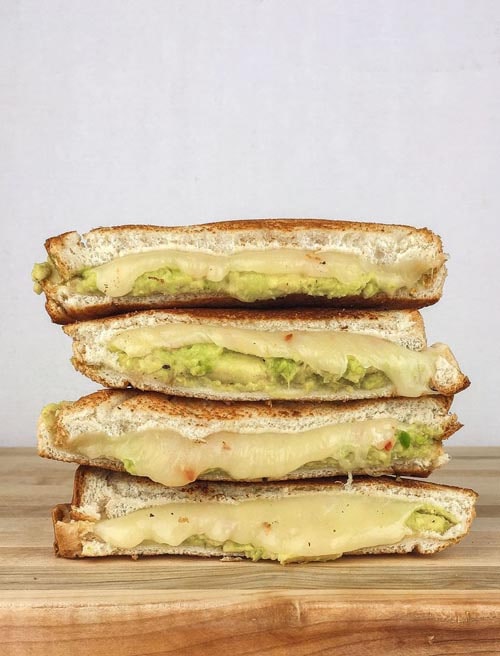 From: delish.com
Also check out:
Don't forget to pin these meatless meal recipes for later!
If you enjoyed this roundup of meatless meal recipes, please would you be so kind as to pin it to your recipes or food board on Pinterest? Thank you!
You can also follow us on Pinterest for more yummy recipes and great ideas!