If you love quick and easy recipes as much as we do, you've probably heard about the instant pot. It makes cooking dinner so much easier. And if you happen to have some chicken around, here is 30 chicken instant pot recipes where you can simply dump your ingredients and let the instant pot do its magic.
30 Easy and Healthy Chicken Instant Pot Recipes
To view any of these chicken instant pot recipes, please click on the link below the image! Hope you enjoy!
1. One Pot Chicken Chow Mein
An easy, one pot Chicken Chow Mein loaded with vegetables and ready in 30 minutes!

From: thereciperebel.com
2. Indian Butter Chicken
Instant Pot Indian Butter Chicken is a buttery chicken that is smothered in a creamy tomato based sauce that is one of our favorite Indian food dishes we enjoy.
This Instant Pot recipe is so simple to make, and frankly taste better than ordering from your favorite restaurant.
From: jayssweetnsourlife.com
3. Pressure Cooker Chicken Tortilla Soup
All in one pot and bursting with flavor, this AhhMazing Pressure Cooker Chicken Tortilla Soup will NOT let you down.

From: kitschencat.com
4. Easy Instant Pot Chicken & Dumplings
This super easy and delicious Instant Pot Chicken & Dumplings made with canned biscuits, peas, and carrots is the perfect hearty meal and comfort food. You can have dinner on the table in twenty minutes or less!
From: lifefamilyfun.com
5. Cashew Chicken
An amazing slow cooker meal that is way better than takeout! The chicken is breaded to perfection and the sauce is full of flavor! The cashews hidden throughout are the best part!
From: therecipecritic.com
6. Easy Instant Pot Chicken and Rice
Easy Instant Pot Chicken and Rice is a family dinner favorite! Brown rice, chicken and veggies all cook together in your Instant Pot in this delicious chicken and rice recipe.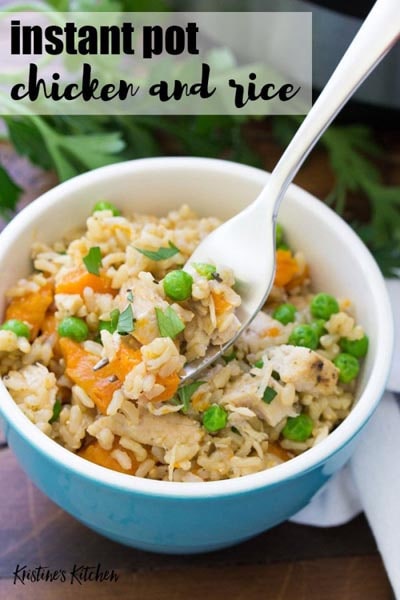 From: kristineskitchenblog.com
7. Chicken Taco Bowls
These Instant Pot Chicken Taco Bowls are a tasty way to change up taco night. This is a super simple Instant Pot chicken recipe that's miraculously even less work than regular tacos.
And since it's all made in the Instant Pot, clean up is a cinch too!
From: wondermomwannabe.com
8. Lifesaver BBQ Pressure Cooker Chicken Wings
Make this super easy lifesaver BBQ pressure cooker chicken wings recipe! Finger-licking wings ready in 35 mins. Perfect emergency party food or appetizer.

From: pressurecookrecipes.com
9. Spicy Honey Instant Pot Chicken
This spicy honey Instant Pot chicken takes just 4 minutes to cook and comes out moist and full of flavor! Sweet and spicy chicken bites smothered in delicious sauce which we love atop a bed of rice.
A great healthy pressure cooker dinner our whole family enjoys.

From: temeculablogs.com
10. Instant Pot Chicken Tikka Masala
Most popular chicken tikka masala recipe, adapted for a pressure cooker like the Instant Pot.

From: savorytooth.com
11. Weeknight Chicken and Rice Burrito Bowls
With chicken, rice, black beans, and corn, it's a wholesome supper that tastes like it took much longer to make than it actually did.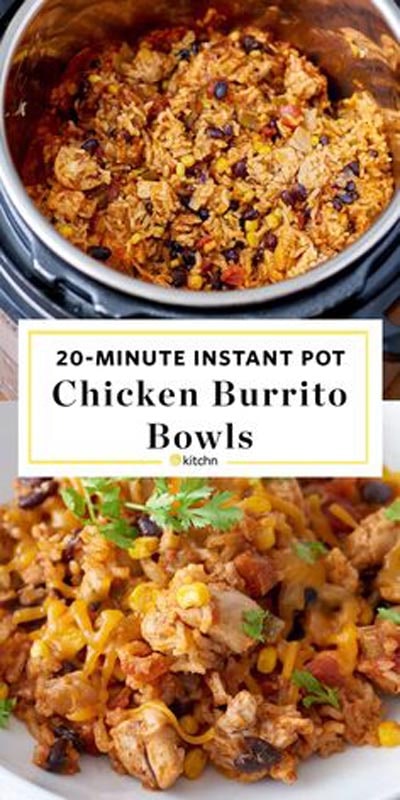 From: thekitchn.com
12. Instant Pot BBQ Chicken Sliders
If you're always looking for super easy meals to make for your family because it seems like life just keeps getting busier, these are for you. These would be great for lunch, dinner or any party!

From: eighteen25.com
13. Instant Pot Butter Chicken
Make restaurant style Instant Pot butter chicken with authentic taste following this Indian butter chicken recipe. This is quick and easy Paleo Instant Pot Butter Chicken recipe . It's rich, creamy, not too spicy, buttery and packed full of flavors.
From: currytrail.in
14. Copycat Panera Chicken & Wild Rice Soup
Copycat Panera Chicken & Wild Rice Soup is simple, hearty, creamy, and tastes just like my favorite soup at Panera Bread! It's light enough for the spring and summer months.

From: wishesndishes.com
15. Shredded Mexican Chicken
This recipe is incredibly simple.
Just dump boneless skinless chicken breasts in the pot with brown sugar, salsa, spices and a little liquid smoke to give it a deep, rich flavor with some kick.

From: rebootedmom.com
16. Teriyaki Rice with Chicken and Vegetables
One pot teriyaki rice with chicken and vegetables makes the perfect easy weeknight meal. Best of all, everything cooks up in only one pan in just 30 minutes. Plus instant pot pressure cooker instructions plus a step-by-step video.

From: lifemadesweeter.com
17. Chicken Noodle Soup
The fastest and easiest way to make a big pot of chicken noodle soup! Perfect for the cold and flu season!

From: crunchycreamysweet.com
18. Instant Pot Chicken Breasts
Instant Pot chicken breasts are also a great diced up over pasta or salad. You can meal prep and make them ahead, and eat off them for a few days after.
From: apinchofhealthy.com
19. Instant Pot Chicken Adobo
A superb Filipino chicken adobo with onions and garlic cooked in the Instant Pot pressure cooker. Best of all, its also low carb and keto friendly!
From: savorytooth.com
20. Chicken And Lentil Soup
Chicken and lentil soup made in the Instant Pot (pressure cooker) – a healthy, nourishing meal that will fill you up and make plenty of servings so you can have leftovers for lunch or freeze the rest!

From: skinnytaste.com
21. Thai Chicken Rice Bowls
If you like Thai food, you'll love these Instant Pot Thai Chicken Rice Bowls. The best thing about them is that since they're made in the Instant Pot, they come together really fast and easy.
From: wondermomwannabe.com
22. Instant Pot Garlic Sesame Chicken
Instant Pot Garlic Sesame Chicken is one of the easiest dump and cook meals, that is very tasty and flavorful and ready in just 30 minutes.
From: sweetandsavorymeals.com
23. Pressure Cooker Chicken Enchiladas
These homemade Instant Pot Chicken Enchiladas are so delicious and thanks to the Instant Pot, a snap to make.
From: number-2-pencil.com
24. Instant Pot Chicken Pot Pie
Easy chicken pot pie! You are going to love this Instant Pot Chicken Pot Pie Recipe. It is the best pot pie recipe ready in under an hour.
From: eatingonadime.com
25. Buffalo Chicken Pasta
Looking for a chicken recipe that is super quick to whip up, and has tender chicken, creamy pasta, and offers a bit of a kick? That is exactly what you get with this Instant Pot buffalo chicken pasta.
It is ready to be served in under 30 minutes, and let me tell you the flavor factor is spot on!
From: adventuresofanurse.com
26. Crack Chicken Casserole
This Instant Pot crack chicken casserole is one of the most amazing pressure cooker dinner recipes I have made thus far! Get ready for creamy goodness.
From: temeculablogs.com
27. Chicken Risotto
Instant Pot Chicken Risotto is a hassle-free alternative to the original Italian stove-top version. No need to be standing by the pot, stirring constantly!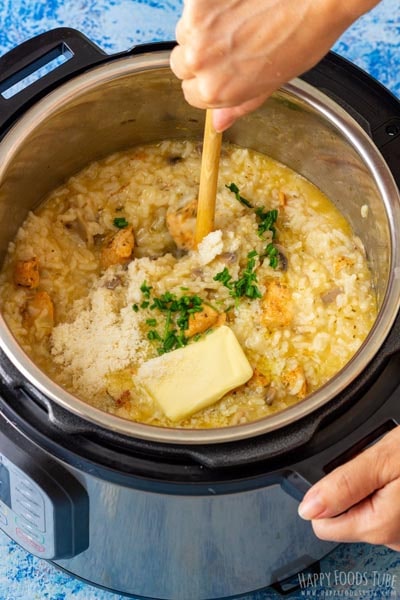 From: happyfoodstube.com
28. Pressure Cooker Chicken Faux Pho
A simple method for making chicken pho in the pressure cooker. Contains no rice and is Paleo, Whole30, and Gluten-Free.
From: thesophisticatedcaveman.com
29. Buttery Lemon Chicken
This recipe is very easy to make and takes about 5 minutes to prep. You can eat it with pasta or rice or with a side of vegetables.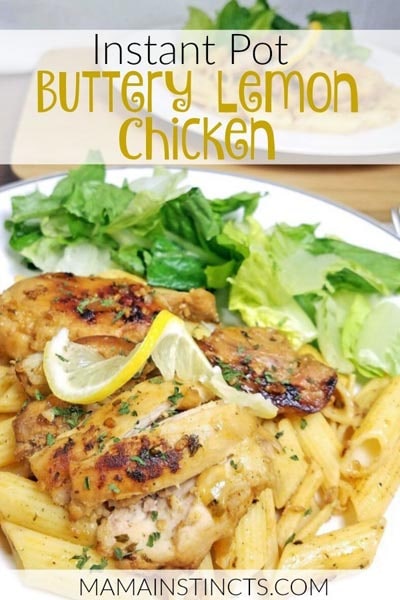 From: mamainstincts.com
30. Instant Pot Whole "Rotisserie" Chicken
All you need is about 45 minutes to have this amazing, tender, juicy Instant Pot whole rotisserie chicken. Your whole family will LOVE it!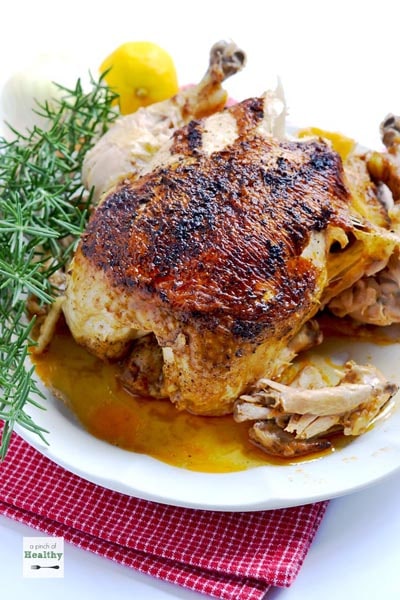 From: apinchofhealthy.com
Pin these Chicken Instant Pot Recipes for later!
If you enjoyed this roundup of chicken instant pot recipes, please take a moment to pin it to your instant pot board on Pinterest. Thank you!