If you're in the mood for something sweet and vanilla, check out these delicious and easy Vanilla Cupcakes! You can definitely never go wrong with cupcakes!
To view the full recipe for any of these vanilla cupcakes, please click on the link below the respective images!
1. Vanilla Chai Cupcakes
A delicious cupcake recipe that has beautifully soft hints of chai spices. And bonus, it's also vegan and refined sugar free.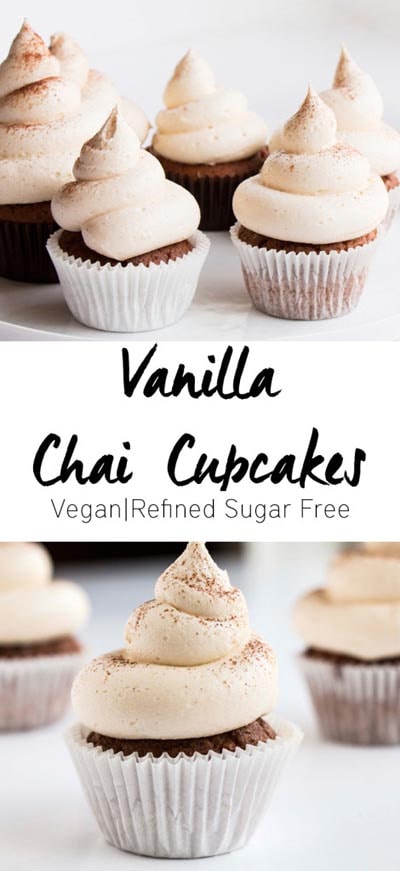 From: baking-ginger.com
2. Vanilla Cinnamon Sugar Swirl Cupcakes Recipe
These cupcakes are light, fluffy, and full of cinnamon deliciousness.
After all these years of making different types of cupcakes, these are the ones people remember!
Surprisingly easy to make, these cupcakes don't disappoint!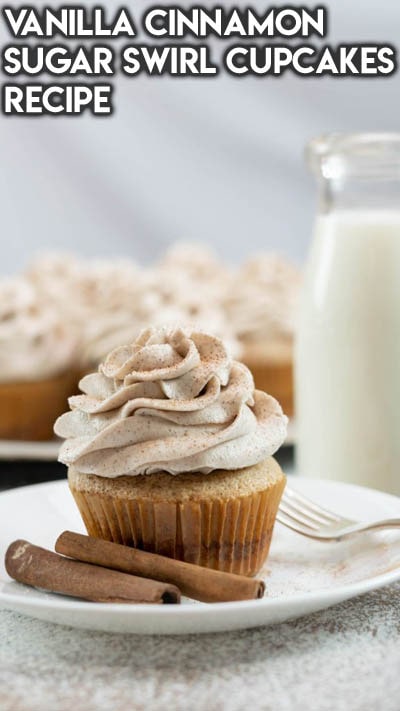 From: themamaneedscake.com
3. The Best Butterbeer Cupcakes
These Butterbeer Cupcakes truly are the best ever!
Moist, fluffy butterscotch-vanilla creme cake topped with a fluffy butterscotch frosting and caramel sauce. Incredible!
From: thedomesticrebel.com
4. Churro Cupcakes
These Churro Cupcakes are packed with cinnamon sugar flavor and are garnished with a freshly baked, crispy churro. Yum!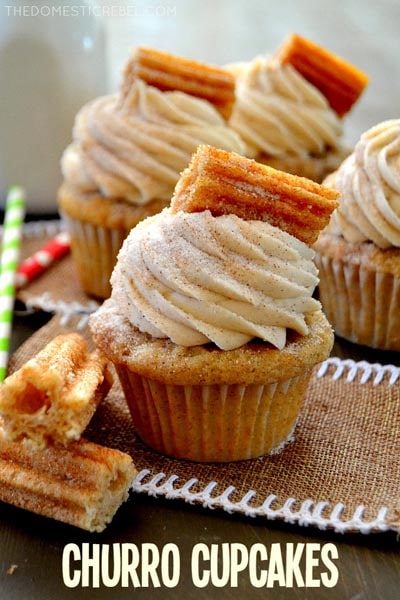 From: thedomesticrebel.com
5. Caramel Popcorn Cupcakes
Vanilla Butter Cake and Caramel Buttercream for a fun caramel cupcake perfect for a Circus theme or Baseball Birthday Party.
From: inthekidskitchen.com
6. Moist Vanilla Cupcakes
These moist cupcakes are super easy to make and so moist – for days!
They are my new favorite vanilla cupcake!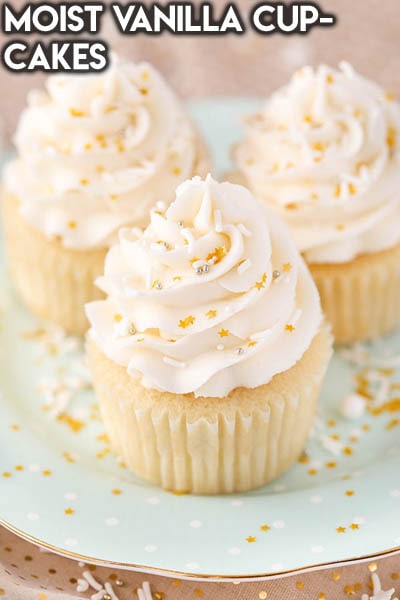 From: lifeloveandsugar.com
7. Berries And Cream Cupcakes
The combination of soft, moist cupcake with the whipped almond cream filling and the berry frosting on top is so good it's almost unfair.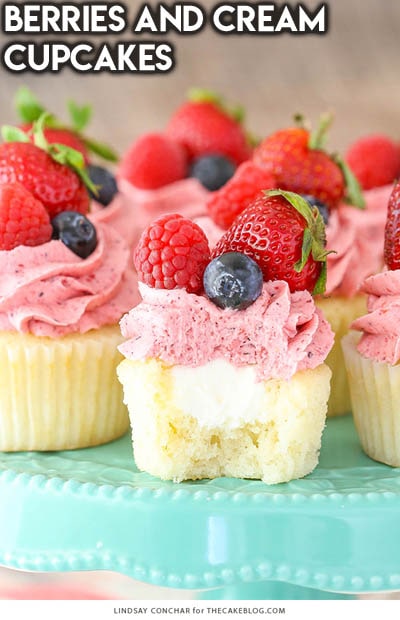 From: thecakeblog.com
8. Gluten Free Vegan Vanilla Cupcakes
These vegan vanilla cupcakes are the perfect mid-week treat: quick and easy to make, as well as ridiculously delicious.
At the same time, they can easily be tweaked to be the centerpiece at any celebration.
From: winaskitchen.com
9. Snickerdoodle Cupcakes
Cinnamon-sugar swirled vanilla cupcakes topped with creamy cinnamon and vanilla frosting.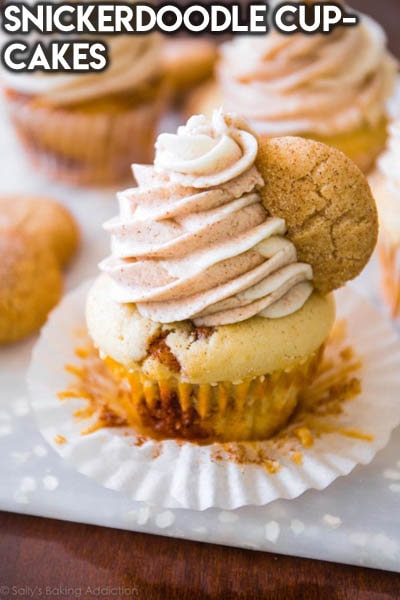 From: sallysbakingaddiction.com
10. Tiramisu Cupcakes
A mini, easy-to-eat version of the classic Italian dessert. Made with vanilla cupcakes brushed with espresso and topped with a marscapone whipped cream.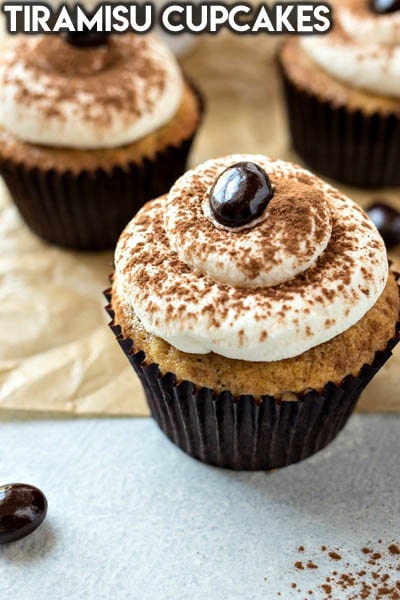 From: certifiedpastryaficionado.com
11. Vanilla Cupcakes with Strawberry Whipped Cream Frosting
If you're looking for a cupcake with real strawberry flavor, and not that fake strawberry flavor, this one won't disappoint!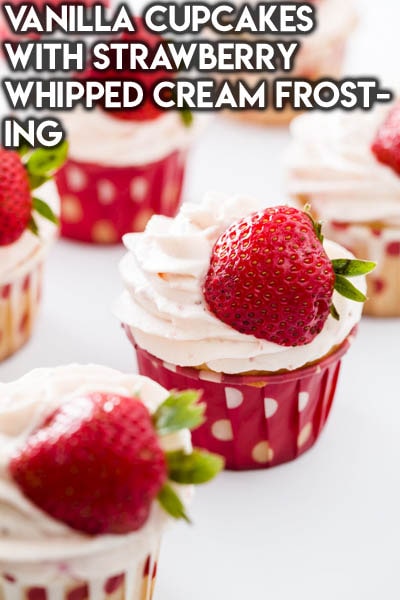 From: cupcakeproject.com
12. Sparkling Cranberry White Chocolate Cupcakes
Sparkling Cranberry White Chocolate Cupcakes made with a moist vanilla cupcake with cranberry mascarpone filling and a white chocolate buttercream!
Topped with sparkling sugar cranberries and a sprig of rosemary, they're the perfect holiday cupcake!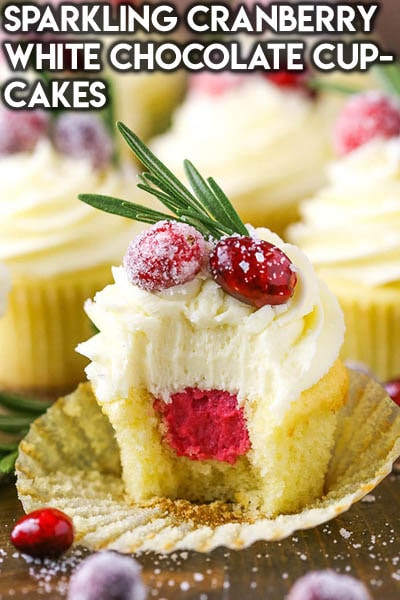 From: lifeloveandsugar.com
13. Kiwi Cupcakes
The base of this cupcake recipe uses a vanilla batter. It's delicious and moist from the sour cream in the batter.
The kiwi buttercream is really what this recipe is all about though!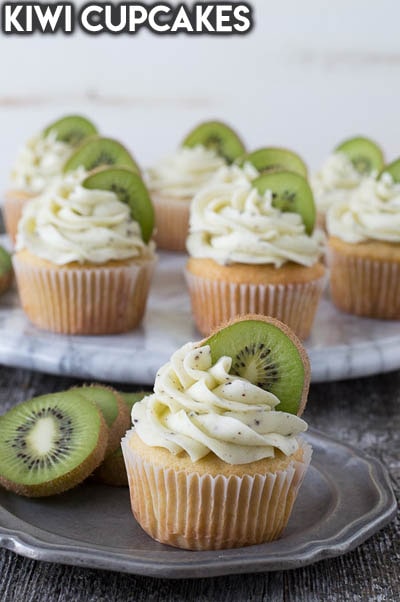 From: thefirstyearblog.com
14. Cereal and Milk Cupcakes
These Cereal and Milk Cupcakes are topped with a cereal milk buttercream.
Homemade cupcakes get a sweet fruit loop cereal milk twist, making these cereal cupcakes a dessert must!
From: alattefood.com
15. Best Vanilla Cupcakes
This recipe makes the best vanilla cupcakes!
They're moist, full of vanilla flavor and topped with fluffy buttercream frosting.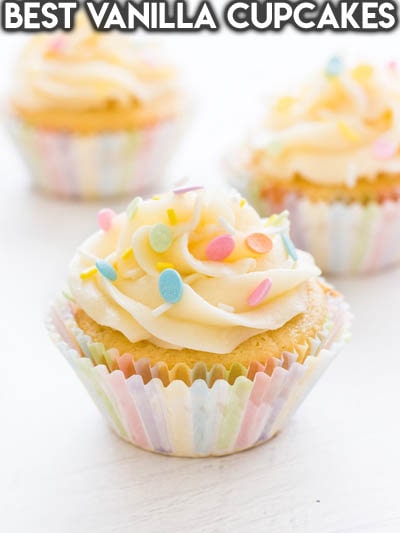 From: ifyougiveablondeakitchen.com
16. Tropical Mango Vanilla Cupcakes
These cupcakes are rich, buttery, moist, and have a hint of coconut from adding the coconut yogurt to the batter.
The buttercream tastes fresh and sweet, and is bursting with mango flavor.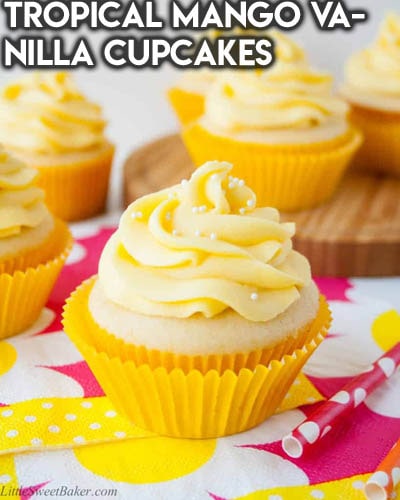 From: littlesweetbaker.com
17. Simply Perfect Vanilla Cupcakes
This is my favorite recipe for homemade cupcakes.
Using creamed butter, cake flour, sour cream, and egg whites, these cupcakes are soft, sweet, fluffy, and infinitely buttery.
From: sallysbakingaddiction.com
18. Macadamia Coconut Cupcakes
They are vanilla cupcakes, with a macadamia custard filling, frosted with Swiss Meringue Buttercream, rolled in toasted coconut flakes, topped with a coconut fudge ball.
Yes, the flavor bar has just been raised, folks!
From: piesandtacos.com
19. Vanilla Cupcake Recipe With Marketside
Making cupcakes from a box is easier at times, but this recipe was so good you may never want to try a box version ever again!
From: lilluna.com
20. Salted Caramel Vanilla Cupcakes
This Salted Caramel Cupcakes recipe requires 12 ingredients and 25 minutes of prep time.
Soft vanilla cupcakes meet creamy salted caramel vanilla frosting.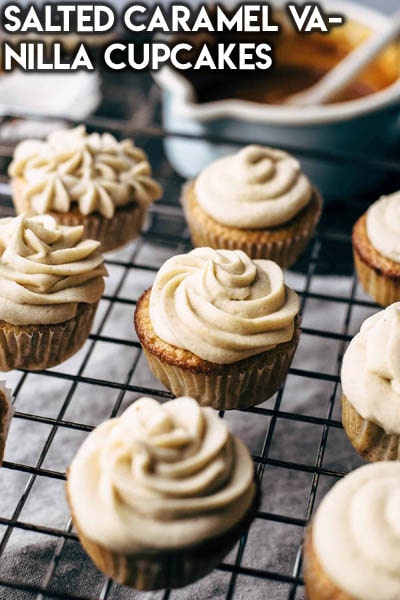 From: alsothecrumbsplease.com
21. Vanilla Fudge Cupcakes
Light and moist cupcakes with a creamy vanilla and fudge buttercream icing
From: jamandclottedcream.co.uk
22. Easy Churro Cupcakes
Dreamy cinnamon and vanilla cupcakes with Cinnabon Cinnamon Cream Cheese Frosting and a sugary churro on top!
To date, these churro cupcakes is one of my favorite desserts yet!
From: swankyrecipes.com
23. Peanut Butter & Jelly Cupcakes
Love peanut butter and jelly? Then have a cupcake with that!
From: sallysbakingaddiction.com
Want more desserts? Check out these delicious treats:
Don't forget to pin it!
If you enjoyed this roundup of yummy Cupcakes, please pin it to your desserts board on Pinterest. Thank you!