Every household needs a good and reliable homemade bread recipe in their arsenal. And if you don't have one yet, don't worry, we've rounded up some of the yummiest baked bread recipes for you to try out.
30 Yummy Baked Bread Recipes
Homemade bread isn't just more delicious than store bought bread, but it's also more healthy. Store bought bread often have a lot of unnecessary and unhealthy ingredients. It's also cheaper to make your own bread.
The drawback of course, is the time and convenience. It's easier and faster to just buy bread from a store. But making your own bread is so worth it in our opinion.
Enjoy these baked bread recipes. To view the full recipe and instructions, please click on the link below each image.
1. Beer Bread Recipe with Garlic and Cheese
This savory Beer Bread made with garlic and cheese will make you drool! Is there anything better than beer cheese bread… well only if it's garlic cheese beer bread!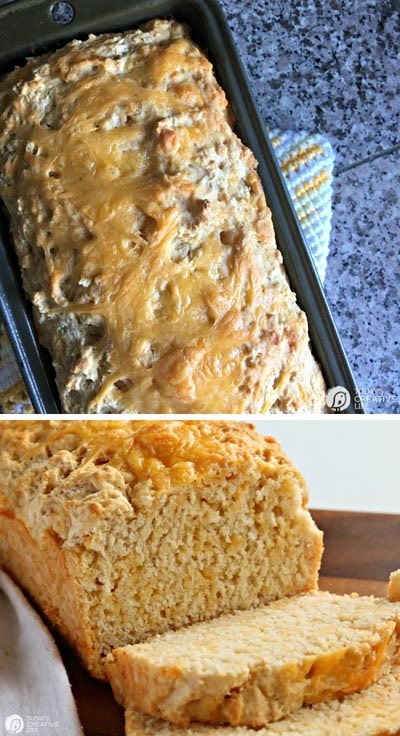 From: todayscreativelife.com
2. Ridiculously Easy Focaccia Bread
With less than 10-minutes of hands-on time, the name Ridiculously Easy Focaccia Bread says it all! Almost. It's also ridiculously delicious!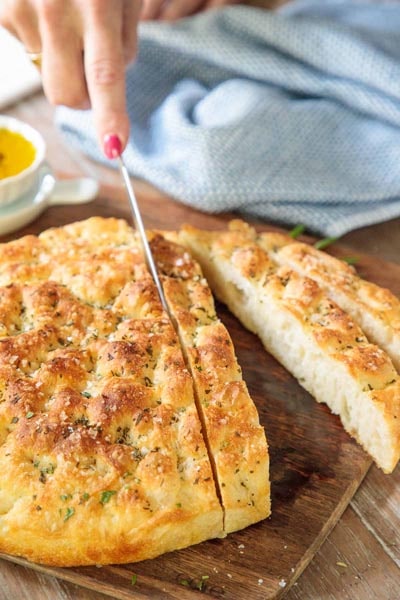 From: thecafesucrefarine.com
3. Cream Cheese Cranberry Bread
This sweet cream cheese bread compliments the tart cranberries it's loaded with resulting in an amazing Cream Cheese Cranberry Bread!
If you are looking for a new quick bread recipe that is perfect for the fall and Thanksgiving you have found it. It's so amazingly soft and tender, plus quick and easy to make.
From: julieseatsandtreats.com
4. Homemade Pita Bread
Pita bread is surprisingly super easy to make at home; in this post, you'll get all the tips and tricks to make the pita breads puff perfectly!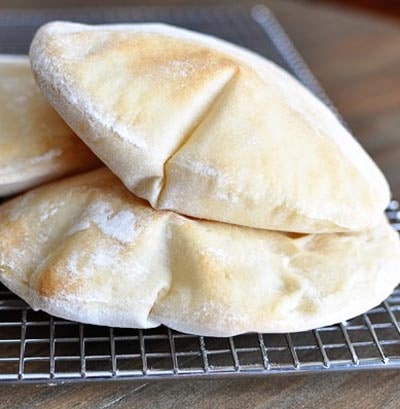 From: melskitchencafe.com
5. Braided Pesto Bread
An easy and flavorful savory bread, featuring thick streaks of basil pesto sauce throughout.
From: bakedbyrachel.com
6. 15 Minutes Stuffed Cheesy Bread
You just have to make this Stuffed Cheesy Bread. You can have it ready in 15 minutes and it tastes amazing! It is great served with your favorite soup.
From: eatingonadime.com
7. Cheesy Breadsticks
Cheesy Breadsticks made from scratch in under an hour! Soft, buttery and filled with cheese, these are the best breadstick recipe ever!
From: butterwithasideofbread.com
8. Cream Biscuits
These simple cream biscuits are a take on the ever-delicious and classic buttermilk biscuits. And just as you'd expect with any biscuit, these are slightly crisp on the outside and pillow-soft on the inside.
From: thekitchn.com
9. Cinnamon Crunch Braided Bread
I've made Cinnamon Bread many times but never in braided form or with the extra cinnamon crunch topping. I may never go back to regular cinnamon bread again! This was delicious!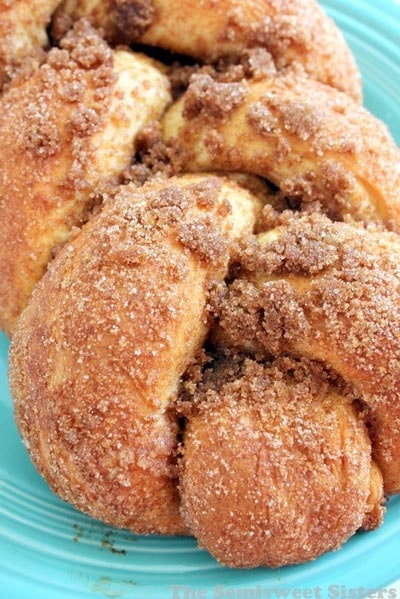 From: thesemisweetsisters.com
10. Garlic Herb and Cheese Pull Apart Bread
This recipe really showcases the delicious flavor of Philadelphia Cheese. It's a savory and sweet pull apart bread. The results are scrumptious.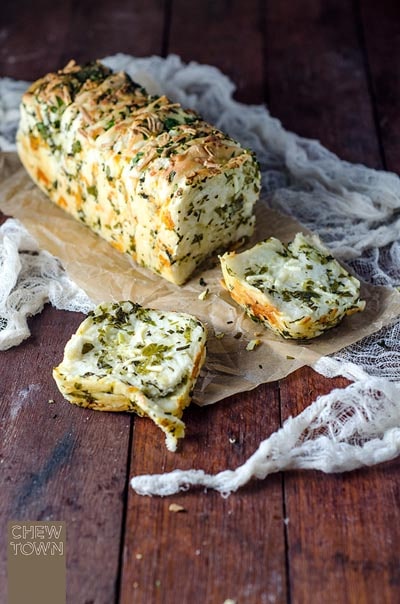 From: chewtown.com
11. Dutch Apple Bread
Apple Bread made from scratch with butter, sugar & plenty of fresh apples. Topped with a cinnamon streusel & drizzled with warm vanilla glaze, it's amazing.
From: butterwithasideofbread.com
12. No Knead Jalapeno Cheese Artisan Bread
This Easy No Knead Jalapeno Cheese Artisan Bread is the BEST savoury bread for sandwiches! It's packed with spicy pickled jalapeños and real cheddar cheese, and it's SO easy to make!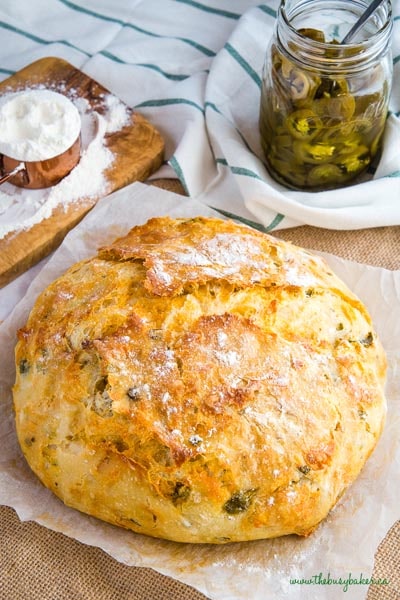 From: thebusybaker.ca
13. Pull Apart Cheesy Garlic Bread
Ooey gooey melty cheese on garlic bread?! There are few things better than this Pull Apart Cheesy Garlic Bread!
From: savoryexperiments.com
14. Homemade Pumpernickel Bread
Homemade pumpernickel bread is not that hard to make. It is like the amped up cousin of rye bread. If you like a good rye bread, you will love this easy version of a homemade pumpernickel bread.
From: sarcasticcooking.com
15. Cinnamon Roll Bread
The good news about this quick and easy Cinnamon Roll Bread? It's pretty much impossible to mess up. It's fool-proof, and no bread machine or fancy bread maker is required.
The dough can be mixed entirely with a spoon, and the result is so gosh darn delicious with a light icing/frosting that'll make you swoon.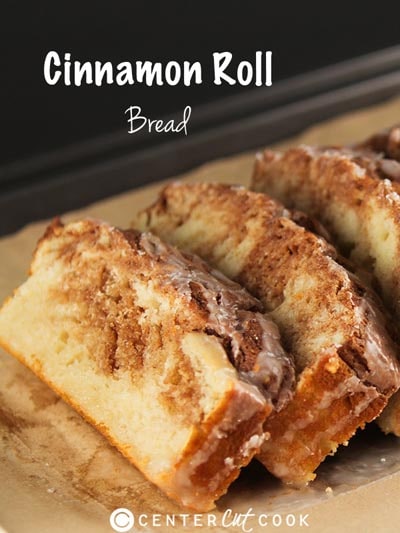 From: centercutcook.com
16. 2 Ingredient Sweet Bread
If you need recipes that don't require fuss or recipes that are fail proof, you need to give this one a go. Even your kids could make these.
From: lessonslearntjournal.com
17. Rustic Homemade Sourdough Bread
If you've ever dreamed of being able to bake amazing bread, this recipe is for you. Sourdough Bread is extremely light and airy and this recipe involves no kneading!!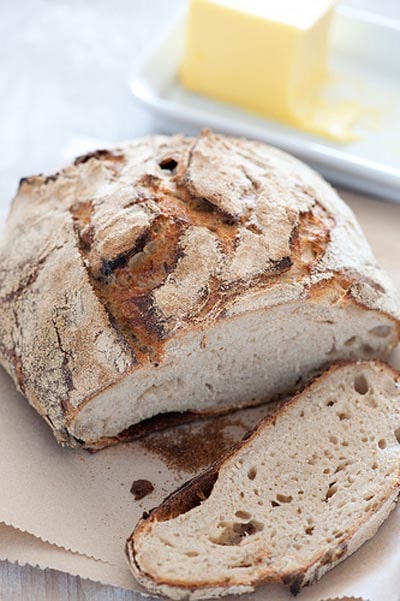 From: thestonesoup.com
18. Amazingly Delicious Apple Bread
This is a great way to use up any apples you may have on hand before they go bad. And since it's homemade, you don't have to worry about any strange chemicals or preservatives!
If you're looking to bake a delicious snack or dessert, then you have to try this amazingly delicious homemade apple bread!
From: acultivatednest.com
19. One Hour Dinner Rolls
One Hour Dinner Rolls are made with this easy yeast rolls recipe. Buttery, soft, fluffy dinner rolls are undeniably delicious & literally, take just 60 minutes to make!
The perfect recipe for holidays & gatherings.
From: kleinworthco.com
20. Pull Apart Garlic Bread
Homemade pull apart garlic bread recipe that is easy, fool proof and yields the softest and best garlic bread ever!

From: rasamalaysia.com
21. Cranberry Orange Almond Quick Bread
Doesn't this look absolutely delicious?? Also! This bread is completely customizable! You can even add dried apricots and pecans, or dried blueberries and hazelnuts!
From: tasteofhome.com
22. Soft Flatbread Recipe
This homemade soft flatbread recipe is super easy to make and is perfect for sandwiches, gyros or even mini pizzas!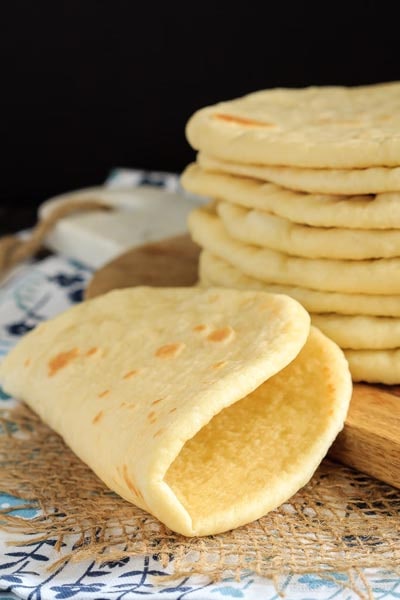 From: bake-eat-repeat.com
23. Hummus Homemade Bread
Hummus Homemade Bread made with just 5 ingredients and 2 easy steps, vegan and gluten free. Simple and tasty, this will be the best fresh bread you've ever made.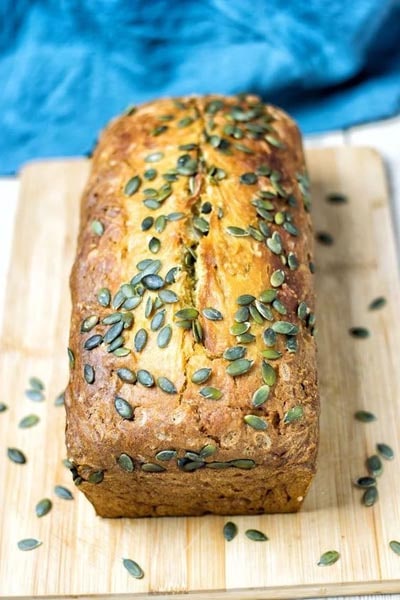 From: contentednesscooking.com
24. French Brioche Bread
French Brioche bread is soft, buttery, delicate bread that will leave you craving just one more slice; perfect topped with your favorite jam and out of this world amazing as French toast!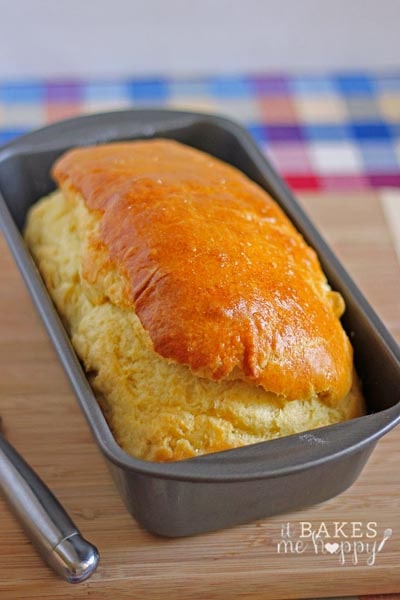 From: itbakesmehappy.com
25. Crusty Rosemary Olive Bread Recipe
This amazing Rosemary Olive Bread Recipe has a nice crust on the outside and chewy on the inside. Better than any bakery. Enjoy a few slices with olive oil.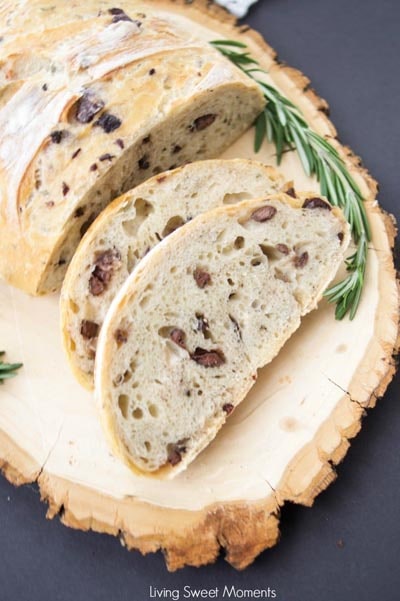 From: livingsweetmoments.com
26. Homemade Bagels Recipe
This easy homemade bagels recipe proves that you can make deliciously chewy bagels in your own kitchen with only a few basic ingredients and baking tools!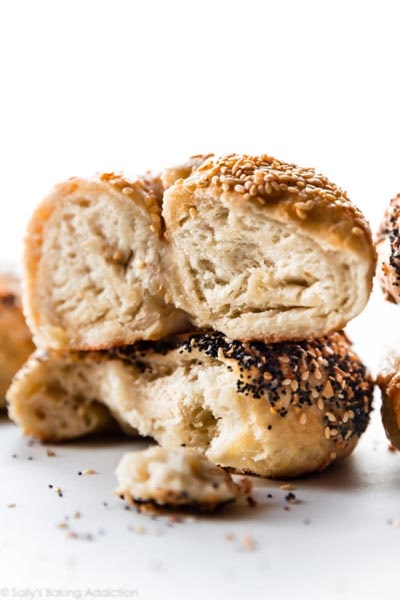 From: sallysbakingaddiction.com
27. Orange Bread with Orange Glaze
Orange Bread with fresh orange glaze and infused orange syrup is the perfect citrus happy breakfast bread you have been waiting for. With delicious orange zest and a yummy texture, this orange bread is an easy to make and easy to love bread recipe.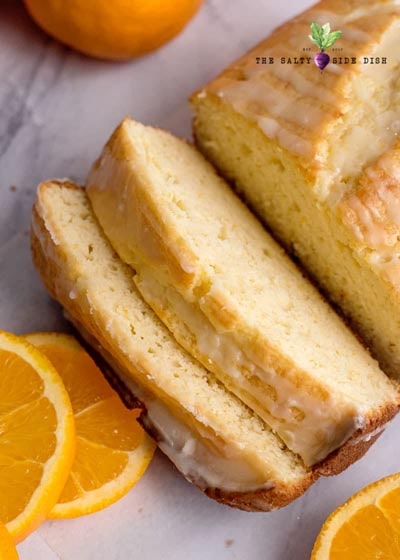 From:  saltysidedish.com
28. Homemade Burger Buns
No fail, easy to make 6 ingredients homemade burger buns with a secret ingredient to keep them soft and fluffy longer. You will never buy burger buns from the store once you try these!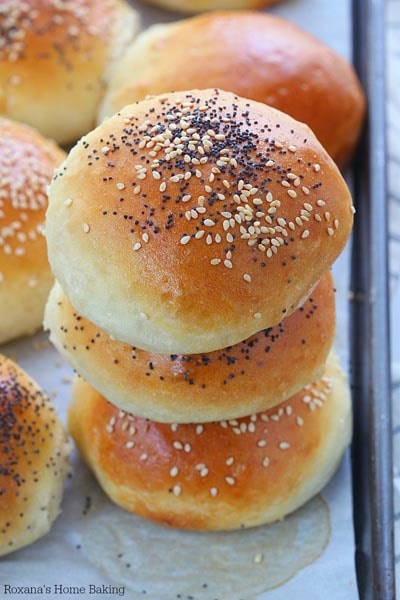 From: atreatsaffair.com
29. 30 Minute Homemade Soft Pretzels
Soft pretzels are so much easier than you think! This recipe will take you little time and effort. Top them with salt, cinnamon-sugar, and dunk in your favorite pretzel dips.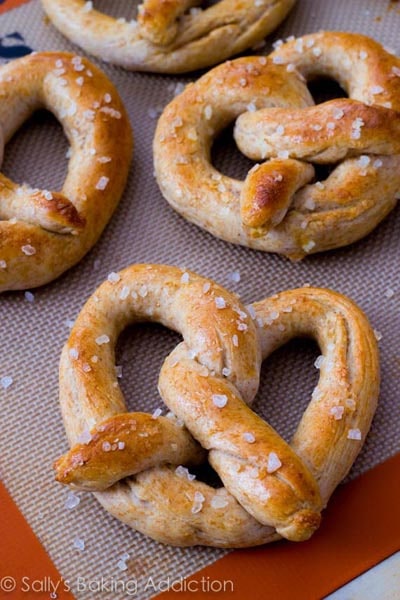 From: sallysbakingaddiction.com
30. No-Knead Harvest Bread
Plan ahead for this easy bread—an overnight or all-day rise gives it terrific flavor. For the best crust, bake in a ceramic bread crock, or a covered clay baker.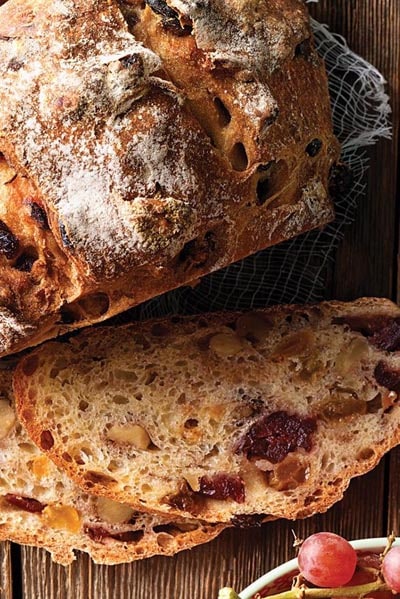 From: kingarthurflour.com
Pin these Baked Bread Recipes!
If you enjoyed this roundup of Baked Bread Recipes, please take a moment to pin it to your recipes board on Pinterest. Thank you!