What's up foodies? Heard you're looking for some easy and yummy Nutella dessert recipes. But fear not, we've got your covered.
We've scoured the web and rounded up up some of the best Nutella dessert recipes. From brownies, cheesecakes, cookies and everything in between, there's sure to be something you'll love.
And no, we won't judge. Everyone needs their Nutella fix every now and then.
50 Yummy Nutella Dessert Recipes
Below are 50 deliciously sweet Nutella dessert recipes for your inspiration. So get cooking. Or baking. Or whatever. Just try some of these, you won't regret it!
As always, to view the full instructions for any of these Nutella dessert recipes, please follow the link below each picture.
1. Nutella Cookie Cups
These cookie cups are surprisingly easy to make.
All you need is your favorite sugar cookie dough, jar of Nutella, and a muffin pan. Also they are cute, and bite-sized which is always fun for Holiday desserts.

From: cakescottage.com
2. Nutella Swirled Cheesecake Bars
These are yummy rich and Creamy Nutella Swirled Cheesecake Bars.
They're layered with a buttery graham cracker crust and a generous amount of Nutella!

From: chefsavvy.com
3. Salted Nutella Blondies
Salted Nutella blondies uses a chewy blondie recipe with the addition of Nutella dollops and a sprinkle of sea salt on top.
From: ifyougiveablondeakitchen.com
4. Quick And Easy Nutella Mousse
This 3 ingredient dessert will win you over immediately.
This Nutella Mousse is a quick, easy, and delicious dessert!

From: thestayathomechef.com
5. Grilled Nutella & Marshmallow Sandwiches
Why make these?: Because they're the dessert love child of s'mores and a grilled cheese.
From: buzzfeed.com
6. Chocolate Nutella Lava Cookies
These oversized rich chocolate cookies are stuffed with Nutella.
When you break the cookies open, they release a completely molten, liquid lava Nutella center.

From: kirbiecravings.com
7. Nutella Stuffed Oatmeal Cookie Bars
Buttery brown sugar oatmeal cookie bars filled with Nutella chocolate hazelnut spread and chocolate chips.
These easy Nutella Bars bars require no mixer, and the crust and topping is made from the same mixture.
From: celebratingsweets.com
8. Nutella Fudge Brownies
These Nutella Fudge Brownies are decadent little bars!
With a dense brownie on the bottom, Nutella fudge in the middle and chocolate on top, you cannot go wrong!
From: lifeloveandsugar.com
9. Nutella Muffins
For those of you looking for a Nutella Muffin recipe to die for, I can't recommend this simple and easy recipe enough.
If you're a Nutella lover, then you'll drool over these muffins for sure. And, you'll probably want more, more and more!

From: cantstayoutofthekitchen.com
10. No Bake Nutella Cheesecake
I'm a big fan of Nutella. And cheesecake. So yeah, Nutella cheesecake was a natural combination.
I had never whipped up Nutella cheesecake before but I have to admit that this one is a doozy! And I've made a lot of cheesecake recipes.
The sweet Nutella with a hint of cocoa is just delicious and then when you add in the crunch of Oreos…you just can't get any better.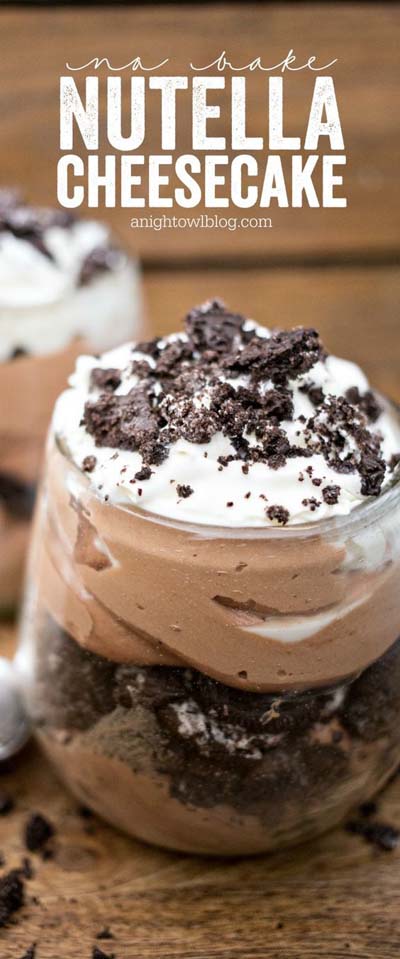 From: anightowlblog.com
11. Oreo Nutella Truffles
The Nutella flavor here shines through boldly for a fudgy, rich, chocolate hazelnut treat.
All without the guilt of licking Nutella straight off the spoon (for those of us that aren't actively trying to add on some pounds).

From: sugarspunrun.com
12. Nutella Milkshake
Creamy Nutella Milkshakes made with Nutella, chocolate milk and ice cream. Made boozy with vodka and creme de cacao.

From: diningwithalice.com
13. Frozen Nutella Chocolate Mousse Pie
This frozen nutella chocolate mousse pie has two layers. The bottom layer is a dense and rich chocolate cream and the top layer is a light and creamy nutella mousse.

From: chelseasmessyapron.com
14. Nutella Stuffed Brownies
The best fudgey brownies recipe filled with an ooey gooey center of Nutella.
The perfect chocolate dessert for any occasion.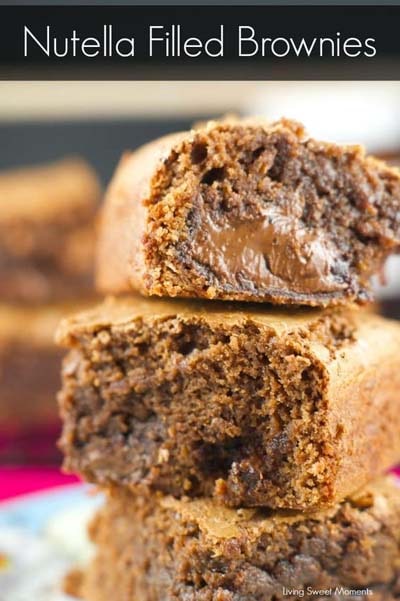 From: livingsweetmoments.com
15. Nutella Cheesecake Donuts
Easy, fried yeast donuts made from scratch, made irresistible by a Nutella cheesecake filling and smooth chocolate ganache topping.
Don't forget the sprinkles!

From: thecrumbykitchen.com
16. Chocolate Hazelnut Crepes With Nutella Ricotta And Raspberry Jam
If you know how delicious the combination of chocolate, hazelnut, and raspberry is, then you know why we loved these so much.
The crepes are a basic crepe recipe, doctored up with cocoa powder, sugar, and hazelnut liqueur (you can substitute for hazelnut extract).
They're filled with a mixture of Nutella and ricotta cheese, so it has a little bit of a cheesecake flavor! Nutella is very sweet, and the ricotta tempers it perfectly.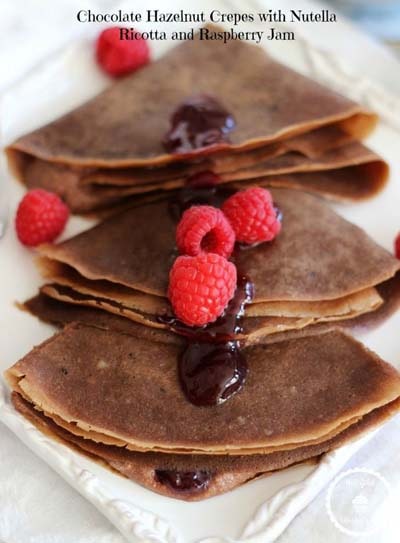 From: thegoldlininggirl.com
17. Pumpkin Nutella Swirl Brownies
Your fairy Godmother is calling and she turned your pumpkin into these Pumpkin Nutella Swirl Brownies.
And yes, you will feel just like royalty eating them.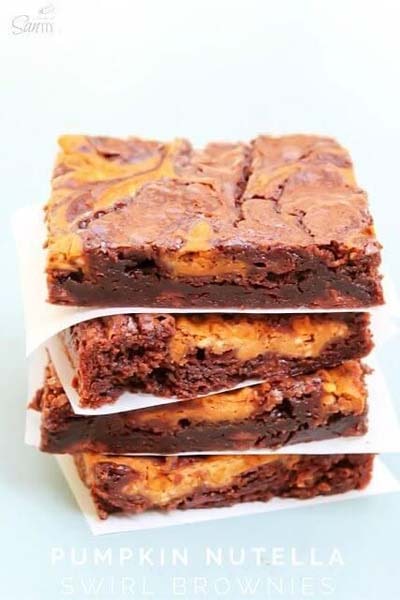 From: lovebakesgoodcakes.com
18. Nutella Cheese Ball
This delicious hazelnut cheese ball will be a hit at your next party! Serve them with crunchy cookies, graham crackers, pretzels and enjoy!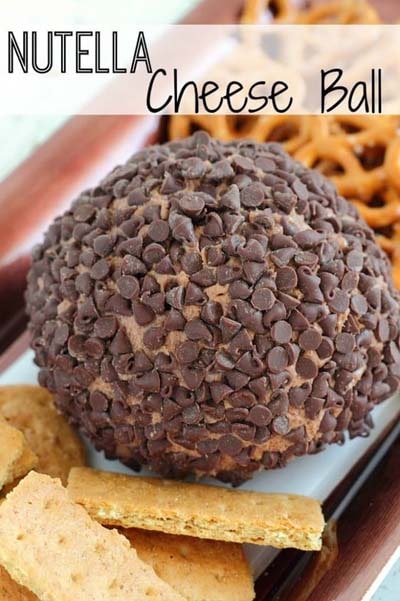 From: momentswithmandi.com
19. No Bake Nutella Fudge
If you love chocolate, this No Bake Nutella Fudge will be your new best friend.
Just 5 ingredients, ready in under 30 minutes, and no baking needed.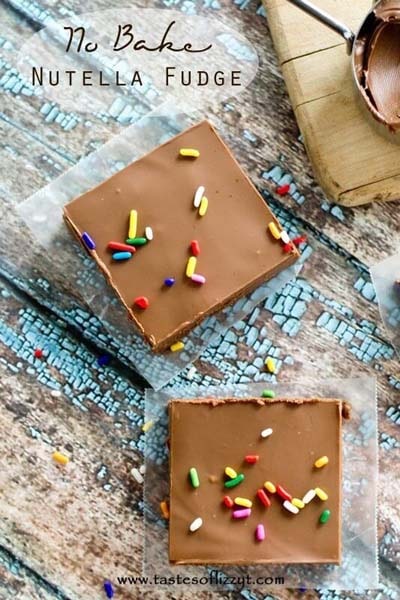 From: tastesoflizzyt.com
20. 3 Ingredient Nutella Brownies (Super Fudgy!)
These easy Nutella brownies are the best and require only 3 ingredients!
They have an ooey gooey fudgy texture and the most perfect crackly tops!
From: cakewhiz.com
21. Ultimate Nutella Cupcakes
Ultimate Nutella Cupcakes feature a perfectly moist chocolate cupcake base which is filled with Nutella, topped with Nutella buttercream, and garnished with a Ferrero Rocher candy!
It's Nutella perfection!

From: handletheheat.com
22. Nutella Croissants
You just can't compare homemade croissants to store bought ones.
Follow these step-by-step photo instructions and you will master the art of croissant making!
From: simplyhomecooked.com
23. Nutella Tart with Toasted Hazelnut Crust
This Nutella tart tastes exactly how it looks: lush.
It's a Nutella ganache of sorts, cooked on the… I'm sorry, wait. Did you read that just now? NUTELLA GANACHE.
From: sallysbakingaddiction.com
24. Strawberry Nutella Pizza
This Strawberry Nutella Pizza is an easy dessert recipe that will wow your guests!
There are really so many great flavors in this treat – bananas, strawberries, sliced almonds, Nutella, and powdered sugar!

From: lilluna.com
25. Nutella Brownie Cake
This decadent Nutella Brownie Cake is layers of rich chocolate brownies, creamy Nutella frosting, toasted hazelnuts, and a smooth chocolate ganache.
From: homemadeinterest.com
26. Nutella Filled Donuts
Super pillowy soft and just so good, these Nutella Filled Donuts is a dream of a dessert come true.

From: gardeningfoodie.co.za
27. Nutella Macarons
All you have to do to get a little taste of heaven all for your self and hit that Chocolate spot just right, is to make these light and delicious Nutella Macarons.
These little light, crunchy, chocolaty puffs of Nutella goodness are perfect any time, any day. Every day even, if it makes you feel better. Really, I won't judge.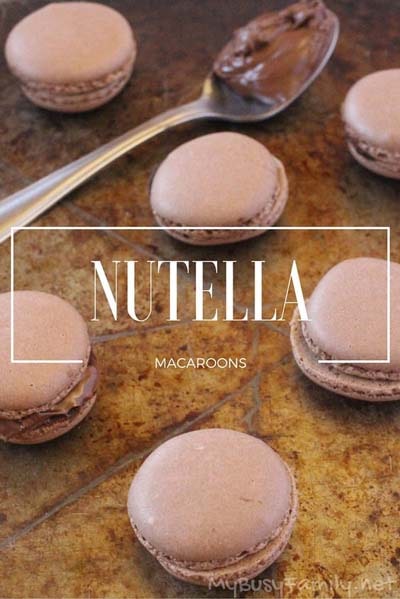 From: mybusyfamily.net
28. No-bake Nutella Cheesecake
These delicious single serving cheesecakes feature sweetened cream cheese, Nutella, and whipped cream in an easy to make, decadent chocolate dessert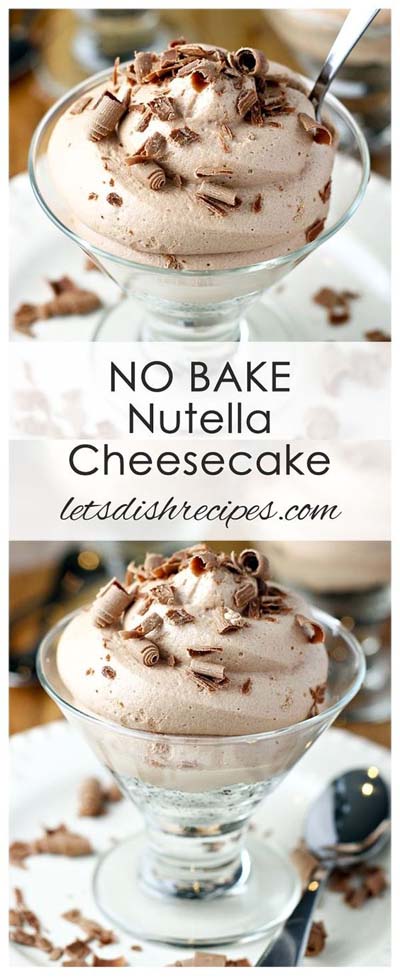 From: letsdishrecipes.com
29. Nutella Fudge
This Nutella Fudge is a SUPER fast recipe that your friends and family will ask for again and again!

From: wineandglue.com
30. Nutella French Toast Roll-Ups
These Nutella French Toast Roll-Ups are quick and easy to make and a fun, finger-friendly treat for breakfast or brunch.
And did I mentioned Nutella is involved in this recipe? Enough said!
From: cucinadelicious.us
31. Nutella Wontons
These decadent Nutella Wontons are crisp wontons filled with creamy, rich Nutella hazelnut spread.
It's an easy Nutella dessert recipe everyone will love!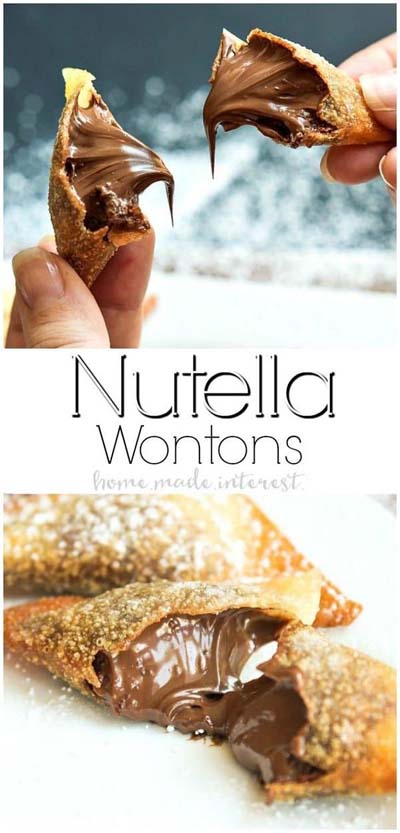 From:  homemadeinterest.com
32. Flourless Fudge Filled Nutella Cookies
Flourless Fudge Filled Nutella Cookies have a simple two ingredient fudge stuffed inside an easy three ingredient cookie that tastes absolutely heavenly together!
Read below how this versatile, naturally gluten free cookie can be made into many different types of holiday cookies.

From: mamagourmand.com
33. Easy 4-ingredient Nutella Rolls
These delicious Nutella rolls are easy to make with just 4-ingredients!
Enjoy them warm and add your favorite mix-ins for a yummy dessert everyone will love!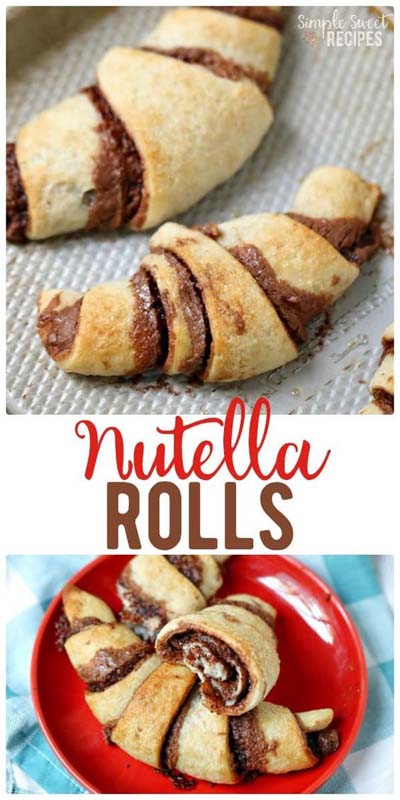 From: simplesweetrecipes.com
34. Nutella Stuffed Churros
Nutella Stuffed Churros feature a homemade pastry that is deep fried until golden, coated in sweet cinnamon sugar, and stuffed with Nutella.
Yep, they are TO DIE FOR! Step-by-step video below.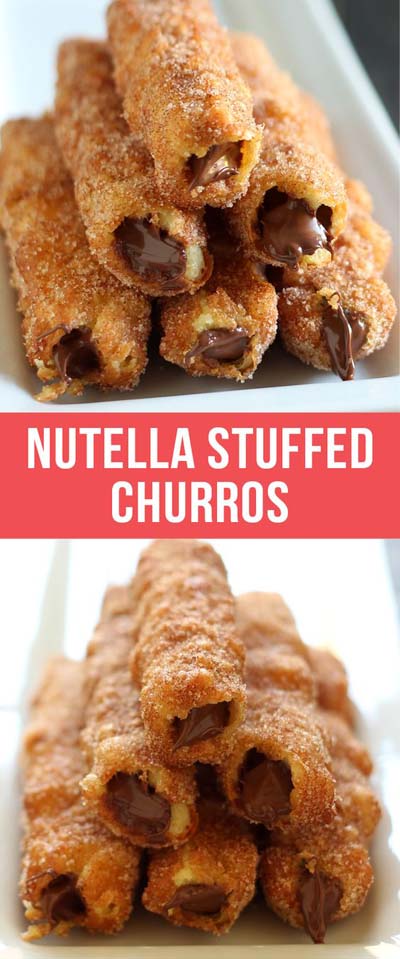 From: handletheheat.com
35. Ferrero Rocher Nutella Cheesecake
Devilishly rich, creamy, smooth and velvety… just one bite of this Ferrero Rocher Nutella Cheesecake will send you straight to seventh heaven!
From: eviltwin.kitchen
36. Nutella Hazelnut Chocolate Truffles
These Hazelnut Nutella Chocolate Truffles only need four ingredients, they are completely no bake and they taste incredible!
They're made with an easy dark chocolate ganache and a generous helping of Nutella. And they are then rolled in chopped roasted hazelnuts.
From: sweetestmenu.com
37. Nutella Stuffed Salted Caramel Blondies
I think this may just be the holy grail of Nutella Blondies I've ever made or tried in my lifetime…I swear.
Fudgy, melt-in-your-mouth Salted Caramel Blondies…stuffed with Nutella. And no washing pans afterwards!

From: cafedelites.com
38. Easy Twisted Nutella Danish Recipe
These Twisted Nutella Danish pastries are buttery, flaky, and filled with Nutella!
They're easy enough to whip up on a weeknight when you need a sweet treat, yet delicious and pretty enough to serve up for guests.
From: platedcravings.com
39. Nutella S'mores Cups
This rich nutella dessert couldn't be any easier.
All you need to create these Fudgy Nutella S'mores Cups is 30 minutes and 3 ingredients – nutella, mini marshmallows and crescent dough.
From: savorandsavvy.com
40. Nutella Stuffed Chocolate Whoopie Pies
These soft and fluffy Nutella Stuffed Chocolate Whoopie Pies are absolutely divine!
They are filled with a creamy Nutella frosting making them the ultimate chocolate treat.

From: handletheheat.com
41. Nutella Mousse Cookie Cups
These Nutella Mousse Cookie Cups are the perfect way to indulge!
They taste insanely delicious and are great for parties and special occasions. I promise, you just found your favorite way to eat Nutella.

From: platedcravings.com
42. Easiest No-bake Nutella Pie
The best chocolate pie you'll ever have! This no-bake Nutella Pie has become an instant favorite!
Just a few ingredients but wow, is this pie amazing!
From: littlespicejar.com
43. Flourless Nutella Banana Bread
This flourless Nutella banana bread is moist, rich, and fluffy all at the same time.
It's also ridiculously easy to make. You throw all your ingredients into a blender, pour it out into a pan, and bake!

From: kirbiecravings.com
44. Nutella Crunch Ice Cream Cake
Three simple ingredients make up this Nutella crunch ice cream cake.
Nutella, Rice Krispies cereal, and vanilla ice cream.
All combined together into one fantastic, and super easy-to-make dessert!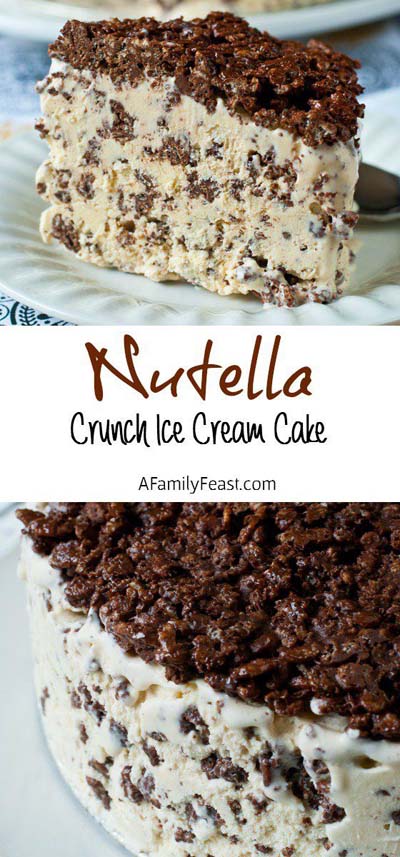 From: afamilyfeast.com
45. Nutella Cinnamon Rolls
These bite-sized rolls are super easy thanks to a of base of crescent dough.
While they bake in a muffin tin, make the DIY icing: a quick mix of butter, cream cheese, sugar, and vanilla.
Yes, you can also use store-bought frosting. No, we won't judge.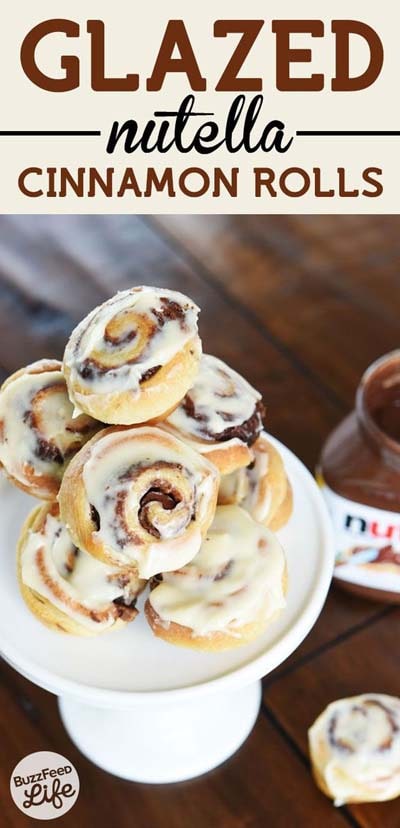 From: buzzfeed.com
46. Mocha Nutella Cupcakes
These Mocha Nutella Cupcakes are the perfect way to get your coffee fix!
A moist coffee flavored cupcake topped with creamy Nutella frosting!

From: thereciperebel.com
47. Nutella Mousse Peanut Butter Cups
Love Nutella and peanut butter? Then combine the two with this delicious dessert!
From: itallstartedwithpaint.com
48. Nutella Marbled Chocolate Chip Cookies
There's treasure in them thar cookies! Got some sweet, soft, chewy and kinda crispy chocolate chip cookies marbled with Nutella swirls!
Let it be known…I'm not abandoning ship as long as these gems are on board. These Nutella Marbled Chocolate Chip Cookies are worth walking the plank for though!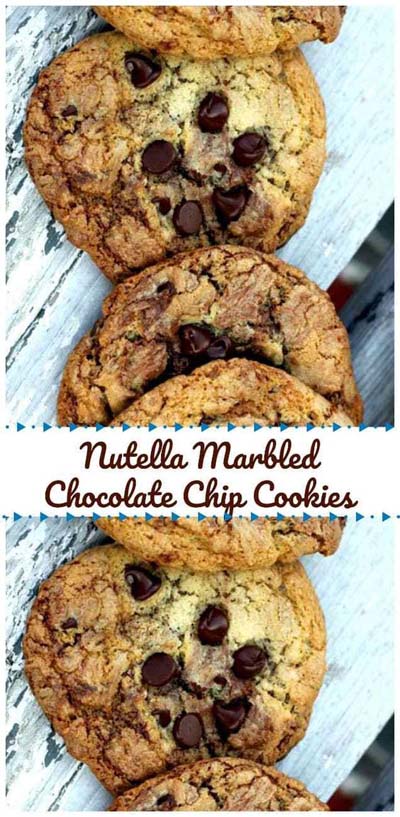 From:  thebakingchocolatess.com
49. Banana Nutella Ice Cream
Enjoy the flavour of Banana Nutella Ice Cream – made paleo, vegan & dairy free and without any added sugar.
Roasted hazelnuts, cocoa, and a creamy frozen banana ice cream base make it possible.
From: leelalicious.com
50. Easy Nutella Salted Caramel Cheesecake
This no-bake cheesecake filling has salted caramel mixed in, then dots of salted caramel swirled in too.
This creates lovely little blobs that ooze out when you cut into the cheesecake.
That Nutella topping just finished the whole thing off. So addicting!!

From: centercutcook.com
Loved these Nutella Dessert Recipes for later! Then make sure you pin it for later!
If you enjoyed these Nutella dessert recipes, please pin it to your dessert board on Pinterest! Remember, sharing is caring!
Also if you end up making any of these Nutella dessert recipes, let us know how they turned out for you! Would love to hear your feedback.