We all sometimes have those days where we crave something sweet right? And being on the ketogenic diet is no exception. Sometimes you just need some chocolate or cookies to satisfy your cravings. These 16 stupidly easy low carb keto cookie recipes will help you do just that! And you don't even need to feel guilty about eating these yummy treats! Just work them into your macros and you're good to go!
This post contains affiliate links. Please read our disclosures policy for more info.
16 Mouth Watering Low Carb Keto Cookie Recipes
Enjoy these low carb keto cookie recipes – to view the full recipe for any of them, please click the link below the image.
1. Low Carb Chocolate Chip Cookies
Chewy, thick keto chocolate chip cookies made with both coconut and almond flour.
These low carb cookies are a perfect recipe to make for any occasion, they take only 15 minutes or less, and the dream comes true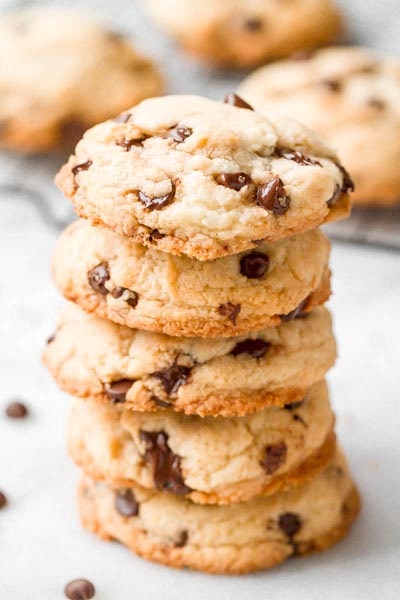 From: eatwell101.com
2. Keto Cinnamon French Toast Cookies
These cinnamon french toast cookies are super delicious.
If you imagine a delicious piece of french toast and turned it into a cookie, that's exactly what you're looking at right now!
From: fatforweightloss.com
3. Low Carb Zero Sugar Coconut Flour Cookies
With these, you won't miss your classic shortbread cookies.
They have the exact same texture – they melt in your mouth with a heavenly buttery vanilla flavor – without the carbs, butter or sugar.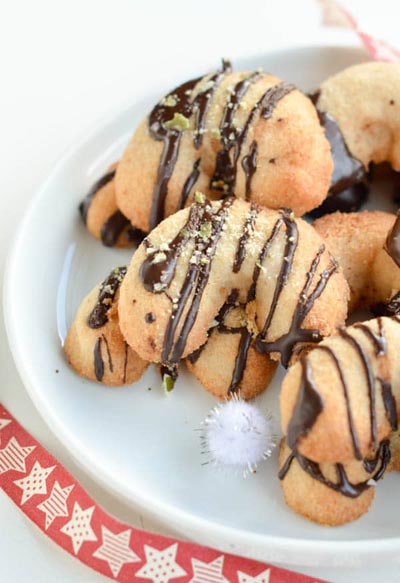 From: sweetashoney.co
4. Five Minute Magic Keto Cookies
These Keto Five Minute Magic Cookies take all the flavors of the popular Magic Cookie Bars and turn them into a cookie that mixes up in only 5 minutes.
With chocolate chips, coconut flakes, and walnuts these are my new favorite easy recipe.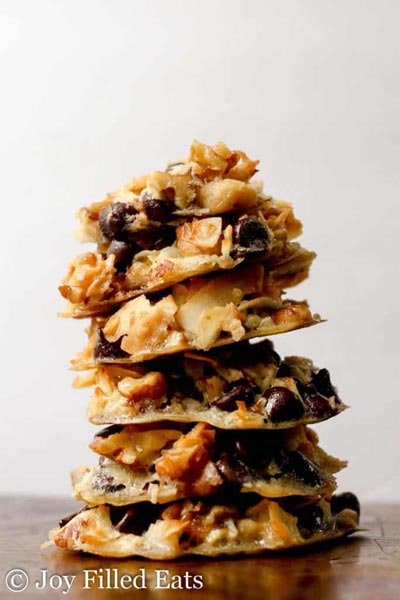 From: joyfilledeats.com
5. Keto Pumpkin Chocolate Chip Cookies
Attention, cookie lovers! You can bake delicious keto pumpkin chocolate chip cookies that taste AMAZING!
These cookies are gooey, soft, and guilt-free! Plus, they happen to be easy to make and something to add to your fall baking list of goodies.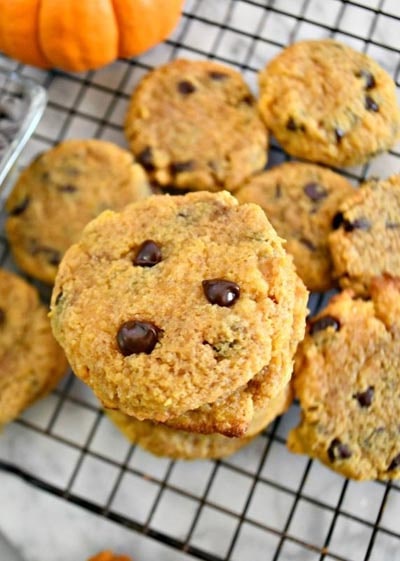 From: hip2keto.com
---
If you're looking for more keto snacks and treat ideas, you should definitely check out The Keto Box. This is a subscription box service that mails you 8-11 Ketogenic snacks ever month at a really affordable cost, which makes sticking to your keto diet much easier!
---
6. Low Carb Chocolate Dipped Peanut Butter Cookie Sandwiches
How could you possible go wrong with Low Carb Chocolate Peanut Butter Cookie Sandwiches?
From: peaceloveandlowcarb.com
7. Supreme Double Chocolate Chip Cookies
Soft, moist, intensely chocolatey and lightly chewy.
These gluten free and keto double chocolate chip cookies are what keto dessert dreams are made of.
From: gnom-gnom.com
8. Bakery Style Gluten Free Keto Chocolate Chip Cookies
Chewy, lightly crisp and customizable to your taste buds!
These gluten free and keto chocolate chip cookies are utterly amazing and just 1.5g net carbs a pop (i.e. the ideal low carb dessert!).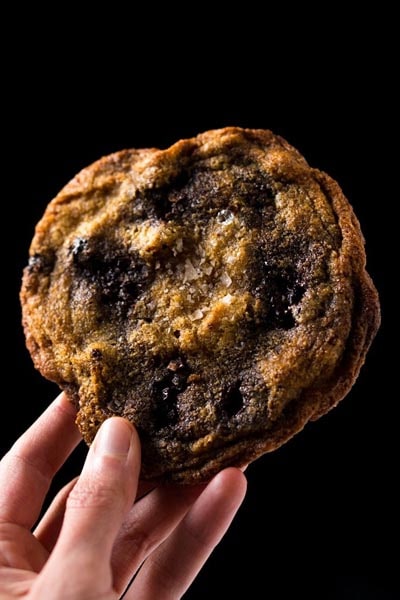 From: gnom-gnom.com
9. Low Carb Browned Butter Chocolate Chip Skillet Cookie
Low Carb Browned Butter Chocolate Chip Skillet Cookie with crispy, buttery edges and a sweet and fudgy cookie dough centre!
From: cafedelites.com
---
Psst – If you don't want to or don't have the time to make your own keto cookies, we've also got a list of 20 delicious keto desserts you can buy at the shop!
---
10. Keto Flourless Chewy Double Chocolate Chip Cookies
I'm pretty sure these will become your all time favorite low carb cookie.
Think low carb brownie meets perfect keto cookie. It's a marriage made in chocolate heaven.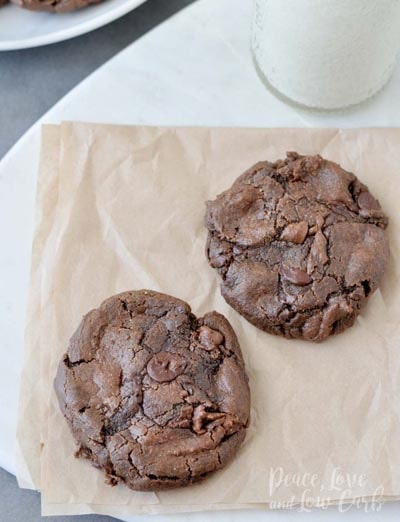 From: peaceloveandlowcarb.com
11. Low Carb Raspberry Cheesecake Cookies
These easy raspberry cheesecake thumbprint cookies are gluten-free & low carb.
A cream cheese shortbread cookie with a raspberry swirl cheesecake center!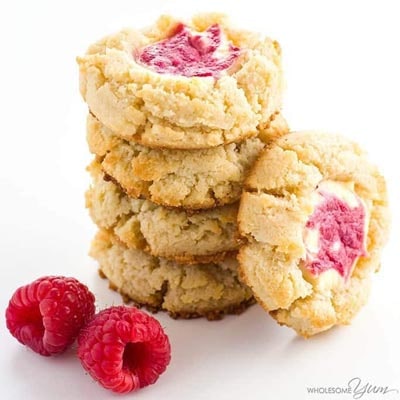 From: wholesomeyum.com
12. Quick & Easy Keto Cream Cheese Cookies
These low carb keto cream cheese cookies are so fast & easy to make! Just 6 ingredients, 10 minutes prep, and 15 minutes in the oven.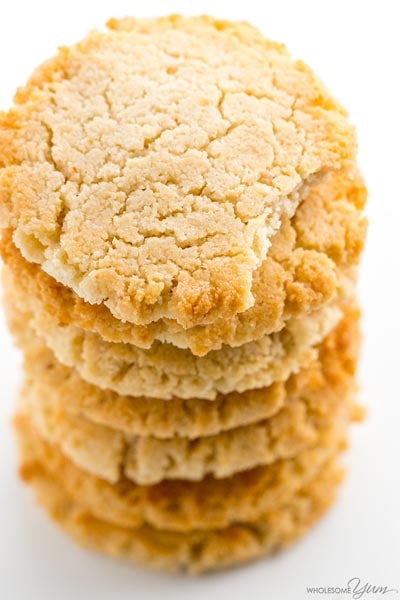 From: wholesomeyum.com
13. Low Carb Snickerdoodles
Crispy on the outside, tender and slightly chewy on the inside, these low carb snickerdoodles are everything you love about a great keto cookie!
The toasty coating of cinnamon & sweetener makes these keto snickerdoodle cookies simply perfect with a cup of coffee!
From: ibreatheimhungry.com
14. Soft and Chewy Keto Chocolate Cookies
Soft and chewy keto chocolate cookies are made with nut butter and sweetened with stevia.
Beware – they are addictive!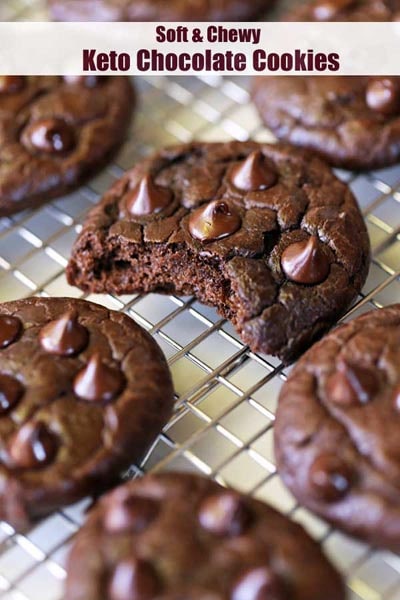 From: healthyrecipesblogs.com
15. Low Carb Peanut Butter Cookie Recipe
These Low Carb Peanut Butter Cookies have made it easier in this first week of my diet to give up the usual baked goodies.
They are lightly crisp on the outside and dense/moist on the inside.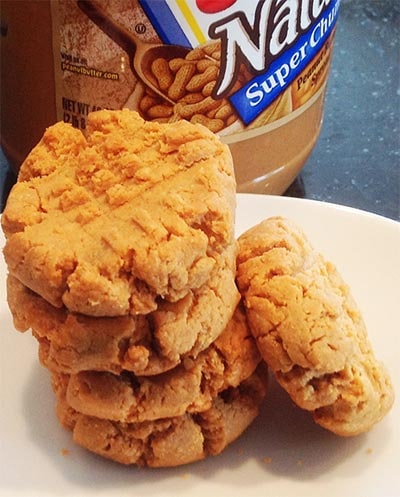 From: bakingoutsidethebox.com
16. White Chocolate Macadamia Nut Cookies
Think you can't have yummy white chocolate macadamia nut cookies on low carb? Think again!
Check out this easy low carb macadamia nut cookie recipe.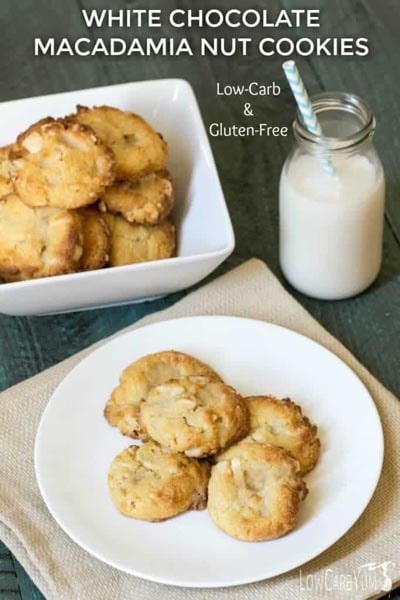 From: lowcarbyum.com
Looking for more great keto recipes? Then check out these:
Pin these Low Carb Keto Cookie Recipes for later!
If you enjoyed this roundup of low carb Keto cookie recipes, please take a moment to share it to your Keto board on Pinterest! Don't forget to follow The Daily Spice on Pinterest for more great recipes and ideas.