The feeling of fluttering butterflies in your tummy, having your heart skip a beat and the dreamy expression you wear on your face each time you see them or when the thought of them often crosses your mind. This simply means one thing, you've got a crush! And today we'll be sharing our top tips and ways to impress your crush and make them think of you.
It's a wonderful feeling that can get really complicated and messy if not properly handled. It can be awkward when the person we like hardly notices us or knows that we like them. It is even more awkward if you decide to try out ways to make them notice you and they just seem to live in oblivion when it comes to you and how you feel about them.
Don't despair, I'm here for you! However, before you set out to impress your crush and show them how you feel about them, there are some vital questions you've got to answer.
Ask yourself how you truly feel about this person (it might just be something that's simply not worth stressing over). Find out if there's a chance of you being together (you never know, they might be swept off their feet by another).
Ask yourself if you really know them (most times, our little crush cannot withstand the newly found flaws of those we admire). When you're sure you still want to impress your prince/princess charming, then you should try out the 10 tips given below.

Related reads
1. Don't be invisible
This is the best time to take off that invisibility cloak you've got on. It's fine to want to lead a quiet life but sometimes, putting yourself on the edge spices things up a little and guess what? You'll love it!
Now hold up, you don't have to be a drama queen or king to draw attention to yourself. Trying to be who you're not will only mess things up for you. There are a lot of ways you can sell yourself without making a mess.
I'm sure you've got at least one skill you're passionate about? Great. Channeling efforts into that skill of yours would earn you success and recognition in your area of expertise. Of course, success comes with fame, no matter how little it is.
The better you are in your niche of study/work, the better the chances of your crush noticing you and getting impressed by you. So you're not just going to get your crush's attention and accolades, you will get better at what you do.
The bottom line is, to impress your crush, you have to stay out of your shadows. Be noticeable!
2. Don't try too hard
Ever noticed that people who throw in so much force usually turn off whoever they are crushing on? Worse still, they usually end up being ignored. This isn't just a trend in romcoms, it's actually true in reality.
We all want someone who'd do any and everything to be with us but you will also agree with me that it can easily feel like we are being choked. And in no time, we just don't want to be with that person anymore.
Rather than impress your crush, trying too hard would only put them off. You don't want to come across as a desperado. Also, it's safe to warn you that showing off won't help. It will only embarrass you or your crush or the both of you.
So whatever you do, be subtle about it. Don't overdo things; don't be Cinderella's step-sisters. Stop teleporting to wherever they are every time. Stop sniffing their used towels (that's gross), and stop saying yes to every request they make.
If you really want to impress your crush, blend and balance your emotions well with common sense.
3. Confidence speaks for itself
This might be the most difficult but the best time to do away with your timidity. Confidence is attractive, very attractive. It's okay to be self assured, to be confident and to have a mind of your own.
But don't be rude about it, that's a big turn off.
Here, striking a balance is the goal because no woman/man wants a timid person either. So we'll start with the conversation.
If you've never gotten to speak with them or you've done so on rare occasions, you can start a conversation about a topic on what they seem to like or something they are passionate about.
If you've had a failed attempt before, you can pick up from where you left off by making a joke about the failed attempt. Then proceed to keep up the convo by talking about what they like (be sure to leave good but honest remarks about their passion).
You can get to invite them over for lunch or even go for hangouts or a movie date. Now if you've got a crush on your friend, it can be really tricky but letting them know how you feel about them during a random conversation would be great.
People are always amazed by folks who come clean about their feelings for them. It might score you some points especially if they like you back.
4. Be original
Everyone loves real but the sad truth is that real is rare this days. In an era where many are feigning flawless all over the place, don't be scared to be original with your flaws. Show your goofiness if you want to, laugh a lot if you feel like (it's healthy).
If you like light makeup, don't ditch it for a hideous "face beat". Don't turn to a vegan overnight just because your crush ordered for roasted pumpkin seeds and celery with almond butter. Be yourself! They'll know you're not trying to impress anyone, and they'll love it (technically, you just impressed them!).
5. The "lady in distress" magic works!
Be sure not to go overboard with this.
If you know he's tech savvy, you can ask him what to do to fix the screen of your computer. If he's a Vet, you could use some great animal care advice.
If you'll be needing more than their opinion/advice or a hand, be sure to pay for their services (they'd be glad you are supporting them). Also, recognize that there's a thin line between asking for help and being overly dependent.
To avoid coming across as needy or making them uncomfortable, ensure you don't ask for too much help too often.
Nevertheless, asking for a hand is one of the best ways to impress your crush. To them, it means they are reliable and you trust them to help you when you're in need. They will be glad to lend a hand. Moreover, they wouldn't be the only one getting impressed, I promise you would too.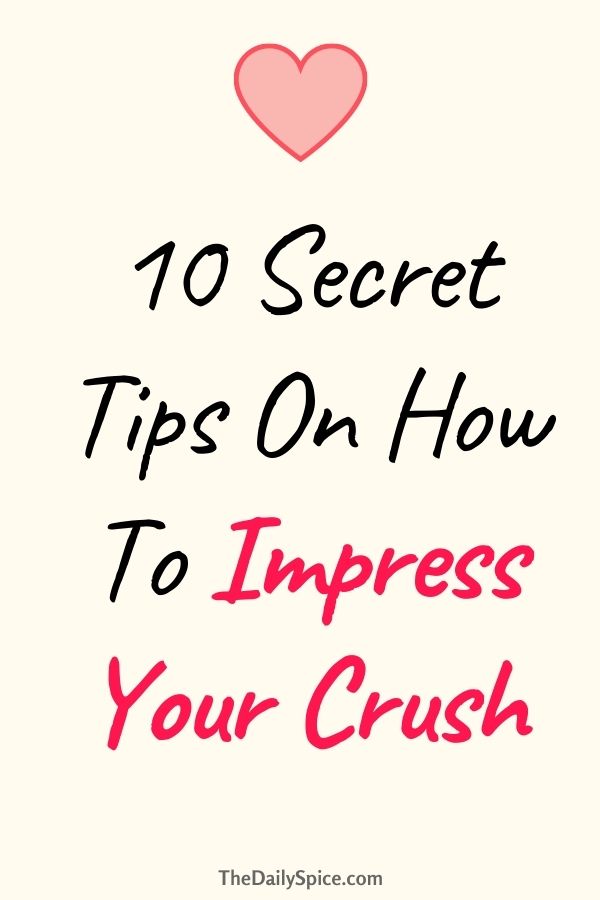 6. Be well groomed
Kindness, politeness and respect unlock another level of admiration from others and with these, you can get to impress your crush better. Now understand that you're not just doing this to put on a show so your crush can approve of you.
If you're not really the type that's mindful of the needs of others and care less about how they feel, maybe it's time you spice things up a little bit. Understand that it's totally okay to be kind, being polite is not a sign of weakness and being respectful does not make you docile.
Offering to help not just your crush but also people who are in need around you will certainly spark an interest in them. Politely making requests no matter the age of whoever you are asking is admirable.
As you know that respect is reciprocal, you won't only get to impress your crush when you respect people and their personal boundaries, you'll automatically earn their respect too.
7. Meet their persona
These days, social media makes it easy for people to assume they completely know others and it's a very dangerous trend to follow. When it comes to people's personalities and the truth about them, their online presence is usually nowhere near the tip of the iceberg of their real life persona.
As most people are trying to keep up an appearance, their bio on socials is either a complete facade or at most a 30% of their personality. Enough of the stats, let's get down to business.
While your confidence gives you the chance to have a conversation or even hangout with your crush, getting to know them will greatly boost their admiration for you.
This is a great avenue to know about their likes and dislikes, their family, skills, what they are passionate about, and even their relationship status (you certainly don't want to be called out on twitter for hanging out with a married man).
Ask questions about what interests them. And don't just ask, listen to them too. Sometimes, we get carried away while telling others wonderful wonders about ourselves that we forget to listen to what they have to say too.
Imagine going out with someone who won't stop talking about how they won three Nobel prizes in a row, or got the best ratings in the stock market – unimpressive right? Yeah, and pretty awkward too.
Don't turn the conversation into a radio show. While you're bold with introducing yourself and asking questions about their interests, don't chicken out when they ask for your opinion about something. Be honest and they'll be impressed.
8. Spontaneous still steals the show
Everyone likes surprises, especially the amazing ones. One of the ways to impress your crush is by being spontaneous. It's like giving them a feel of the magical you.
Trying out a new hobby with them, taking them on a surprise hangout (only if you've been friends), or sending them surprise gifts are some of the few spontaneous things you can do to win your crush over.
And who said it's only about you and them? Learn a new skill, try out a new look (don't do it if you don't like it). Go out for ice cream and have fun while impressing them. However, if you're really the stereotypical type and you hate disrupting your plans, being creative with your schedule will be perfect.
Don't forget not to try too hard. As long as you enjoy what you do, you're good to go!
9. Check your company
"Birds of the same feather flock together" is not just a cliché old saying, it's true. While you're working on impressing your crush, he might like you back but something else might be the clause.
We tend to believe that the people an individual has got in his/her circle is a great influence on them. True but not always true. For instance, you might be influenced by a friend's habit but not all of his habits.
I understand that you might not have popped a pill before even if you have a drug addict as a friend, but there sure are other ways this same person can influence you. That's exactly what others see and you might not get the chance to explain social psychology to your crush before they kill the last flame of likeness for you.
So it's best if you do a quick self evaluation check today. Are your circle of friends hindering your crush from liking you?
10. Give it time
Don't be choky. Let them be! If they don't seem to get the gist immediately, don't go haywire trying to give them hints or make them pick you. They will only be terrified and they will tag you as desperate.
You sure don't want that kind of nick, not from your crush or anyone. Therefore, no matter how many butterflies are fluttering in your tummy at the thought of them , do not rush to show that you like or want them.
Even if they like you back, they'll simply keep you at an arm's length. Why? Because nobody wants to get stuck with a needy individual!
Final thoughts
So there you have it! Ten real ways to impress your crush. However, if after all these, they still seem uninterested, I'd implore you not to be bothered. You're the bomb!
There's someone out there who's longing for you as much as you're crazy about them. You might think it's just a popular saying until it happens to you. So whether you get to really impress your crush or not, don't fail to remember that You're worth all the likes, attention and love!
Please share & pin these ways to impress your crush!