Things have been going on smoothly between you and your boyfriend and it seems he wants to take it to the next level, so he brings up the idea of you meeting his parents (okay, breathe, in and out, in and out).
Of course, that feeling of anxiety sets in. It feels as if you are going for a crucial interview and you start thinking of what to say, and what not to! The word "nervous" might not really capture how you feel. This and many more thoughts are probably running through your mind.
It's all normal and expected, especially when it's your first time meeting his parents. Do not make too much of a fuss about it or get too overwhelmed.
Just sit back, grab a drink and relax as I give you some tips on how best to go about it, as well as some subtle mistakes you should avoid when meeting his parents. Let's go!
Related reads

1. Not being well informed beforehand
The greatest mistake you can make when meeting your boyfriend's parents for the first time is not being well informed. Why? Because information is the basis to build on when meeting his parents. If you overlook this, you may end up ruining what would have been a perfect chance to get close to his parents.
What do I mean by being well informed? Most likely, he has told them about you, so it's great if you know some general facts about them.
This includes getting familiar with their character, their do's and don'ts, their preferences, religious and cultural beliefs, and other things you feel would enhance their relationship with you and guide you during your discussion with them.
2. Dressing Inappropriately
"Dress as you want to be addressed". This is a popular saying which some may see as cliché but it carries a powerful truth. People see you before they hear you.
This is one of the first impressions you give a person about you – your dressing. While meeting his parents, avoid overdressing or underdressing. But, how can you do this?
Baby girl, get information on how conservative your boyfriend's parents are. You do not want to make the mistake of showing too much skin or wearing an outfit with images or meanings that might come off as being rude.
Have an idea of the meeting venue. If you are supposed to meet at a fancy restaurant, or maybe at the family house, do well to wear an appropriate dress that would be a nice fit for each situation.
It's not about hiding your true colours or anything, but being respectful enough to dress in an appropriate way.
3. Late Arrival
Punctuality is another first impression people get about you and I am sure you do not want to give off a bad first impression, especially on this important occasion. Give yourself enough time to get ready.
Opt for being fashionably early. Going early is a better option than arriving late. Let's say you are supposed to arrive at 7 pm for dinner, make sure you are there at least 10 minutes early.
This would give you enough time to get more information about the family. Being late would make you feel disoriented and disorganised and could increase any anxiety that might have died down earlier.
4. Not bringing a gift
Although it might seem unnecessary to bring a gift along, do not underestimate its importance, no matter how small the gift might be.
If you are invited to their home, there is nothing wrong with bringing a bouquet for the living room or a bottle of wine or a box of chocolates. It goes a long way in their impression of you even if they do not show it.
5. Being culturally indifferent/insensitive
In the case where his family is from a culture different from yours, do well to take note of what is and what is not acceptable. Considering these things would give you more brownie points on his parents' checklist.
For example, in most African cultures, kneeling to greet elders is one of the most highly placed behaviours. So if the parents of your boyfriend are from such a tribe, doing this would make his parents think well of you. This also applies to religion.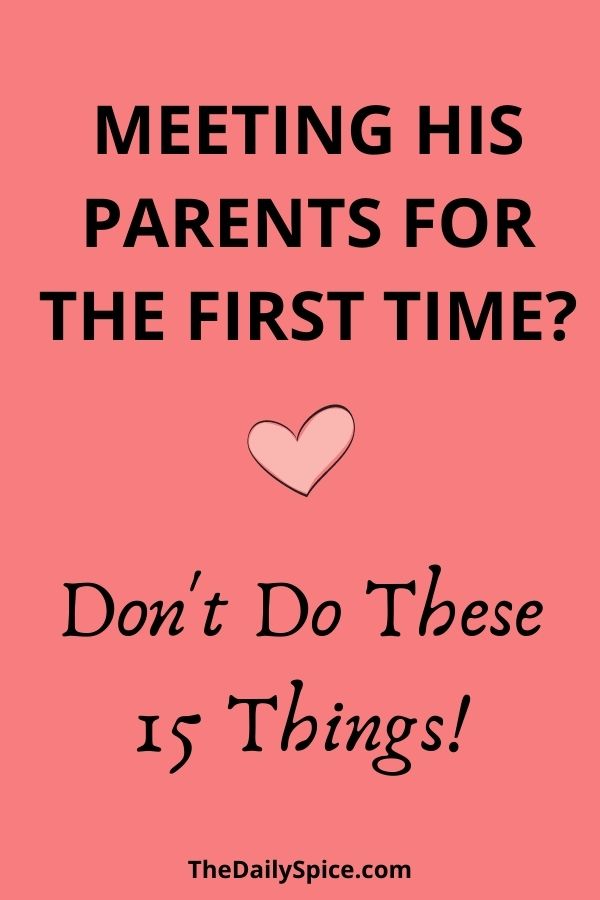 6. Inappropriate table manners
We all know about the usual table manners such as closing your mouth while chewing, not talking while eating, and so on. But there are common but subtle mistakes you should take care not to make while meeting his parents. These include:
Bringing your phone to the dining table: One of the most important things you should take note of is communication. When this is lost or misunderstood, disapproval is inevitable.

Taking your phone to the dining room or texting while eating shows that you are not really interested in them and you are just there for courtesy sake. Once they start feeling this way, you sure have lost their trust, at least, to some extent.

Keep your phone aside and listen to what they have to say no matter how boring it may seem. If need be and you have to use your phone, excuse yourself from the dining table, attend to it and come back as soon as you are done.
Drinking too much (alcohol/wine): When given a drink, just take a glass at most and if you are not a heavy drinker, it is advisable not to drink at all. This would reduce any unnecessary embarrassing behavior that comes with getting drunk.
Being picky while eating: You would certainly be asked to feel at home. It just means to be comfortable with them, not eating too much or telling them what not to serve you! Accept what you are offered and do not be picky.
Not offering to clear the table: Well, this might seem weird of you to do since you are their guest but what's the harm in offering to clear the dining table?

Of course, they would decline your offer and treat you as the guest you are but that act has shown them that you see them as a family and want to help out in the little ways you can. Isn't it better than just sitting and waiting for the whole table to be cleared while you are watching? Think about it.
Not being appreciative of the food: "Thank you" is one of the magic words when giving a compliment. Saying thank you for the food you were offered won't remove a dime from you, rather, it would open their hearts to you.
7. Improper Etiquette
Etiquette such as elegance, the proper way of sitting, and the use of language matters. If you get these little things right, this could be a big plus to you, as well as a huge minus if you do not.
Make sure you do not raise your legs while sitting on the sofa. Laugh moderately, not too loudly. Rather than using slang with them, use proper and clear English (or whatever language would be better depending on whether you can speak their language).
Do not try to show off your exquisite use of vocabulary. Speak calmly and make them feel comfortable with you.
If you aren't this type of person, you could try to adjust and adapt but make sure you don't go too extreme for the sake of pleasing them.
8. Pretense
Be yourself. This is actually your most powerful weapon. Meeting his parents is not a competition you should strive to win. It is just getting to know them so that you can accept them as part of your life. So be honest.
Do not try to be what you are not, just to please them. It could end really ugly for you. If you don't know how to do something, do not act as though you do.
Do not pretend to be too polite, this would make them see you as a fake. Try not to compliment too much or they could see it as flattery. Just try to find the balance in between and act as you would normally. Besides, they want to meet the girl their son has fallen for, not a false version of her.
9. Public Display of Affection (PDA)
Get a hold of your feelings. Do not be overly affectionate with your boyfriend in the presence of his parents. Being young and in love is a beauty to behold but it should not be overemphasised especially while meeting his parents.
Yes, show your admiration for their son. You could hold his hands but anything more intimate than that could be appalling and unacceptable to his parents.
10. Keeping mute/being overly reserved
Understandably, you might not be open with the family at the first meeting with them, especially if you're the shy type or you are just trying to avoid mistakes such as saying something that's out of place.
This might make you too reserved with them and guess what? Not only would they feel uncomfortable, but also, they would most likely think that you do not want to involve yourself in things that are of importance to them, which we both know isn't true.
11. Talking more than necessary
During discussions, probably after eating, your input may be needed. While taking the advice of not being overly reserved, do well not to talk more than necessary.
Even if you might have a lot of experience or interest in the topic being discussed, just ensure you give your thoughts about it when asked and make sure not to take over the conversation. If you do not have an idea of the discussion, humbly say you don't. Be modest and gracious in speech.
Do not bring up discussions concerning marriage plans. This might give you away as being too forward. If anything, let your boyfriend be the one to bring up the discussion. It is more appropriate since he's their son.
Also, avoid asking too many questions. Let your questions be intelligent and also related to the topic being discussed. When asking questions, do not dampen the discussion with your questions. Instead, look for ways to engage them interestingly.
12. Oversharing
While discussing, you might be tempted to share unpleasant personal memories. It might be a story you think is funny but has some question marks to it, do not share it! Stop there, hold that thought.
Not everything has to be said. Take it slow and retrace your words. Your boyfriend might understand what you really meant but his parents might not, so take it slow and steady.
13. Taking sides
Sometimes, little arguments could steam up during discussions and awkwardness would be the order of the day. Whatever you do, make sure you do not take sides. Stay neutral. I repeat, stay neutral.
Do not get involved in the family drama. You might be tempted to take your boyfriend's side, but try not to. You do not want to be in the middle of a quarrel with people you just met.
14. Arguing with his parents
Regardless of the matter at hand, whether you are right or wrong, do not argue with your boyfriend's parents. It is not polite to do so. Just take it all in.
At least, it's just for that day, and who knows, they might just be testing your patience with them.
15. Overstaying your welcome
When you see that his parents are done talking and are getting ready to take their rest, you should be sensitive enough to suggest taking your leave. They wouldn't want to be the first to say it so that they don't come off as being rude to you.
You should take note of the little signs and body language that they give. This way, they know that you understand them and they won't get tired of you or refuse your visit when your boyfriend suggests it another time.
Final thoughts
And there you have it ladies and gentlewomen. These are some major mistakes you can do well to avoid when meeting your boyfriend's parents for the first time.
Take note that information is key, and being yourself is your weapon. Once you understand these two things, the rest will take care of itself.
Like I said earlier, do not get nervous about meeting his parents. You've got this girl!
Pin these 15 mistakes to avoid when meeting his parents!