Breakups? They sure are our worst nightmares and if not properly handled, they could create problems way bigger than we'd ever imagine. Today we'll share some tips on how to get over a breakup, let go of your ex and heal your broken heart.
Like the saying goes, "no condition is permanent". So always remember that whatever happened, whatever you're feeling right now won't last forever, it will pass. 
However, there's a difference between getting over a break up and healing from past hurts. The goal is not to get over your ex and later tweet "All men/women are cheats, love is a scam, true love doesn't exist" etc.
After a breakup,  you don't want to come across as a toxic individual. But with the few tips shared below on how to get over a breakup, you'll hopefully move on in peace and not let this failed relationship ruin any future relationships for you.
1. Understand and accept the need to move on
There are a zillion reasons why you need to move on. Understanding and accepting the facts is the most important and hardest part of the whole situation but its a rite that must be performed.
You have to accept that it is what it is, no what ifs or buts. The relationship simply didn't work out so don't you dare blame or beat yourself up over it.
2. Explore the world
You might be feeling a little too sober and blue but this will definitely help you during your healing process, it's part of it. It's okay to cry and hurt, but you can't stay in bed forever, and this should be the perfect opportunity to explore the wonderful wonders of the world around you.
There are so many amazing things you're yet to try out, great places you've not been, awesome people you haven't met and making use of this opportunity won't hurt. Instead, it will do you a whole lot of good.
3. Be comfortable in your own skin
After a break up, comes a time when you start feeling lonely and start avoiding going out because you don't want to go alone. It's harder when you really have to go to places you've been with your ex.
Nevertheless, it might be what you need to jolt yourself back to reality and get over a breakup. You're no longer part of the Jake and Diane entity, you're you now. You need to start getting comfortable with sitting alone in a restaurant or going on a road trip without a significant other, it will help you boost confidence and self esteem.
4. Heal before you deal
Avoid going on dates and getting entangled if you're yet to heal, it will wreck more havoc to your emotional wellbeing, even that of others.
I've seen folks jump into another relationship because they are socially needy. This is very unhealthy. If you really need to go to a place with someone, your sibling or one of your good friends would be glad to go with you.
Also, avoid catching feelings with friends who simply want to see you happy. Just because he/she is a good person doesn't make them right for you.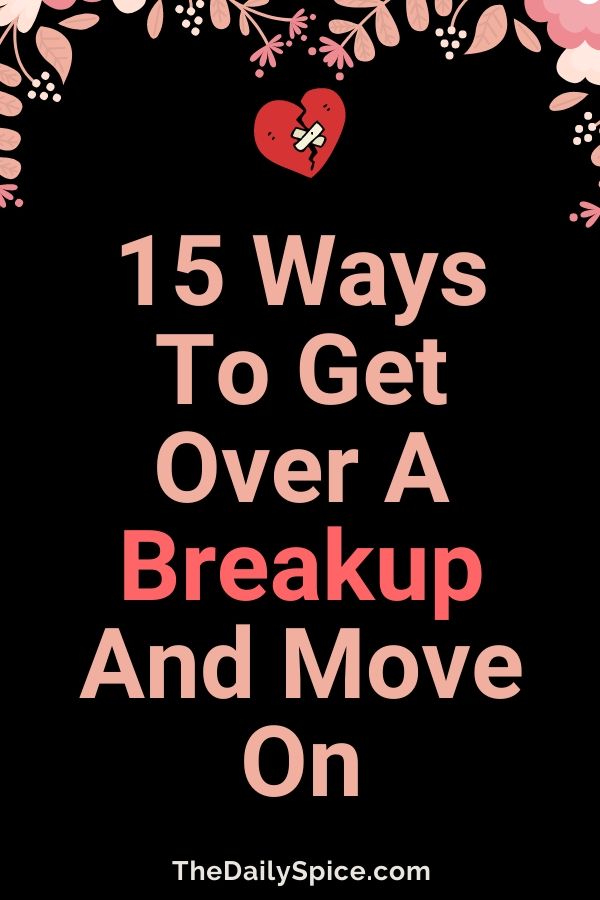 5. Be realistic
"It does not do to dwell on dreams and forget to live." ~Albus Dumbledore (yeah, it's from Harry Potter).
I know your hopes were high and expectations were present before it all went down the drain. Now it's gone, and you need to come to terms with the reality of the way things are.
There are times where you might be tempted to ask the buts and what if questions, but hey! It is what it is and blaming yourself won't change the facts, it will only worsen your emotions.
No matter how or why the breakup happened, it's not worth stressing over. It didn't work out and now it's move on O'clock. The quicker you embrace the reality, the better and faster you will heal and get over the break up.
6. No one's perfect
Okay, I promise I'm not trying to recruit a hate army but the truth is, your ex wasn't all that perfect.
So just in case a sweet memory comes lingering and you're starting to get drawn to the sweet memories, remind yourself of the bad old times too. Remember the unwilling compromises you made, the flaws they had, and why the breakup happened in the first place.
7. Don't be a hater though
While reminding yourself of the bad and awful things they did to you, try not to hate them. The goal is to get over the break up not breed an unhealthy mentality about people. Yeah, hate is that bad.
If the breakup was a painful one, this could be hard but you have to remind yourself that it's not worth it. Also, if you're yet to get over the break up, an iota of pity isn't allowed, babysitting time is over!
It's good to remind yourself that you're not responsible for whatever decision they make now. In summary, a feeling of indifference will be just fine to help you get over a breakup.
8. Channel your energy into productivity
You don't necessarily have to sign up for an online class and take exams or something (although those are pretty great too). There are several important and productive things you can channel your energy, time and resources into.
Remember your short and long-term goals, your aspirations and dreams? it's time to start taking significant steps towards bringing them to a reality. The more attention you pay to yourself, the better you will become. Subsequently, you won't have time to be sad or depressed over a breakup.
It's always important to work on your self-development at any stage of your life, and now is an even better time to do so.
9. Feel
Have you met some folks and all they do is share negativity about a particular person or group, see all men/ women as cheaters, bully and pass aggression on others at the slightest provocation?
Well, guess what? They started with denying their hurt and numbing their feelings.
You're human and you're allowed some hurt and pain so it's natural if you're hurting. Let the emotions flow, don't numb the pain or shy away from it, let it all out.
This will help you feel at ease and the more you do so, the less likely you are to be a toxic individual. This is not just about getting over the breakup, it's about having and maintaining a healthy psychological wellbeing.
10. Let your feelings come with an iota of self control
I don't recommend breakup songs for someone trying to heal from their hurt. Breakup songs are good once in a while, they help you have a sense of belonging and you feel like you've got something to relate your feelings with.
But have you noticed that they all follow the same pattern of an unforgiving ex making them feel like they are not good enough? For someone who's healing, it gets worse if you have to listen to music that exhausts your confidence and lowers your self esteem.
Too much of something spoils everything. So try striking the balance by knowing when to feel the pain and when to break away from the blue feelings. A breakup and circumstances surrounding it are not the truth about yourself.
Don't forget, it's just a phase and staying away from negative and toxic vibes will help you see that you're better than what life's offering you at that moment.
11. Be in touch with your being
This might be the perfect time to have a self reflection. Instead of exhausting your quiet time by crying over spilt milk and brooding over past hurts, you can venture into knowing yourself better and getting in touch with your mind.
This will help you understand your being more, identify your past mistakes and also learn from them. You don't need to see a soothsayer or do spooky stuff to get in touch with your inner being.
Journaling, reciting mantras (simply affirming positive views and thoughts about yourself frequently), meditation and even praying ( if you believe in prayers) would be adequate. You can try one of these or do all at a go, just ensure it's done at your own convenience.
12. Feed your focus
The purpose of being in touch with your inner being is to be able to focus on yourself, work on yourself and be a better person. During the relationship, some sacrifices were made and you were used to making compromises in order to reach a truce with your ex.
Now that all that is gone, it's a good time to remind yourself that you matter a lot and your happiness is very precious and worth the effort. So yes! It's okay to be a little self-indulgent.
13. Cut off all communication
Calls, texts and whatsoever gotta stop! Don't try to reach out to them to check up on them again. It will be difficult because you're used to daily communication but guess what? They belong to your past now and whatever is up with them is not your business or responsibility anymore.
Don't forget to unfollow and delete whatever needs to be off each others' social media handles. I know how tempting it is to stalk them and see what's up with them. I've seen some people go to the extent of creating catfish accounts just to spy on their exes. Going through all the trouble for what?
They are not worth the stress and when you start stalking, you'll only be hurting yourself and prolonging whatever time you need to get over the break up. Also, it's okay to discard the idea of being friends with your ex; it's a good emotional contingency measure.
14. Discard the triggers
Trash out whatever needs to be trashed, make sure they don't leave a strand of hair behind. When you're trying to heal and get over a breakup, don't hold on to stuff that would keep reminding you of them.
Photographs, texts, phone records, cuddle bears, gifts, spare keys etc. all fall in this category. Delete whatever needs to be deleted and trash items that trigger memories that need to be forgotten.
However, if you have to constantly be at a certain place at some point with your ex (perhaps if you're course mates or colleagues at work), subtly minimise contact and avoid running into each other.
If you're just healing and can't be at a party your ex is also attending without feeling any lumps in your throat, you can skip it. Don't worry, it won't be the last social function or party on earth.
Also, ensure you do something worthwhile or fun with your friends (hangouts, kayaking, skydiving, skiing, movie nights etc.) and not just pass the time thinking about what a great party you might be missing.
15. Surround yourself with good company
I understand the feeling of wanting to be left alone to cry in bed and exhaust the Kleenex, but I've got to tell you, that is the worst way to get over a breakup. Allow your family and good friends visit, take you out and spoil you.
Build your support system around them; they offer good company, a listening ear and even mood lifters. Being around loved ones during a heartbreak serves as an assurance that you still have important people who care about you and value you as much as you do them.
I'm not saying your privacy needs to be discarded for you to heal from the past. I'm saying this is the best time to strike a balance between your quiet time and spending quality time with loved ones.
Related reads
Final thoughts
Remember, time heals. There's no exact time frame or deadline as to when you are expected to completely get over a breakup. When you run into them and your heart skips a beat, don't beat yourself over it.
Give it time, be consistent with yourself, you'll get over it. Don't be oblivious to the fact that healing is not a one way traffic thing, it may take months for some people and years for others. So just because your friend got over her ex in 7 months doesn't mean you will. People differ so take your time, and ensure you come out stronger and better.
Please pin & share these tips on how to get over a breakup!