Dates, dates, dates… While some ladies enjoy going on dates, others think it's pretty awkward and even strenuous. Today we'll share some important dating tips for women to help you make the most of your dates.
Dates are meant to be fun, you know, meeting with someone you like or maybe even love. But sometimes it can get us all worked up wondering how we are supposed to act, talk, and even eat (especially if you are meeting for the first time).
Now, take a deep breath and relax, life is not that hard and those worries will make things worse. Rather than get anxious and worked-up over how and what to do right on your date, check out these 15 dating tips for women below!

Related reads
Dating Tips For Women:
1. Don't say any and every thing
To avoid giving the wrong impression to your date, you have to be careful when giving out details about yourself. Be mindful of what you tell him.
I know, I know, you want to get to know each other, but kindly save him the details of your gory childhood memories that now affect your view about in-laws or men.
You will not only prevent your date from making hasty judgements about you, you might be saving yourself from future trouble like being stalked or having your words used against you. So take a chill pill, have fun and don't tell too much.
2. Don't be quick to pass judgment
This is the 21st century and if there's one thing you should be reminded of, it is to not judge a book by its cover. I know it's quite easy to fall for people's outward appearances but be sure what you see is in sync with what he is.
Just because a man is arrayed in the glory and splendor of shiny shoes, a 3 piece suit, and fluent language use doesn't guarantee that he is responsible.
On the contrary, a man whose tie doesn't match his shoe color on a dinner date might be the most down to earth individual you'll get to meet in that decade. Now am I saying you should discard well dressed men for a shabby looking fellow because he might be Mr Right? Not at all.
The bottom line is, appearances are great but forming an impression out of it would be making a mistake. Way forward? Listen to his words, actions and attitudes, chances are, you'll get a hint of his real persona.
3. Don't hold back the compliments
Who says the ladies should get the accolades all the time? For some reason, there's this unwritten traditional rule that compels the guy to give a good remark about how well his date looks when they hang out. But guess what? They seldom get a feedback compliment other than "thank you".
Dating experts have agreed that both parties put on a show and try not to make things awkward during the date. So if he is also making efforts to give a good impression and not act awkwardly during the date, why don't you compliment him then?
Be nice, compliment his cologne, laugh at his jokes, tell him how nice his outfit looks. However, don't be shallow about it, make sure those compliments are real and honest.
4. Be you
This is one dating tip that can't be emphasized enough. Some women are struggling to keep up with the image they projected of themselves when they went on dates. It's okay to want to be at your best on the date, what is not okay is losing yourself in order to impress him.
Even if he gives you a hint that he likes bright colored dresses, don't ditch your favorite peach gown for that red velvet dress you despise so you can be in his good books. Be you and do you.
If you don't like eating too much and he says he likes girls who eat like they are going on a hunger strike tomorrow, please don't be fazed; comfortably order your fat-free and lean protein kind of dish.
5. Don't be left stranded
Whenever you're going on dates, ensure you carry extra cash or your credit card, to avoid stories that touch. A friend once told me about how her date decided to go Dutch on her at the restaurant without her prior notice. Messy right? I know.
So whoever your date is (I don't care if he's Jeff Bezos' son or a distant cousin of Bill Gates), always ensure it's not just your makeup and hair brush you stuff in your purse while you're going out. Take some cash with you too in case of unexpected circumstances.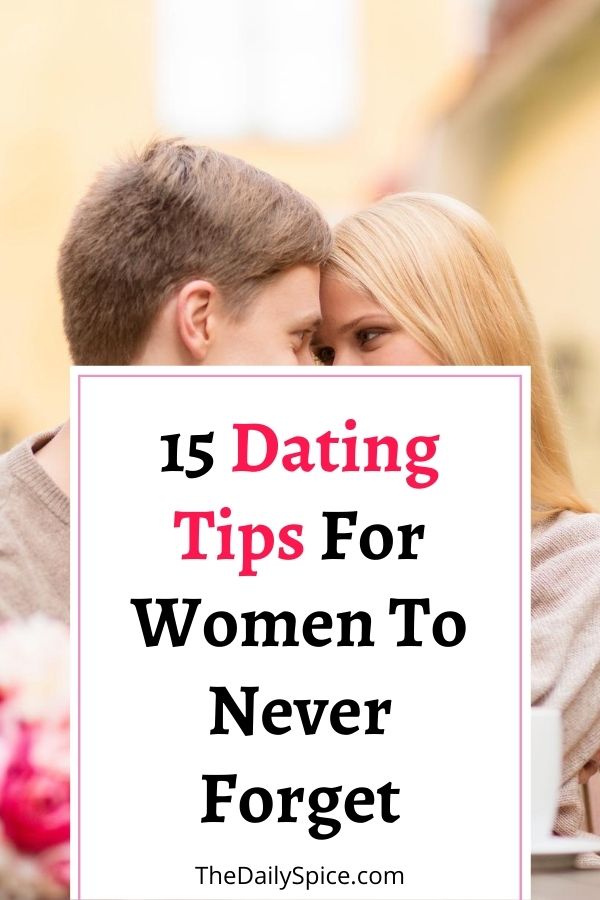 6. Easy with the Probing
Unless your date is a CIA undercover project, you've got to slow down with the inquiries. It's okay to have questions lingering on your mind and I understand how eager you are to have those questions answered (I mean, you're just getting to know him).
However, asking too many personal questions especially on the first date is a total turn off. Knowing someone takes time, not answered questionnaires from a date night.
7. Be Sure
Now, this is about striking a balance.
I know I already mentioned that you shouldn't ask too many questions during a date. Nevertheless, it shouldn't stop you from asking two or three questions about what you're not sure of.
If you're not clear about something, kindly put it out to him for clarification. Don't act based on assumptions, a question or two won't hurt.
8. Know what you want
Whether it's before, during or after the date, it's important you know and understand what works for you. If what you want in a man is quite different from who is sitting before you, be honest with yourself about it.
Do not allow your infatuation cloud your judgement, it will save you some future stress and heart ache. Also, don't set unrealistic standards for who you want your dream man to be.
I mean, it's quite funny when a needy, disrespectful woman won't go for any guy that's not 6'5, respectful, caring and rich as a life partner.
9. Be Content
It's okay to want to fill the void in your heart, it's nice to want to go on dates and have fun and it's great to want to love and be loved. However, ensure you are not dating for the wrong reasons. This is one of the dating tips most women like to avoid, but we have to call a spade a spade.
Don't go on a date when you are not ready to or go out with someone you wouldn't like to go out with just because your friends are doing the same.
Be comfortable with being single, be comfortable in your own skin. The more you are, the less needy you'll become and the higher your chance of attracting the right person. So be happy for you, party of one, party of fun!
Hang out with friends; if your homies and BFFs are not available and you'd like to see that blockbuster movie during the weekend, please don't hold back. You'll do just fine and you never know, your picture perfect might be seated right next to you in the cinema.
10. Give second chances
And the third and as many as you can afford. I understand the dating game can sometimes be a tiring one, especially if you've been going on umpteenth number of dates with no cute pictures, hashtags, PDA or romantic gifts to show for it.
Nevertheless, avoid seeing it as a routine and take a break if you are tired of it. But keep in mind that a genie won't appear to you and offer to give you Mr Right while you're wrapped up in your pajamas and duvet watching Netflix.
What to do? When next he asks you out and you'd like to go out, don't let disappointments from failed dates rob you of some fun. Get up, get dressed, put on nice makeup and a charming smile to go with, go forth and have fun.
11. Know your worth
Most ladies often think they are not good enough especially when it comes to matters concerning their body. The truth is, you are perfect just the way you are, and guess what? There is someone out there who thinks you are enough and appreciates every part of you.
So build your self esteem and do not allow anyone to make you feel otherwise. Be confident about yourself and your body. Real men like confident women (except the insecure ones, they usually feel threatened).
12. Be courteous
Real men like confident women but no one can stand a rude and disrespectful person. Let your self confidence come with a topping of respect. You don't have to courtesy every second like Lady Sansa from the House of Lord Stark before you are seen as a courteous and respectful woman.
Knowing when to say thank you and sorry is a good start. Also, beware of the remarks you give when he tells you something like his beloved dog pet has gone rogue.
13. Allow him treat you
A man who likes you would want to show you how much he does like you. His doesn't hold back his time and resources when it comes to the woman he likes so it is key to understand that most men are obliged to pay for the bills during a date.
Nevertheless, if you are not so comfortable with that idea, kindly speak up and let him know you would like to split the bills. If he insists, please be cool with it sis.
14. Keep it Short, Simple and Precise
While you are on a date, you are expected to have fun. So keep in mind that lengthy discussions about the baby shower of your dreams, your failed relationships and other controversial topics are not up for grabs in fun city.
Seriously, you really don't have to talk about your wedding or how many kids you would like to have during a date. There is plenty of time to discuss that when you guys get more serious. But at this stage, it comes off as desperate and a little too much.
Of course, there are situations where you and your date automatically connect and heck, it's love at first date. While this almost always happens only in movies, it is still a possibility. In this case, the two of you may get carried away talking about topics you didn't even plan on talking about.
If it flows naturally, and you're both interested in such topics, then by all means, you can chatter away. However, it's always best to save such discussions for much later. I mean, there's really no rush.
Also, if he happens to be the one talking about all this and you're starting to feel uncomfortable, nicely switch to a more fun topic that both of you would enjoy. It will save you some cringe feelings and him a few awkward looks.
15. Punctuality is key
The last but not the least of these dating tips for women is observing punctuality. Being on time should not only apply to you in the corporate world. Learn to be punctual even on casual occasions.
I know it's the typical thing for the guy to arrive early and wait on the lady while she rushes through her makeup, giggles at the mirror and then approaches the guy with slow mo with the "here comes the bride" rhythm.
Cut! This is not Hollywood and in reality no one likes to be kept waiting. It's a total turn off for everyone because I'm sure you also don't like to arrive early at a place only to find out that you have to wait 30 minutes later than the stipulated time. So if you both agree to meet at 7 pm, don't be mad if you don't find him there by 7:30 pm, time waits for no one!
Final Thoughts
So there you have it, queens! I hope these dating tips for women will help you plan a proper and less awkward date next time. Ciao!
Please share & pin these dating tips for women!