With 4th of July around the corner, you're probably already planning on how you will spend the day. Perhaps you'll stay at home and celebrate it with family, or maybe you'll celebrate it with a couple of friends. Whatever you plan to do, the day is certainly not complete without some yummy 4th of July desserts.
We have selected some of our favorite patriotic treats you can make to celebrate this day. Not only are these desserts colorful and look the part, but they're actually really tasty too!
15 Tastiest 4th Of July Desserts
Celebrate this year's 4th of July in style with these colorful treats and desserts! If you have kids, you can get them to help with the decorating and turn it into a fun activity for the whole family.
Hope you enjoy!
1. American Flag Marshmallow Pops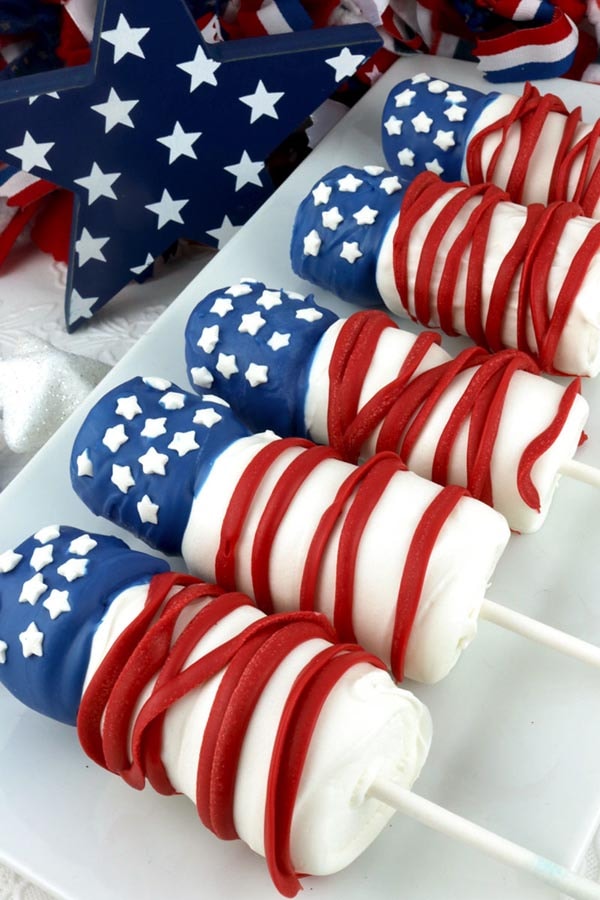 American Flag Marshmallow Pops are delicious patriotic treats that are as easy to eat as they are to make. Fun for a 4th of July or Memorial Day parties.
From: twosisterscrafting.com
2. Firecracker Bundt Cake
American holidays like the 4th of July and Memorial Day are the perfect time to make easy and delicious red white and blue desserts. This Firecracker Bundt Cake is fun to make and will have everyone wondering how you got all the colors in there.
From: cookingwithsugar.com
3. Patriotic Pretzels
Sweet, salty and crunchy our Patriotic Pretzels are a great dessert choice for 4th of July Barbecue or Memorial Day Picnic. Covered in red, white and blue candy, this easy to make treat will really stand out at your Independence Day party.
From: twosisterscrafting.com
4. Fireworks Pudding Cookies
These brown sugar pudding cookies are my new favorite cookie recipe! Soft and chewy, they're perfect filled with patriotic colors and M&Ms!
From: crazyforcrust.com
5. Red, White & Blue Cheesecake Cake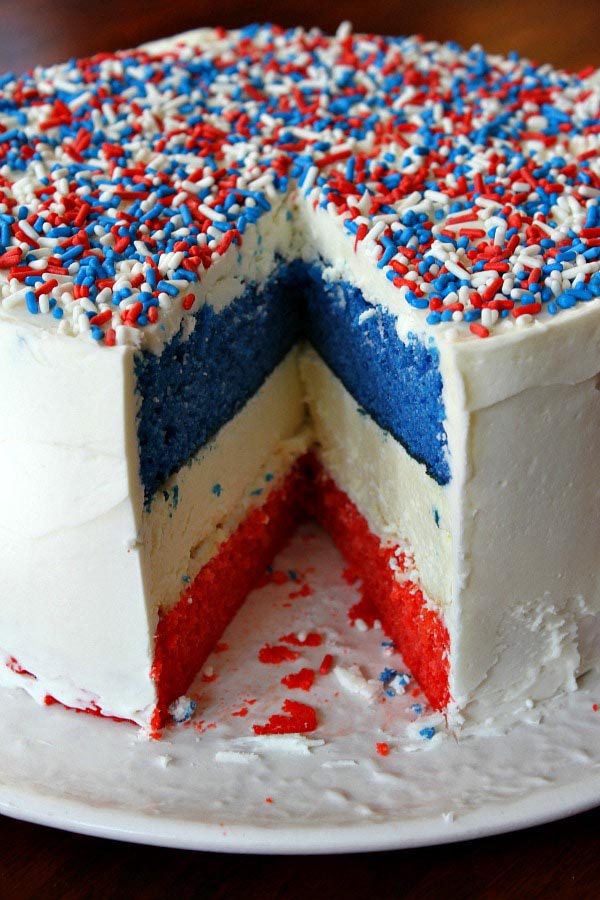 This is an incredibly festive cake for summer holiday parties!
From: recipegirl.com
6. Festive Red, White & Blue Bark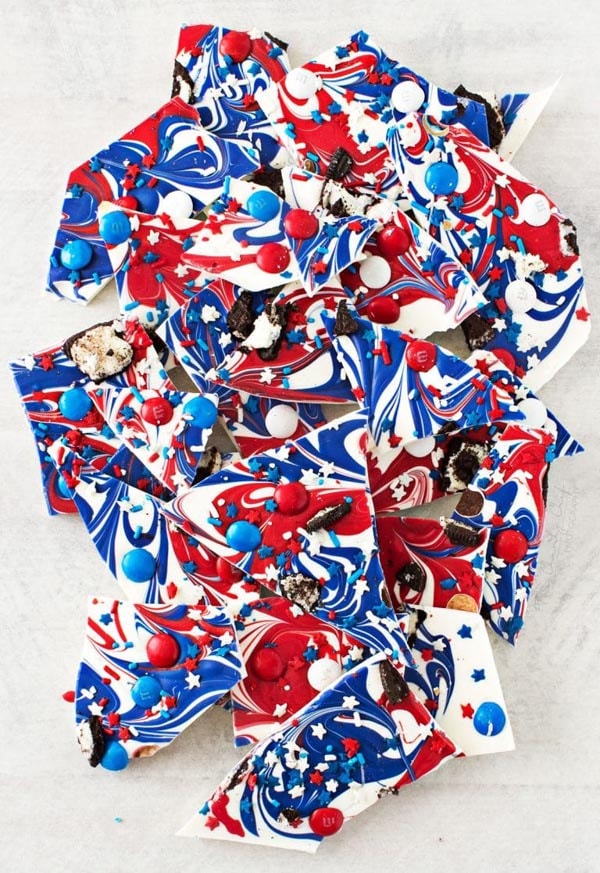 This simple and fun no-bake bark recipe is perfect for Memorial Day or Independence Day! So simple, even your kids can make it!
From: thechunkychef.com
7. Patriotic Rice Krispy Treats
In honor of Memorial Day and the upcoming 4th of July, why not make these cute Patriotic Rice Krispy Treats? Aren't they fun?
From: bloominghomestead.com
8. Red, White & Blue Dipped Oreos
These Oreo's are dipped and colored for 4th of July but you could easily do this for any Holiday. It's so easy to make these delicious treats and they are super cute for a Summer or 4th of July party! Enjoy and let the kiddos help out.
From: raininghotcoupons.com
9. Red, White & Blue Cheesecake Strawberries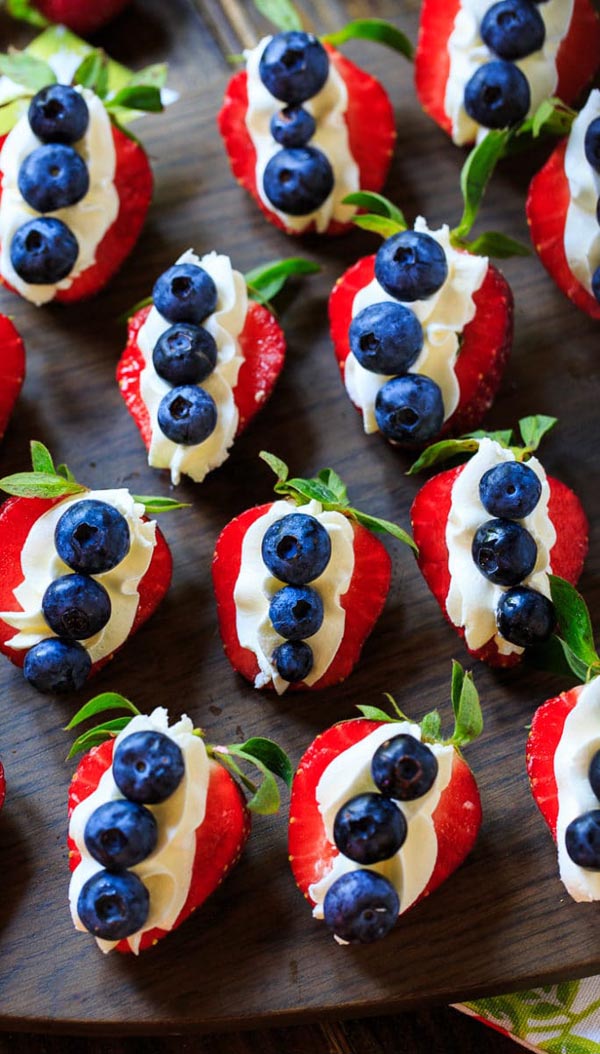 Red, White, and Blue Cheesecake Strawberries are perfect for the 4th of July or any summer potluck or picnic. They make a healthier dessert option and look so festive. Plus they are simple to make.
From: spicysouthernkitchen.com
10. Fresh Berry Tart with Mascarpone Filling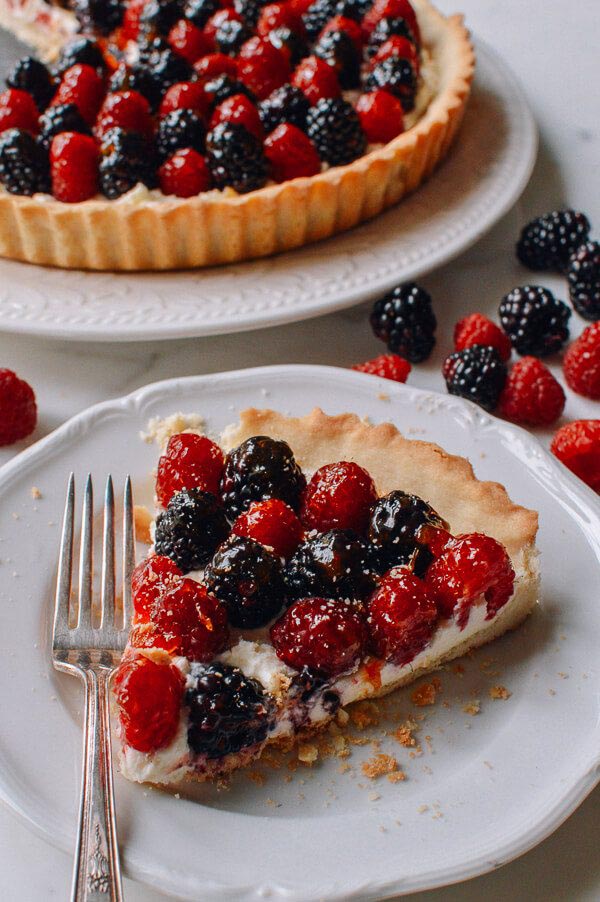 The time for red, white and blue desserts has arrived and with Memorial Day coming up, you're going to need a patriotic recipe like this fresh berry tart!
From: thewoksoflife.com
11. American Flag Cookie Cake
I am LOVING this awesome American Flag Cookie Cake and it's super easy to make! If you're got a 4th of July party coming up and you're trying to figure out what to make then be sure to give this delicious cookie cake American Flag a try!
From: passionforsavings.com
12. Patriotic Mini Parfaits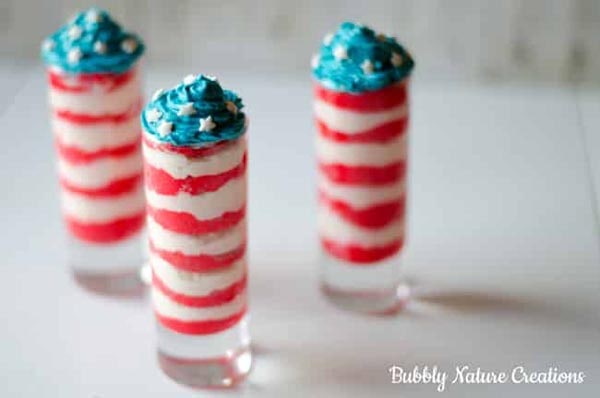 Cookie dough is all the rage and these cookie dough filled mini parfaits are perfect for 4th of July or any Americana holiday!
From: sprinklesomefun.com
13. Red, White & Blue Finger Jello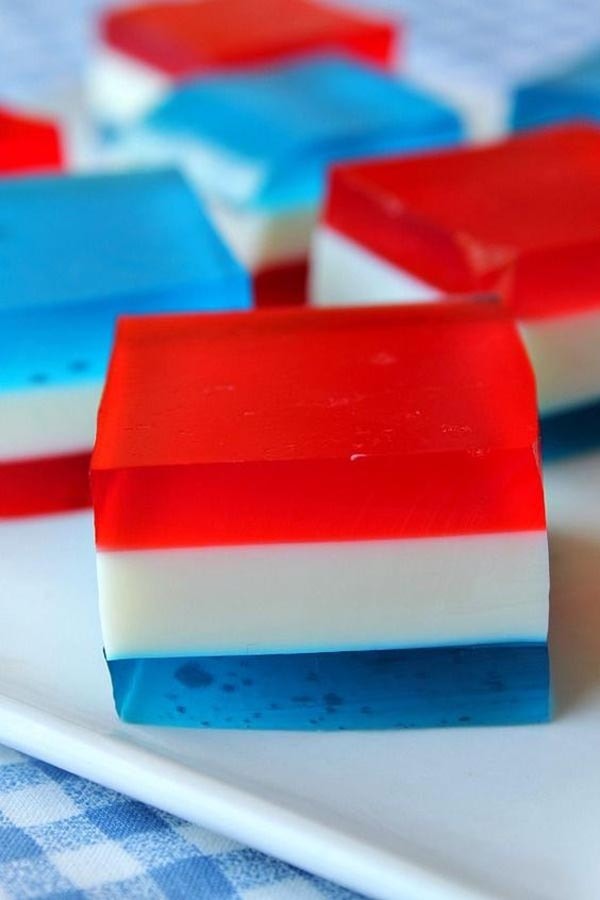 Red White and Blue Finger Jello is a treat that is festive for any patriotic holiday. Layers of red, white and blue jello make up this handheld goodie!
From: recipegirl.com
14. Red, White & Blue Bars
Quick, easy and delicious, these red, white and blue bars can be whipped up in minutes!
From: lovefromtheoven.com
15. Fireworks Treats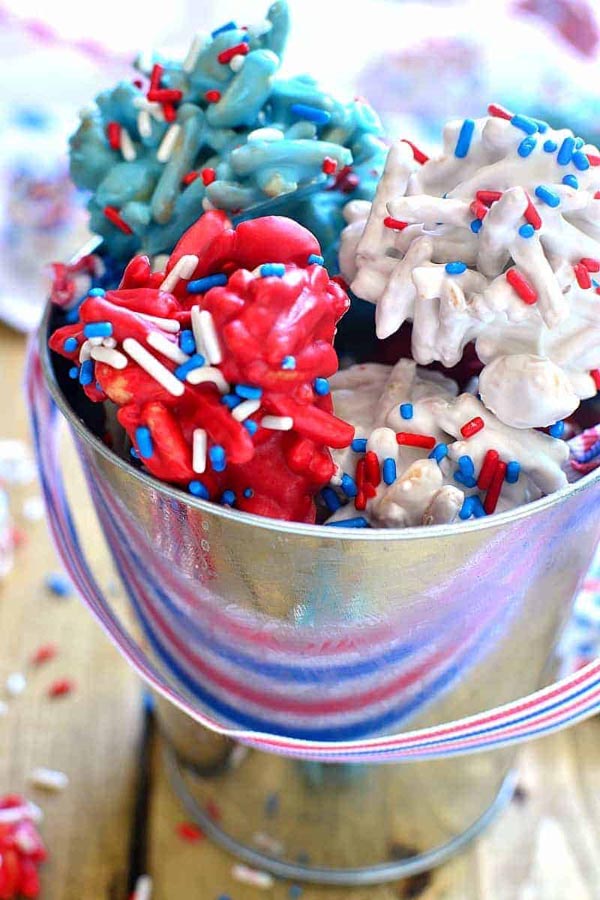 These Red, White & Blue Fireworks Treats are a little bit salty, a little bit sweet, and a whole lot of fun for 4th of July!
From: lemontreedwelling.com
Also check out:
Don't forget to pin these yummy and colorful 4th of July desserts!