Often, people find themselves in relationships that are not working due to one reason or another… At a point, the misery becomes so unbearable that they simply end the relationship. But sometimes, the relationship is actually worth fighting for. Today we'll look at 10 telltale signs you married the right person even if the relationship is sometimes difficult.
---
There are relationships in which mutual love and respect thrive. The couple gets so physically and emotionally connected that they feel like taking it to the next level; they get married, start a family, and begin to have kids.
But then the marriage can get tricky at times because it is meant to be a lifelong partnership. There comes a time when the road gets rocky and the weather gets stormy within the marital realm. That doesn't necessarily suggest that you are with the wrong person.
However, at some point, you might start wondering if you really made those vows to the right person. Perhaps because things are no longer the same as when you were still dating or still on your honeymoon.
Signs you married the right person
The truth is, "time" has a strong influence on marriage. The longer the marriage lasts, the stronger or weaker the spark becomes.
In most cases, it takes understanding and a sense of responsibility (between the couple) to be able to live together, not really because of love. This is because love fluctuates; especially when things are not going well in the marriage.
Now, you might be having a hell of a time in that marriage. You see yourself battling with one challenge after the other. And hence, you are lost in that state of wonderment that can only be compared to an alien world.
If so, the question that may occupy your mind is, "Did I marry the right person, or was it a terrible mistake?"
Well, fear not. To help you answer this question, here are 10 signs you married the right person:

1. You Spend Quality Time Together
First, you have to consider how much time you spend with your spouse. This is essential because time is one of the most valuable gifts anyone can give to their partner.
If you always spend quality time with your partner; doing what you both love doing, then you probably married the right person.
There are occasions the both of you may have different choices about what to spend your time on, but then you compromise and do it his way. Other times, it might be your turn to do it her way. That's a sign of good understanding.
The best of all is when you spend time together, doing what both of you derive joy from. Be it writing, traveling, cooking– whatever it is; as long as you often spend quality time together in that activity, then it's a sign you married the right person.
2. You Also Spend Time Apart
Although it's fantastic to spend time together as a couple, it's also healthy to live your lives individually. That's a good way to balance things up.
It shouldn't be a problem if he goes out to play tennis or golf with his team (for leisure). And it shouldn't be a big deal if she attends her group meeting.
Being married doesn't mean that you should stay glued together. It doesn't stop the both of you from having different choices, hobbies, routines, or interests at some point. If your partner respects the fact that you can have a different choice at times, then it's a pretty good indication that you married the right person.
3. Your Partner Is The Person You Always Run To
Marriage is not all about procreation, it's about companionship and support too. You need to be around someone who you can always rely on when you are emotionally down. Your partner has to give you emotional support in those critical times.
It's not Okay if you ONLY run to your spouse to give good news. You should also run to him or her in those trying times. The person you are married to should always be there for you through the rainy and stormy days, not only during sunshine.
If you don't feel comfortable relying on your spouse when you need emotional support (during hard times), then the person is probably not the other part of you.
4. Your Partner Pays Attention
How would you feel if after you narrated a very long story, the supposed listener suggests you should repeat because he/she wasn't paying attention?
Partners have to give each other listening ears. Part of their responsibilities is to listen to each other whether they make sense or not. They also have the responsibility of paying attention to their partner even when they don't voice out.
Now, one major thing many people neglect in marriage is attention. It sounds so common, so people don't take it seriously.
When you marry someone who observes you and finds out what you need at any given time (even without being told), and then immediately does the needful, it goes a long way to define what a lovely marriage entails.
Do you know there are partners who have mastered each other's behaviors to the extent that they know exactly what to do to upset each other and exactly what to do to neutralize the anger? Such partners didn't just wake up one day to understand each other in that manner, it required close attention from both of them.
Now if you find yourself in a marriage where your spouse is so attentive that he or she knows exactly what to do and when to do it, then you have nothing to worry about.
5. You Trust One Another
"Trust" is arguably the most important virtue that should be shared in a marital relationship.
Trust is needed in any relationship, whether romantic or not. But then when it comes to marriage, it becomes even more important. Have you ever wondered what marriage without trust would look like?
There are many ways to exhibit trust in marriage. One example is by being able to confide in your partner when something is bothering you.
Also, you can exhibit trust by feeling even comfortable when your partner invades your privacy. For example, when your partner is having a look at your phone.
Another real show of trust is if you are okay with your partner hanging out with friends; simply because you trust him/her enough to be yours and yours alone. But then trust doesn't just happen in a relationship – it is built. It is initiated and sustained. It actually takes some time.
One good way to build trust is by being honest with your partner. When you are both always sincere to each other, it will certainly get to a point where you do not even question whatever you do or tell each other… Now, that is TRUST!
If you're lucky enough to be with a partner you can trust wholeheartedly, then I've got good news for you. That's the right person.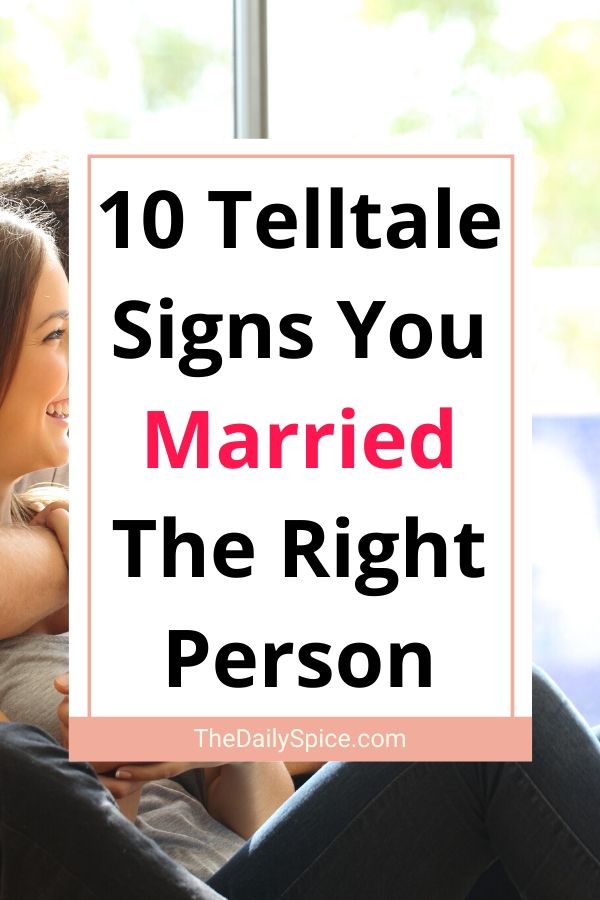 6. Your Partner Is Physically Affectionate
Couples tend to get more satisfied with each other when they share physical affection in the relationship. This is because mutual affectionate gestures will make them understand and truly care for each other.
Moreover, experts suggest that physical affection is a pure manifestation of love and passion. And I affirm that.
Now, if you are married to someone who does not hesitate to hold your hand, hug you, kiss you or hold you down, then you shouldn't be bothered because you can trust them enough to be the right one for you.
7. You Prioritize Each Other
It's understandable that marriage is not easy. A lot of responsibilities are attached to it. You have to go to work, take care of the home, take care of the kids, and cater to your spouse's needs too.
Trying to attend to every bit of those responsibilities might actually be very difficult. However, if you are with the right person, both of you should be able to prioritize one another, just as much as you do to your work and kids, or even more.
So, if you think your partner often puts you first, then you shouldn't be worried at all…
8. Your Fights Make The Both Of You Better Not Worse
In your relationship or marriage, there are certain things that are more or less inevitable. As long as you are married to a human being, there must come a time when you'll disagree with each other.
However, the most important thing is the essence of such contrasting interests. Is it for the greater good or for the worse?
Take, for instance, a situation where the wife suggests that she and her husband create a joint account so that they can fully account for their general income. But then the husband doesn't buy the idea because he thinks he can save more if he has his own personal account. This is a very good example of a constructive fight (not a destructive one) because they are fighting for what they think is better for both of them. Not just for selfish reasons.
Now, if they finally reach an agreement to own their personal accounts and also create a joint account where they both contribute a certain percentage, that means their fight was productive because they were able to satisfy each other's needs.
If you find yourself in a marriage where fights (with your partner) only yield positive results, then that's a sign you married the right person.
9. You Complement Each Other
Sometimes, nothing is more boring than being with someone who possesses the exact same personality traits and characteristics as you.
Okay, for example, assuming the wife is basically loud and the husband is just as loud or even louder, I'm sure you know how wild things can get? Well, this is not to say that such a marriage will not work, but it will obviously be better if the husband complements the wife by being a bit calmer.
Also, If the husband is the type of man who is very quick to decide (without giving much thought), then it will be better if the wife is a critical thinker.
This does not suggest that the wife is better than the husband in any way. because actually, it's good to decide fast in some cases and there are times when critical thinking becomes more or less a waste of time.
However, with these complementary qualities, they can merge together to become a greater force to be reckoned with. Together, they can become more productive and successful.
If you are with such a complementary partner, then it is an obvious sign you married the right person. Because you can only make each other better.
10. You Bring Happiness To Each Other
What is the essence of marriage if not to be each other's source of happiness? No marriage can last long if it only yields sadness and sorrow. It's only a matter of time before the partners go their separate ways.
Everyone desires to get married to that person who makes them laugh. It's actually a thing of joy to behold if you and your spouse have a matched sense of humor! Life will simply be more interesting.
When you are with someone who makes you happy, your physical health won't only get better, but your mental health will also be impacted positively. Moreover, you will live an improved social life.
Final thoughts
Marriage is always going to be a beautiful thing.
However, no matter the distress that might come up at some point, it mustn't be seen as a red flag. This is because marriage is a deal between two humans; a partnership deal. For that reason, there will be hiccups here and there. You don't just give up on your partner because of a minor disagreement.
You have to exercise patience and try to play your part and offer assistance where you can.
Nonetheless, from what you've learned so far from this article, you will always know the best option for you; especially if all your efforts to put things in place prove abortive.
You might also want to check out:
Don't forget to pin these 10 signs you married the right person!